10 Songs That Will Add Some Fun to the Potty Training Process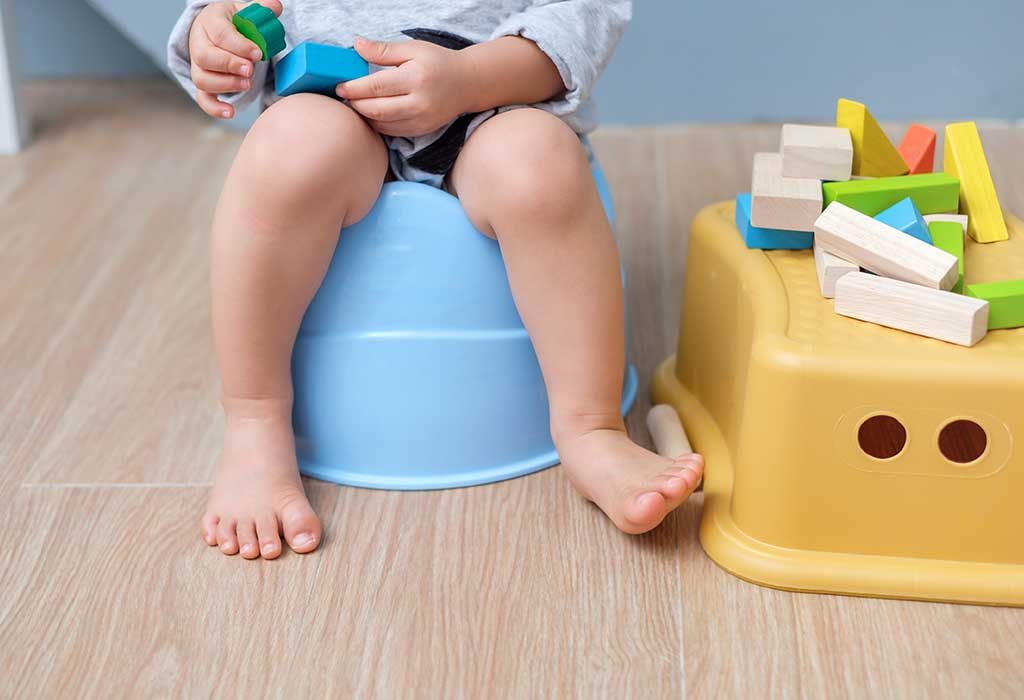 In this Article
One of the most challenging times as a parent is getting your little one to potty train. It's a tedious process where the child needs to concentrate and feel at ease so they can go potty on their own. There have been thousands of techniques that show you how you can make potty training fun for your little one. Incorporating songs into the process have witnessed some great results.
There are many poop songs for potty training a child and they can actually be super fun to sing. The child too feels at ease singing the song and it helps them poop out better, and speeds up the overall process.
Here's a list of super simple songs for easier potty training –
Best Potty Training Songs That Your Child Will Enjoy
There are plenty of poop songs for training your child, and we've broken it down to the top ten. You can also click on the video links to view it and teach it to the little ones –
1. Potty Training 101 Poop Song
This is one of the best toilet training songs you can teach your kids and help them expedite the process. Made by Growing Sound, the Potty Training 101 Poop Song is a one-stop-shop of everything related to potty training and poop for the little ones. It covers every step of the process and doesn't leave much to the imagination. It's a great way to get them to understand the whole process and incorporate it into their daily lives.
For example, the lyric, "I sit and wait until poop plops down, then I wipe and wipe 'till brown leaves town" pretty much sums up how the rest of the song sounds as well. Kids get a good idea about what they're being asked to do and since it's pretty short, it can be learnt soon so kids can quickly absorb the lyrics and have fun.
https://youtu.be/Vtq1XV6ZVOc
2. Ginneh's Potty Song
This is another one of those creatively simple and super fun songs you can teach your little one. Back in 2016, Stacia Wright, a mother from Maryland came up with a great idea to get her 2-year old daughter to poop and get potty trained. This super catchy potty song for kids is an excellent way to teach kids about communicating when they want to do the business. Wright came up with the idea after having already gone through the same with her elder son. She knew what she was in for and wanted to avoid occurrences of accidents and the likes. She also wanted to make the whole training process fun for herself and her little daughter, and devised this absolutely fun song, with a cute video to go along with it.
3. Elmo Potty Time
How do you get stubborn kids to learn about pooping? You get one of their best friends to help you in the process. In this case, their friend is the ever adorable Elmo from Sesame Street and kids will trust any song he sings them. He's a super curious chap and looks at the world the same way the kids who watch Sesame Street do.
Watch him and his dad walk through the many steps of using the toilet correctly and try to get your little one interested in the process too. They sing a song that's jazzier than what you're expecting, but ultimately it gets the work done.
4. Two Little Hands: Potty Time
This is another super interesting and great video that has an upbeat tempo. It's a great potty rhyme for toddlers to learn all about pooping and finishing the job soon. The popular kids' YouTube channel, Funtastic TV made a video that's extremely cute and adorable. It's a song that everyone in the family can sing and enjoy. The bonus is that the video also teaches you how to say "potty time" in sign language.
https://youtu.be/9wadtd38Qb8
5. Daniel Tiger: Stop and go Potty
Sometimes, kids might face trouble when it comes to potty training because they just don't want to stop playing and having fun. A bathroom break might seem like a major inconvenience for them and can be annoying. You need to get them interested in the process and Daniel The Tiger reassures them that there won't be any stop in the fun. This potty video song is a great way to help anxious or excitable kids to take a break and complete pooping, and their toys will be waiting right where they left them.
https://www.youtube.com/watch?v=zYipJTAXJFE
6. I Can Pee and Poop on the Potty
This is another one of those super catchy and fun songs that make for great potty training music for your little ones. This is a song about a kid superhero who's really smart and good at one thing – going to the potty. He can poop, pee and wash his hands too. There's not much going on with regards to the video but this is an excellent way to get your kids excited. The simple and quick song explains the basics of all the training steps.
7. You'll Use the Potty
Sesame Street is back at it again, and this time the whole crew's involved. They simplify a complicated thought – we are all slaves to our bodily functions and potty too, is one of them. Kids can absorb this lesson better coming from the likes of Big Bird and co. and since this is a Cole Porter song, you're sure to appreciate the melody and lyrics it comes with.
8. Bear in the Big Blue House
The Bear in the Big Blue House is another pee pee potty song and handles the subject with the gentlest tone possible. It is approached more like a primer to allow kids to get used to the idea of being potty trained than actual instructional songs. It's a three-minute-long song but we're sure your kid doesn't spend that much time.
9. Toilet Time Is Fun
The animation is pretty wild, but the song has its heart in the right place. This cute little panda-inspired song has a kid that poops in the right place and ultimately, that's what it's all about.
10. Little Baby Bum: Potty Song
Potty training the kid requires repetition and patience, from both yours and their end. There are accidents that are bound to happen in the initial stages and when they do, kids might feel disappointed or frustrated. Little Baby Bum, a YouTube channel specializing in nursery rhymes teaches kids all about being happy and building poo-poo resilience until they can get the process right.
These are some of the fun ways you can get your children more involved and interested in the entire potty training process. Make sure you sing along with them so they feel more secure and try to be patient with them throughout the process. The more fun you make it, the more fun they'll have and the whole potty training process becomes a fun task rather than a chore.
Also Read:
Potty Training Games for Toddlers
What is the Best Age for Potty Training Your Kid
Dressing Up Your Kid For Toilet Training