10 Simple and Creative Face Painting Ideas for Kids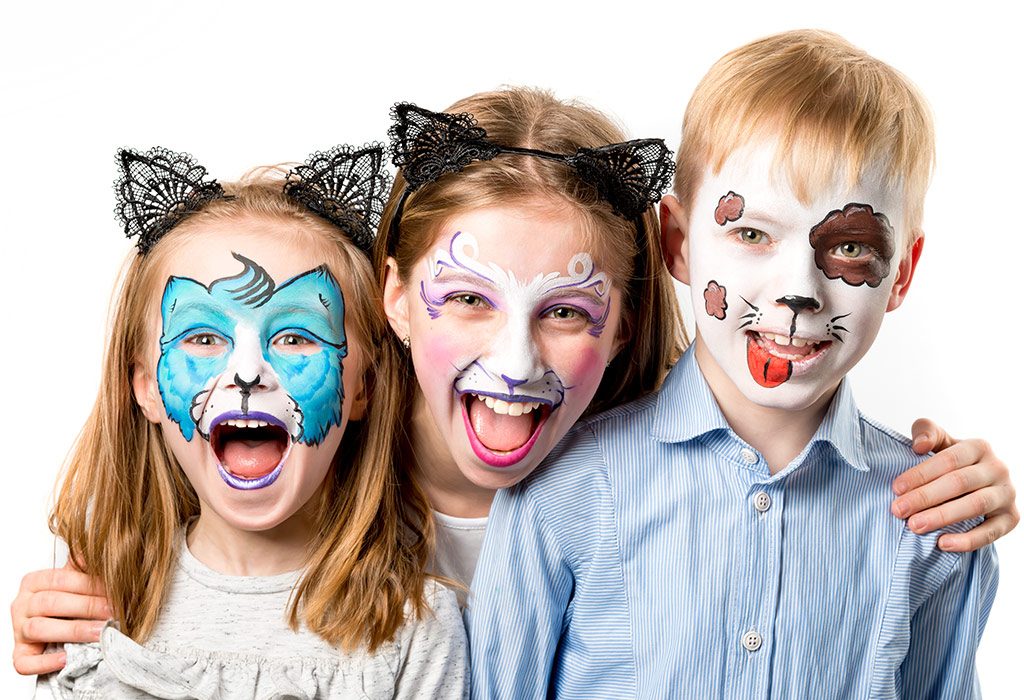 The moment a kid discovers the power of art and knows what colours and crayons can do, the entire world turns into a canvas. Right from your house walls to their clothes, children can paint anything, and anywhere they feel like. It won't be long before they discover their face and kids' Halloween face paint is where it all starts to come together. Putting together activities where your little one can enjoy with his friends and paint everyone's faces to great delight is a fantastic way to engage his creative senses.
Tips to Remember Before Getting Started
Before your children forget the rest of the world and dive face-first into the paints, quite literally, there are a few tips you can let them know and help them remember.
Do your best to avoid oil-based paints in the initial stages. These are not good for the skin as they smear a lot and are quite difficult to be washed away.
Start by using only the corner of a sponge or a small brush and take tiny steps to paint someone's face before going full ballistic on it.
Pair the paints with some non-toxic child-safe lipstick or makeup tools that are safe for their skin.
Before beginning with the activities, make sure your kids rub a lot of moisturiser on their faces which makes it easier to apply colour and more comfortable to remove it as well.
Teach your kids to start by using a pencil and make an outline of the shape, before picking up the paints and colouring it up.
10 Amazing Children Face Painting Ideas
To help you and your children get started with the fun, we have put together some exciting face painting designs for kids that are guaranteed to be exciting and weave stories and memories for everyone together.
Face Painting Ideas for Boys
From soldiers to superheroes, your boys can turn into the ideal version of what they always look up to.
1. Joining The Army
Many young boys have a fascination with soldiers and army personnel and their camouflage techniques. This is one of the simplest ways to get them started with face painting, too.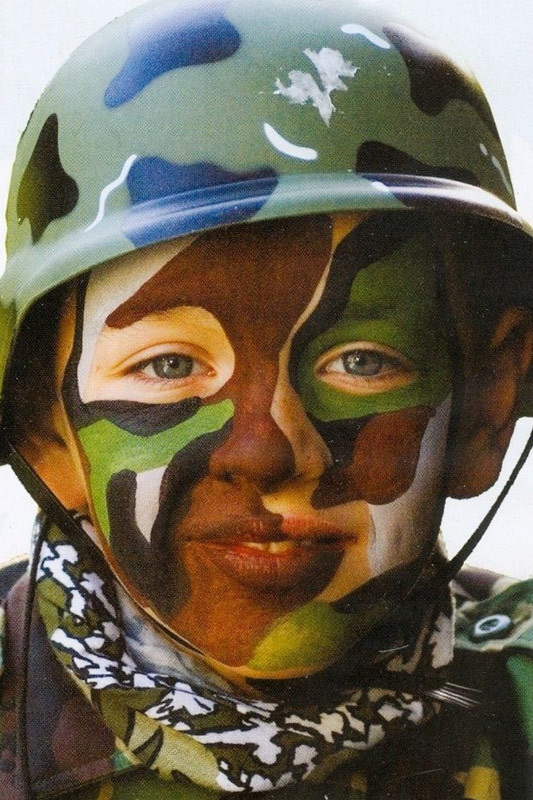 What Do You Need
Dark green paint
Light green paint
Brown paint
Small width brush
Large chisel brush
How To
Take a broad brush and dip it in the dark green paint.
Paint all the faces dark green to create a proper base for the other colours.
Once fully covered, dip that brush in light green paint and apply random strokes to various portions of the face.
With this texture in place, take the small brush and dip it in the brown paint.
Then carefully draw the strokes in a diagonal pattern with appropriate spacing.
2. Become A Lion
Some kids like to turn into animals and roam around the house making their sounds.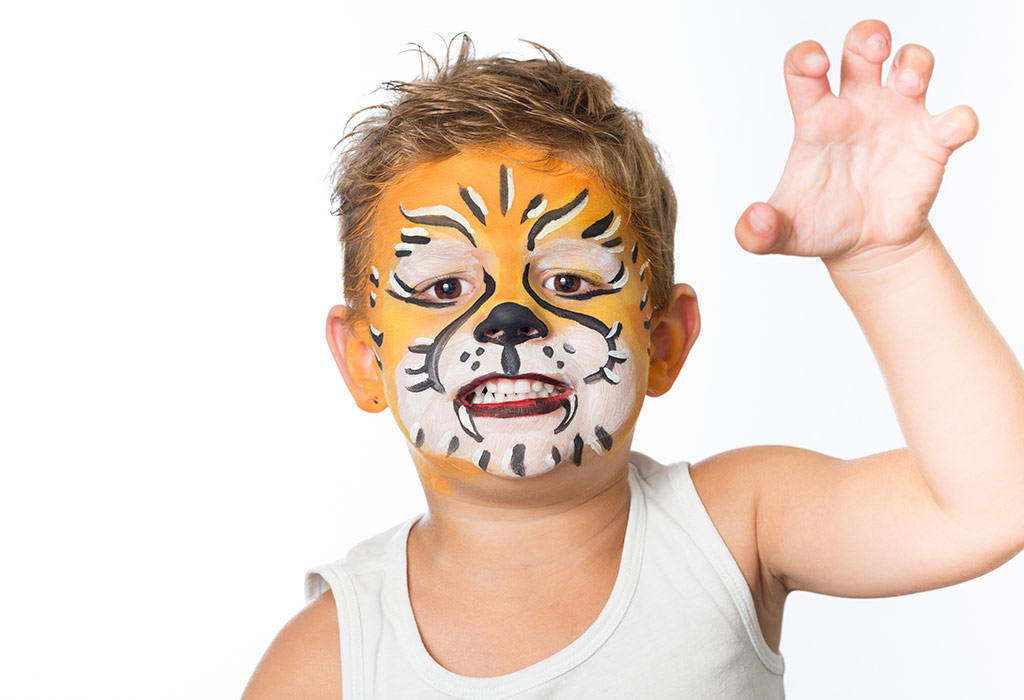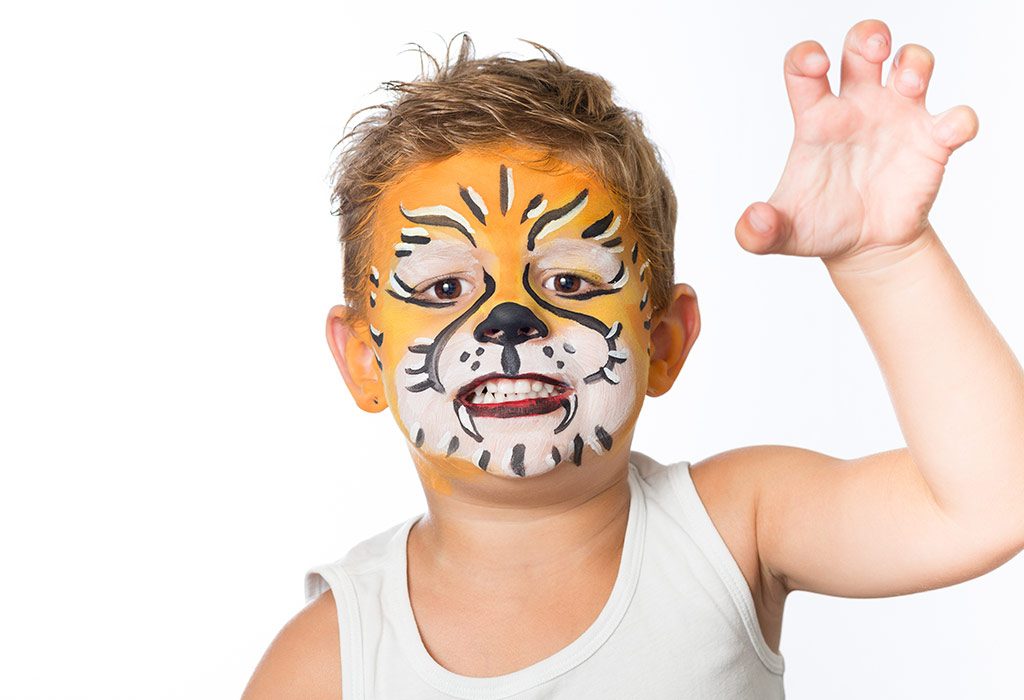 What Do You Need
Yellow paint
Orange paint
Black paint
White paint
Brushes
Sponge
How To
Take the sponge and dip it either in the yellow or orange tint. Now use it to gradually paint the face, keeping the areas of the chin and the eyes untouched.
Use the yellow paint and draw some ears as well as put it on top of the eyes.
Now take a brush and use some white paint above and below the mouth, to create the tiger's muzzle. Paint the eyes accordingly, too.
For the area of the forehead as well as the portion around the eyes and the cheek, start painting a mane by using some brown or black coloured paint.
With a brush, apply black paint on the nose like a small cat and outline the lips in black as well.
3. Turn Into The Undead
If your kid is one of those who likes to scare people, he will have great fun in turning into a zombie or an undead monster.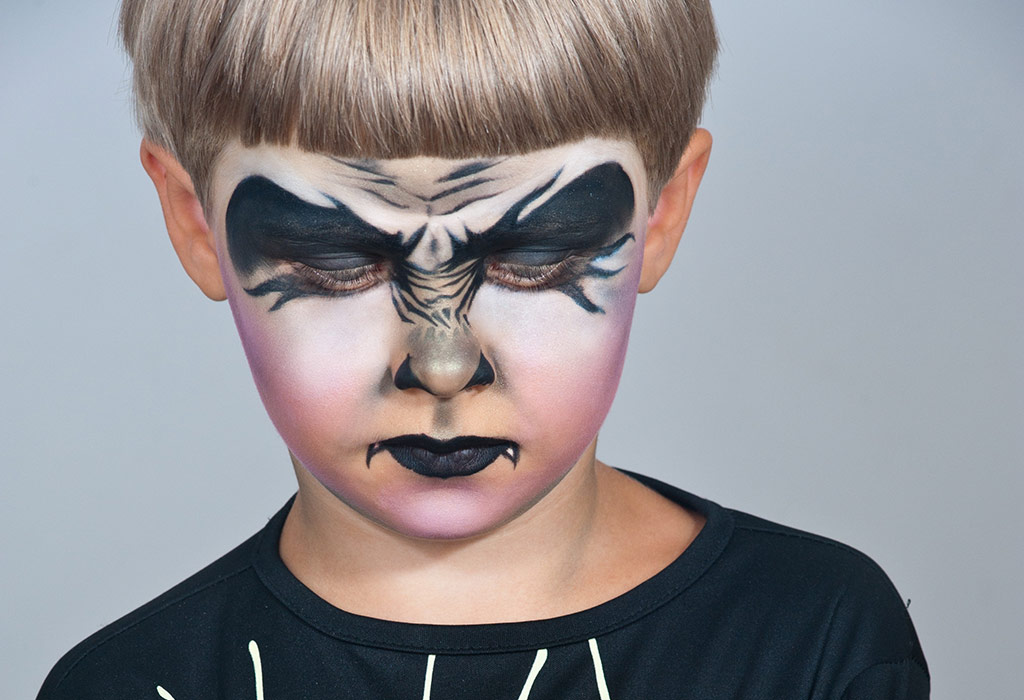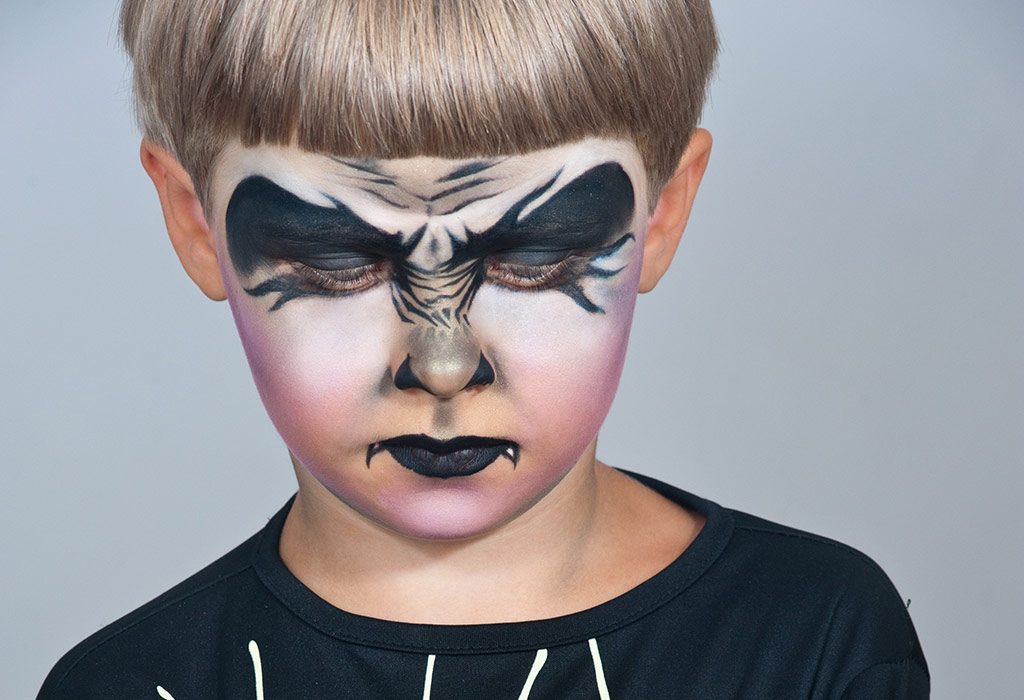 What Do You Need
Black eyeliner
Black eyeshadow
White paint
Black paint
Flat thin brush
Sponge
How To
Start by covering the face with a foundation to prep it for the colour.
Then apply white paint on one half of the face by making use of the sponge.
For the eye sockets, outline the eyes using black paint.
In the lower region of the eye, darken them by making use of eyeshadow.
To make the zombie nose, use the eyeliner to sketch half an M on the painted side of the face. Fill in this half with black paint so that it covers the nostrils completely.
Use white lipstick or white paint sticks to colour the lips. Then use the brush to draw teeth on them.
4. Captain Jack Sparrow
With Pirates of the Caribbean finding popularity amongst kids, you can get your child to become Jack Sparrow with a few flourishes.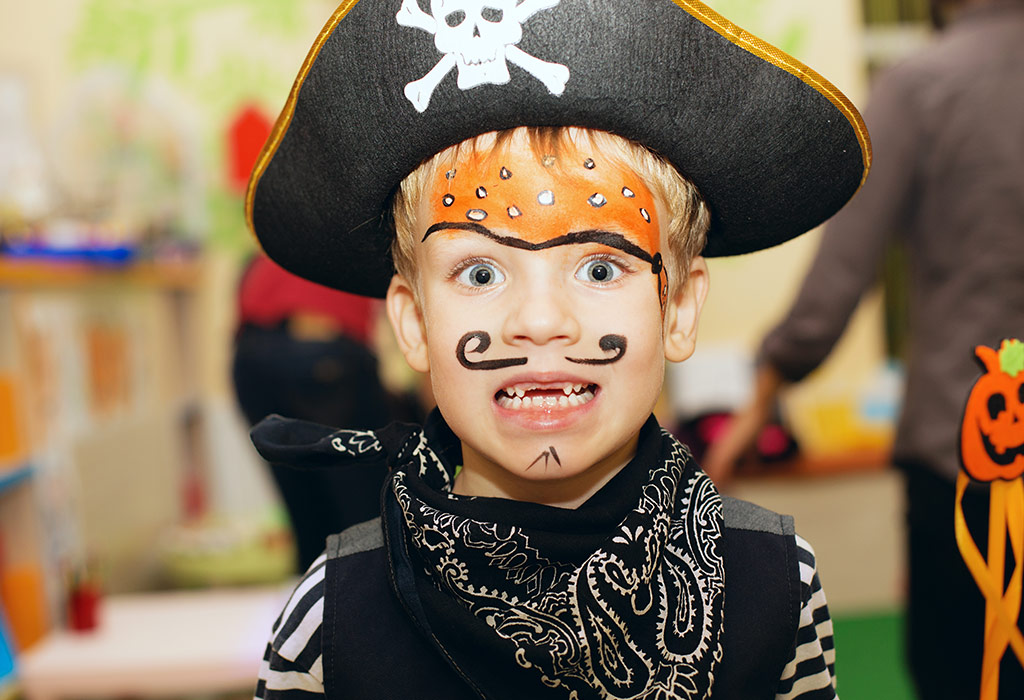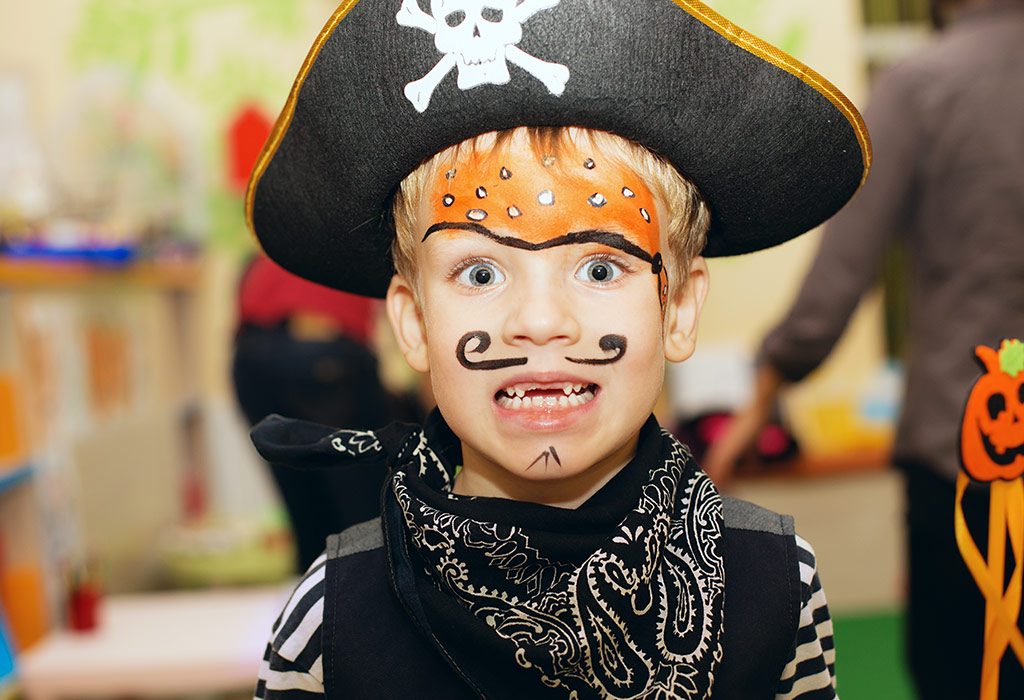 What Do You Need
A red scarf
Black chapstick
Black paint
Sponge
How To
Ask your kid to shut his eyes tightly. Dip the sponge in the black colour and paint one of the eyes completely black.
Using a thin brush or the black chapstick, draw a nice beard and a moustache for your little one.
Now, keeping the existing eyebrows as a base, apply paint over them to thicken them and make them darker.
Once done, use the scarf to tie a bandana or a head turban on your little child and give him a toy sword if you have one.
5. Spiderman in The House
Who doesn't want to be Spiderman? Here's how your little one can be his favourite superhero, and maybe yours, too.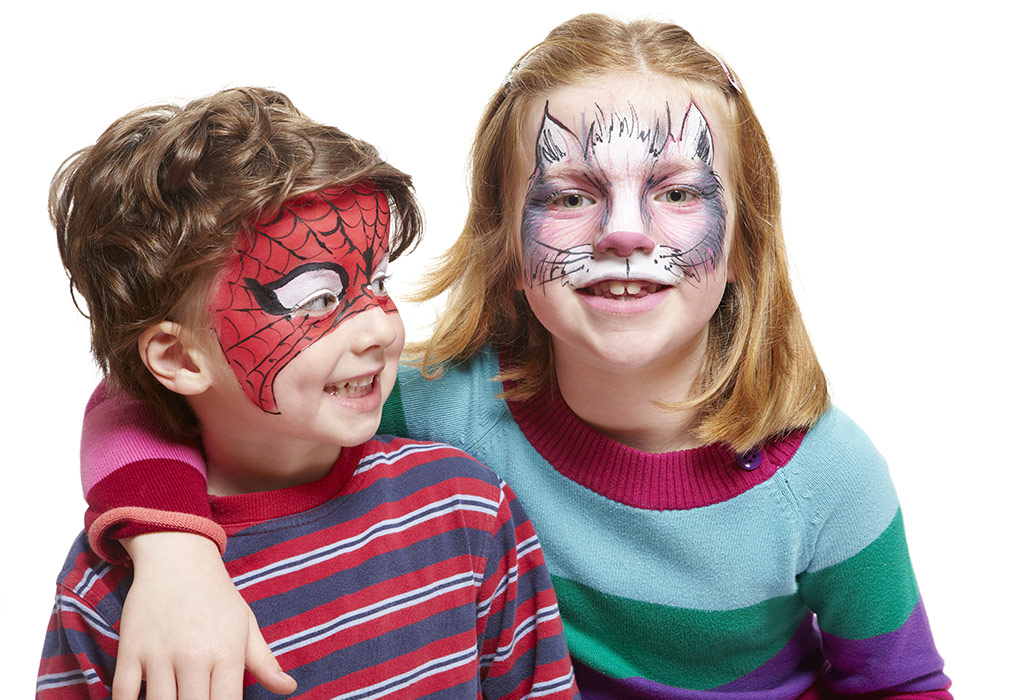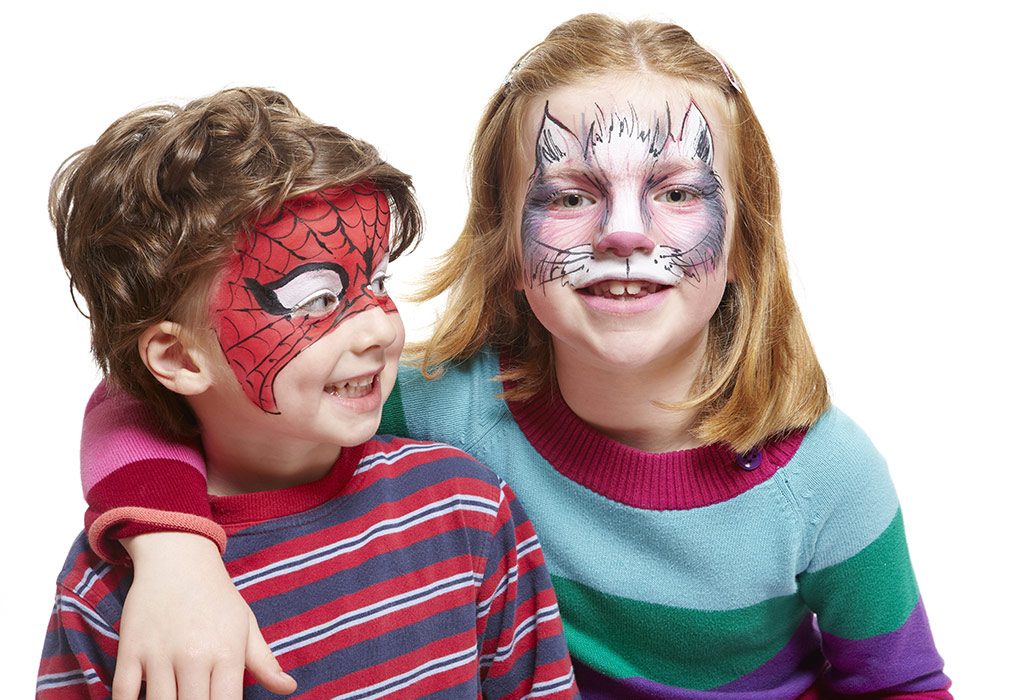 What Do You Need
White paint
Red paint
Black paint
Brushes
How To
Start by asking your child to shut his eyes and paint white coloured triangles on the eyelids that extend right up to your kid's forehead.
In the centre section, paint a red coloured upside-down shape of a triangle. Do the same on the sides of the head, with a sideways shaped triangle.
With all sections painted, outline them correctly using black paint. Now, the red parts can be painted with straight lines and curves to resemble a cobweb, like Spiderman's suit.
Face Painting Ideas for Girls
Girls can also end up painting their faces in cutesy patterns or even ones that are downright scary.
1. I'm A Ghost
There is a reason why horror films have women as ghosts. Paint your little girl into one and feel the horror.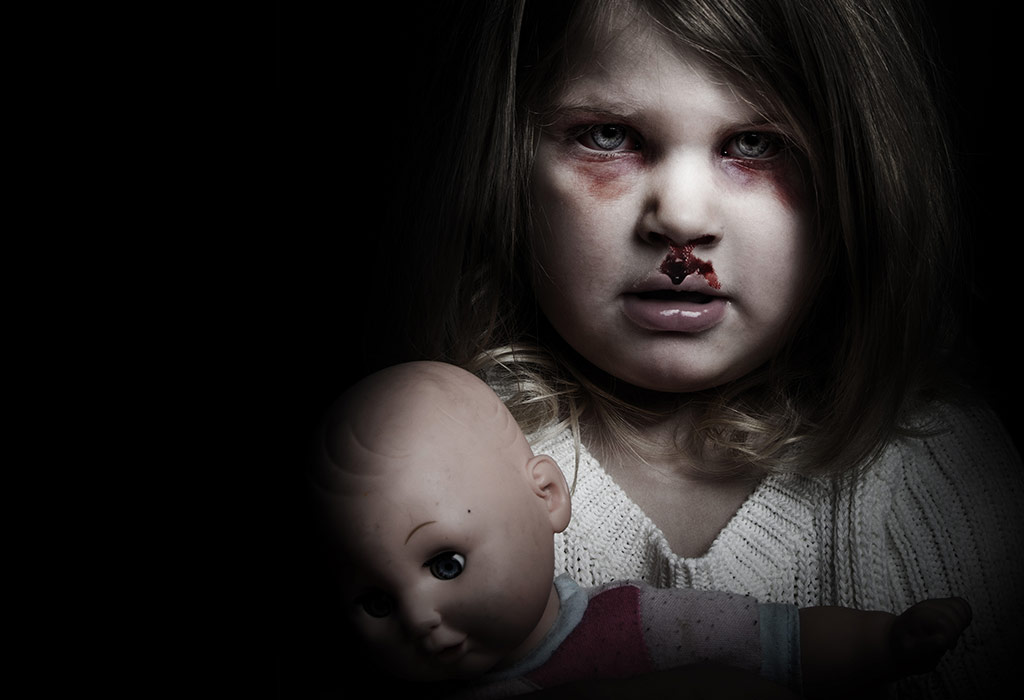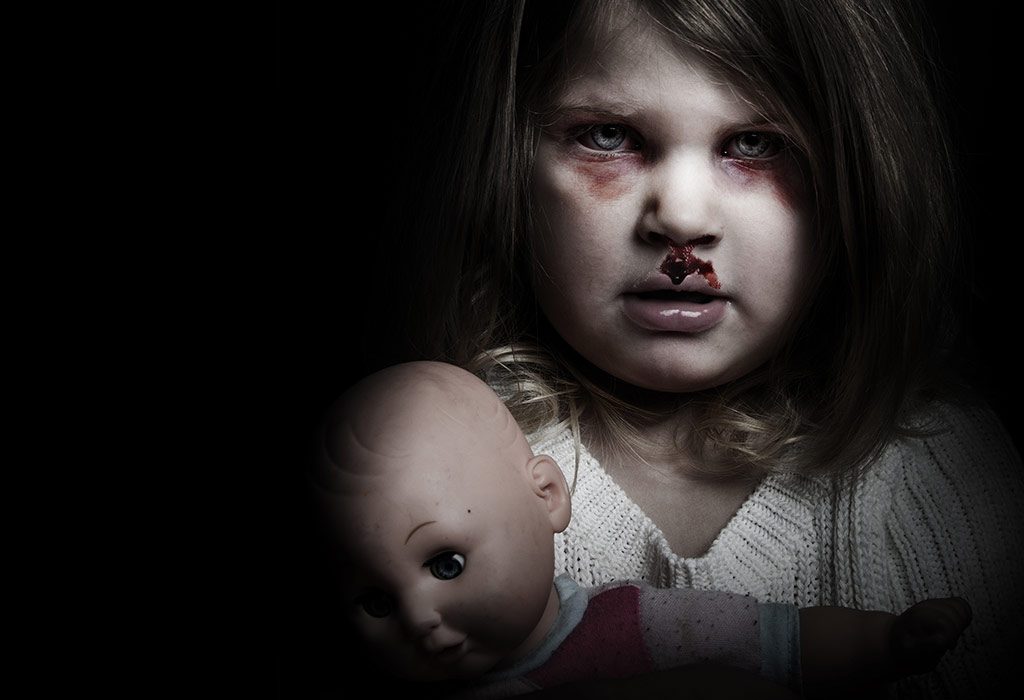 What Do You Need
White paint
Black paint
Flat brush
Thin brush
Sponge
How To
Begin by covering the entire face in white colour using the sponge.
Now use the flat brush, dip it in black paint, and work towards accentuating the outer areas, creases and bones.
Outline the eyes as well and use the thin brush around the lips and nostrils.
To make her even scarier, draw white coloured fangs near her lips.
2. The Little Mermaid
Let your little one turn into a beautiful creature who loves to live underwater and is extremely beautiful.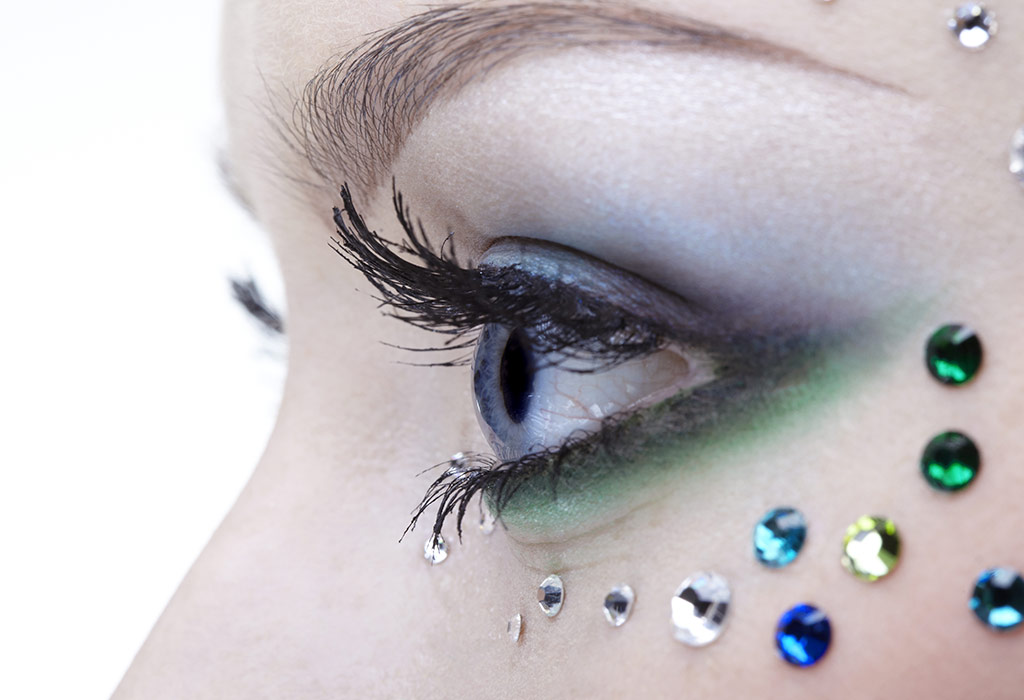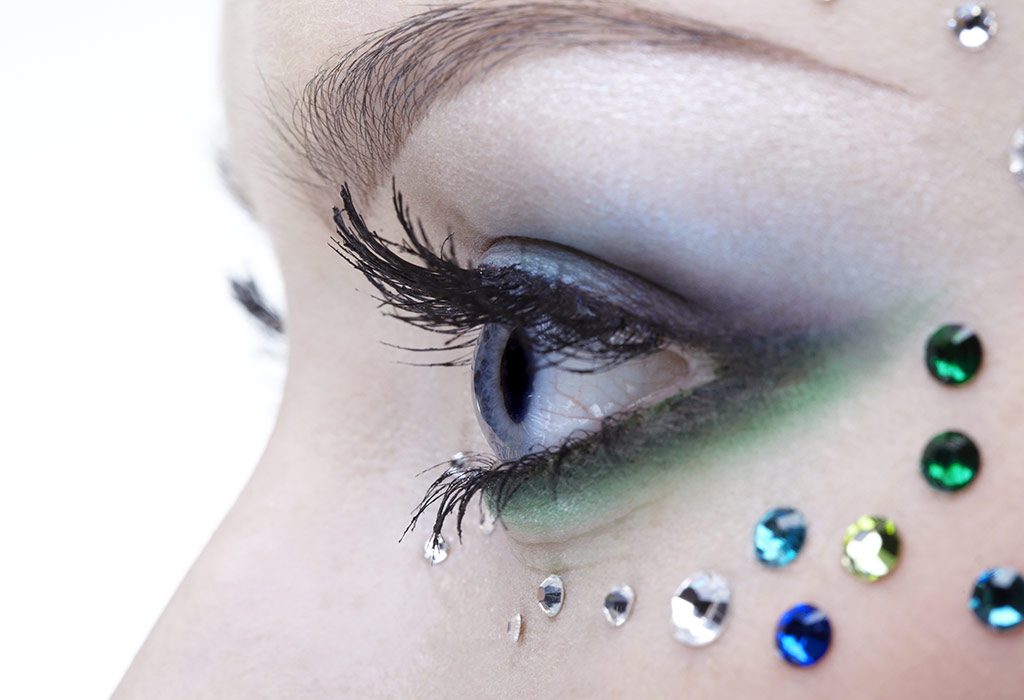 What Do You Need
Glitter
Dark blue paint
Light blue paint
White paint
Brushes
Sponge
How To
This requires a tad bit of time and expertise as you need to use various brushes and the blue paints to draw intricate designs on both sides of her face, close to the eyes, filling the entire portion including her cheeks.
You can further make this mythical by drawing eyes on her eyelids, too.
Use white paint for added outlining and cover it with some glitter for a magical effect.
3. Meow Goes The Cat
If you have a pet cat at home, your girl will love being just like her.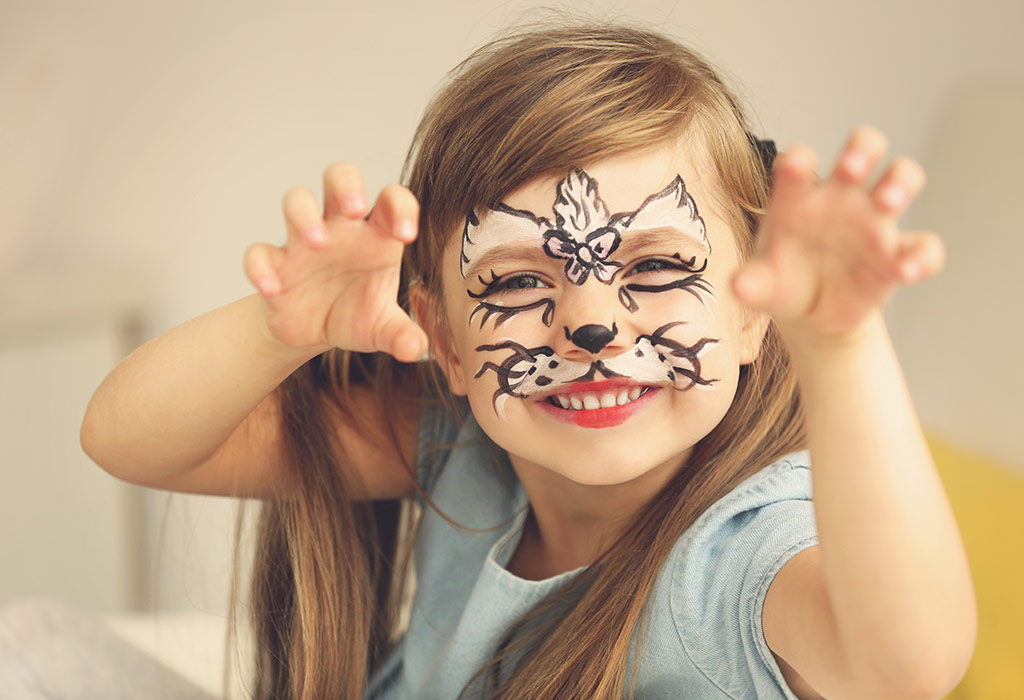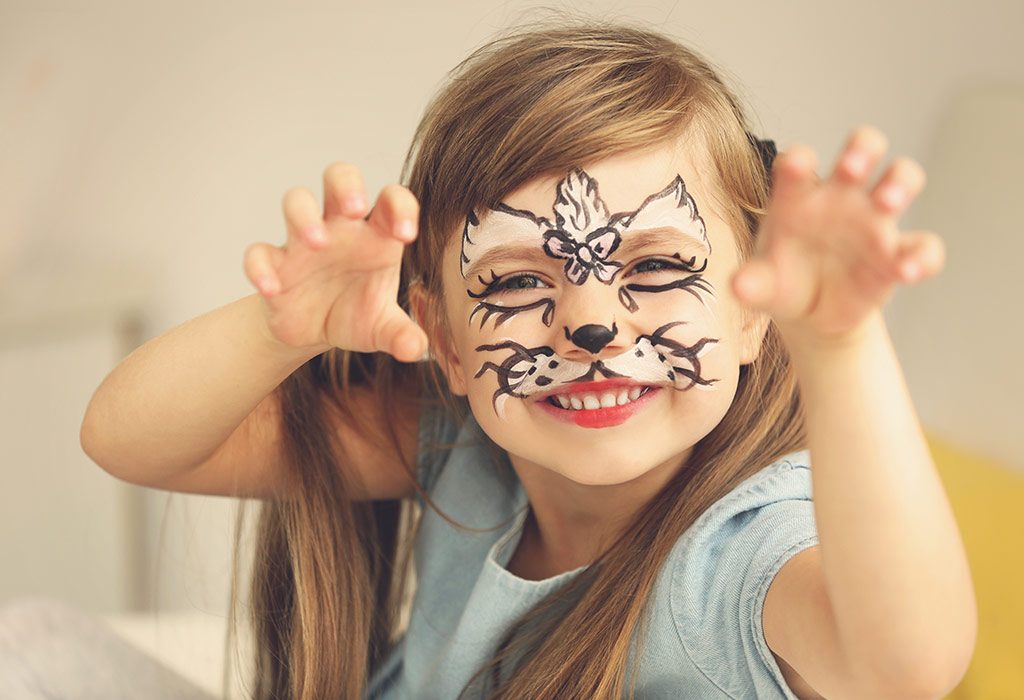 What Do You Need
White paint
Black paint
Brushes
How To
Paint the face entirely white and use a thin brush to paint small black strokes, resembling the hair.
Thicken the outline around the eyes and nose, and use the thin brush to create whiskers.
Add tiny black dots around them as well.
4. The Princess
Your girl is always a princess in your eyes. Now turn her into a real one.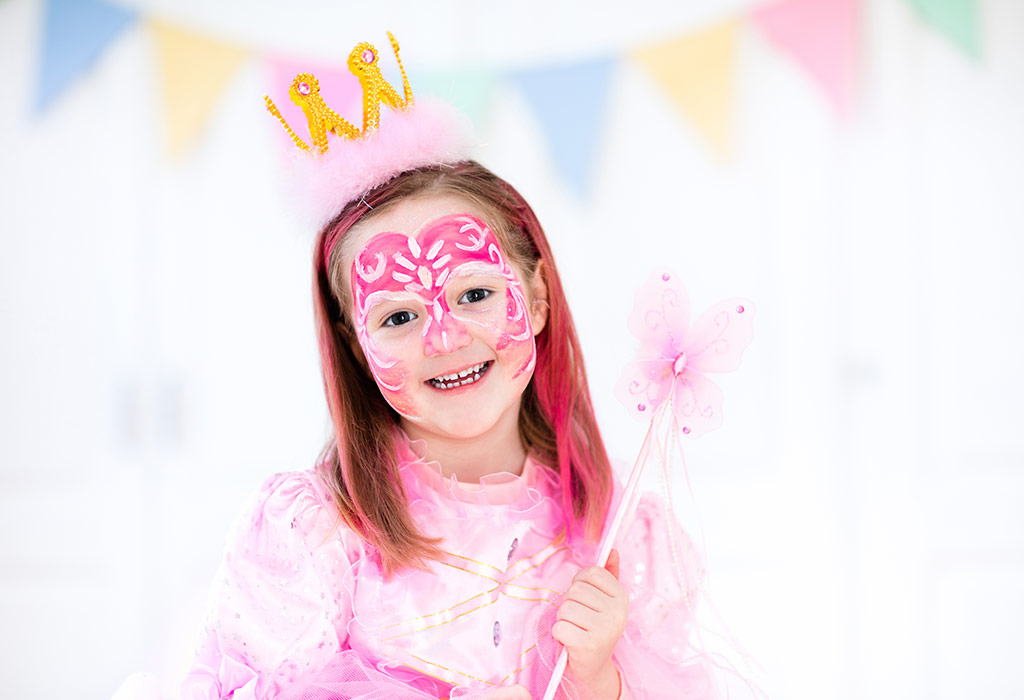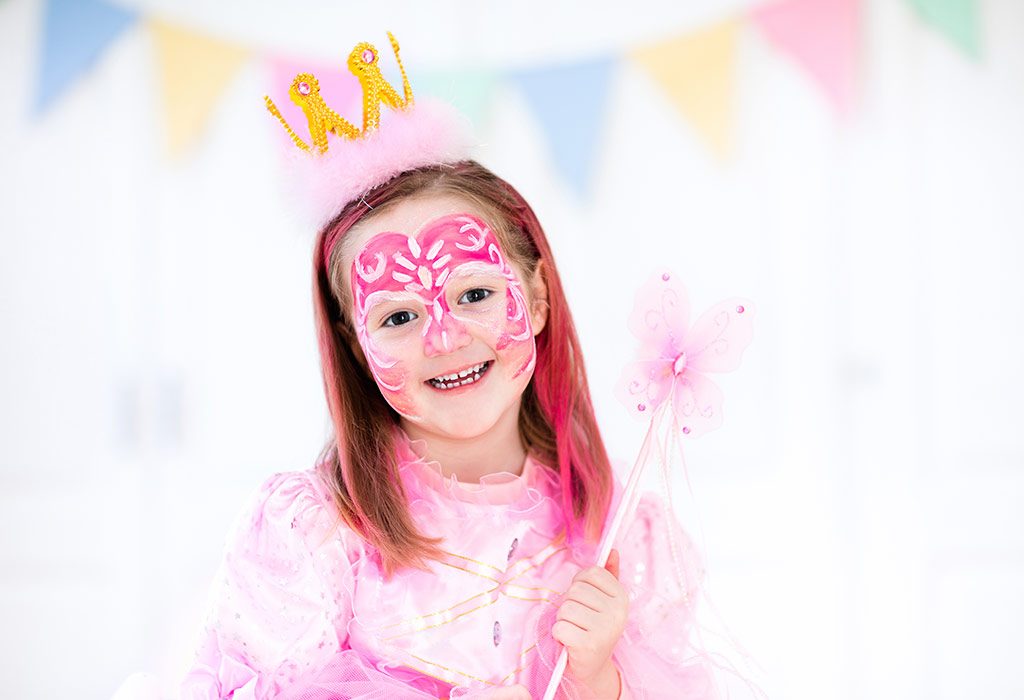 What Do You Need
White paint
Pink paint
Sticking jewels
How To
Paint white coloured swirls from the nose over the eye, resembling a tiara.
With pink or silver paint, draw flowery patterns on the forehead, along with a few stars.
With enough flourishes out there, add depth to it and paste the jewels on her to add a three-dimensional effect.
5. The Great Shark
This is quite a quirky one, which can be quite hilarious to see in action.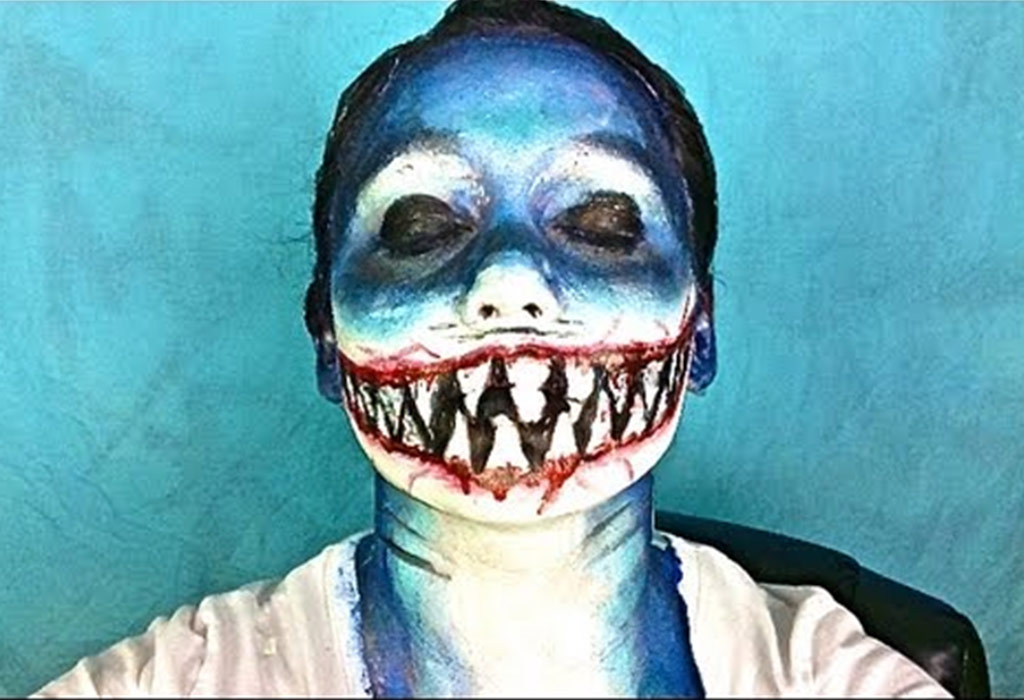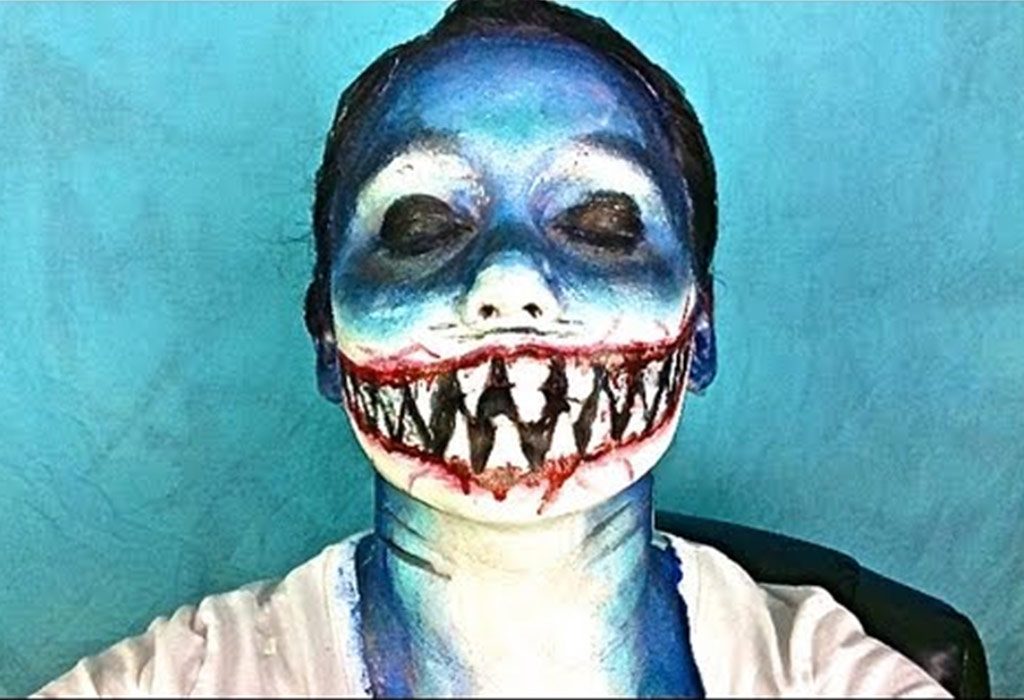 What Do You Need
Grey paint
White paint
Brushes
How To
Use one side of your girl's face to draw the shark. The tail needs to be next to the eye, as the body snakes towards her mouth.
Draw the face in such a way that its outline covers the outline of her mouth.
Every time she opens her mouth, it will look as if the shark is about to eat someone.
Face painting for a kid's party game is a great idea when all your child's friends and families get together. Turning them into creative masterpieces and getting them excited is a lovely way to create some memories and also click photos to cherish them.
Also Read:
Canvas Painting Ideas for Children
Painting Ideas Your Kid will Love
Finger and Thumb Painting Ideas for Children