10 Month Old Baby Feeding Schedule, Recipes, and Tips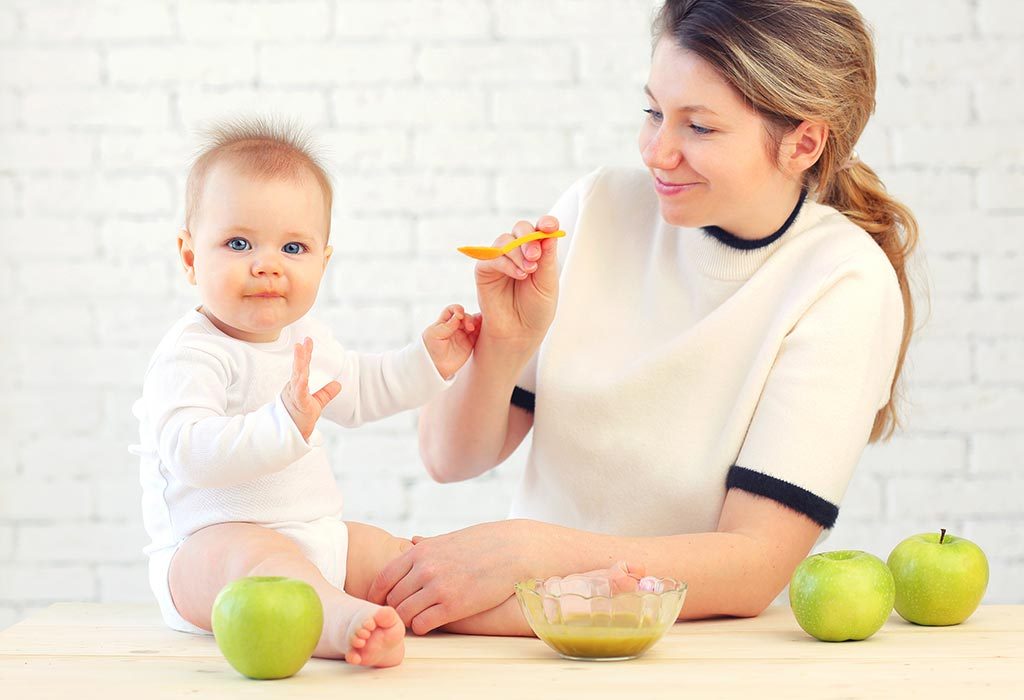 "A person's a person, no matter how small." – Dr. Seuss. Your baby has reached a new milestone, the double-digit 10th month! You will see development in his motor skills. The little one would be enjoying his newfound freedom by crawling all around the house, walking with the support of furniture, and exploring things.
With this growth comes the changes in food habits. Breastfeeding needs to continue as long as the baby and mother are comfortable. It will continue to provide much-needed nutrition to the baby. The solid food intake will consistently increase, and the baby is eager to put everything in his mouth.
What to Feed a 10-Month-Old
A variety of fruits, vegetables, grains, pulses, cereals, milk products, lean meat, and more are the ideal foods to feed a 10-month-old baby. By now, the baby would have developed a minimum of 4 front teeth, making it easy for him to bite food. However, the consistency will still have to be soft, as chewing is difficult at this age.
Fruits and Vegetables
Non-Vegetarian Options
Mashed eggs or omelettes (watch out for allergic reactions)
Other Food Items
How Much Milk Is Enough for a 10-Month-Old?
Mother's milk continues to remain a major source of nutrition for the baby. It also fosters bonding between the mother and the child. Continue to follow a healthy breastfeeding schedule with 3 to 4 nursing sessions spread across the day. You can breastfeed or bottle-feed 6 to 8 ounces of formula as per your and baby's convenience.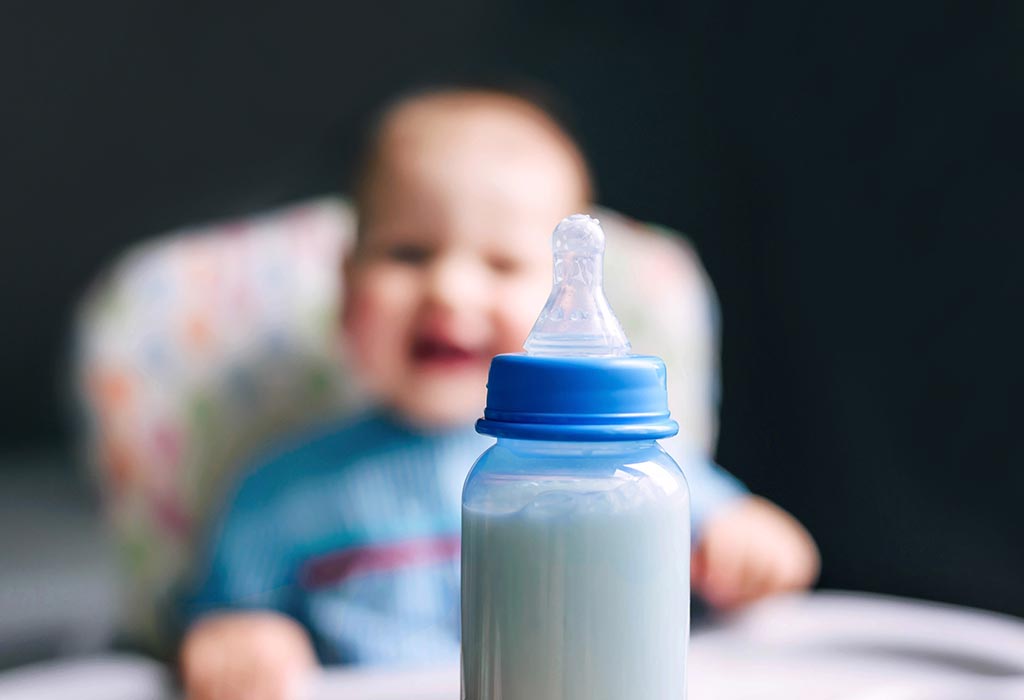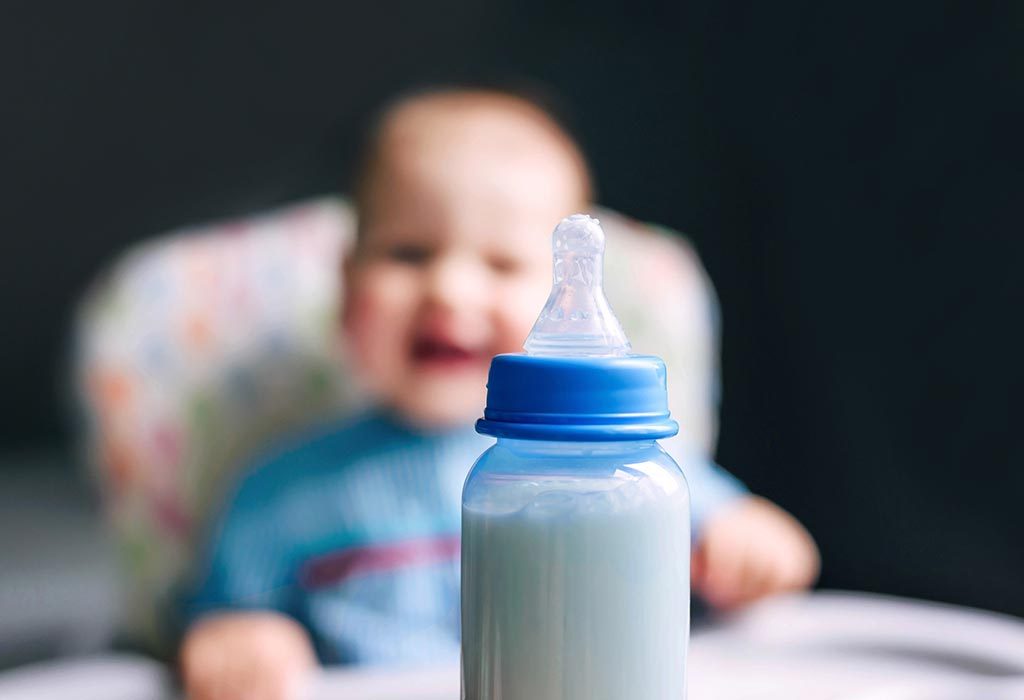 10 Month Old Feeding Schedule
Babies should be encouraged to try new foods. Include a healthy balance of vegetables and fruits, Cover all the food groups for complete nutrition and wholesome meals. A good feeding schedule should consist of three major meals and 2 healthy snacks. It may take time to understand how much a 10-month-old should eat. A proper diet chart will help you chalk out an outline to fix a healthy feeding schedule. A sample meal plan is shared below for parents to follow:
Food Items
Quantity
Breakfast
Fortified cereal
2-4 spoons
Fruit or vegetable
1 serving
Breast milk or formula
6 – 8 ounces
Morning snack
Bread or crackers
1 – 2 slices
Yogurt, cheese, or mashed egg
half serving
Lunch
Chicken or protein source
1-2 spoons
Vegetable
1 serving
Fruit juice or soup
half cup
Evening snack
Fruit, vegetable or milkshake
1 serving
Dinner
Bread, grains, rice, noodles, or pasta
1 serving
Protein source like tofu,

lentils, paneer

1 serving
Vegetable
1 serving
Before bed
Breast milk or formula
1 serving
Start and end the day with nursing, for healthy bonding and added nutrition for the baby.
Foods to Avoid for a 10-Month-Old Infant
The baby is still growing, and his digestive system takes time to develop. Certain foods need to be avoided, such as:
Whole fruits and vegetables, or bigger pieces of the same. Chop them into bite-sized portions.
Hard-to-chew food.
Meat that is still on bones. Clean and shred it before serving.
Nuts and seeds that can cause allergies.
Cow milk, as it is difficult to digest.
Honey, as it can cause botulism.
Eggs and shellfish, as they can cause allergies.
Gum, hard candies, popcorn.
Food with choking hazards.
Junk and processed foods
Baby Food Recipes for a 10-Month-Old Baby
Here are some baby food recipes for a ten-month-old infant. It includes ideas for healthy snacks, wholesome lunches, and delicious dinners.
1. Grilled Cheese and Spinach Sandwich
Ingredients
2 slices of wholegrain bread
Butter
Cheese slice
Spinach, blanched and pureed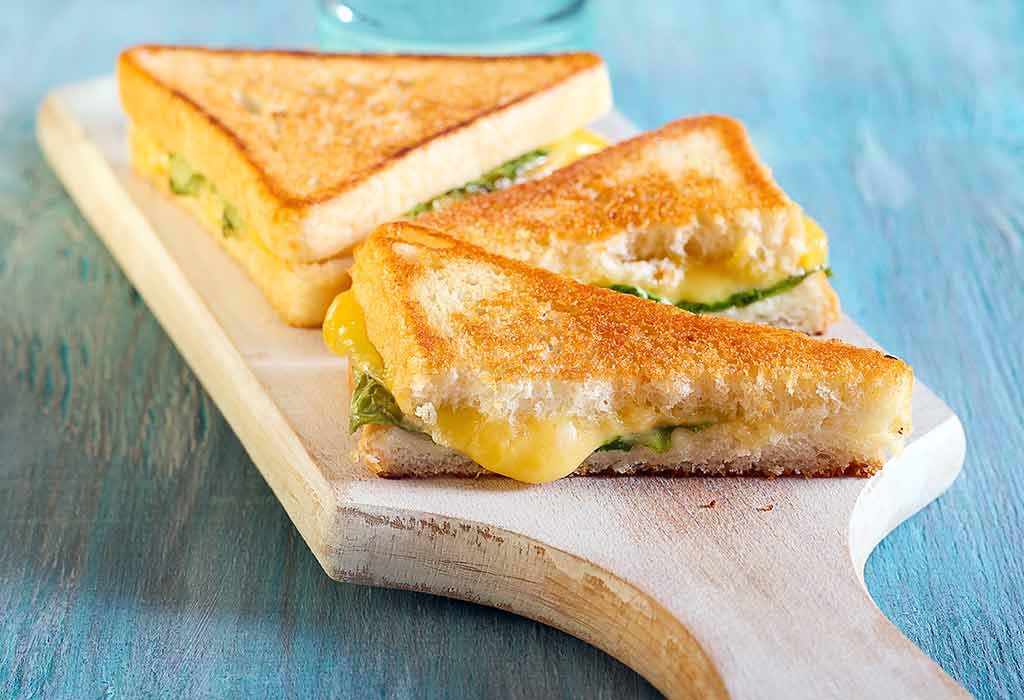 How to Prepare
Cut sides of the bread.
Spread butter.
Spread spinach puree.
Add a slice of cheese.
Grill and serve.
2. Cheesy Peas-y Delight
Ingredients
1 cup peas, steamed
Half cup cheese, tiny bits
Seasoning
How to Prepare
Mix cheese and peas in a bowl.
Season with little salt and oregano.
Serve as finger food.
3. Creamy Rice Pudding
Ingredients
1 cup of rice
2.5 cup milk
Pinch of cardamom powder
Tiny bits of sweet fruits, like strawberry or bananas
How to Prepare
Wash rice till water runs clean.
Pressure cook rice with milk.
Mash with the back of ladle for grainy consistency.
Add sugar and cardamom for taste.
Garnish with fruit bites.
4. Pasta in Fresh Tomato Sauce
Ingredients
Half cup boiled pasta
2 tomatoes, blanched and pureed
Half cup cheese
Seasoning
Basil leaves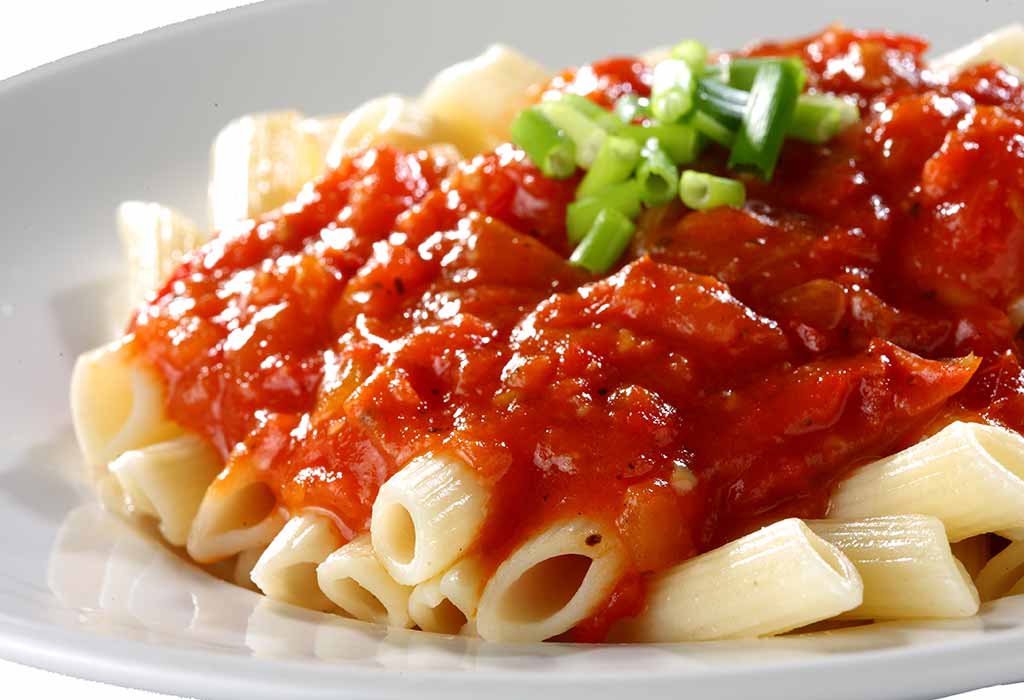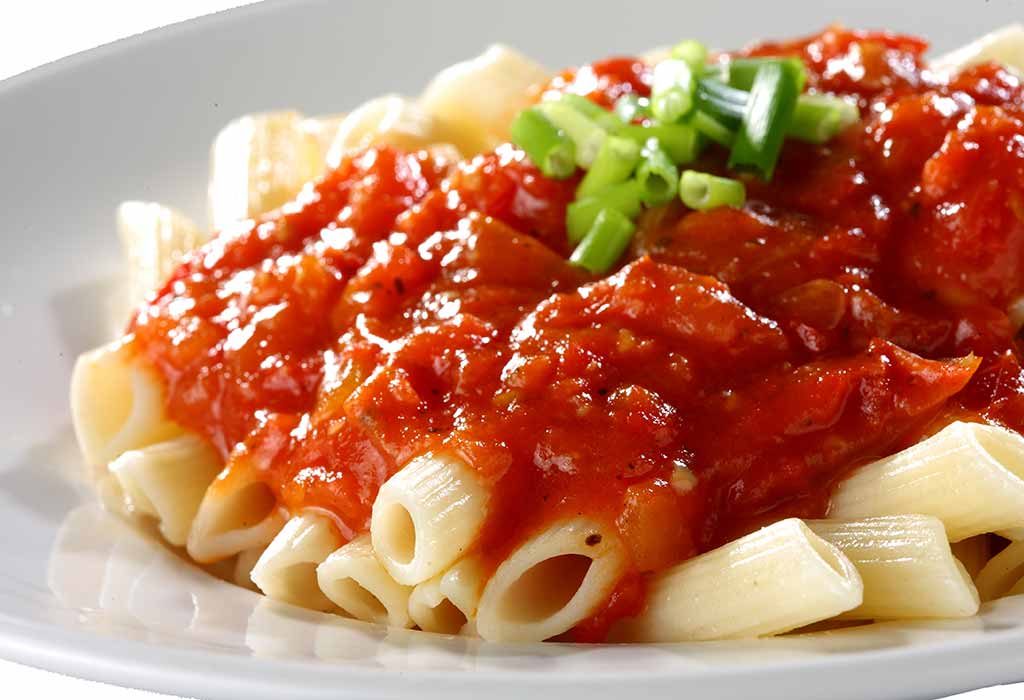 How to Prepare
Heat butter in a saucepan.
Add tomato puree and cook for a while.
Adjust seasoning.
Add boiled pasta.
Add cheese and allow it to melt.
Garnish with basil leaves and serve.
Be creative with food ideas, and experiment with taste, texture, and consistency. Introduce new foods in the baby's diet at regular intervals.
Feeding Tips for Parents
Encourage babies to try new food. Offer finger food to encourage self-feeding. This can get pretty messy, and you will have more food on the floor and the baby than in the mouth! However, this is important to develop hand-eye coordination and help the baby become independent. The baby will be spending lots of calories running around, so a well-planned feeding guide is needed to ensure all the nutrition is present for healthy growth and development.
Try to cook baby food from the same ingredients you are using for the rest of the family. The baby is likely to want to try what you are eating. This will help you in the longer run.
Experiment with different tastes and textures. Add a lot of colourful vegetables and fruits to the baby's diet.
Serve bite-sized finger food, and chop the portions small enough for the baby to pick with his hands and eat.
The baby has passed the stage of mashed and pureed food, and can now eat soft chunks. Encourage him to chew on vegetable sticks. This will exercise his gums and promote pain-free teething.
Keep salt and sugar to the minimum in your baby's food.
Sit together with the baby at the family table during mealtimes. Invest in a high chair to make mealtimes comfortable and happier.
Do not force-feed the baby. Let mealtimes be happy and positive for everyone.
Every correct choice you make at this stage will develop healthy food habits in your baby. A small start will lead to a balanced diet and a healthy lifestyle!