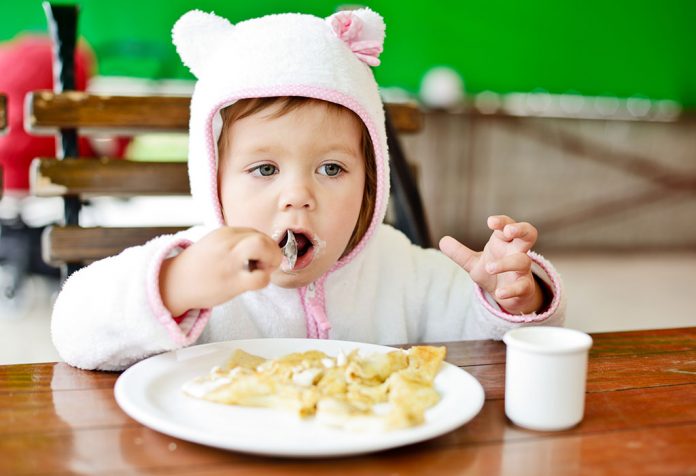 All of us love to eat warm and wonderful foods in winters. As babies start eating solid foods, even they enjoy new and different foods. But when it is winter, you need to be a bit careful about what you give you to your little one. Your baby's diet should include foods that enhance their immune strength. So, here are five amazing foods with recipes for your little munchkin.
Healthy Winter Foods with Recipes for Babies
As your little one turns 1 this winter, you need to be a little creative to get him to eat for his own good. You need to be patient while making a variety of foods to please your baby. Whatever you make should provide him immunity and nourishment to your baby. Here are some foods with their recipes that you can make:
1. Dry Fruit Powder Milk
It is a wonderful way to include the goodness of dry fruits in the winter season. Dry fruit powder tastes delicious when it is added to milk.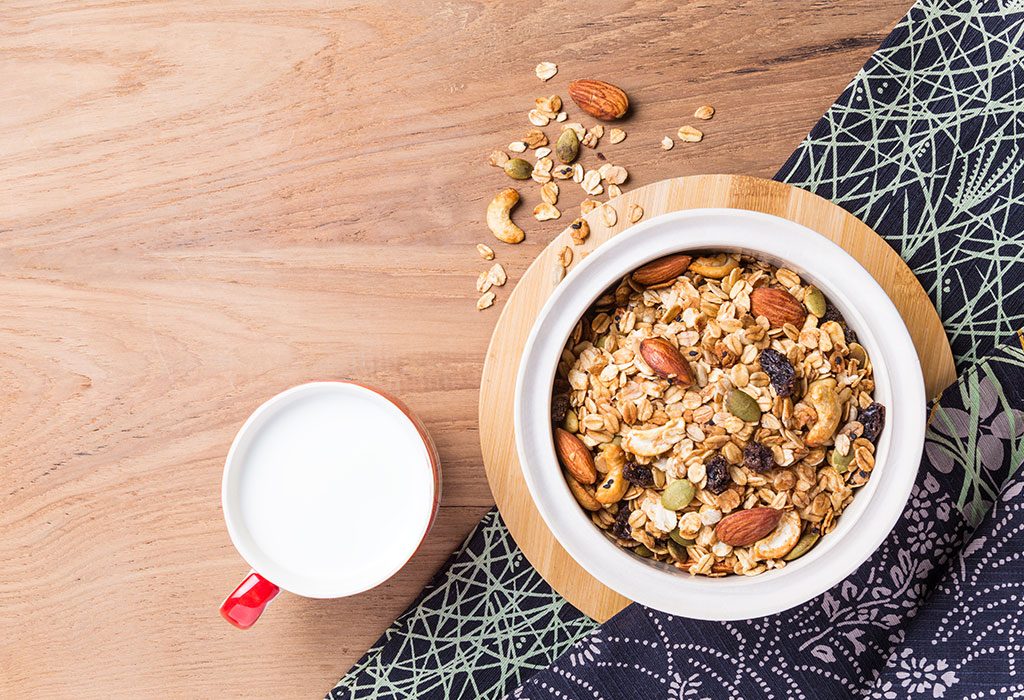 Why You Should Give
The goodness of dry fruits helps a toddler gain weight. Its mild aromatic flavour makes it tempting and the best thing about this dish is that the powder is handy and can be added to milk anywhere.
Suggested Recipe
Dry fruit powder: 2 Tsp
Milk: 1cup
Prepare the dry fruit powder and store it in an airtight container. Add the powder to milk and boil until it becomes frothy. Serve warm.
2. Almond Halwa / Badam Halwa
It is a delicious, healthy dessert which is made with milk, sugar, ghee and almonds.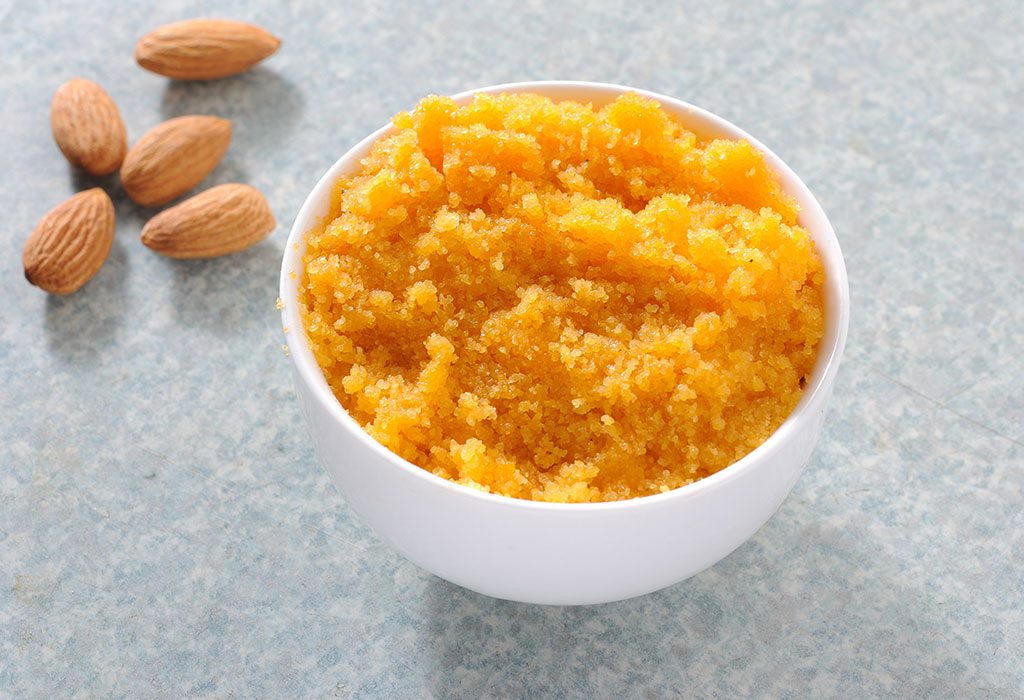 Why You Should Give
Almonds keep the body warm in winters and stimulate the digestion process. They are also a good source of proteins, which help strengthen the bones. Being rich in proteins and carbohydrates, almonds also provide instant energy to babies.
Suggested Recipe
Almonds: 1cup
Milk: ¾ cup
Sugar: ¾
Homemade ghee: ¼ cup
Soak almonds for about 4 hours and then peel their skin. Take almonds, sugar, and milk in a mixer to make a coarse paste. Melt 2 tbsp. of ghee in a pan and add the paste to it. Add the remaining ghee while stirring continuously. When the halwa thickens, switch off the gas. It should be soft, neither sticky nor wet.
3. Carrot Halwa
It is a traditional dessert in India which is mostly prepared in winters to keep the body insulated.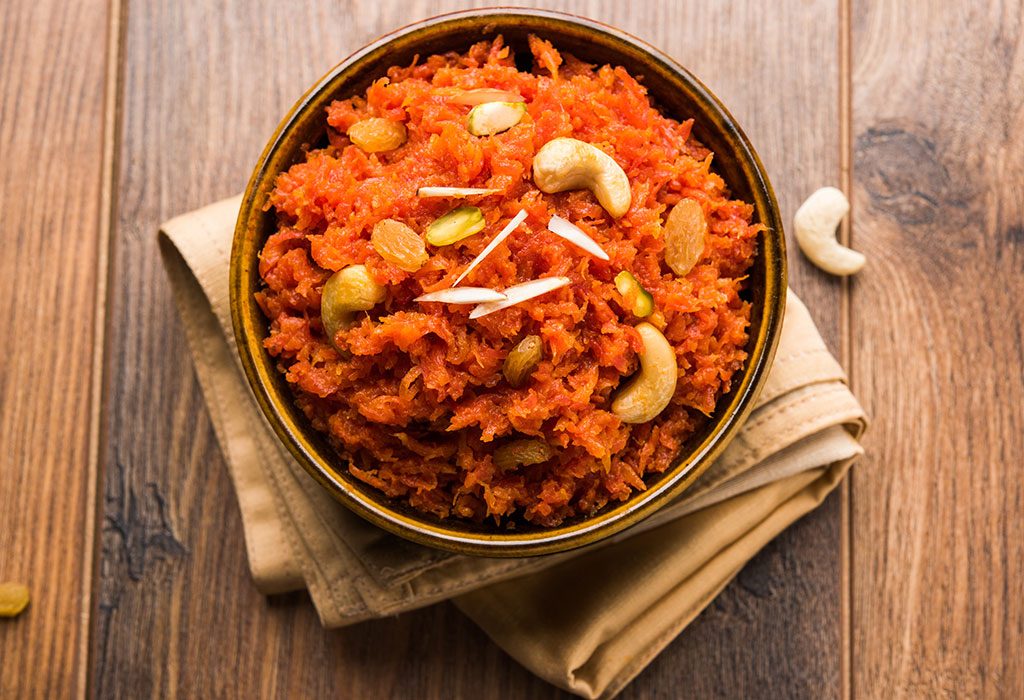 Why You Should Give
Fresh juicy carrots are used along with loads of ghee, nuts, and milk. It has the essential nutrients to boost the immune system. White sugar, if replaced by palm or brown sugar will make it healthier.
Suggested Recipe
Carrots: 3medium (grated)
Milk: 1 cup
Palm/ Brown Sugar: ¾ cup
Homemade ghee: 3 tbsp
Cashews: 10
Raisins: 1 tbsp.
Wash, peel, and then grate the carrots. Fry cashews and raisins in a tbsp. of ghee. Add grated carrot and saute until the raw flavour goes. Add milk and cook on a medium heat. Once the milk is absorbed, add sugar. When the halwa thickens, add fried cashews and raisins and turn off the flame.
4. Cream of Tomato Soup
It is a delicate and tangy soup made with cream, spices, and fresh tomatoes which is wholesome and healthy.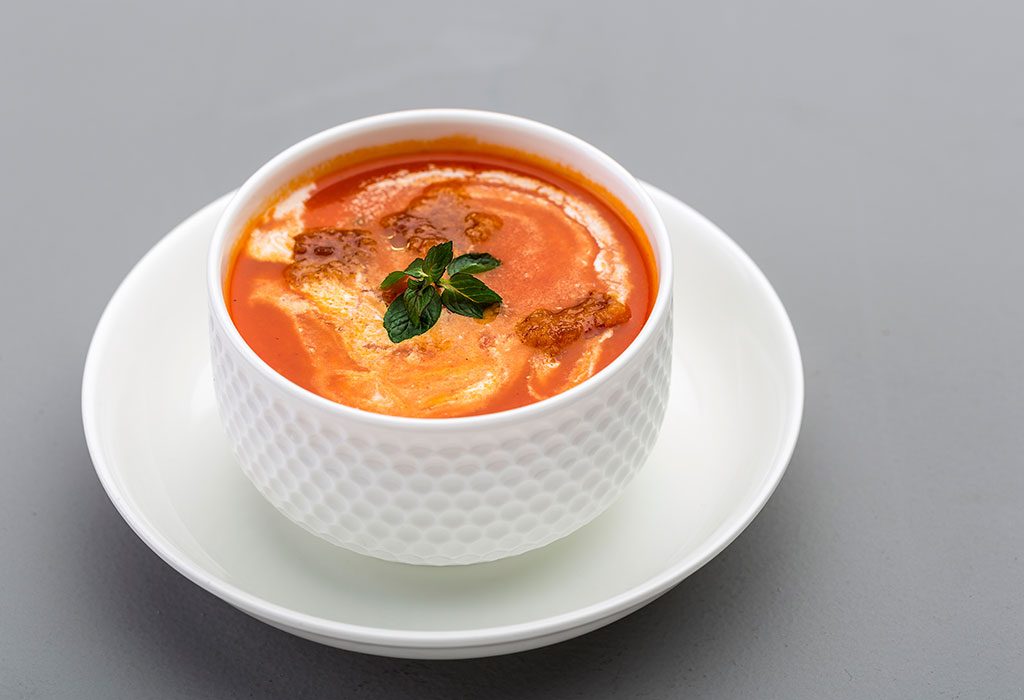 Why You Should Give
It contains vitamin C and boosts natural immunity. A bowl of tomato soup is very refreshing and energizing and babies will love it.
Suggested Recipe
Tomatoes: 3 to 4
Onions: 1 tbsp finely chopped
Garlic: 4 small cloves, finely chopped
Bread Cubes: optional
Butter/ghee: 1tsp.
Pepper powder: ½ tsp.
Fresh Cream: 1 Tsp
Boil tomatoes after washing them well. Grind the peeled tomatoes to make a fine puree. Toast the bread cubes in butter. Add remaining butter and chopped onions and garlic. Add pureed tomatoes once the onions turn golden in colour. Then add ¼ cup water and boil on a medium flame. Add salt, pepper powder, grated cheese, fresh cream and mix well. Serve warm with toasted bread cubes.
5. Vegetables and Lentil Soup
It is a creamy and flavoured soup. If your baby is not eating a wholesome meal, you can give him vegetables and lentil soup.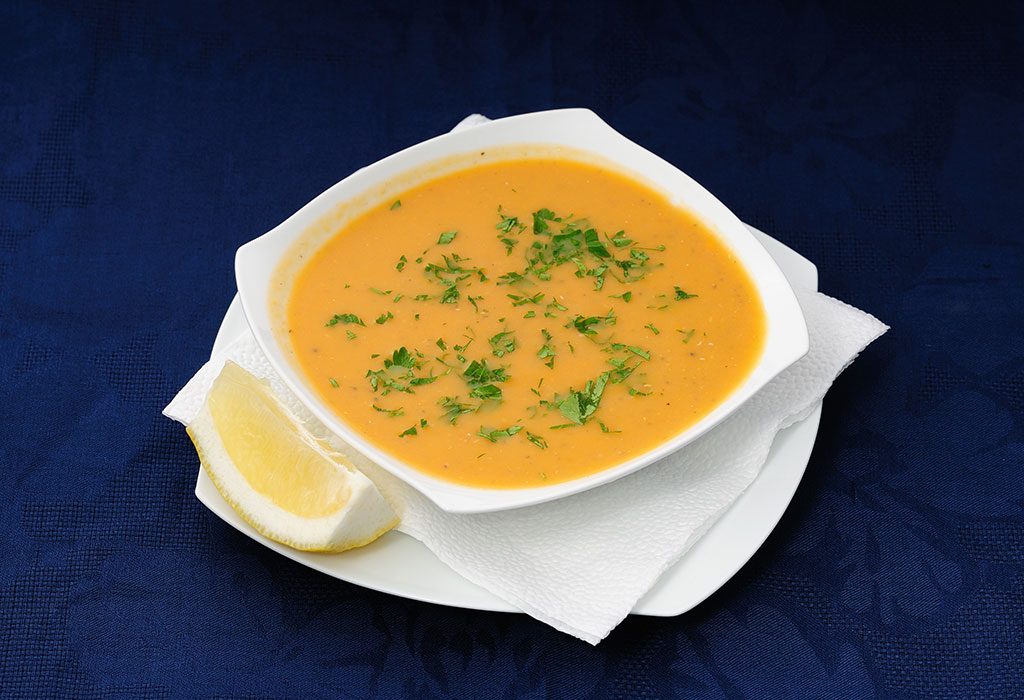 Why You Should Give
Assorted vegetables, moong daal and mild spices are full of nutrition. Legumes and vegetables are also a good source of proteins and vitamins. Vegetables and lentil soup can be served with roti or idli/dosa.
Suggested Recipe
Moong dal: 4 tbsp.
Cumin seeds: ¼ tsp.
Carrot, beans, peas, potato: small quantity.
Garlic: 1 or 2
Butter/ ghee: ¼ tsp.
Pepper powder: A pinch
Wash and pressure cook chopped veggies along with moong dal. Allow them to cool slightly then blend to make a smooth paste. Reheat the blended soup with butter or ghee and add salt and pepper powder to it and serve warm.
If you are not sure about which foods to give to your baby in winters, try the ones mentioned above. The goodness of the ingredients will give you a power packed meal.
Also Read: Baby Winter Care