12 Healthy and Easy-to-Make Christmas Treats for Kids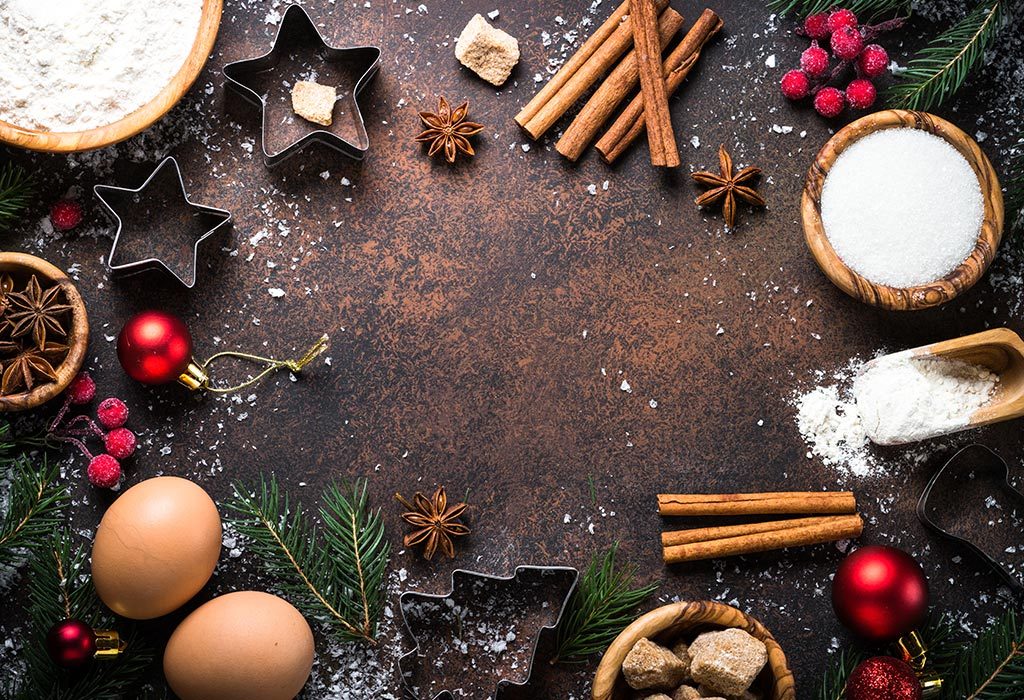 As the holiday season rolls around, making your kids stick to a healthy meal plan will be hard. When it's Christmas, kids look forward to eating cookies, apple pie, mashed potatoes, and the likes. Christmas comes only once a year, and no doubt, you will want to make everything that your little ones demand. But at the same time, you will think if you can put together some healthy ingredients in those Christmas recipes so that your kids' nutritional requirements are not compromised. Hold on to that thought because we have some tasty and healthy recipes that you can make in no time. Try out these healthy Christmas treats and make your children's Christmas merry and yummy!
Video : Delicious and Easy Christmas Recipes for Kids
Yummy Christmas Recipes for Children
To kick off the Christmas celebrations, we have put together a bunch of interesting recipes that are not only delicious but healthy and easy to make as well.
1. Honey and Caramel Popcorn
Popcorns taste delicious and even more so if you add honey and caramel to them. Your kids can enjoy honey and caramel popcorn while watching Christmas movies. Here is how you can make them.
Ingredients
Butter – 1/4 cup
Brown sugar – 2/3 cup
Honey – 1/3 cup
Popping corn – 1/3 cup
Vegetable oil – 1 -2 tbsp
How to Make
Take some oil in a pan and heat it on medium heat. Add 2-3 pieces of corn to it.
Once the pieces start forming a circular shape, add in the remaining corn pieces. Place a lid over the pan and let the corns pop inside it.
Once the popping sound stops and all the corns are popped completely, turn off the flame and remove the lid. Put the popcorn in a large bowl.
Take another pan and add the butter, sugar, and honey to it. Heat it on medium flame and let it cook for about 10 minutes. Once it has adequately mixed, let it boil, then reduce the flame, cooking it for another 8 minutes or so.
Pour this mixture into the popcorn bowl and mix well. Let it cool down, and let your kids dig in.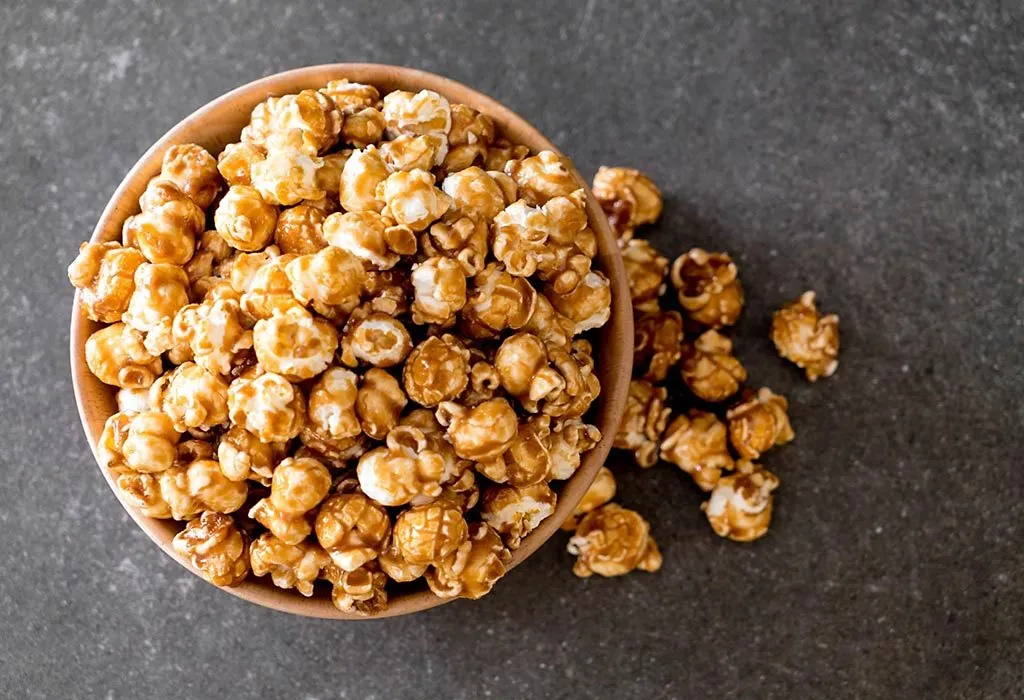 2. Chocolate Angel Food Cake
Chocolate angel cake is moist and tastes yummy. Here goes the recipe –
Ingredients
Chocolate icing – 1 cup
Vanilla essence – 1 tsp
Brown sugar – 1 – 1/2 cups
Cream of tartar – 1- 1/2 tsp
Beaten egg whites – 2 cups egg whites (7 eggs)
Cocoa powder – 1/4 cup
All-purpose flour – 1 cup
How to Make
Take the flour and cocoa in a bowl and sift them well.
Take another bowl and add the egg whites to it, and beat them well. Then add in the brown sugar and beat them again until the mixture gets thick and tight.
Add in some more brown sugar, along with the sifted flour and cocoa powder mixture and some vanilla essence, and mix well.
Take a baking tray and grease it well with butter. Add the cake mixture into the pan properly. Preheat the oven to 180° C. Place it in the oven, then bake for about 25 minutes.
Once the cake is prepared, take it out and pour the chocolate icing all over the tip, allowing it to leak from the sides, forming an angelic pattern.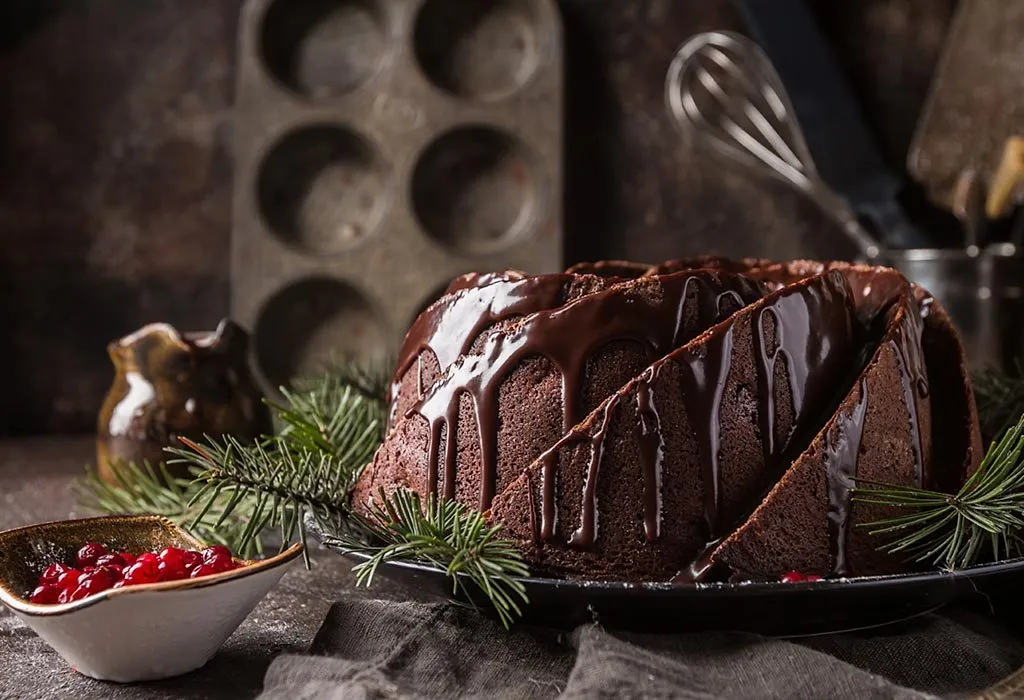 3. Chocolate Cookies
While Christmas is just for one day, the celebration can continue for the entire week if you make treats like chocolate cookies. Here's how you can make chocolate cookies and surprise your kids!
Ingredients
Softened butter (unsalted) – 1 cup
Cocoa powder – 1/2 cup
Sugar – 2 cups
Eggs – 2
Sodium bicarbonate – 1/2 tsp
Baking soda – 1 tsp
All-purpose flour – 2 cups
Vanilla extract – 1 tsp
Salt – 1/2 tsp
Icing sugar for garnishing
How to Make
Mix the butter and sugar in a large bowl until it reaches a cream-like consistency.
Add in the eggs and vanilla extract to this mixture and mix well.
In another bowl, mix the flour, cocoa powder, baking soda, and salt. Slowly add these dry ingredients to the other bowl and mix well.
The mixture should have a dough-like consistency.
Take small portions of this mixture and roll them into balls. Flatten these balls to form the cookies.
Place them on a baking tray lined with parchment paper.
Next, preheat the oven to 180°C for 10-12 minutes and bake the cookies in it.
Once the cookies are baked and cool completely, give them to your child, and you enjoy it too.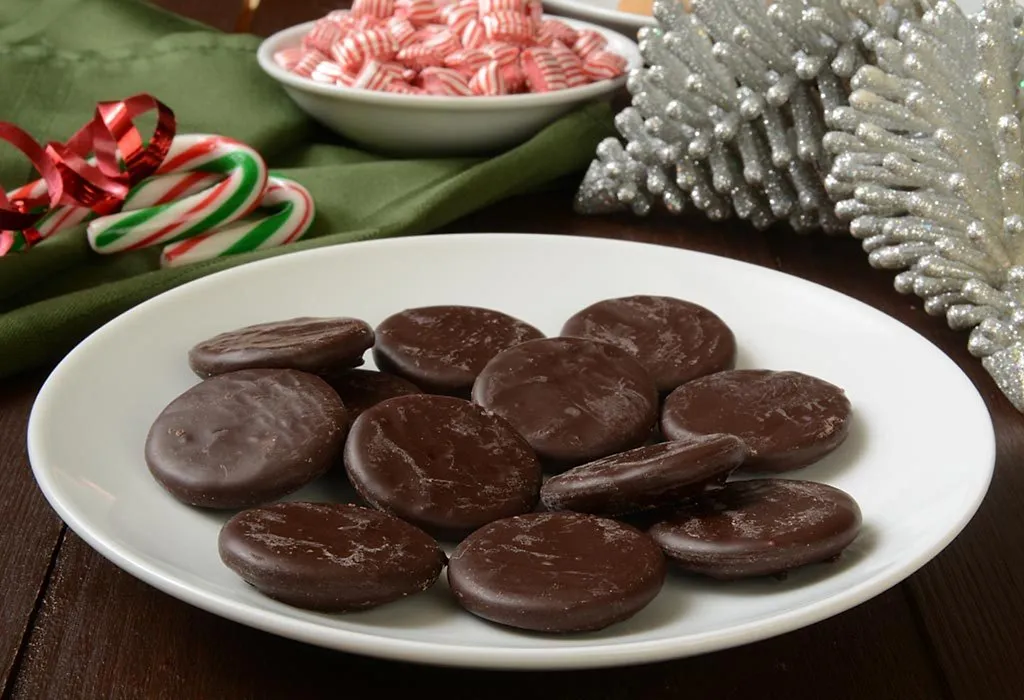 4. Almond Puffs
Christmas recipes can be healthy and nutritious, along with being downright delicious. If you want a healthy recipe, we suggest that you make almond puffs! Here's the recipe –
Ingredients
Almonds (blanched and toasted) – 1 cup
Icing sugar – 2 tbsp
All-purpose flour (sifted) – 1-2 cups
Vanilla essence – 1 tsp
Brown sugar – 2 tbsp
Unsalted butter – 1/2 cup
How to Make
Grind the almonds to get a fine powder.
In a bowl, mix the brown sugar with butter. Whisk it to form a creamy mix.
Mix the powdered almonds, flour, and vanilla essence in another bowl and add this to the above bowl. Mix it well to form a nice dough.
Use the dough to make balls that resemble a puffy shape. Preheat the oven to 200°C.
Place these balls in the oven and let them bake for about 30 minutes.
Take them out and sprinkle some icing sugar over them. Place them in the oven again for a few minutes, then serve warm.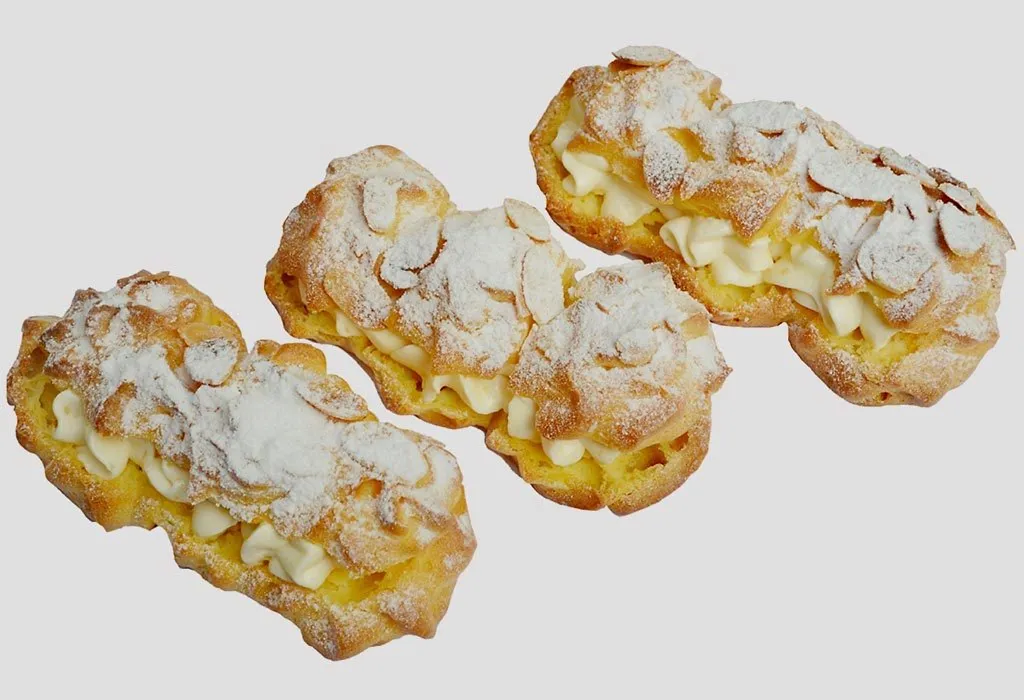 5. Jam Cookies
Remember those wonderful biscuits with a dollop of jam in the middle? You can make a much better version of those right at home for Christmas.
Ingredients
Jam, preferably strawberry flavored – 3/4 cup
Cinnamon, grounded – 1/2 tsp
Self-rising flour sifted 1/4 cup
Plain flour, sifted – 2 cups
Honey – 1/3 cup
Icing sugar – 1 tsp for garnishing
Icing sugar mix – 1/2 cup
Softened butter – 1 cup
How to Make
Start by mixing the icing sugar and butter in a bowl. Whisk them properly using an electric mixer. Add some honey and whisk again.
In another bowl, take the self-rising flour, plain flour, and grounded cinnamon. Add the above mixture to this bowl. Next, add in some butter and knead together all the constituents to make a dough.
Make two equal portions of it and wrap it in plastic. Place it in the refrigerator for about 15 minutes.
Take one portion and flatten it. Use a cookie cutter to make round shapes (or shapes of your choice) with the dough. Preheat the oven to 190° C. Place these cookies in the oven and bake them until they get a golden-brown shade.
Repeat the same with the remaining portion of the dough, making sure you make a hole in the middle of the cookies this time. Bake these too.
Heat the jam on low heat for 2-3 minutes and spread it slightly in the middle of the biscuit (from the first batch). Sandwich with the cookies from the other batch.
Once done, sprinkle some icing sugar for final decoration.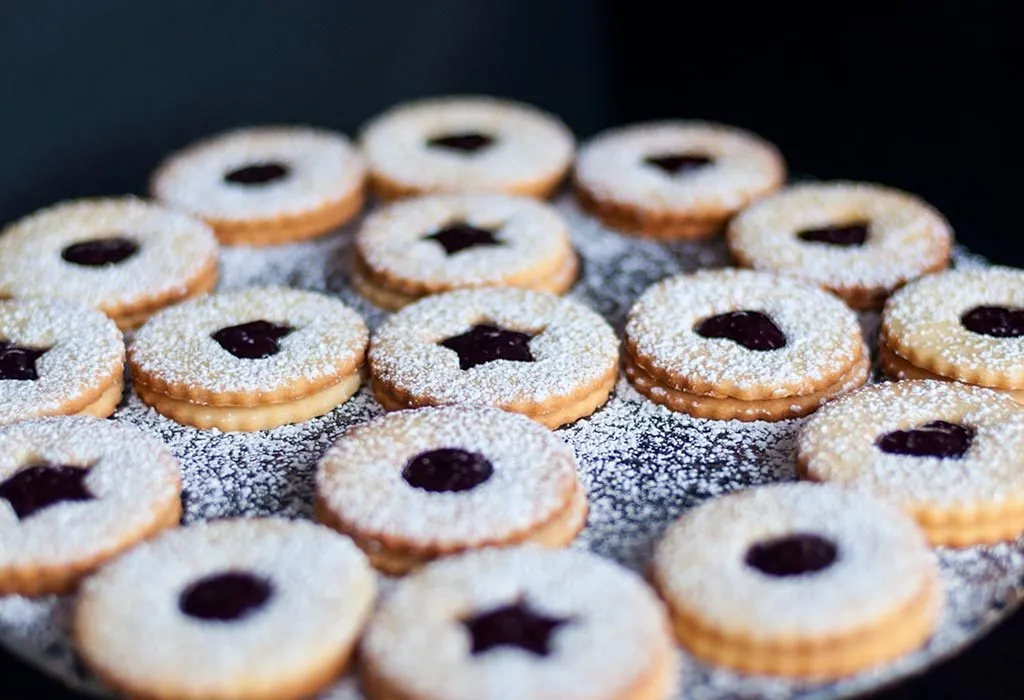 6. Cherry Cupcakes
Cupcakes are yummy, and Christmas is a perfect time to make them. Here is how you can make cherry cupcakes at home.
Ingredients
Cherries – 7-8
Double cream – 1 tbsp
Vanilla essence – 1 tsp
Self-rising flour – 2 cups
Brown sugar – 1/2 cup
Cream cheese for the icing
Milk – 1 cup
Eggs – 2
Butter – 1/2 cup
How to Make
In a bowl, take the cream, brown sugar, and vanilla essence, and whisk properly.
Add in the eggs and whisk again. Then slowly add in the flour and milk, whisking it well until it is thick.
Take the cupcake tins in a baking tray and spoon the mixture into each cupcake. Preheat the oven to 200°C.
Place the tray in the oven and bake for around 15 minutes.
In another bowl, add in some sugar, vanilla essence, and cream cheese. Mix it all properly. Add the double cream to this mix and stir it all well.
Use either a pipe or a spoon to garnish the cupcakes with this icing mix. Finally, place little cherries on the top.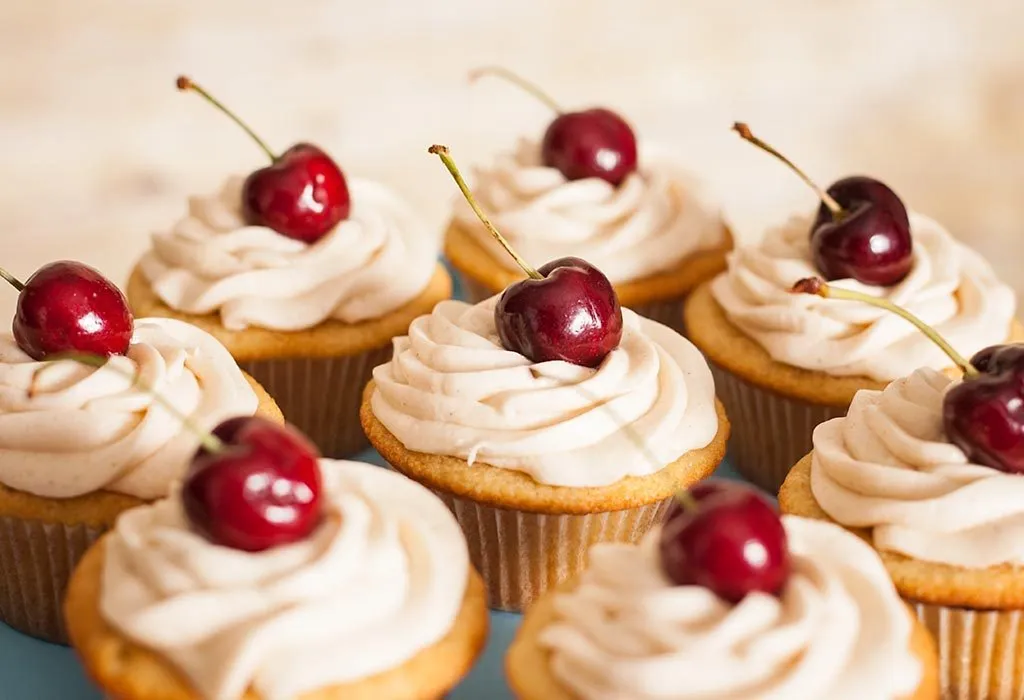 7. Apple Pie
Apart from cakes and cookies, you can also make an apple pie. Yes, it is a great idea to make something unique on Christmas. Check out the recipe below –
Ingredients
For Pie Dough
All-purpose flour – 2 1/2 cups
Salt – 1 tsp
Butter cubes – 8-10
Ice water
For filling
Granny smith apples (peeled, cored, sliced) – 6-7
Flour – 2 tbsp
Sugar – 3/4 cup
Salt – 1/2 tsp
Cinnamon – 1 tsp
Nutmeg – 1/4 tsp
Egg (beaten) – 1
Additional sugar
Half a lemon
How to Make
To make the dough, take the flour and salt in a bowl and mix well.
Next, add in the cubed butter and mix it up with the flour. Break the cubes with flour.
Add some ice water to the bowl and stir the mixture well to get the dough.
The dough should not be very sticky. Work the dough into a ball and cover it with cling wrap, and refrigerate.
In a bowl, take the sliced apples, sugar, salt, flour, cinnamon, nutmeg, and lemon juice. Mix well until all the apple slices are coated well.
Preheat an oven to 200°C.
Meanwhile, take out the dough from the refrigerator and cut it in half.
Roll out both the halves until round and about 3 mm thick.
Place one rolled-out dough in the pie dish making sure that the dough reaches the edges.
Pour in the apple filling onto the dough and spread it evenly.
Roll the other half of the dough on top.
Trim the extra dough from the edges and pinch the dough around the edges. Edges should be sealed together.
Brush the pie with the beaten egg and sprinkle sugar on top.
Make slits in it.
Bake for about 45 to 60 minutes or until the crust turns golden brown.
Allow it to cool completely and serve.
8. Snowball Truffles
These little snacks will leave your kids wanting for more throughout the entire week of Christmas.
Ingredients
Desiccated coconut – 1 cup
Dark chocolate cubes – 1 cup
Double cream – 1/2 cup of double cream
How to Make
Take a pan and add the double cream to it. Bring it to a boil.
Next, add the dark chocolate cubes to the pan. Let these melt and keep stirring to form a smooth mix. Turn off the flame and let it cool down.
Leave the mixture in the refrigerator for a couple of hours. Once done, form small balls that are comfortable to hold and eat.
Arrange the desiccated coconut on a plate and roll these balls in it so that they are covered with desiccated coconut.
Freeze these balls in the refrigerator for an hour and then serve.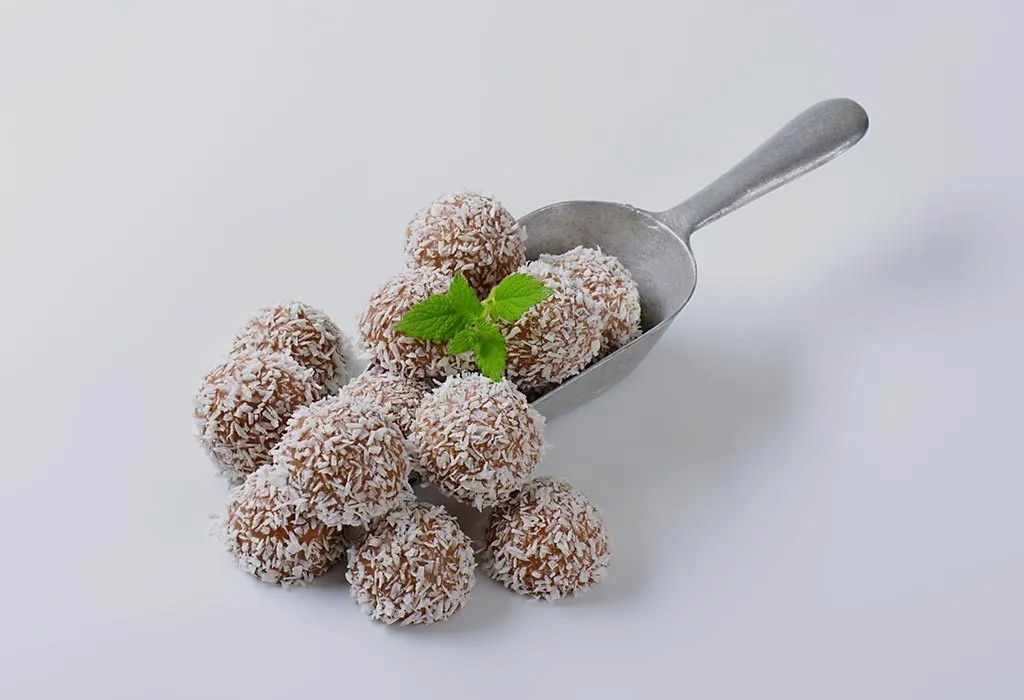 9. Chocolate Log
Imagine a cake that resembles a piece of a log but has the beauty of chocolate within it. That is precisely what this recipe is about.
Ingredients
Icing sugar – 1/2 cup
Crushed mint leaves – 2-3
Flour – 1/2 cup
Double cream – 1 cup
Golden syrup – 1 tbsp
Dark chocolate – 1 cup
Butter – 1/2 cup
Baking powder – 1/2 tsp
Cocoa powder – 2 tbsp
Eggs – 2-3
How to Make
Beat the eggs and sugar properly for about 10 minutes or until creamy.
In another bowl, mix the cocoa powder, baking powder, and flour. Add this to the creamy mixture.
Preheat an oven to 200°C. Pour the above mixture in a tin lined with baking paper. Bake it for around 10 minutes. Once it is ready, tip it onto the parchment and take off the lining paper. Then roll up the cake from the longest side and let it cool.
In a pan, add the butter and chocolate together and heat until the chocolate melts completely. Put them in a bowl and add cream and syrup to it along with the icing sugar. Mix them all properly till a smooth paste is formed. Add more cream to keep it all together.
Unroll the cake and spread the cream over it. Garnish with crushed mint leaves and roll it up again. Add some more icing sugar if needed.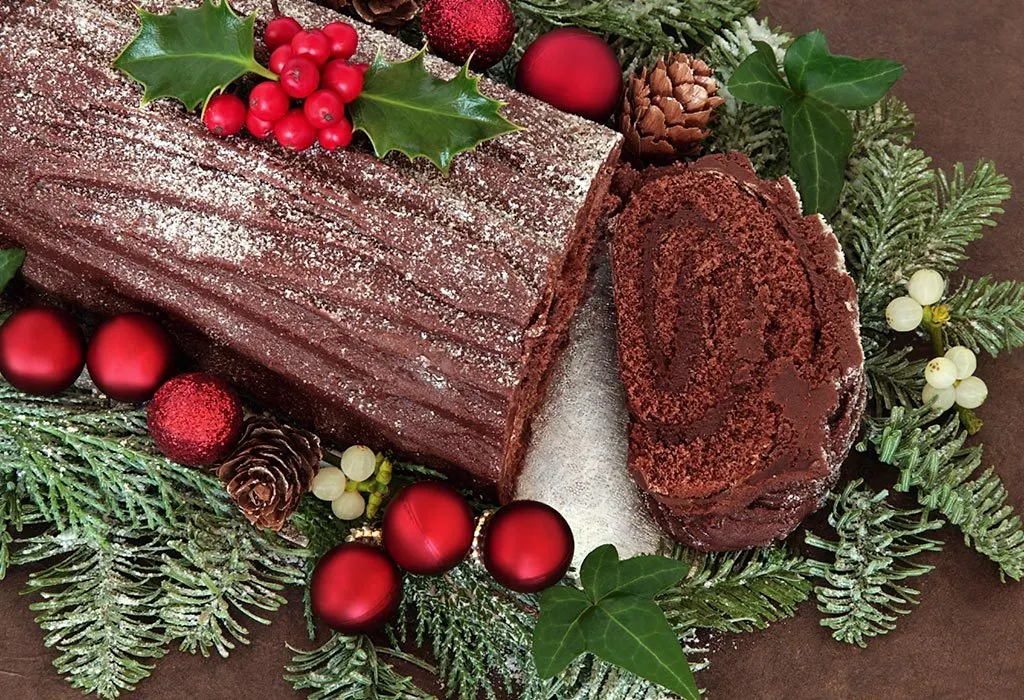 10. Chocolate and Mint Energy Bites
These fancy and quick bites bring the goodness of chocolate with the wonderful taste of mint.
Ingredients
Oats – 1-2 cups

Unsweetened coconut – 1/2 cup

Unsweetened cocoa powder – 1/4 cup

Chocolate chips – 1/4 cup

Smooth peanut butter – 1/4 cup

Honey –

1/3

cup

Peppermint extract –

1/4

teaspoon
How to Make
Take all the ingredients in a large bowl and stir well to combine.
Scoop the mixture with a small cookie scoop on the baking tray lined with parchment paper.
Chill it in the fridge until set for about an hour.
Store in a container in the fridge.
11. Gingerbread Reindeer Cookies
Gingerbread cookies are a classic favorite. And when it takes the shape of cute little reindeer, the fun doubles up.
Ingredients
Brown sugar – 1/2 cup
Butter (softened) – 1/2 cup
Golden syrup – 1/2 cup
Plain flour – 2 1/2 cups
Egg (yolk only) – 1
M&Ms – red, mini
Bicarbonate of soda – 1 tsp
Ground ginger – 1 1/2 tsp
Mixed spice – 1 tsp
Writing icing – blank and white (separate)
How to Make
Preheat the oven to 180°C.
Beat brown sugar and butter together with an electric beater or a food processor.
Add the egg yolk and 1/2 cup golden syrup to the butter and sugar mixture, and mix until combined nicely.

Add flour, mixed spice, ground ginger powder, and bicarbonate soda of the proportions mentioned in the ingredient list to the new mixture.

Mix everything well.
Line a tray with baking paper and put the dough onto the paper. Now cover the mixture with another baking paper and roll the dough until 5 mm thick.
Cut out the shapes of reindeer using cookie cutters. You can ask your kids to help you here.
Put the shaped cookies onto a greased baking tray and bake for 8-10 minutes.
Once cookies are baked, take them out and set them aside on the cooling rack to cool.
Using black writing icing, shape out eyes and mouth, and using white writing icing, shape out antlers, ears, and eyebrows. For the nose, place red mini M&Ms.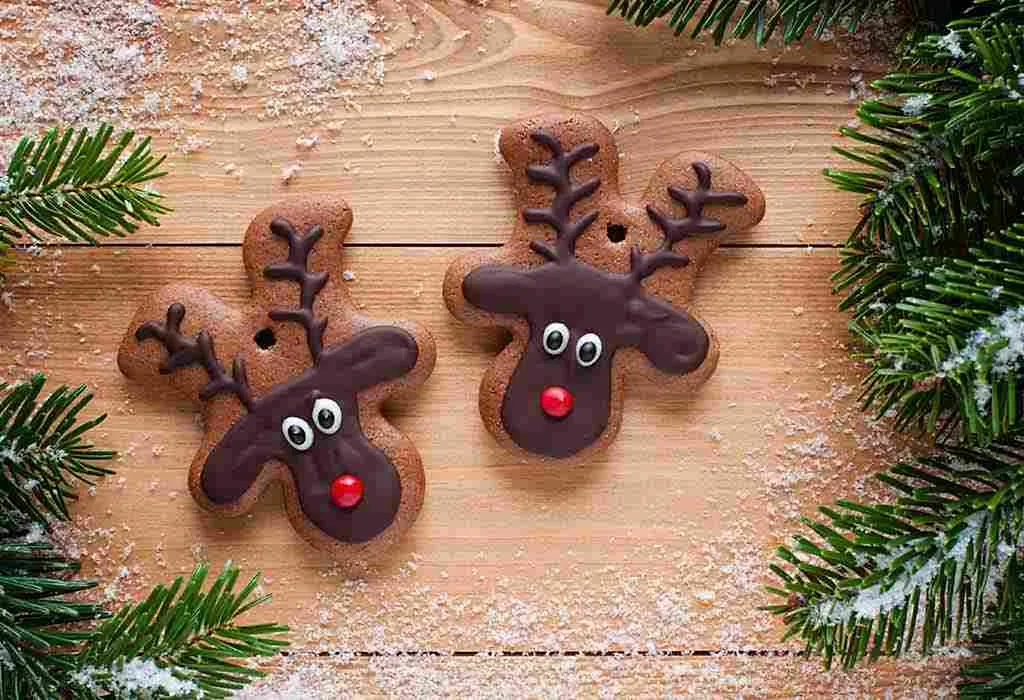 12. Fruit Mince Muffins
Mince pies are traditionally eaten in every household. But, how about fruit mince muffins that are not just tasty but also healthy for tiny tots.
Ingredients
Plain flour – 2 cups
Softened coles butter – 175 g
Fruit mince – 400 g
Green apple, peeled and grated – 1
Eggs – 1 beaten and 1 full
Icing sugar – 1/2 cup
Cinnamon sugar – 2 tsp
Ground cinnamon – 1/4 tsp
How to Make
Preheat the oven to 180°C. Grease a 12-hole muffin pan, and set it aside.
Beat butter and icing sugar using an electric beater or in a food processor until combined.
Add one egg and process for the next 30 seconds. Add flour simultaneously and process the mixture until everything is combined nicely.
Take out the mixture onto a lightly floured surface. Knead the dough with light hands. Divide the dough into two.
Roll both the doughs 3 mm thick on a lightly floured surface and cut out into circles of 12 x 71/2 cm.
If the weather is warm, you can chill the pastry for 10 minutes before rolling.
Now, ease the pastry into the muffin pan before it becomes loose.
In a bowl, mix fruit mince, grated apples, and cinnamon powder. Fill the pastry with the fruit mince mixture to the top.
Now, take the second pastry and cut out 12 x 6 cm round shapes. Place these cutouts onto the muffin and seal the edges.
Chill them for about 10 minutes.
Brush the top of the muffins with beaten egg, sprinkle some cinnamon sugar on the top, and bake these muffins for about 25 minutes.
When the muffins turn golden brown, take them out to cool off. Serve whenever you are ready.
With these healthy and easy Christmas sweets recipes for kids, you are bound to have a fantastic celebration this year. So make these recipes and have a wonderful time together as a family.
Also Read: