12 Best Thanksgiving Songs for Kids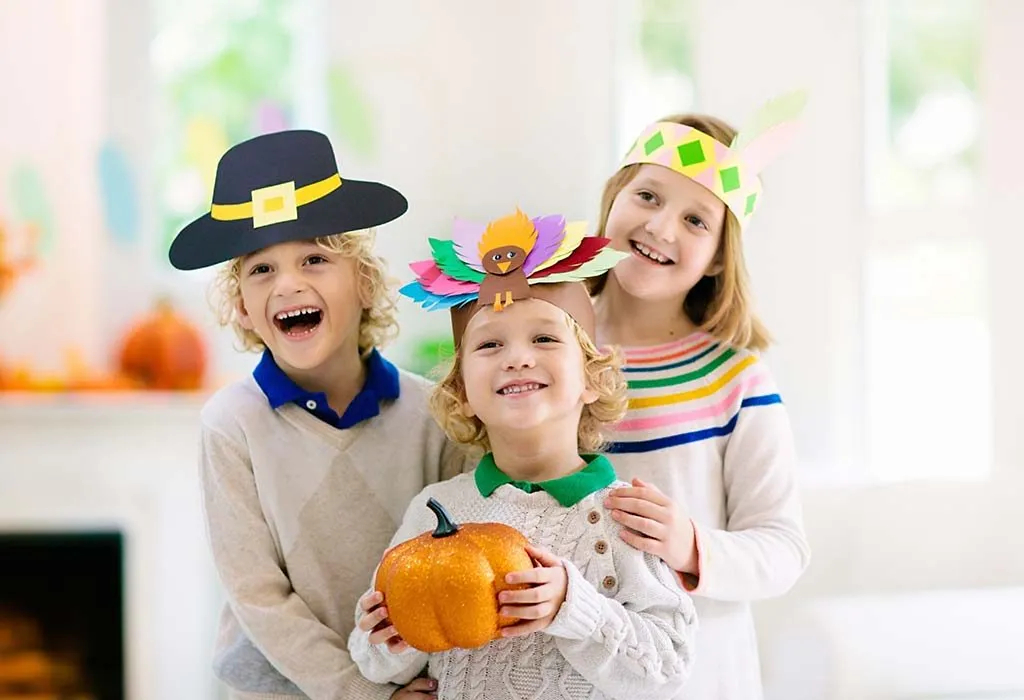 In this Article
An annual holiday in the United States and Canada, Thanksgiving is all about celebrating the harvest and the blessings of the past year. The holiday is rich in legend and symbolises prosperity and abundance. A traditional fare of Thanksgiving includes turkey, bread stuffing, cranberries, potatoes and pumpkin pie. President Franklin Roosevelt declared the fourth Thursday in November as Thanksgiving Day in the United States. The holiday over time has come to mean – family, football and feasts for all Americans. When families gather they indulge in a lot of singing songs that celebrate gratitude and positivity. Thanksgiving songs for children are a great way to get children interested in the tradition.
Kid-friendly Thanksgiving Song for Little Ones to Enjoy
With a whole elaborate meal to be prepared, you might be stuck in the kitchen all day. It is a good idea to be well prepared with the rest of the stuff as you roast the turkey and gather the sides. A Thanksgiving music playlist is something that will keep your kids engaged during this massive culinary exercise.
We have collected and shortlisted tunes from favourite bands for kids. These are full of lyrics of gratitude, appreciation and of course the delicious cornucopia of food that Thanksgiving brings with it. This playlist encompasses Thanksgiving songs for toddlers, kindergartners and preschoolers. No Thanksgiving Day is complete without turkey, football and Thanksgiving songs for kids. These tracks and simply irresistible as pumpkin pie! Children love music and don't need a reason to dance or sing. Rest, play whatever be the reason- music is loved. These Thanksgiving songs for kids can be used for all of these.
1. Turkey Hokey Pokey by The Kiboomers
A classic song, this will get your children dancing to the beat. With a simple and sweet animation, it has been reimagined as an adorable Thanksgiving song for preschoolers. The best part of the song is that it lets the lyrics do the talking without becoming too confusing or visually stimulating for the kids. The song has a great mix of singing and rhythmic beats. The highlight, of course, is the new vocabulary word-"wattle"!
2. Grateful by Lucy Kalantari and The Jazz Cats
A breezy jazz melody- this will make you feel heartfelt gratitude and appreciation for almost everything this season. From thanking for the presence of your loved ones to the new centrepiece on your dining table, with this song you will find perfections in tears and imperfections this year. A great one to play when you are overwhelmed with the preparations. With its soft lilt and upbeat tune, it is sure to perk you up.
3. Ten Little Turkeys by The Learning Station
This song has both genders singing the song. The male voice sings the melody and the female sings it on a higher octave. Wonderful Thanksgiving songs for kindergarten, teachers can get both boys and girls in class to sing. What's more, it is a great song to emphasise maths skills or even use fingers to act out the song. A great song for children to learn the tune quickly giving them confidence and joy whilst singing.
4. Tofurky Song by Joanne Leeds
Vegetarians and vegans will definitely swing to this Tofu song. It is all about bringing an alternative dish to the Thanksgiving spread. It may not have a turkey tushi or fly but the rhythmic catchy tune will urge kids to give it a try.
5. Thanksgiving Feast by The Learning Station
This one from The Learning Station is set to the familiar tune "Frere Jacques" and has a lot of repetition. It is a good one for kids to learn something quickly and sing along with their peers.
6. Gobble Gobble Turkey Wobble by Koo Koo Kanga Roo
This turkey song has enough sass, dance moves to get them moving and directions that will help the kids follow the beat.
7. All Around the Kitchen by Dan Zanes
A lively track that will get kids excited for Thanksgiving dinner. It kind of prepares them for the sumptuous spread and your little turkeys may just sneak into the dishes or the kitchen to gobble the delicious spread for the evening.
8. Five Little Turkeys by Zebra Nursery Rhymes
A popular twist to the "Five Little Monkeys", this one is all about turkeys and a great Thanksgiving song for children. It will help toddlers and preschoolers to count on their fingers, sharpen their fine motor skills and be a good way to start their numeracy skills. It is also a great one for kids to mimic the mama or the doctor and wiggle their fingers to say "no more". You may have your toddlers or preschoolers asking you to play this on repeat mode for a while.
9. The Lord is Good to Me from Disney's Melody Time
The tune from Melody Time catches Johnny Appleseed singing about his blessings and it is a great way to get kids singing when the classic begins to play. A perfect classic it has the right beats to catch the attention of kids and get them hooked on to it.
10. The Thankfulness Song by The VeggieTales
A classic if you believe in faith or work in a school that is based on faith. It is all about being thankful. The song develops both brains and bodies. It reinforces what thanksgiving is all about- being grateful and thankful.
11. A Turkey Dance by The Learning Station – Kids Songs and Nursery Rhymes
What makes a good song is something that makes you shake your legs and booty when you listen to it. This cheerful song is a great track to dance with your toddlers and kids and make them learn new words while dancing.
12. If You're Thankful and You Know It Song by The Kiboomers
This beautiful song is a must-have song in your thanksgiving party playlist. The sweet melody of this song is an energetic song that will make us remind us of things that we are thankful for. Kids especially will learn to observe what they are thankful for.
Music is a great way to introduce new concepts to little ones. It builds their vocabulary, keenness to rhythm and enhances knowledge about a particular subject or theme. So this Thanksgiving, go ahead and get your playlist ready. You can set one before dinner and one for after dinner. Before dinner, you could sway to the music as you prepare and after dinner, you could all just snuggle up with a hot chocolate and sing away to glory.
Also Read:
Dance Songs for Children
Best Party Songs for Children
Best Halloween Songs for Children