Baby's First Halloween Celebration Ideas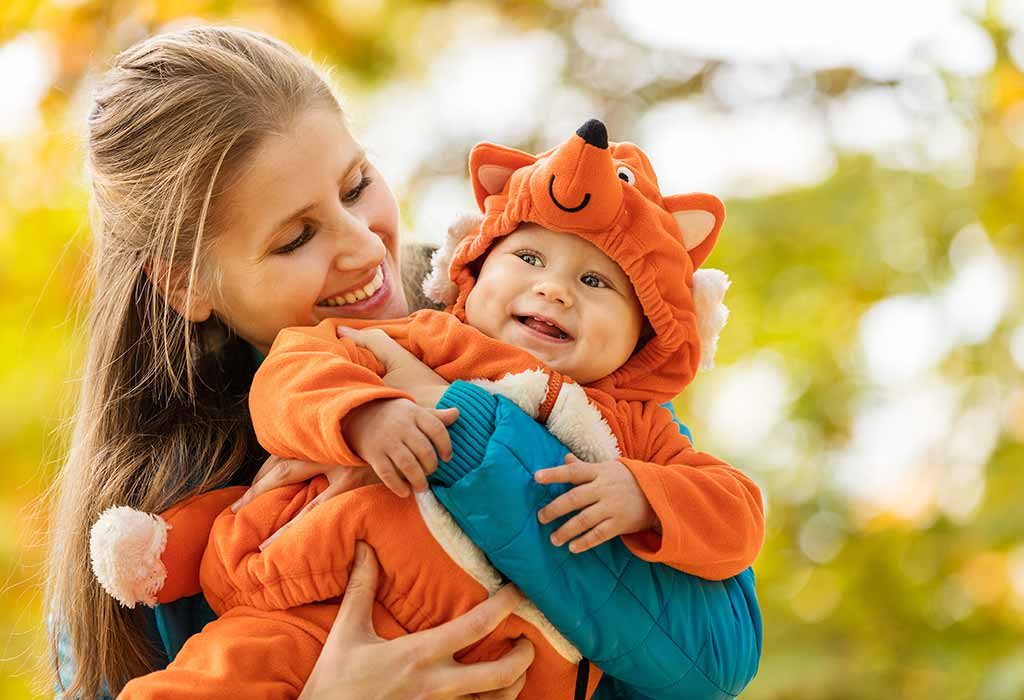 Babies are constantly learning and experiencing new things around them, since the day they are born. Your baby's first Halloween is a big deal since Halloween is packed with a lot of new experiences! When your babies are very young, everything around them is completely new, making this occasion a super fun experience for the little one! Even though the baby might not understand a lot of what is happening during Halloween, celebrating it is a great way to help them get used to the Halloween spirit.
Celebrating Your Baby's First Halloween Like A Pro – Tips and Tricks
When preparing for your baby's first Halloween, it is important to keep everything fun, instead of too spooky. This might make it a bit difficult for you to come up with ideas but here are a few tips and tricks you could consider!
1. Let Them Be a Part of the Candy Giving Process
One of the best parts of Halloween is the candy giving tradition. Though babies cannot eat much candy at this age, they can still watch their dad and mom give candy to other children after hearing the "trick or treat" at their doorstep. Your child would love seeing the joy during this time and will slowly start learning the importance of candy giving and enjoying the excitement around them.
Your baby will most probably go to bed in between the candy giving, but it will help them learn the important traditions of Halloween. As they get older, they can start helping you give out the candy. No matter how you celebrate Halloween, the important thing is to celebrate it in a fun way with your family. As long as the little one sees how fun the celebrations are, you can never go wrong.
2. Go for a Simple Costume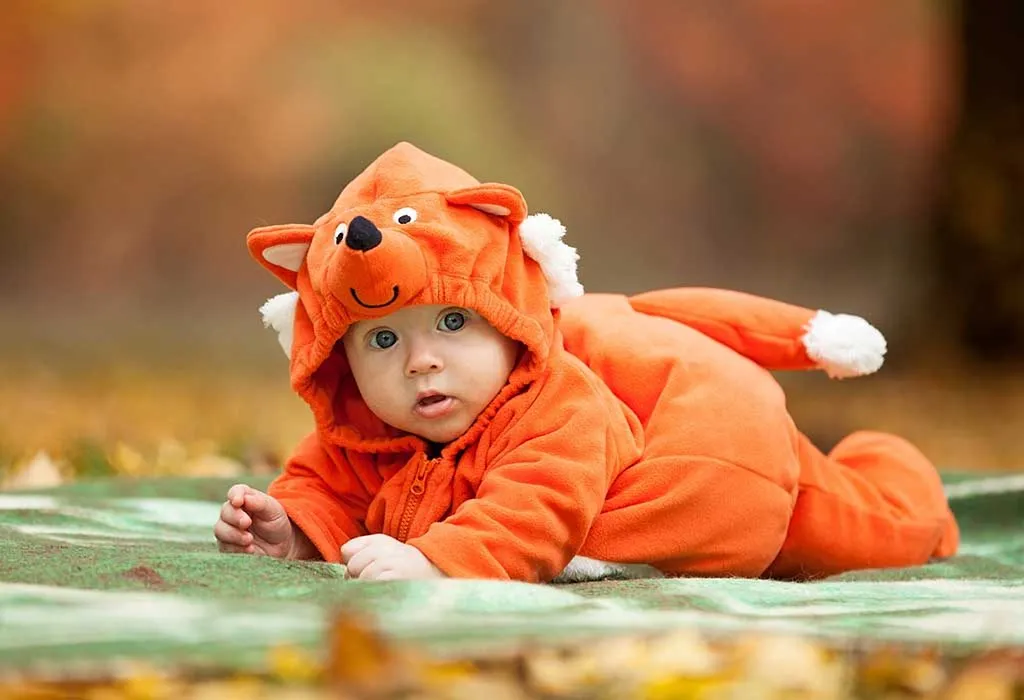 Elaborate costumes combining too many accessories does sound fun and will surely make you smile, but when you make your little one wear it, you will most probably spend the day pleading with your baby to keep it all on. If this is your baby's first Halloween, go for something simple. The simpler your baby's first Halloween costume, the better! You could consider using one costume piece, such a cute rabbit or kitty ears that go with the baby's normal clothes, or a small dress with a small crown. You could also go for cute animal onesies like little rabbits or raccoons. You could even go for onesie Disney costumes like a Minnie Mouse onesie as your baby girl's first Halloween outfit and a Mickey Mouse for your baby boy!
3. Decorate Your House Early
You can start decorating your house for Halloween a bit early, like during the first few days of October. Decorating your house early would give your baby more time to experience all the Halloween spirit with all the new things. Early decoration would also provide more time to take pictures of the little one with the decorations. You could even try out various Halloween costumes on the little one, for each day till Halloween. This would result in a ton of pictures, trips to the park to show off the little one in their outfit, and so many happy moments you and your family would cherish forever.
4. Attend Exciting Mom and Tot Events for Halloween
No matter where you live, you will have tons of Halloween Mom and Tot event options to choose from. Most small communities have craft groups, reading clubs, and other special events that are Halloween-themed where the mother and the baby will have a great time. At these events, you and your baby will have so much fun making homemade Halloween decorations, baking together with other mothers and their children, and being a part of the sing-along and story-telling groups. This will help your baby learn to socialise while enjoying the spirit of this popular holiday. Complete the picture by dressing up your baby in adorable Halloween costumes for these events!
5. Video Tape the Halloween Preparations!
You could take a video of some or all of the Halloween baking, decorating, and other general preparations you are going to do with your children. This would be a wonderful collection to your photo albums and videos, and watching these together when the children are older would bring back so many memories. You will have a chance to remember and look over at all the fun things that happened during your baby's first Halloween. You could even record the Halloween decorations your babies made and save these up for every Halloween. Babies are usually visual and things like these would help them learn about what to expect for future Halloweens. They could also help the parents for the Halloween preparations in the coming years.
6. Orange-Themed Baking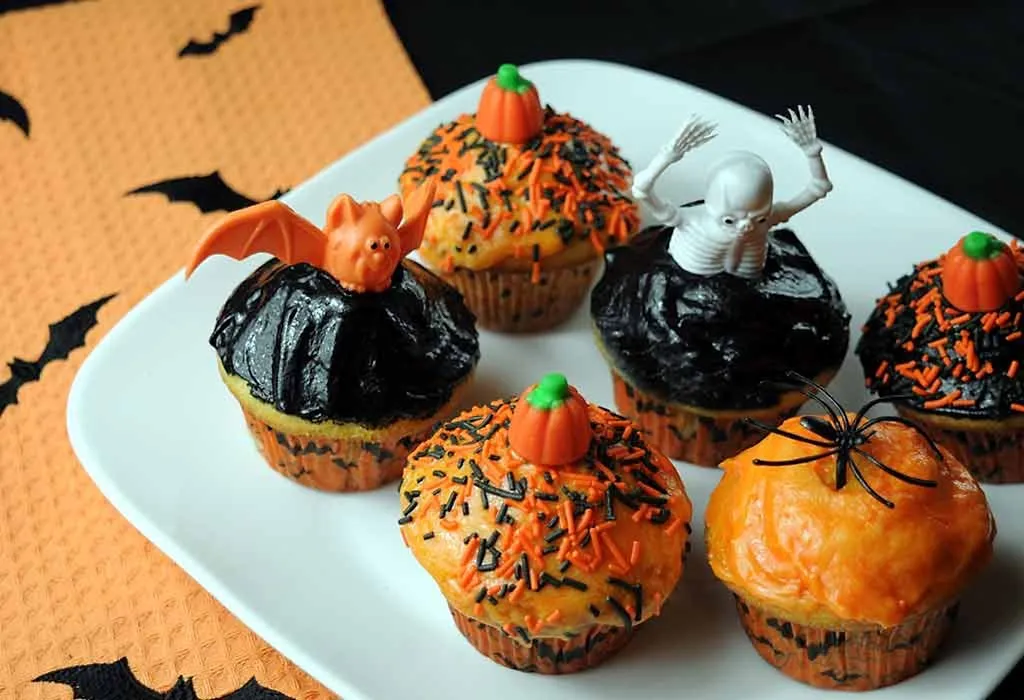 Another fun part of Halloween is the themed cupcakes, treats, cookies, and other Halloween goodies that both the adults and the children would love. Now that your little one has arrived and is going to celebrate their first Halloween, you can make healthier versions of these Halloween treats with nutritious and healthy ingredients. Your baby can see you make all the orange-themed goodies and learn more about the Halloween menu, a part of your family tradition. As they grow older, they can help you with the food preparations and can help take pictures of the special day. A few fun treats you could bake with your babies are little ghost cookies, pumpkin-shaped cookies, and pumpkin pies!
7. Get a Halloween Bib and Pyjamas!
If you get cute Halloween bibs and pyjamas, you can use them for the entire month of October and let your little one enjoy the Halloween spirit a bit longer! You will be able to find these in most retail stores before the month of October at affordable prices. Take cute pictures of your little one to mark their first Halloween, making it a great memory you will cherish for years! Saving it for the last day can also be fun, but most moms use these for the whole month of October though it goes through a lot of wear and washes. The important thing here is to create memories and new experiences for the little one. The parents can also wear funky Halloween pyjamas and costumes to get into the Halloween season.
8. A Special Halloween-Themed Meal
The Halloween-themed meal could be anything the parents like! You could stick with any colour theme and make your food according to that. For example, if you go for the orange-theme, then you could have orange squash or peppers with beef or chicken in the red sauce along with orange rice or sweet potatoes. For desserts, you could go for Halloween cookies, pumpkin pies, or a fruit platter that is arranged in a Halloween style.
As your babies get older, you could plan more elaborate meals. For now, however, it is best to stick with simple finger foods and drinks your baby loves or finds interesting while staying within the Halloween theme. During your baby's first Halloween, they will surely spend a lot of time exploring the sounds, colours, pictures, and textures. Therefore, let them explore the various textures and Halloween colours during this fun occasion with the rest of the family.
9. Take Part in an Indoor Trick or Treat
You can take your babies to an indoor Trick or Treating venue if they are too young to go out, if they are scared of the dark, or if you feel want to protect them from seeing scary costumes of other older children. If you check around, you will be able to find a lot of places that host indoor trick or treating for young children and their parents and the children really have a lot of fun. Here, parents and the children can wear costumes and spread the joy of Halloween.
10. Pumpkin Carving With the Baby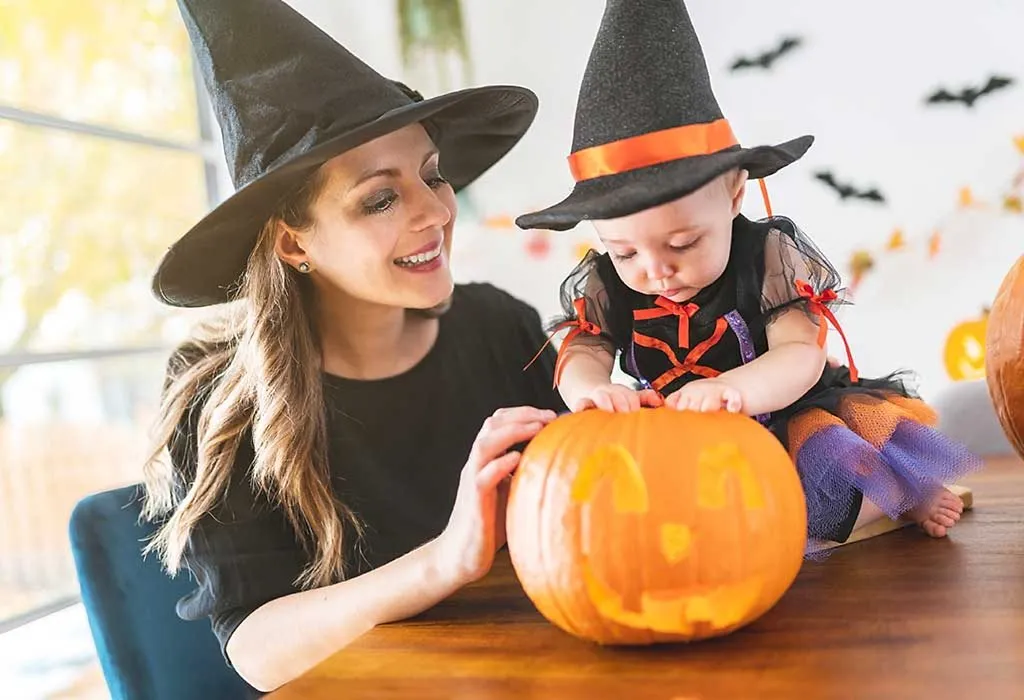 Carving the pumpkin is an exciting Halloween tradition that children and adults love equally! Of course, a baby would not be able to carve the pumpkin for the first few years, but watching the adults do it makes a very fun craft project for the little ones! When they are watching, you could talk to them and explain what you are doing just like you do for all the other activities. This way they can slowly pick up on everything that is happening and finally help you with carving when they are older!
11. Read Halloween Books
Reading to a child is not just a great tool for family bonding, but it also helps with their brain development and increases their interest in learning. You could pick out some fun Halloween stories from your local book store or a library and read it to your child. Books can also be your baby's first Halloween gift.
12. Invite Grandparents Over
Inviting extended family for trick or treating can help your little one enjoy this tradition in a warm and safe environment. It is also a great time to take videos and pictures and simply enjoy being together as a family.
Some children that come to your home for trick or treat may have very scary costumes that might scare your baby. So, keep an eye out for children coming up your walkway and let your baby have a fun Halloween experience for the first time!
Also Read: Halloween Costume Ideas for Twin Babies and Children