10 Beautiful & Funny Valentine's Day Poems for Kids
In this Article
Valentine's Day is a special day that is celebrated as a day of love all around the world. However, despite all the advertising, it is not just a day for romantic love. Children can join in on the love-filled celebrations as well. Children see this particular holiday as a day that is symbolised by the colours pink and red and for giving and receiving chocolates. For a child, there is very little that is better than candy and chocolates!
While all this sounds perfect for some, there is such a thing as too much chocolate or sweets. So, how do you show your little ones love on Valentine's Day without giving them too many sweets?
With children's Valentine's poems, of course!
Best Valentine's Day Poems for Children
It doesn't matter if you go all out for Valentine's Day in your family or not. You can still make the children feel special by sharing with them a few sweet poems to brighten up their day. Here are a few that they are bound to love:
1. Cute poems for your little valentines are the way to go on this day of love. Here is something your child will delight in reading. You can even turn this into a cute little song.
My Valentine
Oh, Will, you be my valentine,
My valentine, my valentine?
Oh, will you be my valentine,
And love me every day?
Oh, yes, I'll be your valentine,
Your valentine,
Your valentine
Oh, yes, I'll be your valentine,
And love you every day!
By: Little Learning Corner.
2. This sweet poem of love is the perfect choice from a loving parent to their beloved child. The poet wrote this for her infant child, so it is one of the most perfect valentine poems for toddlers. It is best read aloud to your little darling.
A Valentine to a Little Child
Dear heart, on this thrice-blessed day,
Thou my sweetheart be,
The rose of love shall bide always
Upon the red-rose tree.
And in the garden of my heart
So ceaselessly shall shine,
The little birds will know thou art
Mine own true Valentine.
By: Evaleen Stein.
3. Parents often have to help their kids give the other parent their Valentine's Day poems. This one is a great pick for a Valentine's Day poem to dad!
Happy Valentine's Day to My Dad
Dad, you are my favourite man,
And I sure want you to know,
I'll always respect and love you, Dad
No matter how big I grow!
I'm lucky to have you as my dad!
I love you.
By: Joanna Fuchs.
4. This is one of the short Valentine's Day poems for kids that is simple and sweet.
Love is a Circle
Love is a circle,
Round and round,
Love goes up,
And love comes down,
Love is on the inside,
Trying to get out,
Love is whirling and twirling about!
By: Unknown.
5. Valentines day poems for preschoolers are always best enjoyed over a fun activity like colouring or arts. This poem can be sung while they make cards. It goes best to the tune of Twinkle Twinkle Little Star.
I Like Hearts
Red hearts, White hearts,
Pink hearts, too.
I like Purple hearts.
How about you?
Green hearts, Yellow hearts,
Blue hearts, too.
I like rainbow hearts.
How about you?
By: Nellie Edge.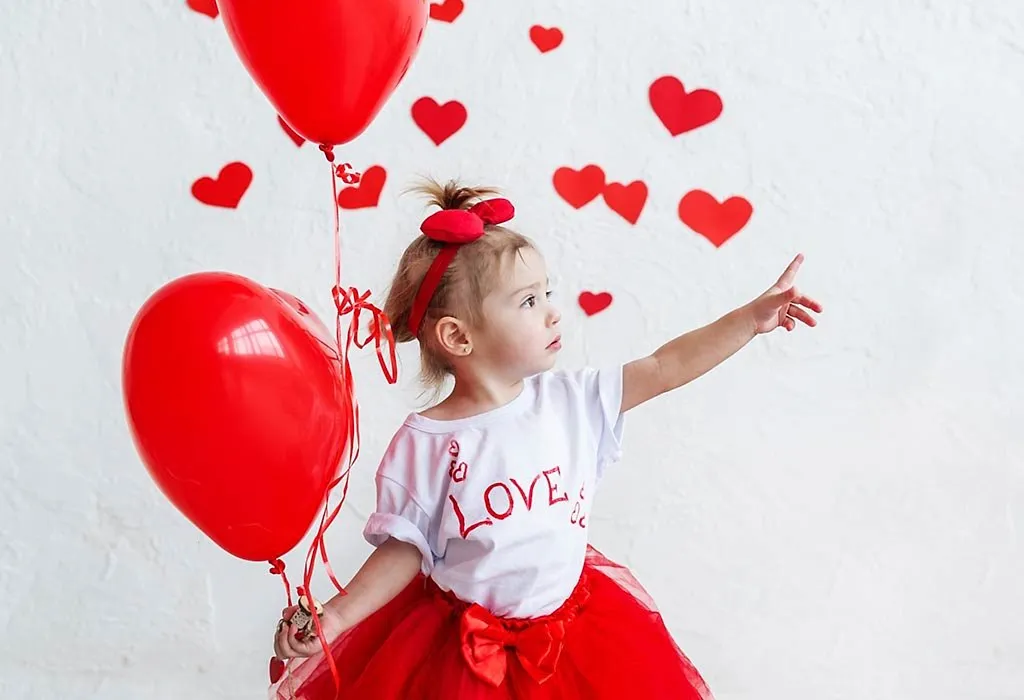 6. This famous love rhyme was inspired by a poem in The Gammer Gurton's Garland, a collection of Nursery rhymes in English. This was published in 1784.
Roses Are Red
Roses are red,
Violets are blue,
Sugar is sweet,
And so are you.
By: Joseph Ritson.
7. This is a cute poem that is sure to make you smile.
My Mother's Chocolate Valentine
I bought a box of chocolate hearts,
A present for my mother,
They looked so good I tasted one,
And then I tried another.
By: Jack Prelutsky.
8. Written by a famous poet from America, this one is not the most ideal for very young children. If you little ones are a bit older, however, it is a beautiful poem to share with them on this day of love.
I Carry Your Heart With Me
I carry your heart with me,
(I carry it in my heart)
I am never without it.
(anywhere I go you go, my dear;and whatever is done by only me is your doing, my darling)
Here is the deepest secret nobody knows,
(here is the root of the root and the bud of the bud and the sky of a tree called life; which grows
higher than soul can hope or mind can hide)
and this is the wonder that's keeping the stars apart,
I carry your heart (I carry it in my heart)
By: E. E. Cummings.
9. This one is perfect for children. It is easy to understand, mentions a lot of sweet things and is also short and sweet.
I Love You More Than Applesauce
I love you more than applesauce,
Than peaches and a plum,
Than chocolate hearts,
And cherry tarts,
And berry bubblegum.
By: Jack Prelutsky.
10. There is nothing sweeter for a mother than to receive Valentine's day poem from her child. This one is absolutely perfect.
Best Valentine Mom
On Valentine's day, I think of you, Mom;
I love you really a lot.
In my life, that's full of many good things,
You're the very best thing I've got!
It's Valentine's Day, so I want to say,
I'm the luckiest kid anywhere;
You're the sweetest, greatest, best mom around
And I want you to know I care!
Happy Valentine's Day, Mom!
By: Joanna Fuchs.
Valentine's Day poems for children are simple, childish and straight to the point. There is something very touching about the innocent way that children view this holiday. It is all about beautiful friendships and loving their family.
We hope that you found a wonderful poem to give to your beloved little children, or help them pick out special poems for mum or dad. A simple poem of love from a child will put a smile on anyone's face.
Also Read:
Short English Poems for Children
Beautiful Friendship Poems for Children
Funny Poems for Children