10 Amazing Egg Carton Craft Ideas for Kids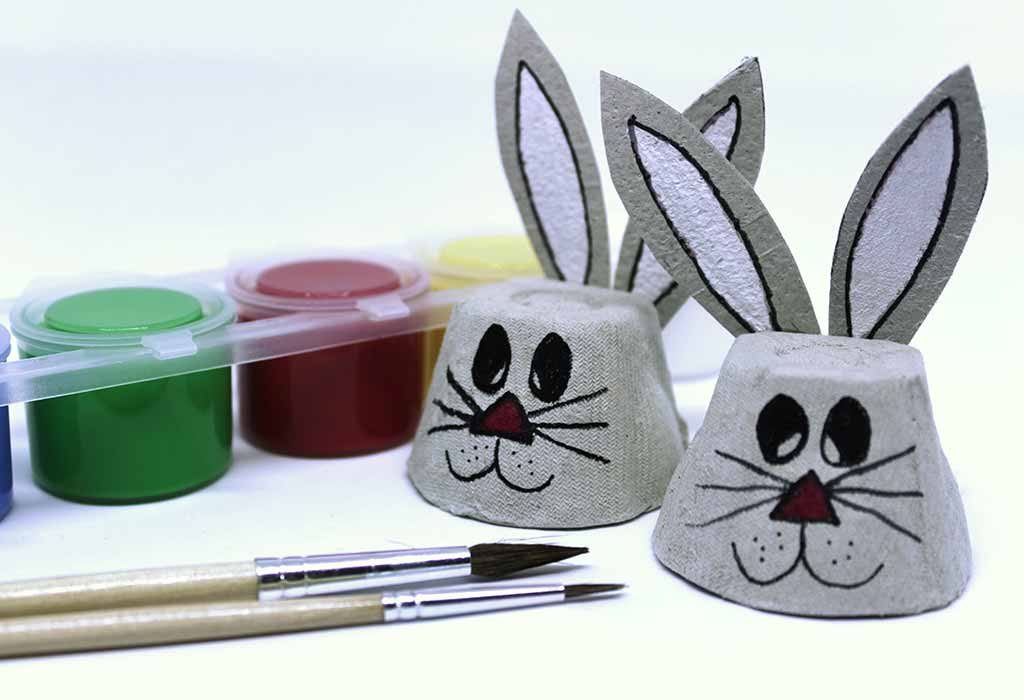 In this Article
Are you trying to find craft project ideas for kids that get their creative juices flowing? Well, don't throw out your leftover egg cartons anymore. Get your kids to transform them into wonderful items from decorations, games and more. Teach them valuable lessons about recycling, work their brains and gain fine motor skills.
Egg Carton Art and Craft Ideas for Children
If you like digging through that recycling area for junk modelling stuff and are looking for the cheapest and environment-friendly craft supplies, then pick egg cartons.
Egg cartons crafts for pre-schoolers can become projects for Christmas, Halloween, holidays and every season. Below is a round-up of ideas from archives and craft bloggers that will unleash their creative side. Some ideas are great as egg carton crafts for toddlers too.
1. Spring Chick Egg Carton Craft
A great idea for DIY egg carton Easter craft and for the spring break. Make tiny spring chicks out of egg cartons with kids and just place them in your garden.
Supplies
1-2 empty egg cartons
Scissors
Glue
Colored feathers and paper
Paint and brushes
Instructions
Cut the egg carton separate containers.
Once done, glue the top and a bottom portion at the side to make it look like a tiny cup with a lid.
Paint the cartons with colours of your choice.
As they dry, take bits of coloured paper and make tiny beaks in diamond shapes for the chicks to stick on the containers.
Take a piece of black coloured paper and use a hole punch to make tiny eyes.
Once the paint is dry, stick the beak and eyes on the front.
Cut the paper into wings and feet and stick it on the cup.
2. Ladybug Egg Carton Craft
A great idea to have something crawling around your plants or even your dresser! Radiating in their red color, this idea is a lot of fun to make.
Supplies
Empty egg carton cups
Pipe cleaners (black) cut into 2-inch pieces
Wiggly eyes (small)
Black pompoms of medium size
Acrylic paint
Glue
Scissors
Instructions
Use scissors to separate the egg cartons.
Paint the cartons in colors of your choice and leave it to dry.
Once dry paint black spots on the egg cups to make it look like a ladybug.
Once dried, pompoms to the front to make the face.
Glue the wiggly eyes, 2-inch pipe cleaners to the side of the pompoms and let it dry.
3. Bumble Bee Egg Carton Craft
Kids love bumblebees and the color is too attractive to avoid making it. This idea promises fun for children and you could add it to your plants in the garden.
Supplies
Egg cartons
Paints
Paintbrushes
Scissors
Craft scissors and knife
Googly eyes
Pipe cleaners cut up to 1-inch pieces
Glue
Instructions
Cut egg cartons into separate pieces
Paint them yellow all over. Let it dry and paint black stripes on them.
Stick googly eyes on the front.
Take four pieces of one-inch pipe cleaner, stick two on the top and two on either side.
For extra décor, just wrap some silvery glitter pipe cleaner around the top.
4. Flower Magnets Egg Carton Craft
A wonderful art project, egg box flowers craft is one that will get your kid involved.
Supplies
Egg cartons (clear or cardboard ones)
Scissors
Paint and paintbrush
Tape
Corn cob holder or skewers
Pipe cleaners
Buttons
Magnet with a back or hot glue
Instructions
Cut your egg cartons with four cups to lend a flowery look and make it look like it has petals.
Get your toddler or kid to paint on the outside. Let it dry.
Once dry use corn cob holder or skewers to carefully poke holes in the centre.
Now carefully, push the pipe cleaner through one hole to the outside and then bring it back inside through the middle of the flower.
Twist the pipe cleaner to make it look like a stem
Create a circle on the backside with a pipe cleaner to place your magnet.
5. Helicopter Egg Carton Craft
Looking for simple egg carton crafts for kids? Then this easy idea is a brilliant one to undertake. Create a fleet of colorful choppers ready to take-off!
Supplies
Egg carton, two or more to make lots of helicopters
Card paper
Split pins
Acrylic paint or if ordinary paint
Craft glue or a hot glue gun
Craft knife
Cutting mat
Paintbrush
Scissors
Instructions
Cut the egg carton into shapes to make the helicopter. You will need a round cup for the body, well-trimmed. A piece with a pointed end for the tail and a round piece for the top to attach the blades.
Paint the pieces in different colors, leaving a part of the front to be painted white to serve as the windscreen.
While the paint dries, make the helicopter blades.
Measure card paper into strips (1/3 inch * 1/3 inch).
Glue these helicopter blades into a cross shape to the top rounded part.
Use the craft knife to poke a hole in the centre.
Secure the blades on the top with a split pin.
Now glue the helicopter tail and the top part with the blades.
6. Penguin Egg Carton Craft
Recreate the magic of the Arctic with these tiny penguins. Easy to make and simple supplies needed, this one will be loved by toddlers too.
Supplies
Egg cartons
Paint (black and white)- could be acrylic or washable
Google eyes
Foam sheets or card paper
Scissors
Glue
Instructions
Cut the egg cartons into separate cups.
Paint them black up to a certain part and white in the front part.
Try to paint the belly area white to make it look authentic.
As the paint dries, cut the foam sheets or card paper into tiny strips to serve as nose and legs. You will need three strips for each penguin. The nose could be cut as a triangle and the feet as hearts. Each nose strip could measure (0.5 inches *0.5 inches). The leg strips could be a decent size to stick to the bottom. Use your discretion and try to measure them before you paint.
Once the paint is dry, stick the googly eyes on the top. Stick the nose between the eyes and the feet at the bottom.
7. Whale Egg Carton Craft
Fun recyclable egg crate crafts, these whales can become the sea life project for summer.
Supplies
Egg carton
Blue paint
Blue card paper
Blue pipe cleaners
Googly eyes
Glue
Scissors
Craft knife
Instructions
Cut egg cartons into individual shapes. Paint them light blue and let them dry.
Once dry, cut a hole at the top with the craft knife to serve as the blowhole for the whale.
Cut out whale tales and fins with the card stock paper. Look at the design below and use adequate paper to cut the tail and fins for either side.
Cut the pipe cleaner into tiny strips. Now push them through the hole one by one. Bend or curl them at the top to give the effect of water coming out.
Stick the tail and fins using glue.
8. Dinosaur Egg Carton Craft
A great craft for budding palaeontologists. Your kids will love painting these fierce extinct creatures.
Supplies
Egg cartons
Hole punch
Pipe cleaners in assorted colors
Different colored paints
Googly eyes
Card paper of different colors
Scissors
Glue
Instructions
Cut egg cartons into separate cartons. Cut them long or short as you like.
Paint each of them and let them dry.
Use pipe cleaners of any color and bend it a few times to give curves. This will serve as the back of the dinosaurs.
Cut a hole in the front and the end to insert the pipe cleaners. Bend them at the bottom of the carton to secure them.
Glue some goggle eyes on the front.
Cut out small teeth with colored card paper and stick in the front.
9. Mushroom Egg Carton Craft
Have some fun with these wild creatures and bring in the monsoons.
Supplies
Egg cartons
Paint
Glue
Scissors
Instructions
Cut egg cartons and trim the edges to make them blunt.
Paint them red and let them dry. Once dry paint white spots on them.
Use bits of an egg carton to cut into thick pieces for the stems.
Stick them using glue to the bottom of the cup.
10. Mermaid Egg Carton Craft
If your little girl loves these sea creatures, then get started on this project and bring mermaids to life!
Supplies
3-4 egg cartons
Card paper
Glue
Scissors
Paint
Instructions
Cut egg cartons into separate cups. Paint them into different colors of your choice.
Use card paper to cut the body of the mermaid. Trace it with a pencil and use scissors to cut it. You could trace their tops and glue them on to the body.
Once egg carton cups are dry, stick them to together one below the other (you will need at least 6 cups for one mermaid).
Use card paper to make fins for legs and stick them to the last cup.
Stick the body on to the topmost cup.
Egg cartons can turn into- bugs, flowers, penguins, dinosaurs, vehicles. So don't discard those egg cartons and keep them handy for craft ventures with kids.
Also Read:
Unicorn Crafts for Children
Newspaper Crafts for Children
Plaster of Paris Crafts for Children