Why and How to Preserve Baby Teeth?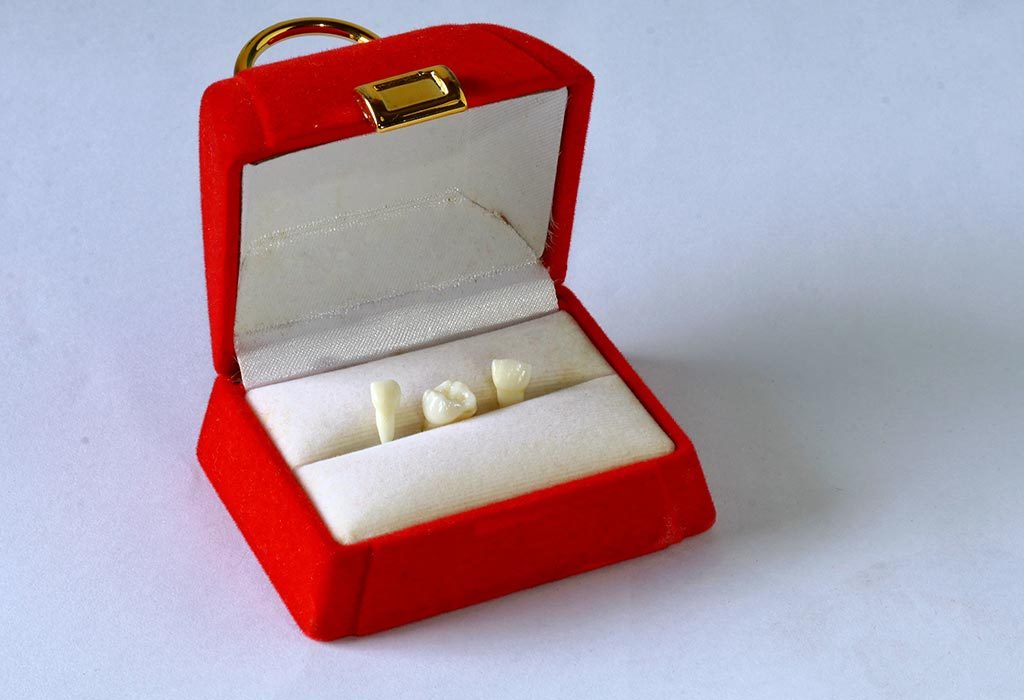 Parents love to keep certain mementoes from their child's early years. Some may save the first footprints while some may keep locks of hair of their child. Similarly, some parents may even prefer preserving their child's milk teeth. And many scientists of today encourage parents to store their kid's 'baby teeth' for stem cell preservation for future use and as a gift of life to their child. However, you must know how to carefully preserve your baby's milk teeth once they fall. After careful cleaning, you can either place them in a small container or stick them in a memory book as souvenirs.
Why Should You Preserve Your Baby's Teeth?
Teething is an important milestone. Babies can actually start teething as early as around two to three months of age, but their first tooth usually erupts by six months of age. And keeping track of your baby's teeth, i.e., when each baby tooth will erupt has never been easier, thanks to the Baby Teething Tool, you can do with a click! Give it a try to figure out when your little one will start teething and what you can do to help him through the process. When you see your baby's first tooth, you'll definitely be excited and will want to preserve it once it falls. Well, taking good care of your baby's tooth (when it's still in the mouth!) will ensure that it will be in decent condition to be preserved. And don't worry, apart from losing some of its lustre over the years, there won't be any other significant problem when it comes to preserving your baby's tooth.
Doctors recommend parents to save their child's baby teeth as they prove beneficial and are preserved as as 'Stem Cell Banking'. Milk teeth/baby teeth contain stem cells have remarkable regenerative potential. Stem cells can renew themselves and convert into more specialised cells with the ability to repair specific tissues and organs. Most doctors suggest keeping a child's baby teeth, as the stem cells in their teeth can be harvested and later utilised for treating the child, if he suffers from any fatal disease, like cancer or spinal cord injury. These stem cells can also be used for replacement tissue or cell therapy in case of burns and macular degeneration. Therefore, preserving baby teeth for stem cells can save a child's life.
In case you are keen to donate your child's early teeth for stem cell research, consult a paediatric dentist for appropriate information and guidance.
Ways to Preserve Your Baby's Teeth
Before you go about looking for solutions on how to preserve baby teeth, you must know how to preserve it the right way. Here is how you can store baby teeth for stem cells at home:
1. Clean the Teeth
To protect your baby's teeth, first, clean them properly with soap and water.
2. Disinfect
It is also important to disinfect the teeth. You can easily do this by brushing the teeth surfaces with rubbing alcohol.
3. Dry
Completely drying the teeth is also vital. In case the teeth are not properly dried it can lead to the development of bacteria on the tooth surface. You can use a cotton towel to dry the teeth. Air drying or drying in the sunlight for some time may also prove useful.
Are There Any Tooth Preservation Kits?
You will have to keep your child's teeth in an appropriate tooth preservation kit to preserve them for stem cell banking. This tooth preservation kit comprises of a container containing a sterile balanced salt solution (BSS), which helps preserve the teeth.
The American Dental Association (ADA) suggests that parents of toddlers and young kids keep an emergency tooth preservation kit at hand at all times. This kit comes in handy in cases where a kid's permanent tooth is accidentally knocked off. In such situations, you might want to visit your orthodontist within half an hour so that they can try and fix the little one's tooth back into its socket.
Ideas to Preserve Your Baby's Tooth
Gently clean and save your baby's milk tooth. Once this is done, you can try the following different ways of saving baby teeth.
1. Put It in a Ring Box
This is a lovely option in case you do not want to purchase a box specifically for preserving your baby's tooth. If you have an old ring box that's not in use, you can put the tooth in the fold of the box and preserve it.
2. Put It in a Shadow Box
A shadowbox of your baby's "firsts" is a unique idea to preserve their tooth. You can also include a lock of hair, pacifier, footprint, and rattle. Adorn it on the nursery wall or the kid's bedroom.
3. Put It in a Keepsake Locket
A great way to keep your precious little one close to your heart, even after they're all grown up. It makes for a cute anniversary gift to your partner. Go for a heart-shaped one or one in the shape of a treasure chest.
4. Put It in a Vintage Chest
Perfect for those who love collecting trinkets and other vintages from flea markets. You can also add a note with the date or any message you would like and place it in the chest with the tooth.
5. Place It in a Baby Tooth Flap Book
These are really cute books with spaces for each tooth and a plastic cover. There are also spaces for adding photos of your toothless little one and writing about their dental journey.
FAQs
1. What Is the Cost to Store a Baby Tooth?
Get in touch with a tooth stem cell agency or a tooth bank for preserving your child's tooth. The average cost of collecting the tooth at these places can range anywhere between $1,500 and $1,749, while the annual charge of storing it for preservation is approximately $120.
2. Can I Keep My Baby's Teeth Forever?
Yes, you can keep your baby's teeth in storage forever! This is because teeth are known to be the strongest structures in the human body.
3. Is It Possible to Obtain DNA From an Old Baby Tooth?
Yes. An old baby tooth can be utilised for the purpose of obtaining DNA. In forensic science, teeth are preferred because of their location in the jawbone, which facilitates the additional protection that DNA requires.
4. How Long Does Stem Cell Last in My Baby's Teeth?
If the dental stem cells extracted from baby teeth are cultured and preserved properly, the stem cells may remain feasible for about one to four weeks.
By preserving your baby's teeth or even his first tooth, you can hold on to the memories of his childhood. The practice of keeping your baby's milk teeth can also save his life in the future by forming the basis of various treatments for life-threatening illnesses.
References/Resources:
1. Kerkis. I, Caplan. A; Stem Cells in Dental Pulp of Deciduous Teeth; PubMed Central; https://www.ncbi.nlm.nih.gov/pmc/articles/PMC3311402/; December 2011
2. Sunil. P.M., Manikandan. R, Sivakumar. M, et al.; Harvesting dental stem cells – Overview; PubMed Central; https://www.ncbi.nlm.nih.gov/pmc/articles/PMC4606625/; August 2015
3. Zeitlin. B; Banking on teeth – Stem cells and the dental office; Biomedical Journal; https://www.sciencedirect.com/science/article/pii/S2319417020300093; April 2020
4. Knocked Out Teeth; American Association of Endodontists; https://www.aae.org/patients/dental-symptoms/knocked-out-teeth/
5. Higgins. D, Austin. J; Teeth as a source of DNA for forensic identification of human remains: a review; National Center for Biotechnology Information; https://pubmed.ncbi.nlm.nih.gov/24188345/; July 2013
6. Bansal. R, Jain. A; Current overview on dental stem cells applications in regenerative dentistry; PubMed Central; https://www.ncbi.nlm.nih.gov/pmc/articles/PMC4367063/
7. Dental Hygiene: How to Care for Your Child's Teeth; American Academy of Family Physicians; https://familydoctor.org/dental-hygiene-how-to-care-for-your-childs-teeth/
8. What Are Tooth Preservation Kits?; Connecticut Children's; https://www.connecticutchildrens.org/health-library/en/parents/tooth-preservation-kits/
Also Read:
How to Clean Baby Teeth?
Baby Teeth Order of Appearance
How to Take Care of Your Baby's Emerging Teeth?