Top 10 Ukulele Songs for Kids
In this Article
Music plays a vital role in our lives. Parents who make music a part of their family culture create a rich musical environment for their kids that not only entertain but also nurture essential developmental skills in them. Just as soothing music can calm and relax babies, songs can create positive emotions like delight and excitement in toddlers that uplift their mood. If you're looking to learn or teach your little ones some nursery rhymes on the ukulele, there are numerous tutorials on the internet for music enthusiasts.
Best Kid-Friendly Ukulele Songs
Musical experiences in childhood can accelerate brain development, improve social skills and mathematical learning, strengthen memory, and build knowledge about different sounds and their meanings. As children are sensitive to sound patterns like tempo, rhythm, verses, and choruses, this sensitivity fosters better communication, interaction, and imagination. One of the best ways your child can reap the benefits of music is to learn how to play an instrument. If your child is beginning to play the ukulele, they should know how to hold the instrument, strum it, and then master a few basic chords. Age-old nursery rhymes are effortless. They are relatively short, have an easy rhythm, use only basic chords, and most kids know the lyrics beforehand. Most nursery rhymes can be easily adapted on a ukelele. Its simple chord shapes are easy to play and memorize. Its small-size, light frame and soft nylon strings make it easily transportable and act as a starter instrument for a young child. Here are some of the easy ukulele songs for kids of all ages that they can listen to, play and start their musical journey.
1.Twinkle Twinkle Little Star
About the Song:
This beautiful song is one of the best-known lullabies in the world. Its lyrics are from the poem called 'The Star', and the melody is inspired by the French song 'Ah! Vous dire-je, maman.' It needs a few chords and quicker chord changes than most other rhymes for kids.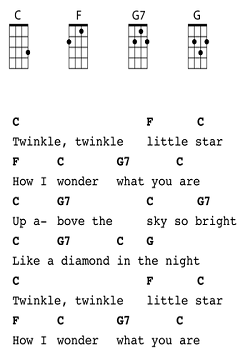 2. Are You Sleeping?
About the Song:
This easy song is the fastest to learn on the ukulele. It's a French song called 'Frere Jacques' and has been translated into many languages. Only one chord is required. Hence, most beginners can play this song on their first day of learning the ukulele.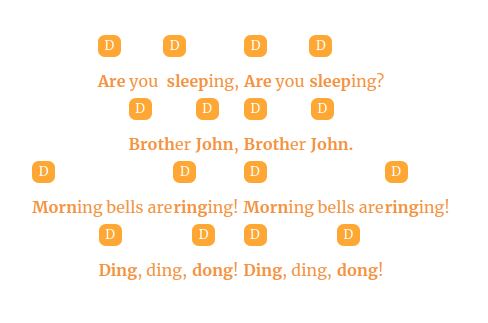 3. Baa Baa Black Sheep
About the Song:
This short nursery rhyme has the same melody as 'Twinkle Twinkle Little Star'. It's easy to sing and requires the three basic chords G, C, and D. These first chords are essential for learning to play other songs on the ukulele.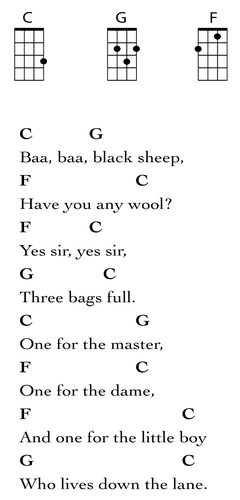 4. Old MacDonald Had a Farm
About the Song:
This is one of the most popular rhymes in kindergarten as well as pre-school. It introduces kids to farm animals as its lyrics have been wonderfully integrated with the animals' sound.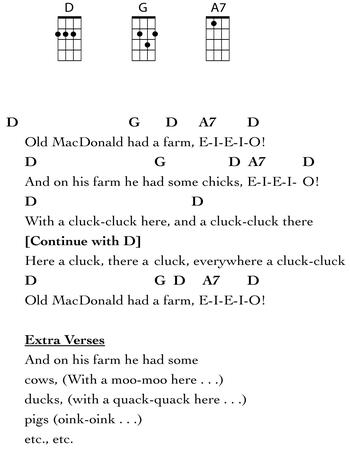 5. London Bridge Is Falling Down
About the Song:
The nursery rhyme might refer to when the Viking leader Olaf Haraldsson pulled the London Bridge down in 1014, inspiring a thirteenth-century Old Norse poem that translated as 'London Bridge is broken down.' Its quicker tempo and multiple verses reinforce successful strumming and chord changes. The G7 key is used more frequently for this rhyme.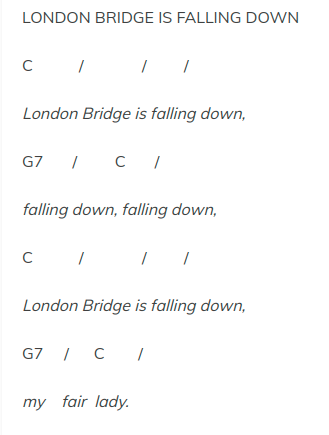 6. The ABC Song
About the Song:
This song uses the same melody as 'Twinkle Twinkle Little Star'. However, some different chords are used here for this one, to emphasize the single parts better. Simple down strums on each chord are enough to make this song sound nice. This rhyme also helps kids to memorise the alphabet as they sing along.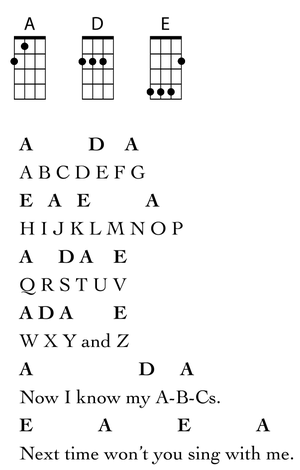 7. Row Row Row Your Boat
About the Song:
If you want to spread light, the peaceful yet deeply wise message in this nursery rhyme is perfect. This super-simple version of "Row, Row, Row Your Boat' only requires one switch from C to G7 and back to C.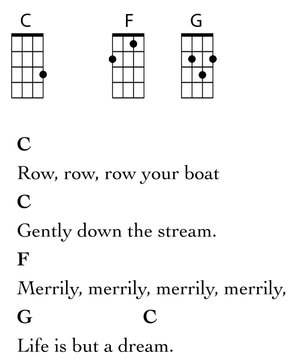 8. Three Blind Mice
About the Song:
This all-time favourite rhyme for kids is memorable due to its scandalous knife. The transitions of chords in this song can be a little challenging for beginners, but you can pause strumming the next chord.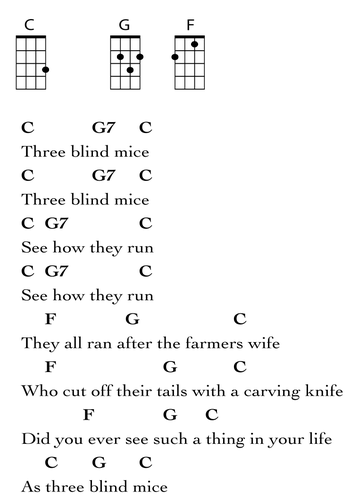 9. Mary Had A Little Lamb
About the Song:
This song expresses the tender love and affection between Mary and her per lamb. The lamb used to follow her around wherever she went and instil the love for animals in young kids. Only two chords, like F and C7, are needed to play this song on the ukulele.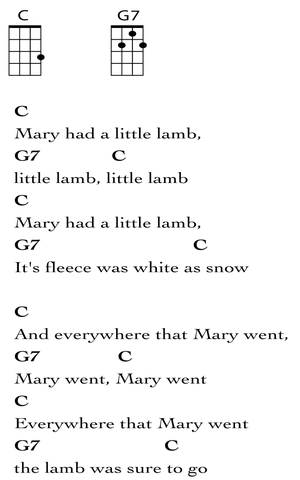 10. Clementine
About the Song:
Clementine is an old western folk ballad that is believed to have been inspired by 'Down by the River Liv'd a Maiden' by H. S. Thompson. It is about a gold miner's daughter who stumbles into a river and drowns. American children sit around campfires, perform in school plays, line up at scout meetings, and amuse themselves with cartoon apps before bedtime with this popular song. This two-chord song is fun and easy to play on the ukulele.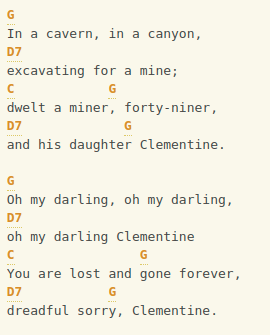 Parents develop a stronger bond with their children when they enjoy music together. It does not matter whether the setting is a quiet room, inside a music class or play-time, listening to music is always fun and fruitfully engages children. When the soft strumming sound on this instrument is played to the well-known tunes of easy children's songs, your little one is sure to beam the biggest smile that you've ever seen. Playing the curated list of some of the easiest songs on the ukulele mentioned above can be the first step towards beginning your child's music lessons.
Also Read:
Easy Piano Songs for Children
Best Brushing Teeth Songs for Kids
Dance Songs for Children