Tips to Choose a Safe Bug Spray for Babies and Kids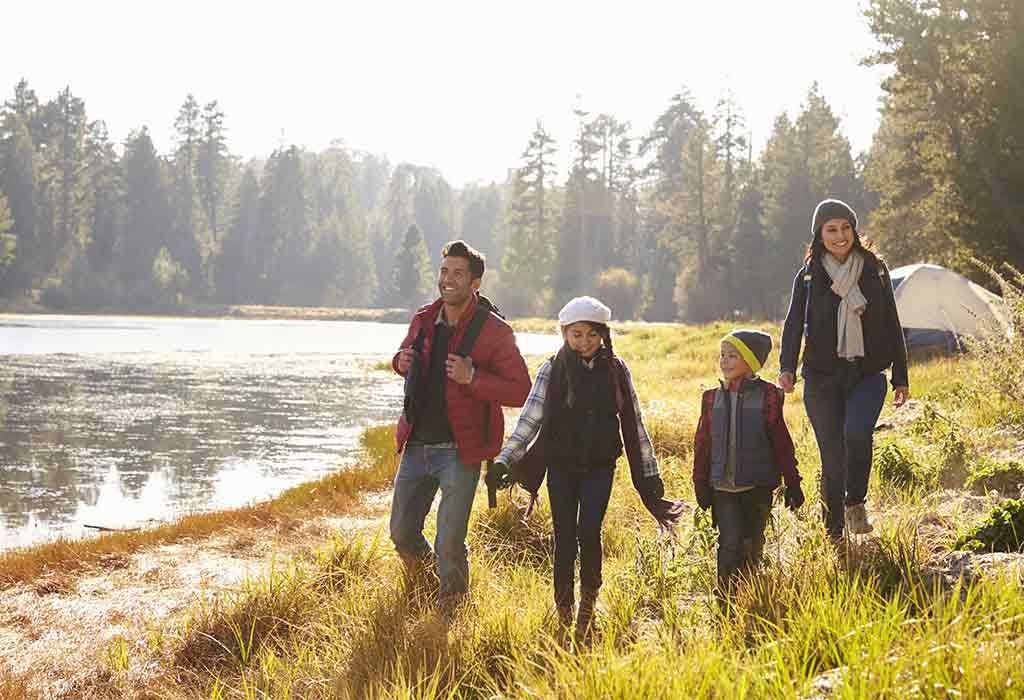 You must be looking forward to spending some quality time with your kids by taking them for a picnic to a park (or in your backyard) or for some outdoor adventure. Your little ones can benefit from outdoor play and must take in the beauty of nature, but when nature gets a little too much and mosquitoes, ticks, and flies and other pests come out and join you, it can be downright uncomfortable for you and your kids. You want to keep your children safe and protected, but at the same time you want them to have fun, so how do you make sure your child stays safe from those pesky pests outdoors? Easy! By using bug repellents! But if you're not sure what you should look for when buying a bug spray for kids, we are here to help. Read on to know more about bug-sprays.
Are Bug Sprays Safe for Babies?
As per the Centers for Disease Control and Prevention (CDC), bug sprays shouldn't be used for babies under 2 months of age. The CDC recommends parents to keep insect repellents away from babies who are younger than 2 months. This is because bug spray can be really dangerous for their sensitive lungs and skin.
However, there are other solutions that parents of infants can try. To protect your little ones from bug bites, you can dress them up in clothing that will completely cover the exposed areas on the legs and arms. When the little one is in a stroller, you could consider using a see-through mosquito net to cover the exposed area.
Is it Safe to Use a Bug Spray on Toddlers and Kids?
Yes, most bug sprays are safe to use on toddlers and kids. But a bug spray should be used only once a day. If choosing chemical-based repellents, go for repellents with a low chemical concentration to avoid the harmful effects of bug spray on infants and kids. Also, read the label to see if your child is allergic to any ingredient and check if the repellent is safe for your little one. You could also check the label to see if it is the right bug repellent for toddlers with sensitive skin.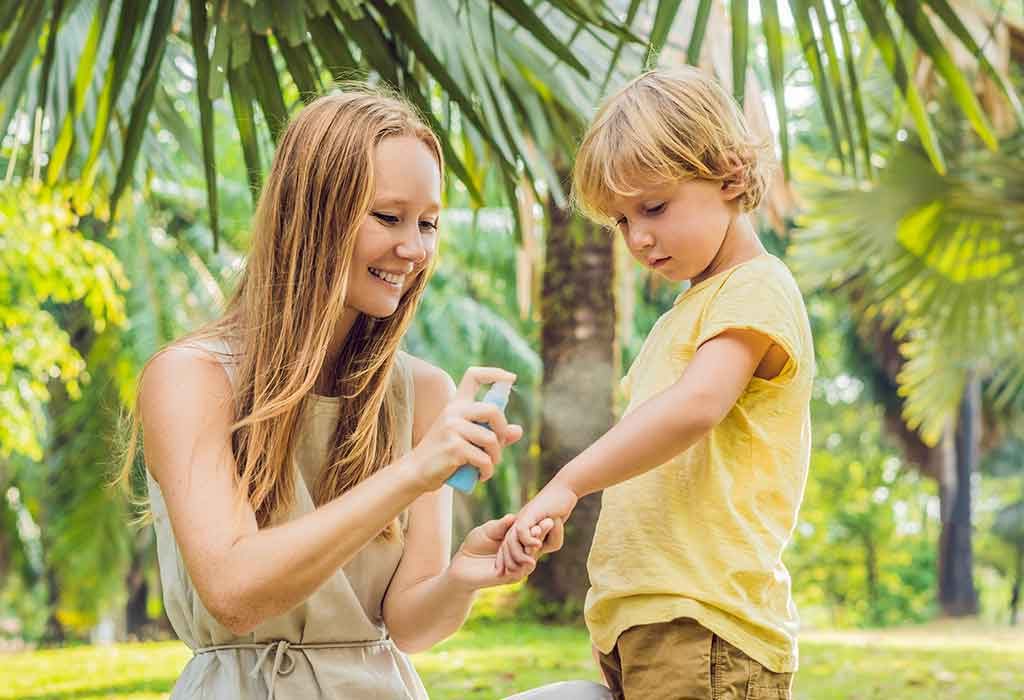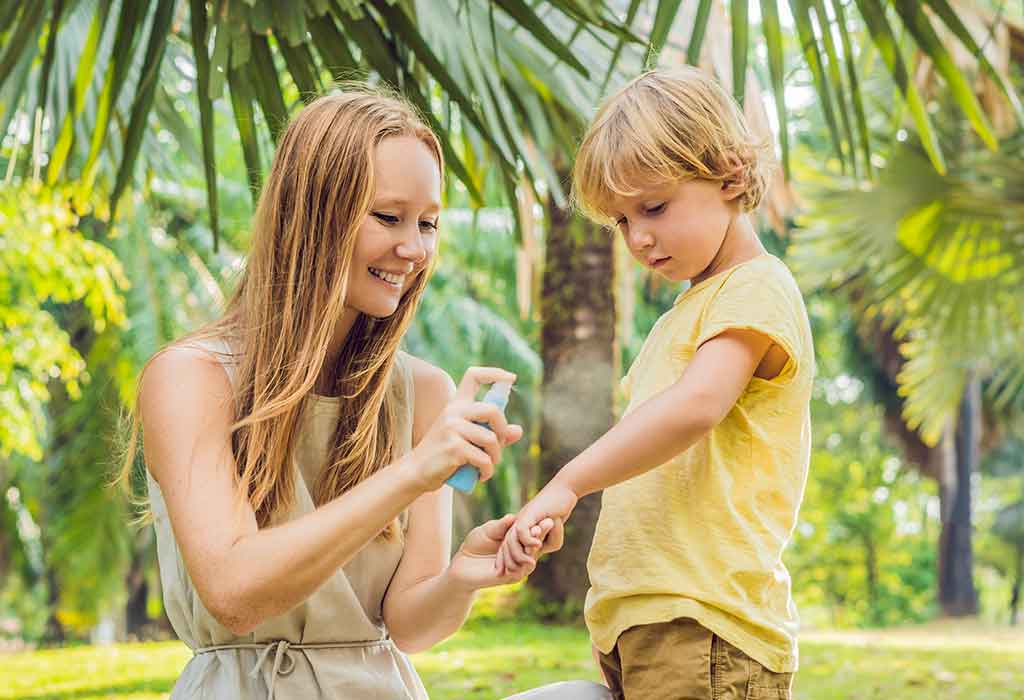 Types of Safe Bus Sprays for Children
From sprays and aerosols to liquids, sticks, and creams, efficient insect repellents come in many forms and most of them are safe for babies who are above 2-3 months old. For babies who are under the 2-months of age, it is best to not use any bug repellent on them. However, to keep the bugs away, you can place insect nettings around the baby's bassinet or stroller. If you are considering formulations for the older children, then the four main types you can choose from:
1. Repellents With DEET
Repellents containing DEET is the most effective type of repellent for keeping the bugs away. Depending on the amount of DEET present in the repellent, the protection can last anywhere between 3 and 8 hours. Usually, 10 per cent DEET in the formulation provides protection for about 2 hours, while 24 per cent of DEET in the formulation will provide 5 hours of protection. However, most experts suggest that no matter how strong DEET is in the product, it is best to apply only once a day on children.
However, the AAP (American Academy of Pediatrics) does not suggest the use of DEET bug sprays for babies younger than 2 months old and advises against using 30 per cent DEET products on children of any age. Therefore, the safest option is to use only repellents with 10 per cent DEET in them. DEET and sunscreen may seem like a handy combo but these should not be used together since DEET can make the sun-protection factor less effective.
2. Repellents With Essential Oils From Plants
Bugs can be kept away using purified forms of plants like cedar, citronella, and soybean, though these are not as effective as repellents with DEET. The protection provided by essential oil bug sprays usually last only for a few hours, which means that you will have to reapply the repellent more often. However, these oils should not be used on babies who are below 2 months of age. Some of these repellents may contain oil from lemon eucalyptus, and this should not be used on children who are younger than 3 years old.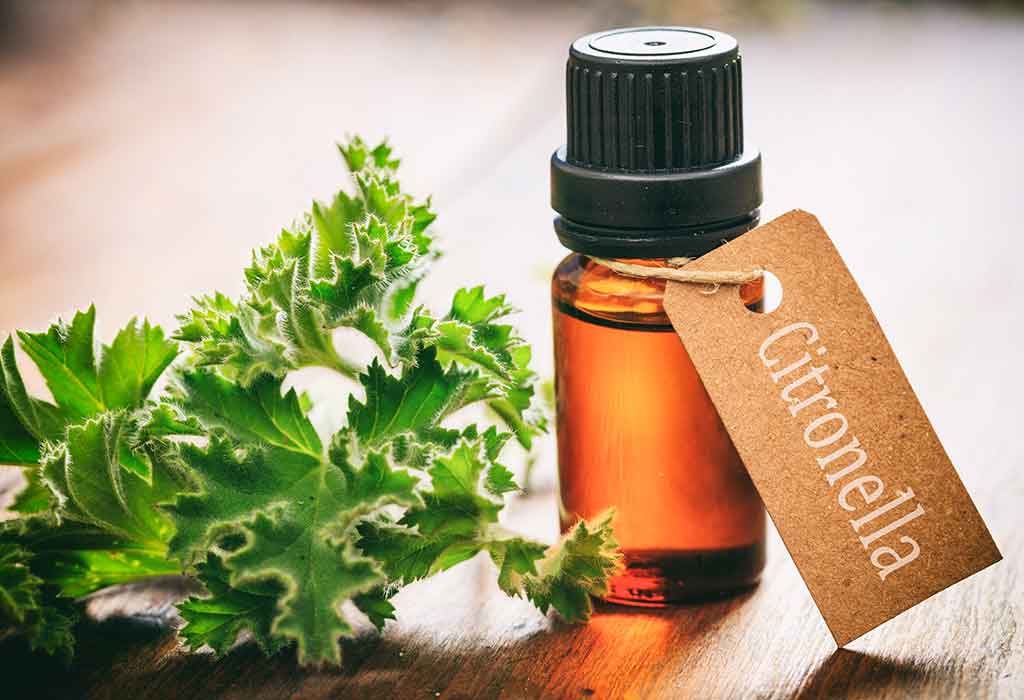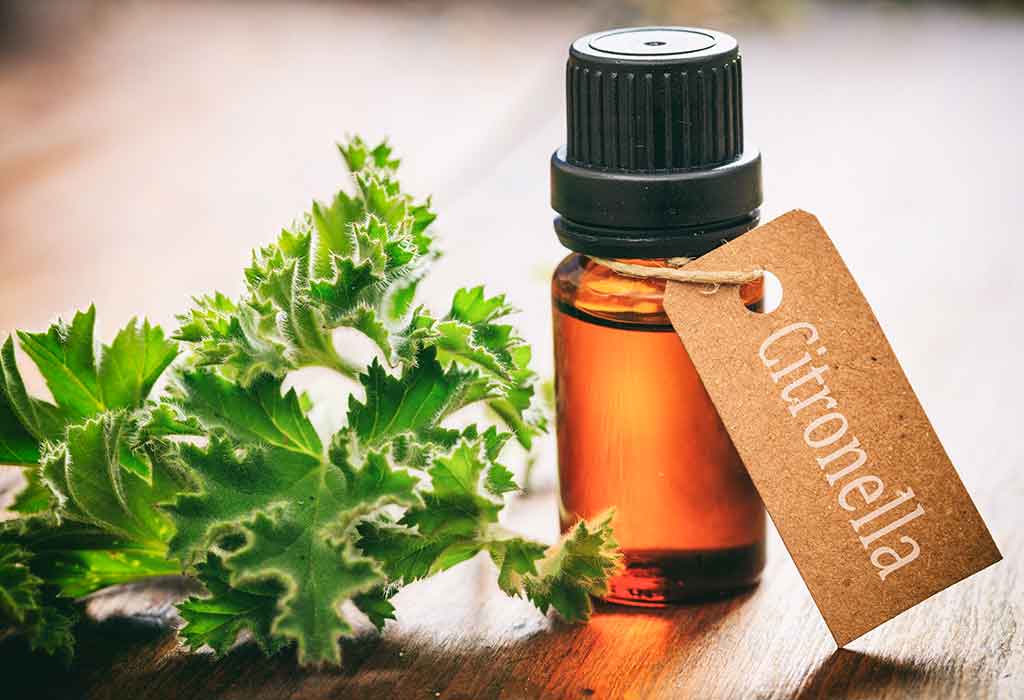 3. Repellents With Picaridin
Also known as KBR 3023, Picaridin is known to provide protection just like 10 per cent DEET formulations. Picaridin is usually colourless and odourless and feels light on the skin. Picaridin is also non-greasy and non-toxic, which makes it a better option than DEET but it can cause eye irritation. Furthermore, there's not enough research done on the long-term effects of picaridin on humans, hence it's best not used on children.
4. Repellents With Permethrin
Permethrin is a very effective chemical that can kill fleas and ticks on contact. Therefore, repellents with permethrin are ideal to protect the children against Lyme disease and other tick-borne illnesses. However, it does not protect the children against mosquitoes and other flying insects that bite. Moreover, it should only be applied on clothing or on outdoor gear like tents and sleeping bags, and never directly on the skin.
Which Bug Sprays or Repellents Must Not Be Used Around Babies and Kids?
It is best to not use wristbands soaked in chemical repellents (since these may cause localized skin irritations and reactions), ultrasonic devices that send out annoying sound waves (at-bats, birds, and pests), pills with Vitamin B1 or garlic, and bug zappers around children. These are all ineffective ways of protecting children from insect bites.
How to Choose the Best Child-friendly Bug Spray
When choosing a bug repellent for your little one, it is important to make sure that it is completely safe and harmless. Here are a few ways to choose the best bug spray for kids:
When buying a bug repellent, make sure that it either contains DEET or plant-derived chemicals that are considered to be natural bug repellent for babies above 2-3 months of age (such as oil from citronella) since they offer the best protection. Furthermore, before buying a bug spray, you should also read the product labels carefully since not every repellent is safe for children. For example, you should not use repellents with lemon eucalyptus oil for children who are under the age of 3 and you should not use DEET repellents for babies who are below 2 months of age.
Check whether or not the product you choose offers 60 minutes of complete protection after the first application since it is best to apply repellents only once per day on children.
Some repellents may cause irritation, so make sure the ingredients on the label are not known to cause problems to kids. If you are getting a DEET repellent, then it is best to go for low-concentration DEET formulations to avoid skin irritations.
Read the label of the products to make sure that it is effective on the specific insect you want to protect your child from. This is because some repellents may not work on some insects but not on others.
There are also other non-chemical options to protect the little one from insects, in case you cannot use any of these on your children. Before your little one goes outside, you can make sure that he is wearing long pants and shirts with long sleeves. Tuck the pants into their socks and make sure they are wearing closed-toe shoes.
Tips to Use a Bug Spray Safely
Here are some dos and don'ts of using insect repellent or bug spray on kids:
Spray bug repellents only on the open area because you and your child should not breathe the spray in. Also, do not spray the repellent near food.
Apply DEET and other such bug repellents only to exposed skin or clothing but never under the clothing.
Do not use any formulations near your children's mouth or eyes, and avoid applying it on infected areas, cuts, or on irritated skin.
It is best to spray the repellents onto your hands first and then rub it on the child's skin so that you can avoid spraying it on the child's face. Never spray directly onto the child's face or his hands since children might rub their hands on their eyes and mouths.
After your child comes back from outdoors, wash his hands and face with soap and water and wash the clothing with repellents before it is to be worn again.
Most importantly, follow the instructions given on the repellent before applying it on the child.
If your child happens to show any allergic reaction or has irritated skin, discontinue using the repellent.
The next time you go out with your kids for a fun outdoor picnic, do not let the pesky bugs ruin your time! Take a kid-friendly bug spray along and let your children have a wonderful and bug-free time exploring the outdoors!
Also Read:
Safe & Unsafe Mosquito Repellents for Babies
Homemade Insect & Mosquito Repellent for Infants
Pest Control with an Infant Around
?>