The True Story of a Mom Whose Baby Was 'Dead' For Eight Long Minutes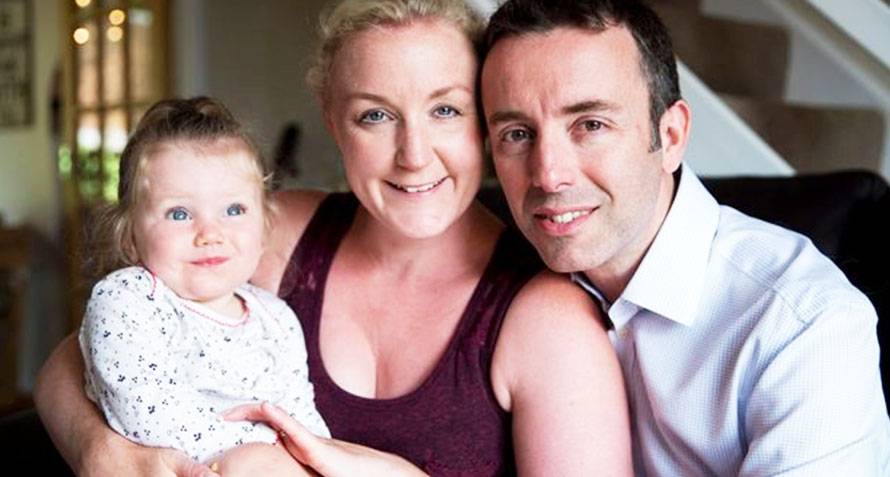 Remember that time your baby first kicked you during pregnancy? For many moms, that is the first, unmistakable proof of their baby's existence, his growing strength, and the approaching time of his birth. When your labour is at an end and your newborn enters your world, he brings the roof down with his cries. Newborns are famous for really loud crying and this time, you don't mind at all. But on the day baby girl Willow was born, she did not cry. She did not cry for several long minutes of waiting. And then her heart stopped…
Bex Forrest had had a healthy and normal nine months of pregnancy. All her scans and tests had been in order, and Bex, along with her husband, was eagerly awaiting the arrival of their baby. Right up till the the day of her delivery, the parents-to-be never suspected anything could be wrong. But that's how life is – everything is wonderful and then suddenly your whole world comes crashing down. Immediately after her delivery at Gloucestershire Royal Hospital in the UK, the doctors rushed her baby out of the delivery room. They hadn't even handed her over to the new mommy. Bex knew something was terribly wrong.
"Everybody expects to hear their baby cry when they are born and the longer it went on the worse it got. It was the worst feeling in the world. It was agonising. I can't hear her crying, what's going on? Why isn't she crying?"

But Bex was in her hospital bed, anxious and still drugged after her emergency C-section. She couldn't do anything. What was wrong with her child and why had they taken her away?
Her husband, Martin Forrest, hoped that it was a temporary situation – probably just emergency care required after a C-section. He waited for his daughter to cry. To show him that she was very much there and perfectly fine. The entire medical team was trying their best to make her well again, as she had been in the womb. They all waited for her to cry; no other sound could have been as delightful. But baby Willow's heart had stopped beating. Her heart-rate had dropped during labour and now, there was no longer a heart beat. The surgeons who had been trying hard to resusitate her for eight painful minutes now feared she was dead. Their baby was no more.
And then a miracle happened.
Willow's heart, after having stopped for eight minutes, started beating again! The doctors suddenly detected a small heartbeat which gradually strengthened and after three mintures, almost became regular. A specialist team was called in to further treat Willow. They placed the newborn in a cooling suit and she was taken to a hospital in Bristol undergo a special cooling therapy. This is a revolutionary treatment that freezes the baby for up to three days to prevent brain damage. When the brain is starved of oxygen, it can get damaged very quickly. This therapy cools the baby to stop that from happening. Yes, Willow was literally frozen. The frantic mother Bex could not travel that night as there were no free beds in the hospital at Bristol. She sent her husband Martin to be with the baby. The new dad did his best to maintain his composure and kept telling his wife that everything would be all right. What went on in his mind is something we can only guess at!
Two days passed. Bex couldn't keep it in any longer. She hadn't even held her own baby. So she gave up waiting and just left the hospital herself. Four weeks passed. Little Willow Rose was silent as ever and her doting parents were still waiting with full hope that she would yelp out her first cry. But the little baby, loaded with tubes around her throat, could not make more than a few pained sounds.
Bex and Martin were by their baby's side always. Although the new mom could not hold her baby yet, she was overjoyed to even touch her baby's little fingers. She felt her warmth, her breathing, and her heartbeat. The days continued to pass and with them, Willow also gained strength and vitality. Tiny Willow Rose whose heart stopped beating for 8 minutes at birth is now hale and hearty. Her story has stunned medics everywhere as she came back to life after being FROZEN for three whole days!
It's a year later now. She cries as much as a normal baby does and can do everything a baby her age can do. She suffers no mental or physical abnormalities and is the pride and joy of her mum and dad.
"It's strange, but all we wanted was to hear our baby cry. Now she does plenty of that though!"
Today, Willow is a happy little girl. Her story gives hope to parents facing similar situations and reassures them that miracles can happen! Thanks to the medics, the faith her parents had, and her own fighting spirit, Willow is inspiring people with her birth story everywhere. Much as your baby's incessant crying can sometimes irritate you, this story is a reminder of just how special and crucial it can be!