Newborns to 6-month-olds – Here's a Starter Library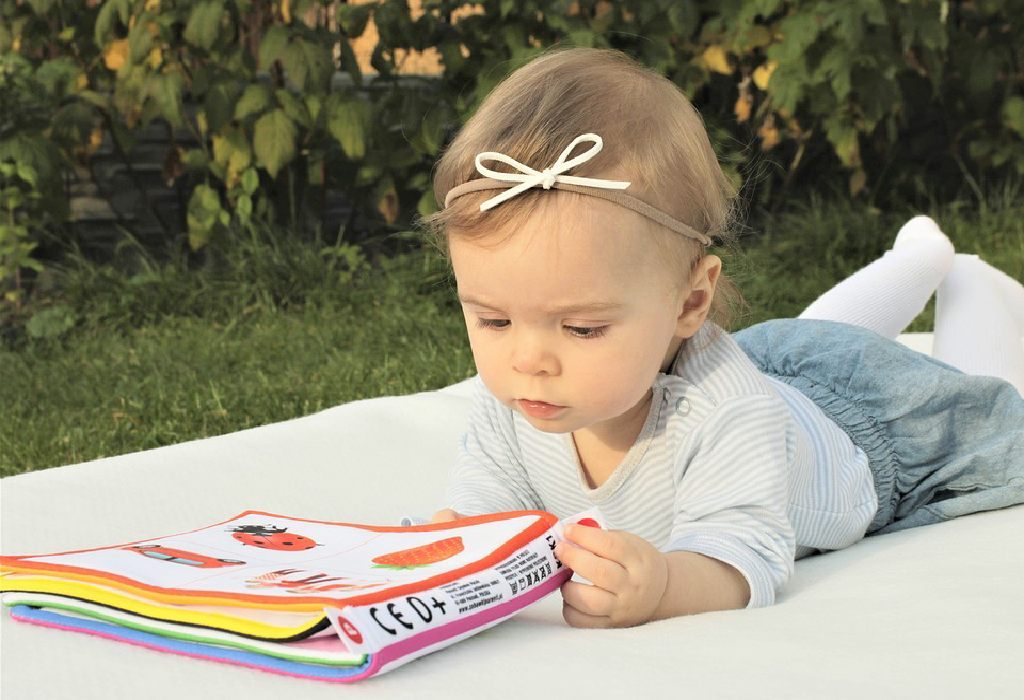 In this Article
A first glimpse at this and you must be thinking library? For a newborn baby? That's right, dear new mommies! Right from the age of 0 months, you can start reading to your child. What you are reading is an important aspect of their intellectual development and moreover who is reading and how they are reading are also equally important. When you cuddle your baby and read out aloud to him, a very positive feeling is associated which will inculcate a lifelong affinity for reading.
Reading out to a newborn is very crucial in the language development of your baby. It also builds neural connections in your baby's brain which enhances verbal and intellectual development. It is an extremely advantageous addiction and a lifelong gift which you can give your child.
Let's look at a few books which you can read out to your baby, especially from birth to six months of age.
Birth to Three Months
At this stage of life, your infant's vision is still developing. So it is wise to choose books with lots of pictures and text in big font. The book should contain high contrast pictures and be full of colours. Comprehending words is not important at this age, so do not focus on it. The important thing is that your baby looks at pictures, listens to your voice and is near you both physically and emotionally. This will build an everlasting bond between your baby and books.
1. Playskool Baby Faces
As surprising as it may seem, it is true that very young babies love to see images of other babies. They like to see different baby faces with different expressions like happy, funny, angry, sad, etc. This book consists of different baby images expressing different emotions. Take your baby through this while explaining the emotions each baby is expressing. It has tabs as well, so it will help your baby turn pages too.
2. Goodnight Moon
This book is written by Margaret Wise Brown. It is extremely colourful and is a perfect bedtime book. The verses are written in a poetic form which sound rhythmic to your baby and the words are so soothing that they will put your baby to sleep easily. It has funny pictures like that of a cow jumping over the moon, which will intrigue and amuse your baby.
3. Mr. Brown can Moo! Can you?
This book is written by Dr. Seuss. It is a complete entertainer for your new born! Along with the fun factor, it will also help you teach your baby different sounds. This is because the book will have you make all different types of sounds like pop and kloop. And this will be a complete delight for your baby!
Three to Six Months:
By the third month, your baby's vision has developed much more than what it was at birth. At this stage, colours will start to attract your child. Choose books with bright colours and big, bold text.
1. Building a House
This book written by Byron Barton contains simple line drawings and is filled with bright colours. As your child's vision is developing further, such images help attract your child's attention. There are various step by step illustrations of workers building a house in a series of pages. It's fun for the baby to hear from you what people are doing on each page.
2. Toes, Ears and Nose
This is apt for a six month old baby as it teaches the baby all about body parts in a very colourful and interesting way. This book is written by Marion Dane Bauer.
3. C is for Coco
Sloan Tannen's book teaches ABC and numbers 1 to 10. Every alphabet and number is associated with an interesting animal or object. The font is bold and big and each page of the book is an explosion of colours.
Books are undoubtedly an exciting way to introduce your children to new concepts. Have fun reading!