The Herbal Solution To Help Your Postpartum Body Recover Faster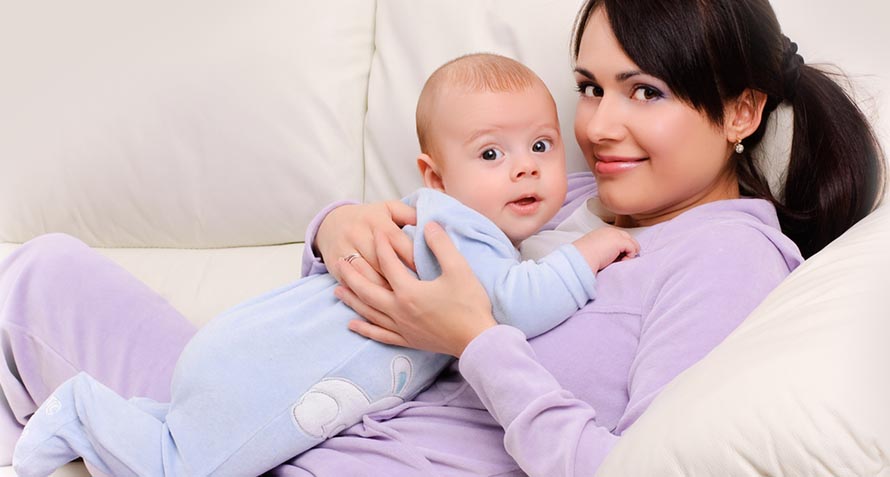 The postpartum or postnatal period begins immediately after you have given birth, and extends till a minimum of approximately six weeks. You typically need to take extra care of yourself just for the first 40 days. In fact, good care and nutritious food at this stage aren't just important for the present, but they also help ensure good health for the rest of your life. For all you moms thinking you have no time to do this, there's no need to panic! You can help your body heal faster with this Ayurvedic postapartum wisdom – straight from our ancestors.
Making Breastfeeding a Smoother Experience
As a new mom, you have now entered the stage of breastfeeding. Isn't it amazing? However, fact is fact: it is painful too! Our society focuses on just the joys and advantages of breastfeeding, and speaks little of the hardships you have to endure. This makes it all the more your moral responsibility to ensure that you take care of the #1 source of your baby's nutrition: your breasts. Plus, don't you want to save yourself from the pain of cracked, sore and bleeding nipples? The first few weeks of breastfeeding will be rough: there will be many, many nursing sessions, and it is only natural that you may suffer from one common conditions like soreness, cracking of nipples and dryness of the surrounding area.
Ayurveda treatments typically involve either applying the gel freshly extracted from aloe vera leaves, the paste of crushed basil leaves, or raw honey on the affected areas. Although all these treatments are very effective, they all require the applicants to be washed off before nursing again. Of course, that's no problem when you do remember to do so. But what about when you forget? Well, that's where nipple butters come in. They help heal cracked, sore and bleeding nipples, and do not require to be washed off. All you have to do is use them regularly. The earlier you start using a nipple cream the better. You can prepare your nipples for breastfeeding by pulling them and applying cream as early as a month before you deliver, particularly if you already have dry or sore nipples.
A note of caution here: since nipple creams are to be used between nursing sessions, it is obvious that your baby will be consuming it in small quantities. Therefore, it is essential to use a cream that is 100% safe for your angel. Look no further – Himalaya has come up with a safe and natural herbal nipple butter just for you! Now you can heal your painful nipples without worrying about the health of your baby. Daily application for just a few weeks will help form nipple tissue that will be better resistant to cracks, sores and bleeding.
Helping You Fight Postpartum Body Aches and Rashes
Another common problem that you are sure to be suffering from is soreness all over your body, particularly in your breasts, abdomen, lower back, hips, even unexpected areas like your ribs. Most moms also tend to suffer from abdominal cramps even after delivery. Add to this an ever-present fatigue and nausea…is it any wonder that you are so stressed out and tired all the time? Put an end to your woes with a relaxing full body massage. Ayurveda strongly believes in Abhyanga, a daily warm oil massage, followed up with a warm bath. This not only soothes your tired body, but it also calms your mind. Traditionally, oils like mustard oil and olive oil were used for Abhyanga. However, they are heavy and difficult to wash off. Luckily, we now have a lot of massage oils that are light yet provide the same benefits. But what about your loose skin? It's no secret that most moms want their firm pre-pregnancy skin back, which is why they opt for toning creams and lotions. However, you don't need to invest in a separate product, for Himalalya now has a herbal massage oil that also tones your skin to its former glory.
So now that you've got your breastfeeding woes sorted and your tired muscles taken care of, tell us, do you happen to suffer from an itchy rash? Occasionally, pregnant ladies and new moms may develop a skin rash. It typically starts off as a terrible itch in stretch marks, and except for the face, gradually spreads to the rest of your body. Although it does no harm to you or your baby, it can be extremely annoying, and needs to be taken care of before it gets unbearable. Himalaya's anti-rash cream helps contain this problem without bombarding your body with harmful chemicals.
Mothehood is a rewarding yet difficult journey. It is imperative to take good care of yourself so you can provide the best for your baby.