Shame on Kareena Kapoor for Neglecting her Child: You'll Love Bebo's Response to This Hateful Comment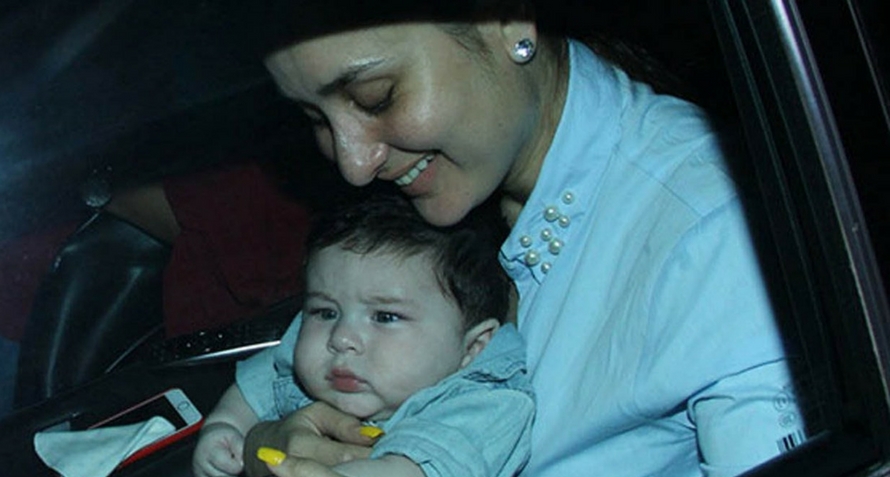 Does being a mother mean that one cannot take care of herself and her health? Being a mother is difficult already, but being a celebrity mother is synonymous to being scrutinised for every move you make! This recent incident that happened to Kareena Kapoor is a perfect example of why the society goes berserk when a celebrity mommy decides to think about herself too.
A mother's love for her little one is unparalleled to any other thing in this world. It starts with a 9 month journey and lasts a lifetime. However, does that mean that she needs to prove this love and care in front of the world time and again? Or does it imply that once you become a mother you cannot take care of your health and well-being and do things that make you happy?
Being a mother is undoubtedly a tough job and no one can ever prepare you enough for it. You learn on-the-job and take on each day as it comes. New mommy Kareena Kapoor too has been learning and growing as a mom. However, time and again, she has been under the radar for 'neglecting' her baby boy Taimur, and is being portrayed as an irresponsible mother who only cares about her job, friends and 'size zero'!
How Kareena's Motherhood Journey Was Always under The Lens
Kareena was very active even during her pregnancy. She continued work for a while, was seen on advertisements, made public appearances, and soon became a style icon and a role model for all expecting mothers. As many would say, she rocked her pregnancy completely.
Kareena Kapoor and Saif Ali Khan became proud parents of the adorable little boy Taimur in December 2016. Since his birth, the little boy became the talk of the town for his name, and Bebo received a lot of bashing for the same. Even post that, the couple were seen hosting a Christmas party and were criticised for spending time with friends without their newborn.
https://www.instagram.com/p/BUysVY5lLSe/?utm_source=ig_embed
Bebo is often spotted outside at events, parties and brunches with friends and family and that doesn't go down well with a few people in the society (who surprisingly have an opinion on how she should be raising Taimur or living her life!)
Kareena has always been very particular about her health and fitness too, and in fact, even before her pregnancy, she was much talked about for endorsing the 'size zero' phenomenon. This surprisingly caught on to her even after she became a mother. Soon after her delivery, she was spotted hitting the gym – and people considered it as her 'obsession' with her figure. She was therefore 'an ignorant mother'.
Always being scrutinized for every move you make is something celeb moms have often had to face. Be it Aishwarya Rai Bachchan's weight gain or Kareena Kapoor's weight loss, the gossip mongers can never have enough of it. And very recently, a Twitter user just took this criticism to a new level of hatred. He posted:
"Taimur Ali Khan, you are so cute, sadly you will never know true meaning of mom, shame on Kareena Kapoor Khan for neglecting her child".
Not just this, many others have even pointed out that she is an ignorant mother as she puts herself fist and goes to the gym sans her little one. "Why does she have to leave her baby and go to the gym?" was another comment made about this issue.
How Bebo Responded to Such Criticism – Like a Boss!
Every mother is different and the way she leads her life and raises her baby will vary. It doesn't make her a good or a bad mother, it is simply a function of her discretion. Responding to the criticism, Kareena said,
"Going out with friends doesn't make me any less of a good mother. Motherhood doesn't mean a woman must give up on herself. It's easy to see a photograph of me and jump to conclusions, but people don't know my equation with my child. We are capable of multitasking."
Amrita Arora, one of Kareena's closest friends, shared this picture on her Instagram account. Amrita even attended all the wedding functions of Saif and Kareena even though she was pregnant at the time.
https://www.instagram.com/p/BOaXSwGhokU/?utm_source=ig_embed
Speaking on her weight loss issue too, Kareena very aptly shut down internet bullies by saying:
"If I am going to the gym, it's not about getting size zero. So many people and girls went like, 'Why does she have to leave her baby and go to the gym?' I read these comments and I feel that's the most stupid thing ever because having a child doesn't mean you can't feel good.
If you are feeling good, if your mental health is good then automatically your child feels well. Taimur is happy and everyone is happy. I am one of the most relaxed and chilled out girls."
Check out Bebo working out with her close friend Amrita Arora. Now, that's what we call stamina!
https://www.instagram.com/p/BUqy0I0jZbg/?utm_source=ig_embed&utm_campaign=embed_video_watch_again
How Kareena Balances Work and Motherhood
Just like every working mother, Kareena too has her fair shares of apprehensions of leaving Taimur and resuming work. The 36 year actor is preparing to get back to movies and finish pending projects and has revealed that she intends to take Taimur to the sets if she needs to.
"I'll decide how I wish to go about my future projects after Veere Di Wedding releases. Getting back to work after having Taimur is a new experience. Although he will be with me when we start shooting in August, even travelling with me outdoors, I don't know how he will adjust to my long absence, if the film demands it. So, this film will be my testing ground in many ways."
Watch the video below to see mommy Kareena talk about little Taimur – the apple of her eyes!
Motherhood is not the end but the beginning of a beautiful journey for every woman. It certainly doesn't imply that a woman should stop living for herself. Instead ladies, you must do what you feel is right for you and your baby because mommy always knows best!