Roasted Poha Chivda Recipe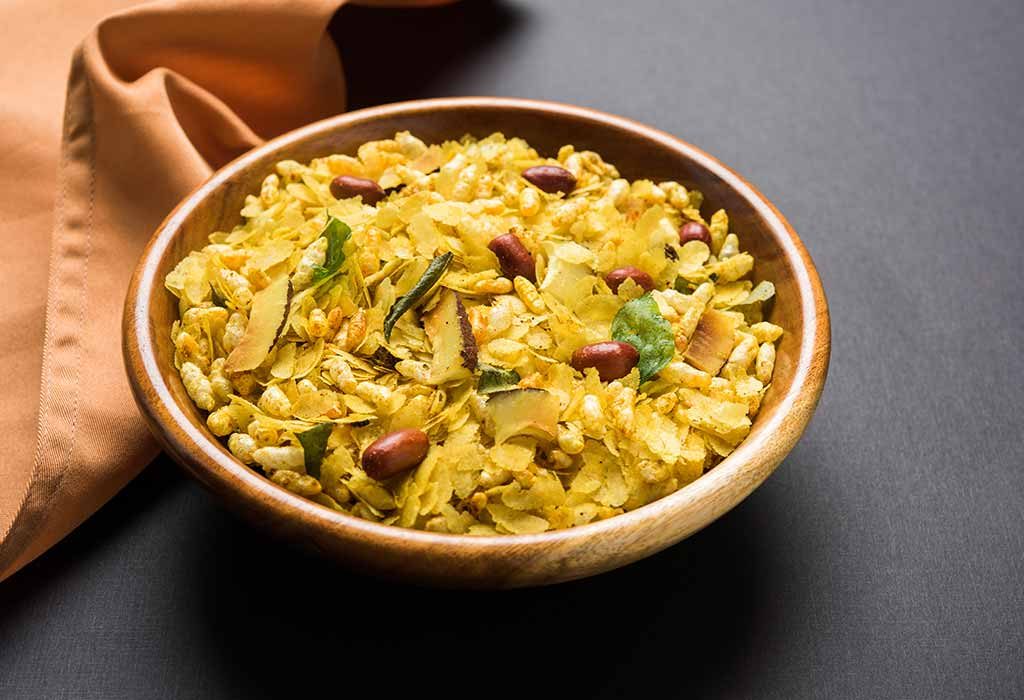 In this Article
Poha chivda is a popular Indian snack item which is usually made during Diwali and other Indian festivals. It's a healthy snack and can be made almost anytime. The best part is that it can be stored for over a week and enjoyed with a cup of chai or coffee. Yes, it's an amazing 4 pm snack. You can also give it to your child, if he is a bit older. The chivda will let your child understand a range of textures while the unique combination of spice powders renders it the aroma and flavour. If you want to make poha chivda, we have a simple recipe which you might want to give a try.
Cooking Time
| | |
| --- | --- |
| Type | Time (hh:mm:ss) |
| Preparation Time | 00:05:00 |
| Cook Time | 00:15:00 |
| Total Time | 00:20:00 |
Cooking Method
Gas
Type of Meal
Vegetarian
Suitable For
Toddlers older than fifteen months of age
Meal Schedule
Snack or mid-day meal
Recipe Type
Snack
Ingredients
| | |
| --- | --- |
| Ingredient​​ | Quantity |
| Poha chivda (thin) | 3 cups |
| Ghee | 2 tablespoon |
| Mustard seeds | 1 teaspoon |
| Curry leaves | 4-6 |
| Peanuts | ¼ cup |
| Roasted chana dal | ¼ cup |
| Cashewnut halved ( optional) | 2 tablespoon |
| Turmeric powder | ½ teaspoon |
| Chilli powder | 1 teaspoon |
| Powdered sugar | 1 tablespoon |
| Salt | As per taste |
Instructions
Learn how to make roasted poha chivda by following these quick and easy step-by-step directions:
Take a deep bottomed pan or skillet and dry roast the poha on a low flame for about 2-3 minutes. Stir continuously then keep aside in a bowl.
Heat the ghee in the pan then add in the mustard seeds and curry leaves.
Once the seeds crackle, add in the peanuts, roasted chana dal, and cashew nuts. Mix well and sauté on a medium flame for about 2-3 minutes until they turn golden brown.
Add the turmeric powder, mix well and sauté for another 30 seconds on a medium flame.
Add the roasted poha, sugar, and salt. Mix well and cook on a low flame for about 2-3 minutes. Keep stirring continuously and keep aside to cool.
Once cool, store in an airtight container.
Recipe Tips
Follow these tips to make roasted poha to make sure you don't go wrong.
Make sure you roast the poha on a very low flame. Keep stirring continuously. Do not stir too much as the poha may break.
You can eliminate the cashew nuts if you are making the chivda for your baby as he won't be able to chew it.
Powder the peanuts after roasting them and then sauté them. It will make it easier for your baby to chew.
While sautéing the peanuts and chana dal, you can also add a few green chillies.
Soak the dal before sautéing as it will make it softer and easier for your baby to eat. Soak the dal and then drain the water thoroughly before sautéing.
Nutrition Information (Per 100 Grams)
| | |
| --- | --- |
| Ingredients | Quantity |
| Calories | 330 kCal |
| Carbohydrates | 49.2 gms |
| Protein | 5.7 gm |
| Fibre | 0.8 gms |
| Potassium | 130.9 mg |
| Iron | 11.5 mg |
| Calcium | 19.2 mg |
| Fat | 12.3 gms |
| Cholesterol | 0 mg |
| Sodium | 15.2 mg |
Health Benefits
This easy Roasted Poha Chivda recipe has a multitude of benefits:
Poha is easy-to-digest and will be light on your little one's tummy.
Poha is rich in iron and may help prevent anaemia in combination with other iron-rich foods.
Poha is a rich source of carbohydrates and makes a wholesome option for babies.
Poha is low on gluten content making it safe for your baby.
Poha is made from parboiling paddy and drying in the sun. The finished product undergoes fermentation and therefore, retains the microbial flora that helps keep the gut healthy.
Buying Guide
Make sure you buy ingredients with care and precaution. Follow these tips to make sure you are sourcing the right ingredients:
Buy poha that is available in a sealed packet and check the expiry date before use.
Try and buy organic poha as it is free from chemicals and pesticides.
If using peanuts, buy the ones available in sealed packets. Make sure to check the expiry date before use.
Use homemade ghee, if possible. If you are not able to make ghee at home, buy branded ghee from supermarkets.
Roasted poha chivda for babies is not a deep-fried snack and therefore, a healthier option to the store-bought ones that are fried in oil. You can prepare this snack in batches and store it for a week or so.