Rava Sheera Recipe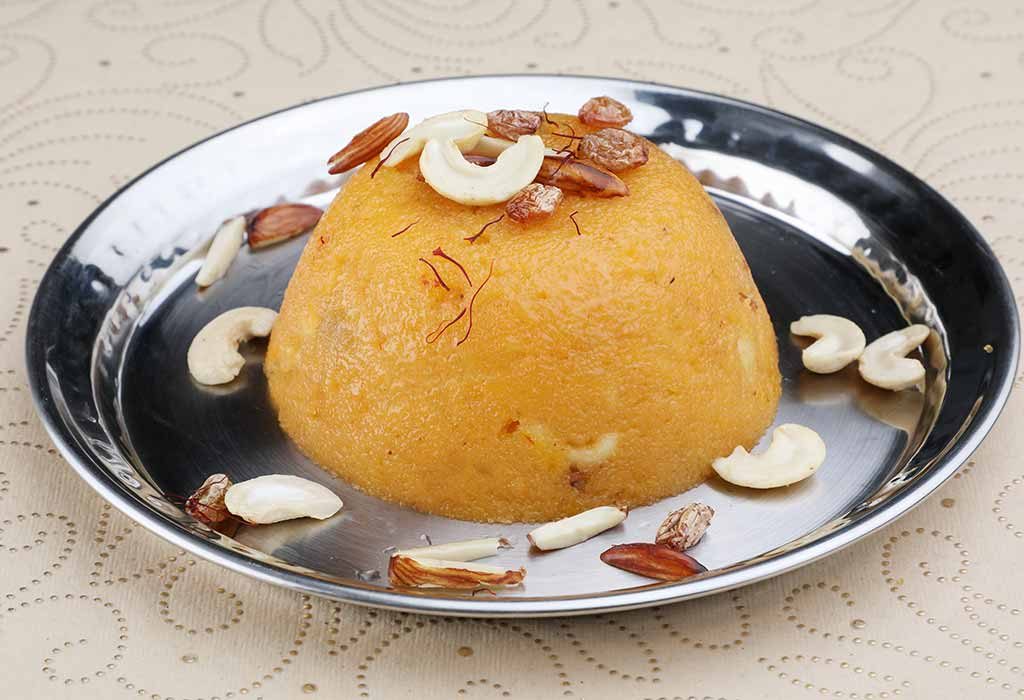 In this Article
Rava Sheera is a traditional Indian dessert which can be prepared easily. It is known as a wonderful quick dessert all across India, which does not require much ingredients and preparation. Rava Sheera for babies is the best item if you are looking for healthy breakfast, snacks or weight gain recipes for babies.
Cooking Time
| | |
| --- | --- |
| Type | Time (hh:mm:ss) |
| Preparation Time | 00:05:00 |
| Cook Time | 00:20:00 |
| Total Time | 00:25:00 |
Cooking Method
Gas Stove
Type of Meal
Vegetarian Meal
Suitable For
Any toddlers above 16 months of age
Meal Schedule
Morning breakfast or Evening Snack
Recipe Type
Desert
Ingredients
| | |
| --- | --- |
| Ingredients | Quantity and Volume |
| Rava | 2 Tbsp |
| Ghee | 2 Tbsp |
| Milk (Warm) | ½ Cup |
| Jaggery or Sugar or Dates Syrup | 2 Tbsp |
| Cardamom Powder | ½ Tsp |
| Chopped Raisins | 1 Tsp |
| Chopped Cashew Nuts | 1 Tsp |
Instructions
Rava Sheera is a sweet dish which is enjoyed by everyone. If you are wondering about how to make Rava Sheera, then here is the step by step directions of the recipe that has been updated to make it suitable for babies, infants and children.
Take the homemade Ghee in a non-stick pan and heat it.
Add the Rava in the ghee and roast it for 5-6 minutes on a low flame.
Now when the Rava has become golden brown then add the warm milk.
Mix the milk properly and cook it for another 1 or 2 minutes.
Then, add 1 Cup of hot water and stir it well.
Cook the Rava for another 1-2 minutes and add the Jaggery powder or sugar or dates syrup.
Add the chopped raisins and chopped cashew nuts and mix it well, so that they get mixed in Sheera properly.
Cover the lid of the pan and cook it on a low flame for another 10 minutes and keep it stirring occasionally.
Mix the cardamom powder and mix it well then cook it for another 1-2 minutes.
Rava Sheera is ready to eat now. Serve it hot. Garnish it with date syrup or chopped raisins.
Recipe Tips
Remember the below-mentioned points before you start preparing the healthy and easy Rava Sheera recipe for your baby.
For five minutes, sterilize the bowls and spoons used to feed your baby in a hot water vessel and hold it immersed in the same vessel before use.
When you're preparing Rava Sheera recipe for babies less than a year old, cook it in water instead of milk, then add the formula or breast milk to the cooked sheera. Do not use cow/buffalo milk in your baby's meal until he or she turns one.
Use quantity depending on your baby's appetite.
Avoid using Sugar for your babies. It is advisable to use jaggery powder or date syrup.
Use warm milk and warm water as it allows the Rava to cook properly.
Keep stirring the Sheera occasionally so that it does not get burnt.
Nutrition Information (Value for Servings)
| | |
| --- | --- |
| Nutrient | Value |
| Energy | 383 Kcal |
| Protein | 3.7 gm |
| Carbohydrates | 50.7 gm |
| Fibre | 0.1 gm |
| Fat | 17.9 gm |
| Cholesterol | 2.7 mg |
| Vitamin A | 167.7 mcg |
| Vitamin B3 (Niacin) | 0.4 mg |
| Vitamin B1 (Thiamine) | 0.1 mg |
| Vitamin B2 (Riboflavin) | 0 mg |
| Vitamin C | 0.2 mg |
| Vitamin E | 0 mg |
| Folic Acid (Vitamin B9) | 19.6 mcg |
| Calcium | 41.1 mg |
| Iron | 0.7 mg |
| Magnesium | 23.3 mg |
| Phosphorus | 57.8 mg |
| Sodium | 8.5 mg |
| Potassium | 59.9 mg |
| Zinc | 0.4 mg |
Health Benefits
Below are the health benefits of home-made Rava Sheera baby food recipe.
Ghee is a rich source of Vitamin A, K and E, which is good for skin health.
Milk has calcium which promotes strong bones and protects the teeth against gum diseases.
Rava is a good source of Phosphorus and Magnesium, and it keeps the nervous system healthy.
Cashew Nuts and Raisins are good polyunsaturated fats which are good for the heart.
Rava Sheera is a healthy dish and makes your baby feel full for a longer time.
Buying Guide
Buy good quality of Rava from the market.
Check the expiry date of the packet before buying it.
Ensure that it should not have insects in it.
Use homemade ghee and low-fat fresh milk.
Babies health are an essential aspect of our life. All parents worry about natural and healthy homemade food for their babies, so this easy Rava Sheera recipe is a healthy and easy to prepare option. Serve your babies with this dish at least twice a week instead of depending on packaged foods and do let us know how did your baby relish this Rava Sheera recipe?