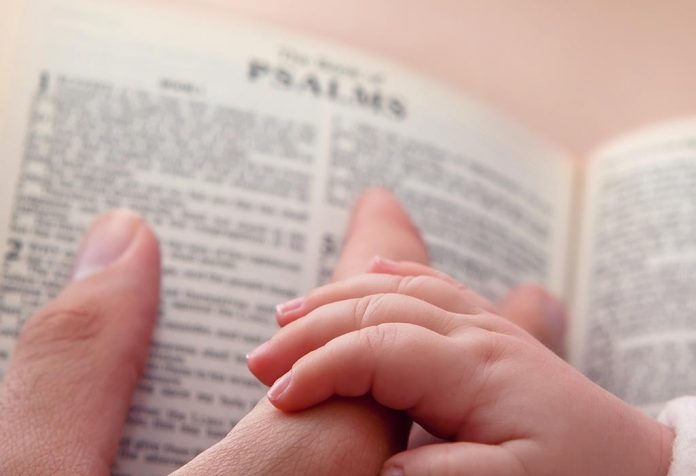 The Bible believes children are to be looked upon as a reward from God and not as an inconvenience. God loves them for their innocent, pure, and trusting hearts. The bible verses for a new baby present a child as an ideal model of faith for "God Himself" for adults.
Beautiful Bible Verses About Babies
The birth of a baby is one of the most sacred and momentous occasions in a parent's life. Whether they're bringing parents pride and joy or teaching us how to be more patient and forgiving, babies are a source for the expansion of His Kingdom here on Earth. Even if you an atheist or a firm believer in God and religion, most of these verses act as a source of inspiration for blessing the birth of a newborn rather than just a religious doctrine. They encourage parents, especially expecting moms and family, to view children from the proper perspective. The Scriptures embody the dreams and prayers that every parent has for their child's future. These bible verses for birth contain reassuring words of wisdom echo the Lord's positive thoughts about children that fill our hearts with hope and strength. The birth of a baby is not just a memorable event in anyone's life, but it brings unprecedented joy and happiness that only a new parent can tell. The holy book of the Bible celebrates new life through its scripture for new baby that blesses the baby for a healthy and long life. Just as God loves them, we must care about babies that reflect our aspirations for the kind of world we wish to live in the future. Every child is important, and all children have a right to a good life. A child's experiences often influence their attitudes, values, beliefs, and relationships when they grow up. Hence, we as parents need to give them physical and emotional support to grow up in a safe, stable, and nurturing family environment. Here are some of the most influential Bible verses about babies being a blessing that inspire us to follow the path shown by God. You can use them in your baby dedication ceremonies, christenings, or even birth announcements. You may also want to print them in your baby shower invitation or baby greeting cards to wish new parents.
1."Before I formed you in the womb, I knew you. Before you were born, I set you apart; I appointed you as a prophet to the nations." – Jeremiah 1.5
2."Start children off on the way they should go, and even when they are old, they will not turn from it." – Proverbs 22.6
3."Children are a gift from the Lord. They are a reward from Him." – Psalms 127:3
4."For you created my inmost being; you knit me together in my mother's womb. I praise you because I am fearfully and wonderfully made."- Psalm 139
5."So in Christ Jesus, you are all children of God through faith." – Galatians 3:26
6."Let the little children come to me." – Matthew 19:14
7."You have taught children and infants to tell of your strength." – Psalm 8:2
8."She is far more precious than jewels." – Psalm 45:5
9."God is within her she will not fall." – Psalm 45:5
10."Every good and perfect gift is from above." This one is a nursery classic because babies are good and perfect gifts!" – Proverbs 31:25
11."She is clothed with strength and dignity, and she laughs without fear of the future." – Proverbs 31:25
12."As children are to parents, so people are to God" – 1 John 3:1, Romans 8:15
13."But Jesus said, "Let the children come to me. Don't stop them! For the Kingdom of Heaven belongs to those who are like these children." – Matthew 19:14
14."A wise child brings joy to a father; a foolish child brings grief to a mother." – Proverbs 10:1
15."Train up a child in the way he should go, and when he is old, he will not depart from it." – Proverbs 22:6
16."Beware that you don't look down on any of these little ones. For I tell you that in heaven, their angels are always in the presence of my heavenly Father." – Mathew18:10
17."Just as you cannot understand the path of the wind or the mystery of a tiny baby growing in its mother's womb, so you cannot understand the activity of God, who does all things." – Ecclesiastes11:5
18."Anyone who welcomes a little child like this on my behalf welcomes me, and anyone who welcomes me welcomes not only me but also my Father who sent me." – Mark 9:36-37
19."Fathers, do not provoke your children to anger by the way you treat them. Rather, bring them up with the discipline and instruction that comes from the Lord." – Luke 2:40
20."And the child grew and became strong in spirit, filled with wisdom; and the grace of God was upon Him." – Luke 2:40
21."Children are a heritage from the LORD, offspring a reward from him. Like arrows in the hands of a warrior are children born in one's youth. Blessed is the man whose quiver is full of them. They will not be put to shame when they contend with their opponents in court."- Psalm127:3-5
22."6 These commandments that I give you today are to be on your hearts. Impress them on your children. Talk about them when you sit at home and when you walk along the road, when you lie down and when you get up. Tie them as symbols on your hands and bind them on your foreheads. Write them on the doorframes of your houses and your gates." – Deuteronomy6:6-9
23."Gather the people, consecrate the assembly; bring together the elders, gather the children, those nursing at the breast. Let the bridegroom leave his room and the bride her chamber. Let the priests, who minister before the LORD, weep between the portico and the altar. Let them say, "Spare your people, LORD. Do not make your inheritance an object of scorn, a byword among the nations. Why should they say among the peoples, 'Where is their God?' " Then the LORD was jealous for his land and took pity on his people." – Joel 2:16-18
24."As soon as the sound of your greeting reached my ears, the baby in my womb leaped for joy." – Luke 1:44
25."Truly I tell you, anyone, who will not receive the kingdom of God like a little child will never enter it." And he took the children in his arms, placed his hands on them, and blessed them." – Mark 10:15-16
Children who receive quality child care are more likely to develop better social and learning skills early in life. If parents meet their children's basic needs, they will grow up to be more successful in all their endeavors. So, if you believe in the guidelines and commandments of the Bible regarding babies to be the word of God, it will indeed promote wellness in our lives as we allow it to shape our beliefs, thoughts, and actions.
Also Read:
Quotes and Sayings for Your Baby's Baptism Ceremony
Wonderful Christening and Baptism Gifts
Amazing Baptism Invitation Wording Ideas