Playing With Pull Toys in A 16 Months Old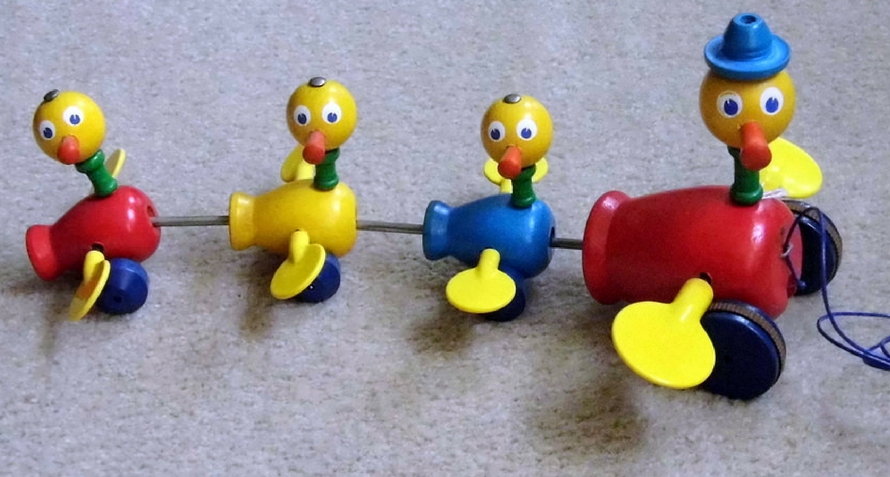 Pull toys are eco-friendly and a safe alternative to the toys made of synthetic, plastic, and other inorganic materials. Pull toys keep your little one engaged, challenged, and interested for hours in a row. Here's why wooden pull toys for toddlers should definitely find a place in their nursery!
Finding a Perfect Toy for Your Little One
As a parent, one of the most challenging tasks is finding the perfect toy that keeps your baby busy and requires minimal parental intervention. While there are plenty of electronic toys, stuffed animals, and fabricated building blocks that hold on to your child's interest, they may not be eco-friendly or safe. This is when wooden toys come to your rescue. Take a look at how these traditional toys have made a big comeback and should make their way into your child's life too!
Types of Toddler Pull Along Toys
These days, parents may like to invest in different types of pull toys for toddlers that teach important concepts in a fun way. In most cases, they are designed to handle both push and pull. Such toys serve as ideal toys for kids who've just learned to walk and are yet to master the skill of pulling things behind them. While some pull toys are animal-shaped, others feature moving parts like bobbing heads or gaping mouths. Then, there are brightly-coloured blocks and shapes, and of course the much-loved toy trains.
Push and Pull Toys for Toddlers
Keeping in view the vivid and unique demands of kids for toys, the toy market is brimming with eccentric toys with a traditional touch. Push and pull toys, known for their non-toxic nature, are preferred by many parents. Your child has to just name it and there will be plenty similar options to choose from in the market. Here are some push and pull toys that you can buy for your kids.
1. Aatike Boogie Woogie Colorful Indian Wooden Train
Made of wood, this bright-coloured train comes with a string attached to it. This is a perfect wooden toy to introduce your child to push and pull toys. As a child, you must have loved trains too. So, get one for your tot and see him run along with this train around your house.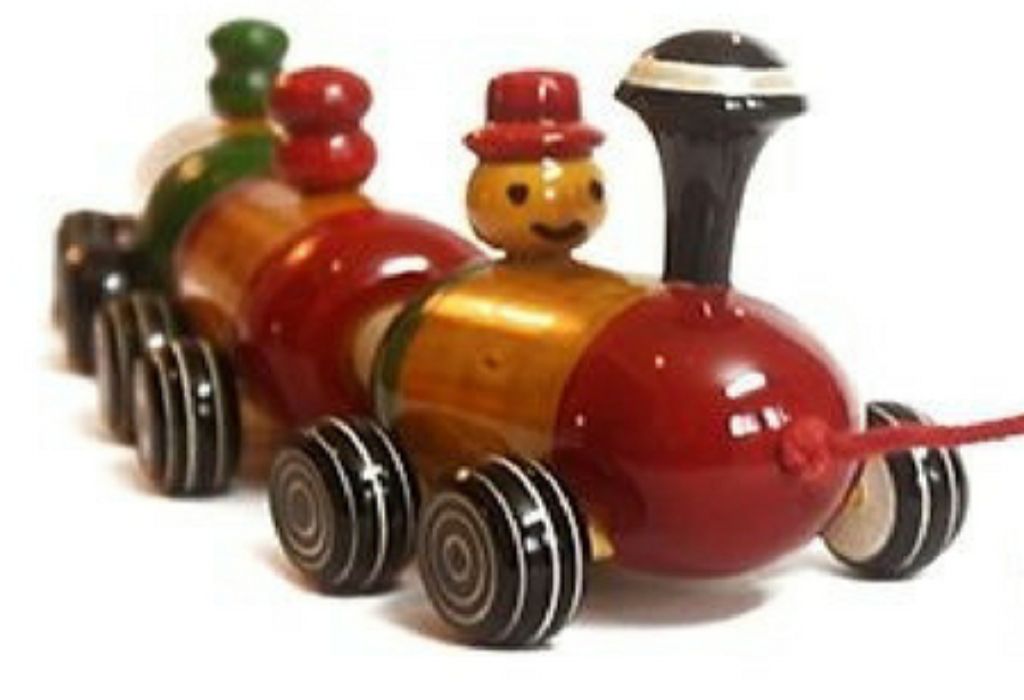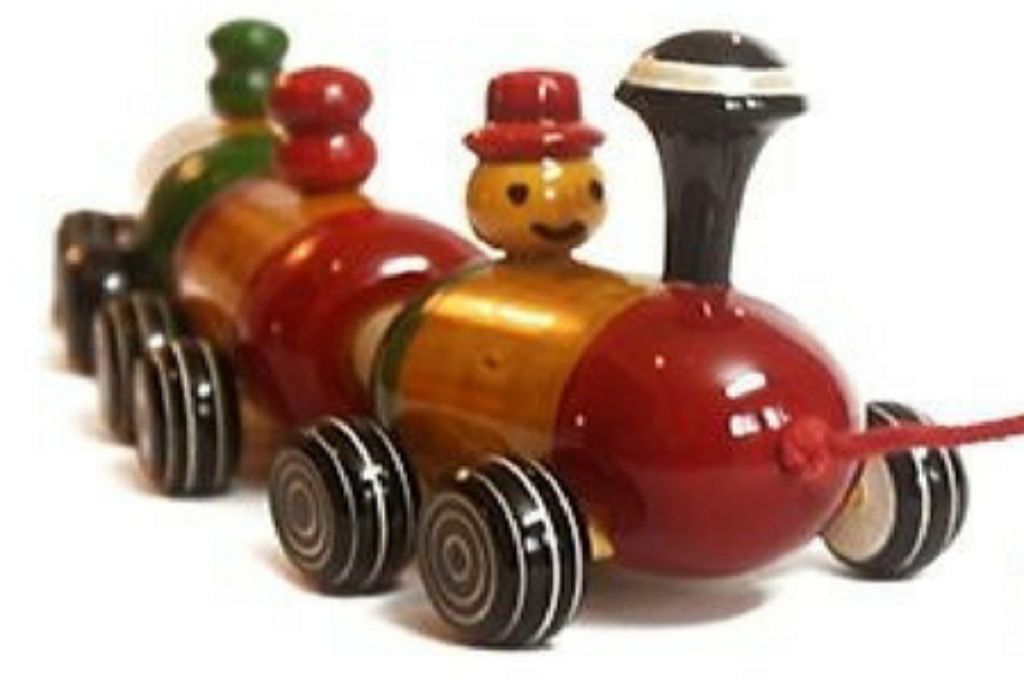 2. Shumee Wooden Rainbow Fish
Rainbow fish pull toy is made of wood and is painted with water-based safe paints. This colourful fish toy is very attractive. Playing with this pull along rainbow fish, your child's sensory and gross motor skills will develop. His imagination and curiosity will also evolve.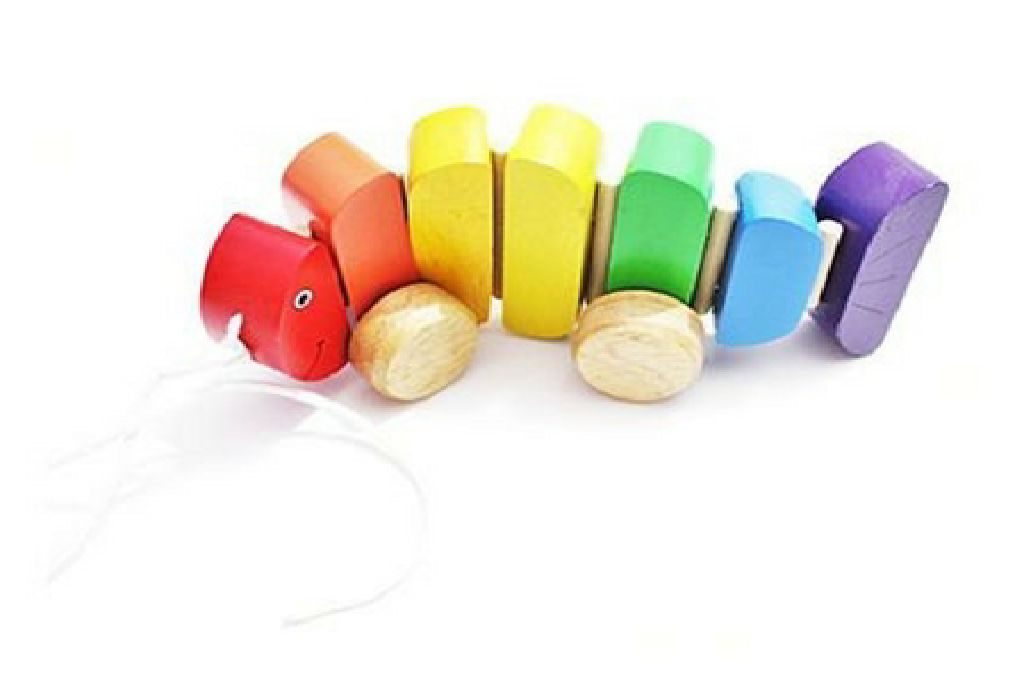 3. Wembley Wooden Organic Pull Along Quacking Paddling Duck
Pull along quacking paddling duck is an eco-friendly handcrafted wooden toy. It is coloured with natural vegetable dyes, hence safe to use for children. This duck with its bright colors will keep your toddler engaged and enthralled. Pulling this wooden toy will develop his gross motor coordination skills. Also, pulling this duck shall make your child's 'learning to walk' phase interesting.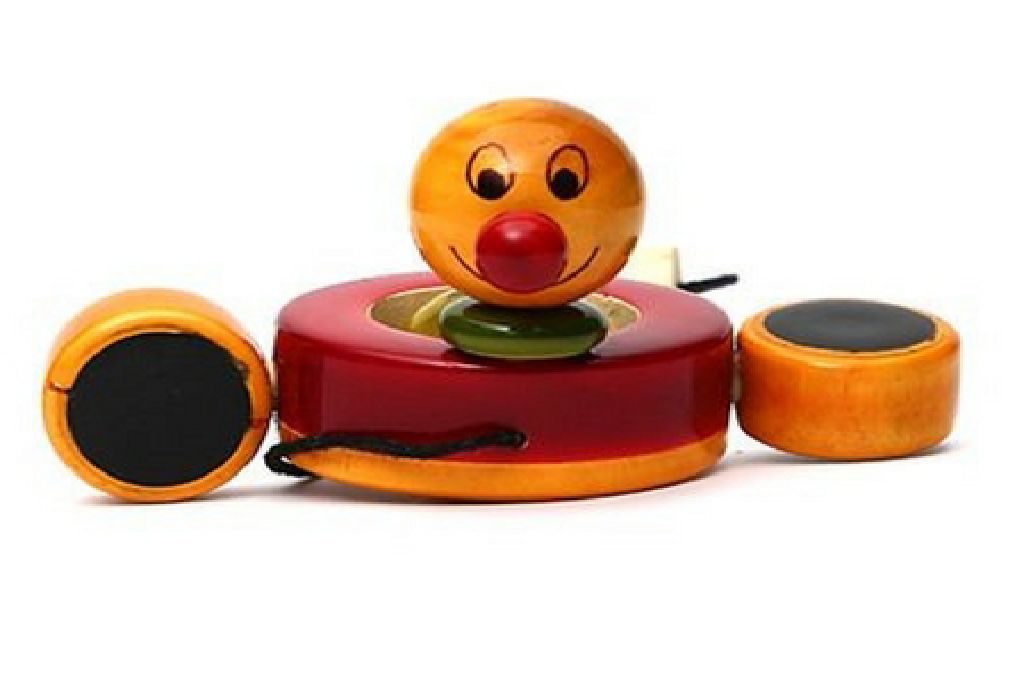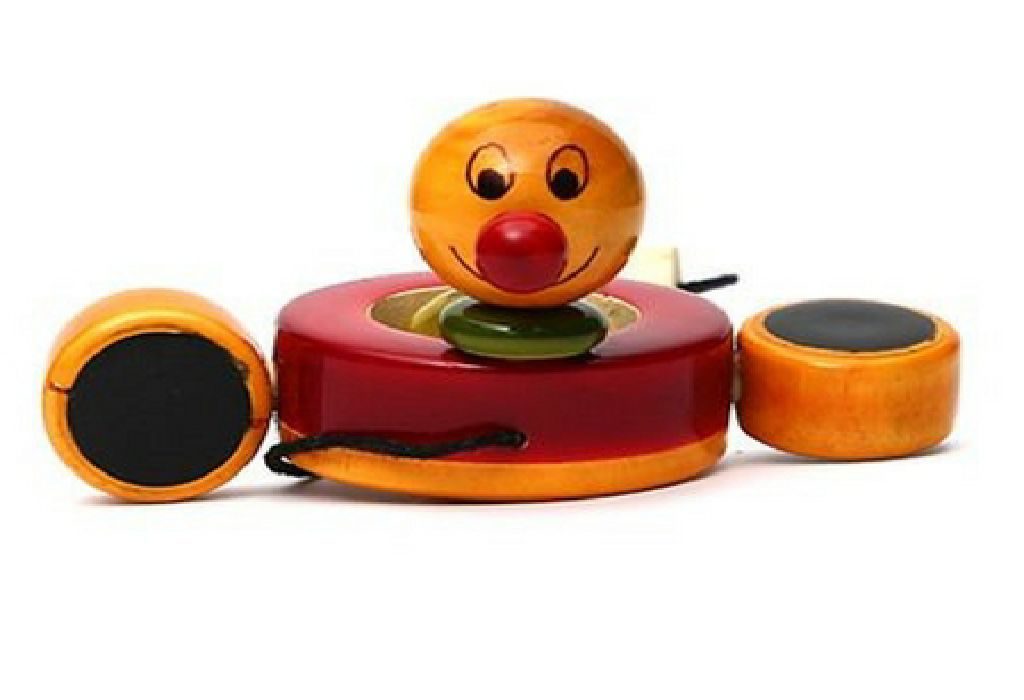 4. Skillofun Wooden Pull Along Shape Sorter Truck
This colorful wooden truck is non-toxic and a safe choice for your toddlers. This shape sorter truck comes with a string too. The best part of this pull along shape sorter truck is that it serves its educative purpose as well. It helps kids understand different shapes and colors. So, teach your kids in a fun way.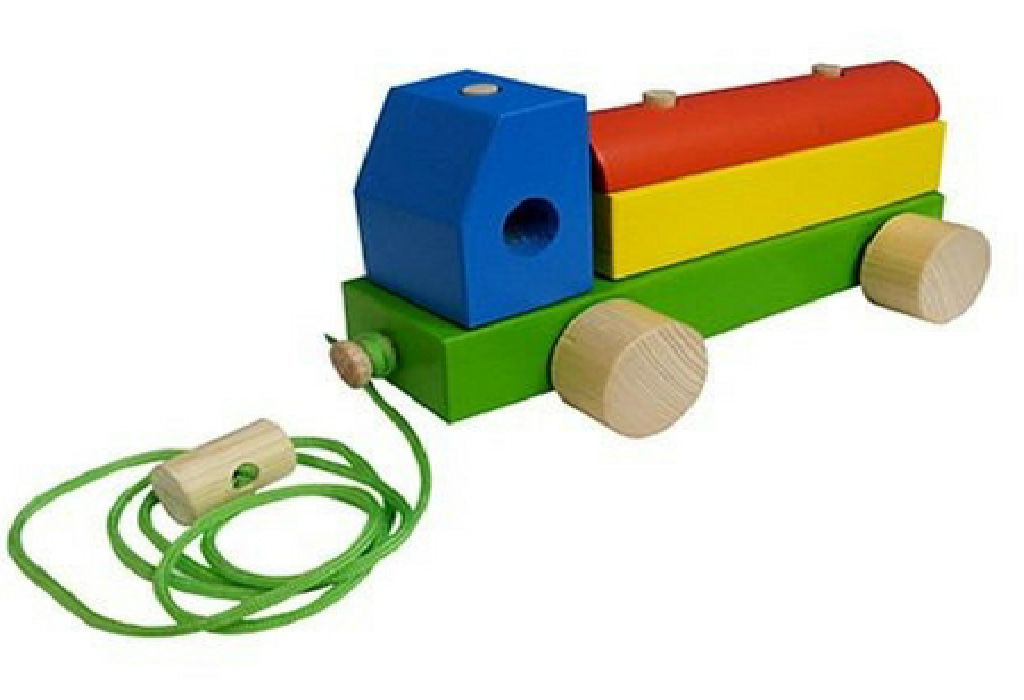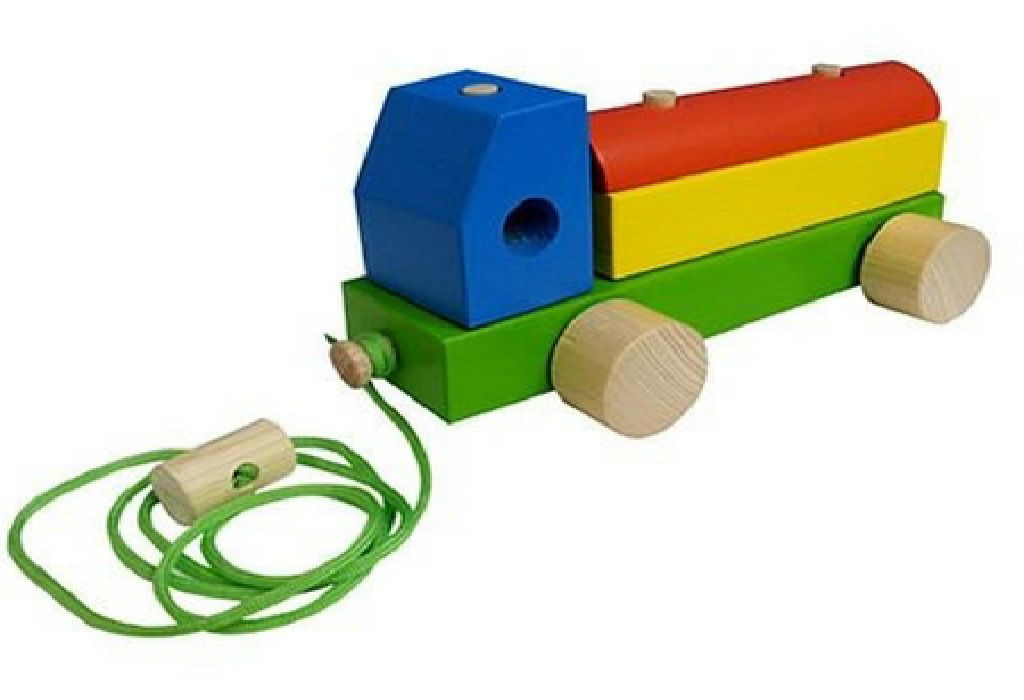 5. Bino Pull Along Wooden Wagon with Colored Blocks
Wooden wagon with coloured blocks is a toy tailor-made for educational purpose. Consisting of a shape sorter, this toy will enhance a child's problem-solving ability and improve his motor skills. Also, the colorful blocks will hold his interest, he will come across different colors, and it will stimulate his imagination.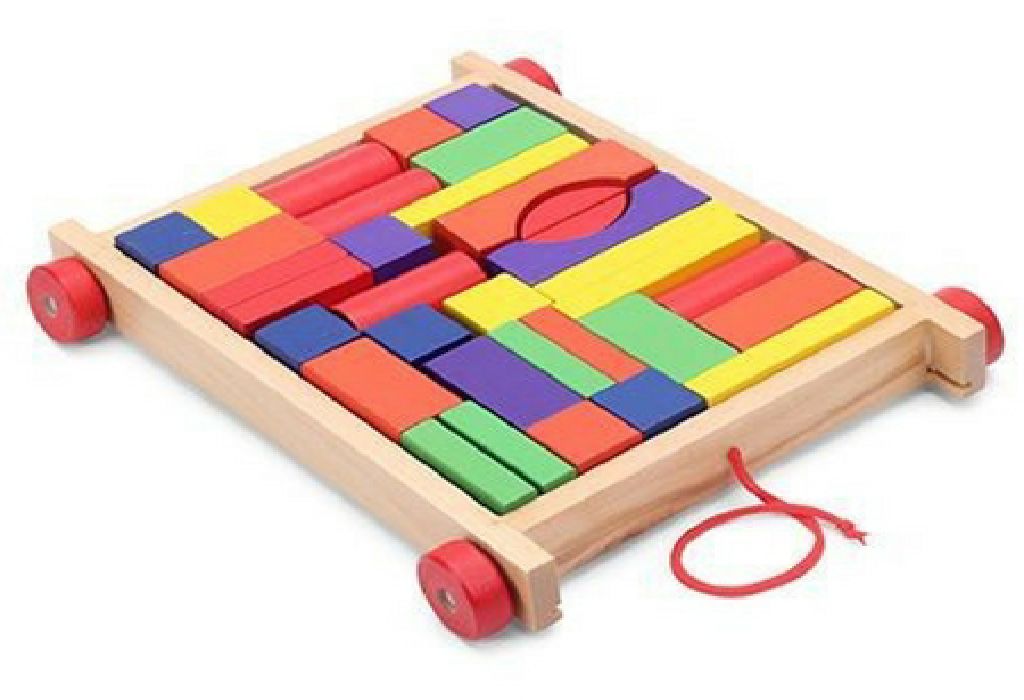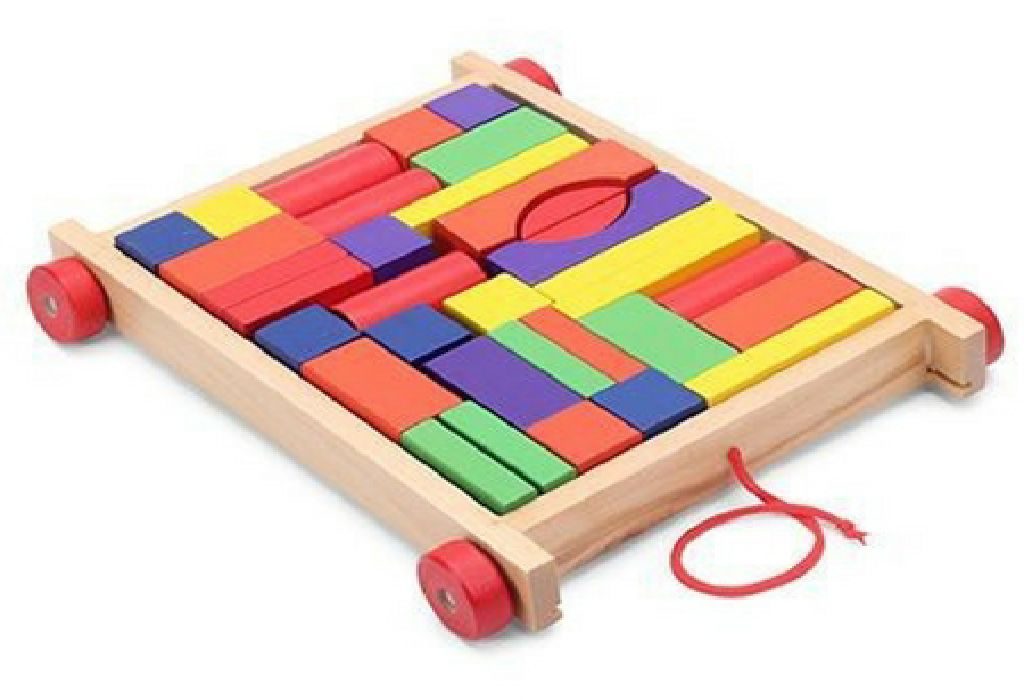 6. Hape Wooden Pull Along Alligator
Who would have thought that someday toddlers will start asking for alligator toys? Perhaps, the toys vendor did! Or he might have had some telepathic connection with the kids of this generation because wooden alligator toys are here to amuse your kids. Hape wooden pull along alligator is made of maple wood and painted with child-safe paint. This classic toy is sturdy and its smooth wooden wheels will walk a long way with your child.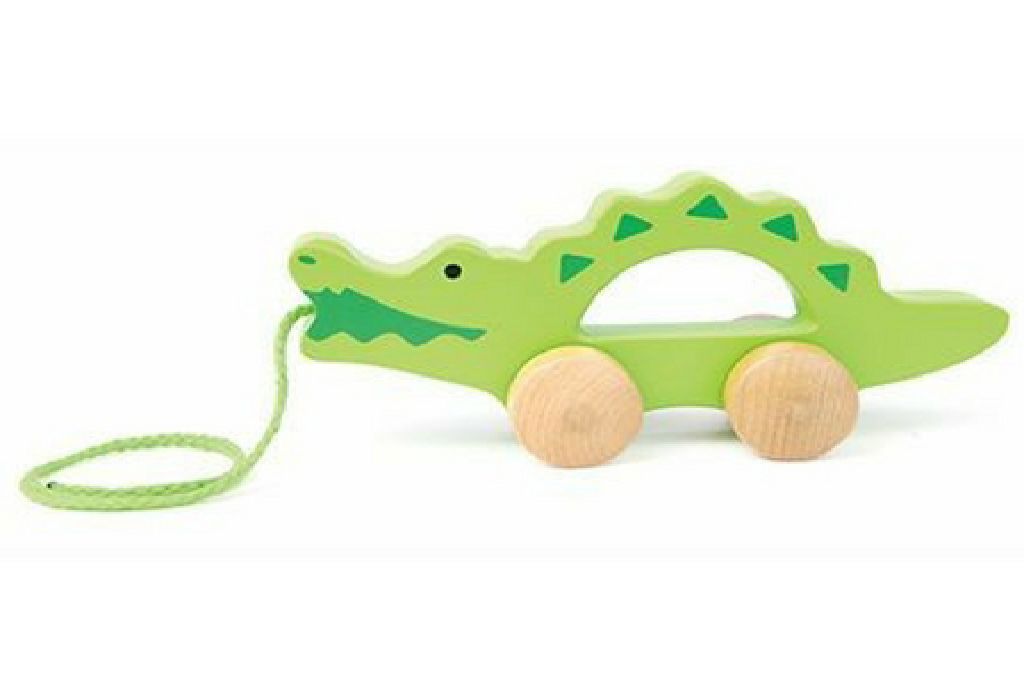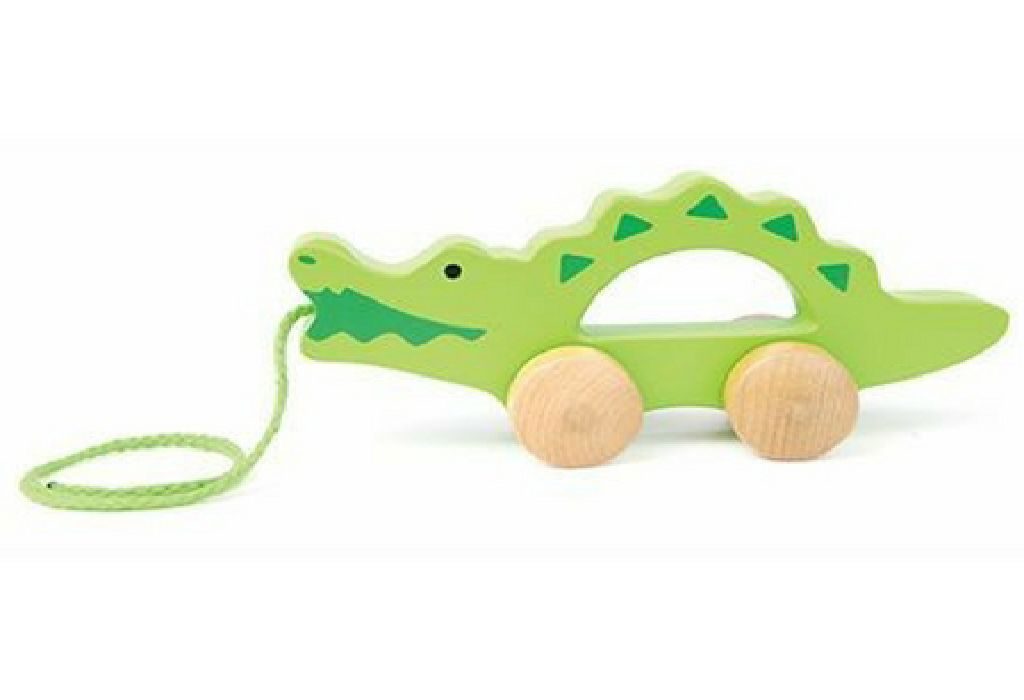 7. Emob Wooden Bear Knock The Drum Walk
This wooden toy is long-lasting and will attract your toddler very soon. As your toddler will pull along this toy with its rope, the bear will start playing the drums. This toy is sure to keep your child entertained while he takes a walk.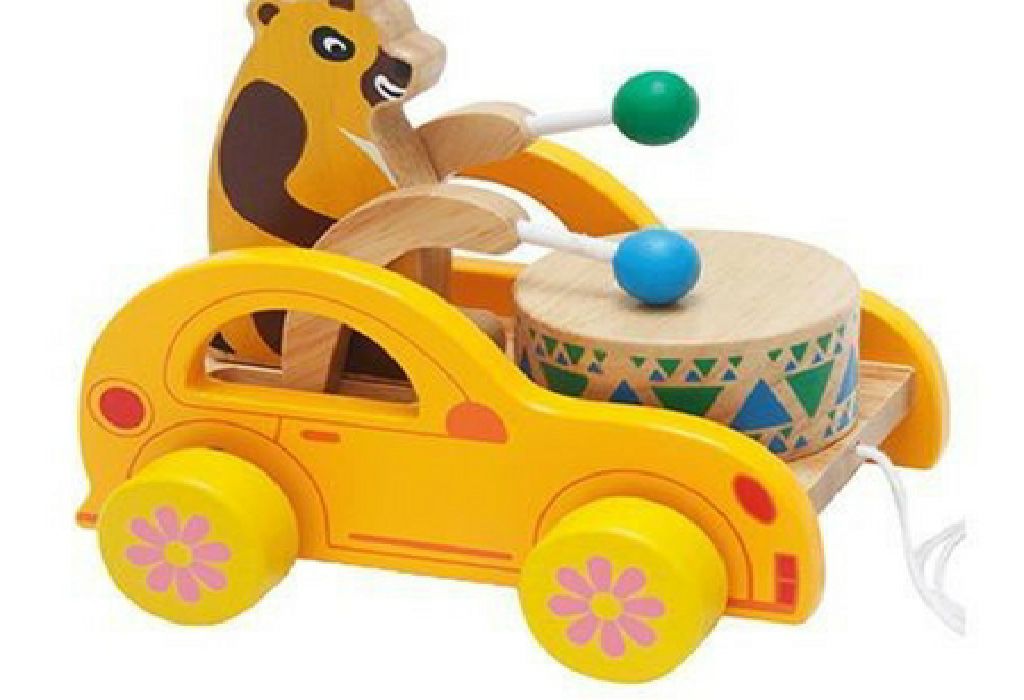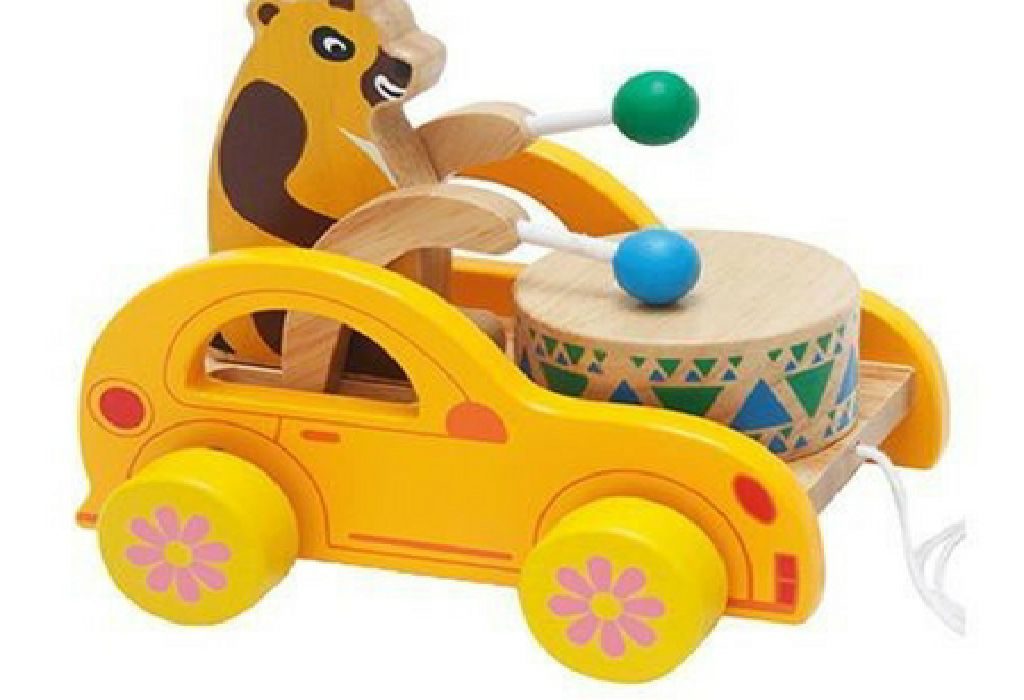 8. Shumee Wooden Pull Along Grasshopper Toy
This wooden grasshopper toy painted with natural water-based dyes is safe for your toddler. This unusual eco-friendly toy will stimulate hand-eye coordination of your toddler and improve his fine motor skills.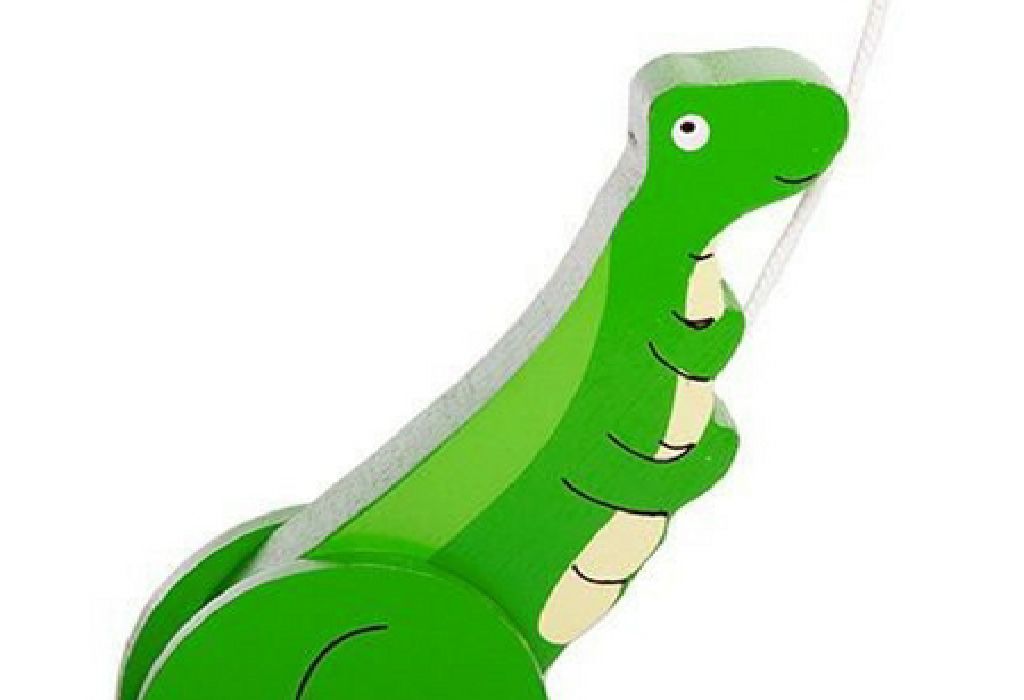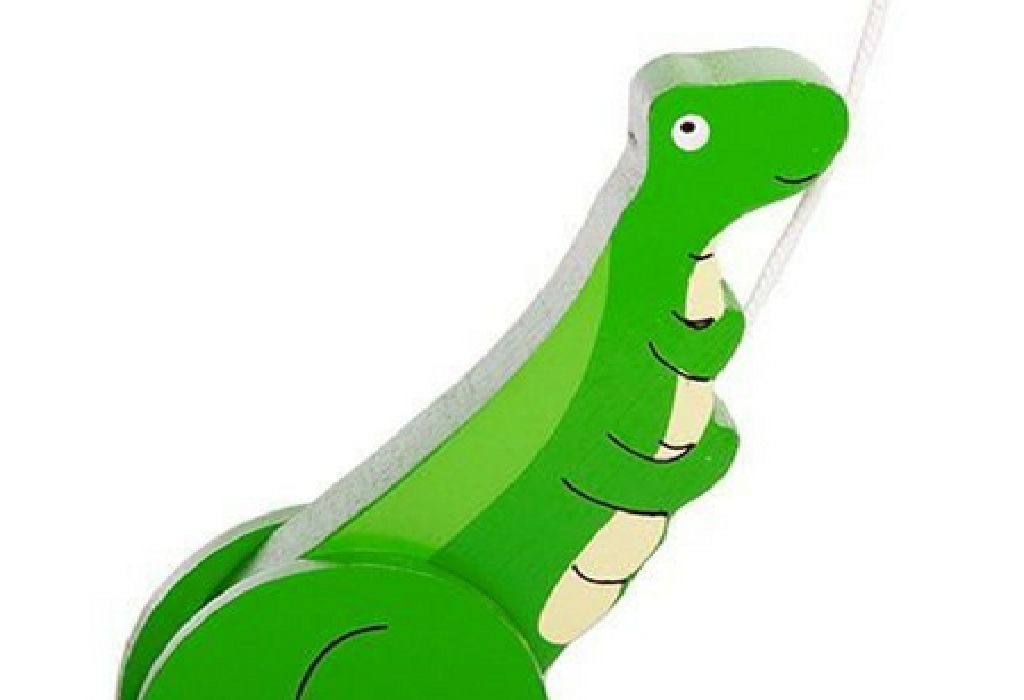 Benefits of Pull Toys for Toddlers
Pull toys are available in a plethora of designs and colors. Among the category of pull toys, the safest and durable are wooden toys. Yes, they are back! Not simply because of their durability that they are gaining popularity but these toys are beneficial for your little toddler too:
Push and pull toys are ideal for children who are learning to walk. Pulling wooden toys along with themselves will speed up their learning process.
For toddlers, 'play' means a collection of sensory experiences, involving touch, smell, pushes and rolls etc. A pull-toy helps them to live all these experiences.
These wooden toys are safe to use. They won't do any harm to your kid when he decides to taste the blue smokestack on his wooden train.
Toddlers and toys! Not a great combination but a necessary endurance! If you give your child something, he is obviously going to drop it or smash it. These wooden toys are capable of withstanding speedy pushes when your toddler throws them. So, don't think twice before investing in these toys.
These pull toys inspire creativity, are sans batteries, and often made of recyclable natural fibers.
Along with being adored by toddlers because of their simplicity, pull toys help toddlers learn cause and effect relationship too. They succeed in providing entertainment and help your toddler learn important scientific concepts, all through fun and play.
These toys are a fun way to introduce your tot to science. He will soon realize that harder he pulls his truck the faster it goes. By means of play, he will learn necessary concepts of science.
When toddlers will come across obstacles, they use innovative problem-solving skills to get their way around. So, give them toys, let them struggle they will soon find their way out.
With shape sorters present in the form of push and pull toys, kids also learn about different shapes and colors.
Where to Find Pull Along Toys
You can look for wooden pull toys for toddlers at an offbeat place and particularly at smaller speciality stores. Generally, a local kid's boutique or a kids store dealing in eco-friendly stuff would help you find these products.
Child-friendly and uniquely designed, these pull toys have certainly come a long way. They are now rubbing shoulders with electronic gadgets and battery-operated toys, and are certainly the way to go!