Oats Honey Almond Porridge Recipe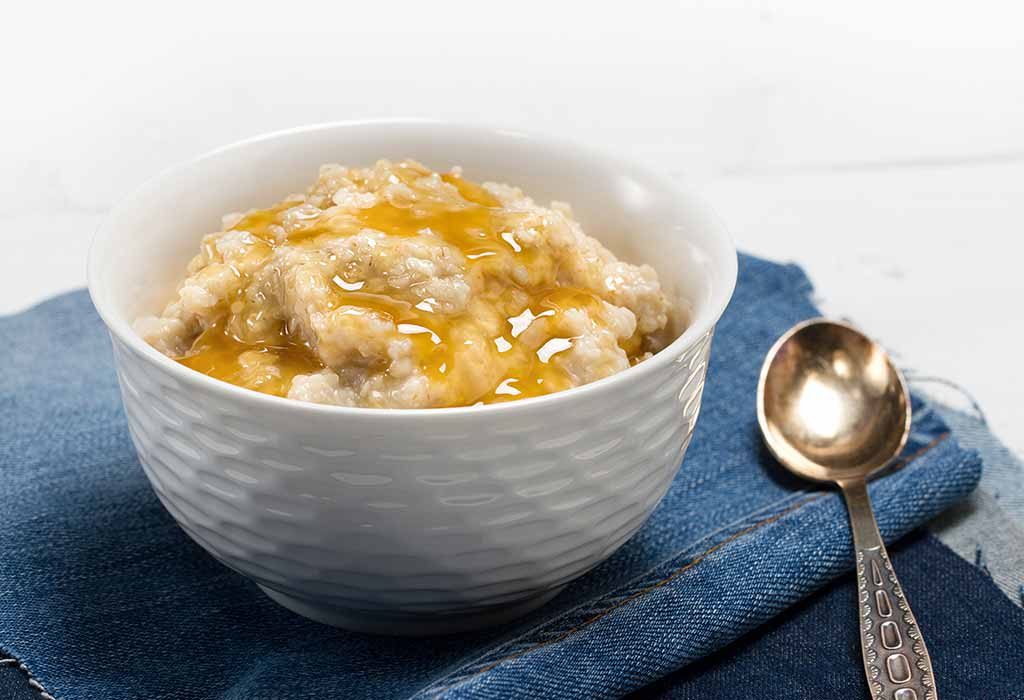 If you're looking for a healthy breakfast recipe for your child, how about oats-honey-almond porridge? Oats-honey-almond porridge is high in fibre, which makes it easy to digest. Almonds and honey make this porridge recipe wholesome and a great meal option for babies and toddlers. Here's all you need to make this easy oats-honey-almond porridge recipe, which you can whip up in no time!
Video : Delicious & Healthy Oats Honey Almond Porridge Recipe for Toddlers
Cooking Time
| | |
| --- | --- |
| Type | Time (hh:mm:ss) |
| Preparation Time | 00:05:00 |
| Cook Time | 00:10:00 |
| Total Time | 00:15:00 |

Cooking Method
Gas or microwave
Type of Meal
Vegetarian
Suitable for
Toddler – 13 months and older
Meal Schedule
Breakfast or lunch
Recipe Type
Main Dish
Ingredients
| | |
| --- | --- |
| Ingredients | Quantity and volume |
| Oatmeal (preferably organic oatmeal) | 3 to 4 tablespoons |
| Roasted almond powder | 2 teaspoons |
| Honey (use only for kids over 1 year of age) | As per taste |
| Water | ¾ cup to 1 cup |
Instructions
Here are the step-by-step directions for this tasty and nutritious homemade oats-honey-almond porridge recipe:
Blend the oatmeal until coarse.
Mix in the almond powder. Alternatively, you can churn blanched almonds to get a paste and mix it in the porridge.
Add the powdered oatmeal and almond powder into a heavy-bottomed pan.
Add some water and mix thoroughly to remove any lumps.
Turn on the heat and cook the oatmeal and almond powder mixture on a medium flame. Stir the mixture constantly to prevent it from burning.
Check the consistency; add more water if required and cook it until it reaches the desired consistency.
Turn off the gas and allow the porridge to cool down to room temperature.
Take the required amount in a bowl and add honey to sweeten it. Feed this yummy porridge to your baby.
You can store the remaining porridge in the refrigerator for a day or two. Refrain from storing the leftover porridge if your baby doesn't finish it. Only store the unused leftover porridge.
Recipe Tips
Here are some tips that you can follow to make the oats-honey-almond porridge tastier!
Add cardamom powder to the oats porridge to give it a distinct flavour and aroma.
For older babies, almonds or other nuts such as cashew nuts can be added. You can slightly roast the nuts, chop, and mix in the porridge to add more texture.
For younger babies, honey or any kind of sweetener can be skipped altogether.
Cow's milk can be used in place of water if your baby is above 1 year of age.
If you don't have ready-to-use almond powder, make it at home. You can dry roast the almonds and churn them in a blender jar once the almond powder cools. Do not churn the almonds too much, or they may lose their natural oils.
For babies older than 8 months, you can skip churning the oatmeal and use it as is.
Nutrition Information
The table given below states the approximate values of the nutrients in one cup ( 250 ml) of oatmeal porridge.
| | |
| --- | --- |
| Nutrient | Value |
| Calories | 120 |
| Carbohydrates | 15 grams |
| Protein | 10 grams |
| Sodium | 70 milligram |
| Sugar | 7 grams |
| Calcium | 150 milligram |
| Potassium | 200 milligram |
| Fats | 7 milligram |
Health Benefits
Oatmeal-honey-almonds porridge is easy-to-make and very nutritious. Find out how this delicious porridge may contribute to your child's overall health!
Oats contain substantial amounts of fibre in them, which makes them an ideal addition to your baby's diet, especially when your little one is suffering from constipation.
An ideal starter food, oats are loaded with iron, zinc, magnesium, and other essential nutrients that are essential for a baby's optimal growth and development.
This wonder food also comes with a high dose of protein, which is beneficial in boosting a baby's immunity and preventing infections and illnesses.
One of the easiest foods to digest, oatmeal is super easy on your baby's digestion and helps in keeping digestion related issues at bay.
This superfood is also good for your baby's skin as it can prevent certain skin problems such as eczema, rashes, itching, and inflammation.
A Shopping Guide
Although oats are gluten-free, they are usually processed in the same facility with other grains that may contain gluten. If your baby is allergic to gluten, make sure you buy gluten-free oats.
Also, if possible, buy organic oats to make sure you are giving your little one chemical-free and nutritious food.