Oats Apple Cinnamon Porridge Recipe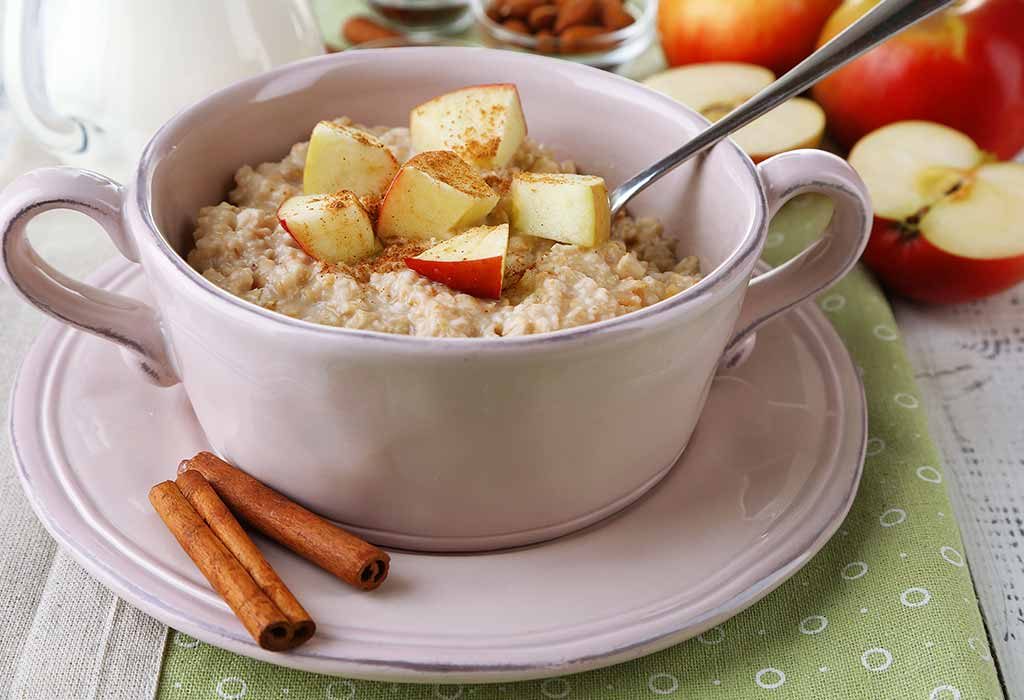 This Oats Apple Cinnamon Porridge recipe for babies is a delicious and healthy recipe which anyone can have. Oatmeal is easy to prepare and can be kept in the fridge for up to a week. You could make it with milk If your baby is younger than a year. This recipe does not have dairy but based on your preference you could add it. Oats is one of the best options for babies as it is believed to have fewer allergens. It is the perfect recipe for baby-led weaning as it makes a wonderful and easy breakfast. This recipe is full of nutrition and is also easy to digest by the little ones. Though it is light on the tummy, it keeps your babies full for a longer time.
Video: How to Make Oats Apple Cinnamon Porridge for Babies (with Recipe Tips)
Cooking Time:
| | |
| --- | --- |
| Type | Time |
| Preparation Time | 00:02:00 |
| Cook Time | 00:10:00 |
| Total Time | 00:12:00 |
Cooking Method:
Gas top
Type of Meal:
Vegetarian
Suitable For:
Babies above 9 months of age
Meal Schedule:
Breakfast
Recipe Type:
Main Dish
Ingredients:
| | |
| --- | --- |
| Ingredients | Quantity & Volume |
| Rolled oats | 1 cup |
| Apple (chopped and peeled) | 1 |
| Ghee | ½ tsp |
| Cinnamon powder | ¼ tsp |
| Water | ¾ cup |
| Almond powder | ¼ tsp (optional) |
Instructions:
Let us go through the step by step procedure of making this yummy porridge:
Wash the apple thoroughly, cut it into bite-sized pieces, removing all seeds.
Soak oats in water and let it sit for 10-15 minutes so that the flakes soften.
Put the oatmeal in a pan along with water and cook it on a medium flame for 5 minutes till it gets soft.
After porridge looks thickened, add ghee.
Add the apple pieces to the pan and cook for 2-3 minutes.
Add in the cinnamon powder and almond powder and cook for another 30 seconds.
Switch off the gas and let the porridge cool down.
If you are giving it to a child who is less than 1 year or who likes softer texture, blend it for 60 seconds.
Recipe tips:
Though this is an easy oats apple cinnamon porridge recipe, there are a few things one needs to take care of :
You could soak oats granules overnight and then let them sprout before making this porridge. This brings out all the nutritional powers and is easier to digest too. You can store this mix in airtight containers in the fridge for future use.
For younger babies, grind the oat flakes before boiling them.
If you are making it for a baby, then puree the apple before adding it to the pan; for older kids you can add the cut pieces.
Make sure the oats are cooked well.
Though the sweetness of apples is good enough for younger babies, you could add maple syrup or honey for kids above 1 year of age.
You could add milk to this recipe as well, but consult your paediatrician about giving milk to your baby, especially if they are below 1 year of age.
Nutrition Information:
| | |
| --- | --- |
| Nutrients | Value |
| Energy | 366 Cal |
| Fat | 8 gm |
| Saturated Fat | 1 gm |
| Sodium | 105 mg |
| Potassium | 334 mg |
| Carbohydrates | 67 gm |
| Fiber | 6 gm |
| Sugar | 34 gm |
| Protein | 5 gm |
| Vitamin A | 300 IU |
| Vitamin C | 4.2 mg |
| Calcium | 78 mg |
| Iron | 1.8 mg |
Health Benefits:
This home-made oats apple cinnamon porridge recipe is packed with the goodness of cereal, fruit, and spices.
There is a high content of fibre and other nutrients like manganese, iron, and zinc. All these are necessary for a healthy brain and development of the body.
Apples have been linked to lower the risk of heart diseases, aid digestion and are gentle on little tummies.
They also prevent constipation due to high fibre content.
Cinnamon used in this recipe has anti-inflammatory properties which helps in fighting infections.
It helps lower bad cholesterol and also better heart health.
Oatmeal has unique polyphenols called acetamides which have a lot of beneficial properties including being anti-itching, anti-inflammatory, and great antioxidants.
Buying Guide:
Use only organic ingredients; feeding your precious one inorganic stuff is not good for their delicate systems.
Check on the manufacturing and expiry date of packed items before purchasing.
Make sure the apple used is sweet since we are not adding artificial sweeteners to this recipe.
Hope you found this guide on making oats apple cinnamon porridge helpful and easy, and you will use it for your little one soon!