Must-have Pumping Essentials for Breastfeeding Moms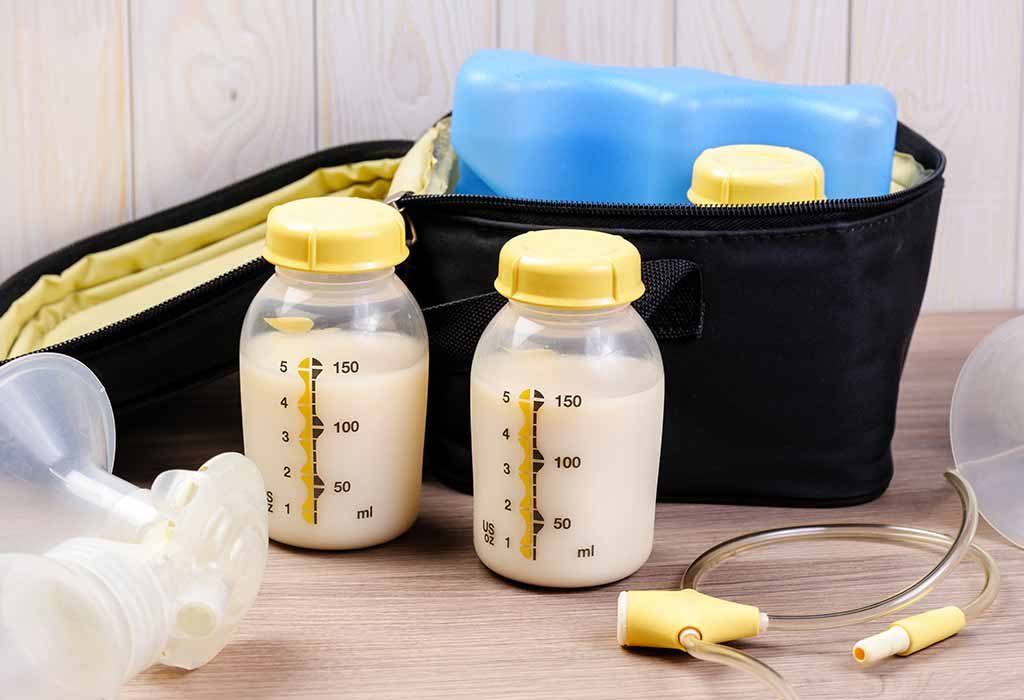 All mothers know how beneficial breastfeeding is for the growth and development of their babies. Mother's milk has all the essential nutrients required by the baby for a healthy diet and immunity. At times the breastfeeding mothers can't nurse their baby directly and have to use stored breast milk. For that, breast milk is pumped and stored for later use. There are numerous types of pumping equipment available in the market though you may not need all of them. Going by friends or relatives' suggestions is also confusing, as every mother needs different things. Don't get confused and read on to know the different pumping essentials required for the milk pumping process.
What Things Does a Mother Need for the Breast Milk Pumping Process?
Most mothers breastfeed their babies. However, some don't need any pumping equipment, whereas most need breast milk pumping equipment due to various reasons. The reasons can range from a child in NICU, the mother needs to return to work, the baby having trouble at sucking or latching to the nipple, or the mother can't breastfeed for other reasons. In such scenarios, the mother's milk needs to be pumped and stored for later feeding to the baby. The requirement of the pumped breast milk and the place where you need to pump breast milk can determine the pumping accessories you'll need.
The following are the essentials a mother can need for the breast milk pumping process:
1. Electric Breast Pump
The most essential item for breast milk pumping is the breast pump. There are different types of breast pumps available and you can choose as per your requirement. The electric breast pump comes in handy if you're looking to pump at work or have some time constraints. The breast pump should have certain qualities for convenient pumping at work, at home, or outside the home. These qualities are –
Compact
Easy to carry
Customizable settings
Uses rechargeable batteries
Quiet
Has a pumping timer
Adjustable suction strength
2. Hand/Manual Pump
A manual or hand pump is one of the pumping must-haves in your pumping bag. It can come handy as your back-up pump when your breast pump doesn't work or you have left the pump parts at home.
3. Breast Pads
Most breastfeeding mothers face the issue of breast leaking. One can never predict when the breast will overflow and start leaking. This spoils your clothes and if you are out or at work creates an embarrassing situation. So it's best to wear disposable or reusable breast pads. The breast pads will keep your clothes dry and unspoiled all day.
4. Pumping Bra
Every mother who pumps frequently or for a long duration needs a pumping bra. Holding a breast pump for long or for the entire duration of pumping can be tedious. A pumping bra leaves your hands free while you pump milk. You can pump milk while having your lunch, driving, or doing any work. There are many variations of pumping bra available in the market, go for the one that fits you perfectly.
5. Milk Storage Bags
Milk storage bags are essential when you need to freeze and store express milk for later use. The storage bags are designed for such purposes only. Some breast pumps have unique storage bags designed to fit them only. However, you can pump milk into bottles from most breast pumps if your storage bag doesn't fit in your pump. Later you can transfer the milk from the bottle to the storage bag.
6. Cooler for Milk
Breast milk when pumped can be left for a short duration at room temperature. After that, it spoils, if not transferred to a freezer or a cooler. A cooler is one of the pumping at work essentials for working mothers, as they can pump their milk at work and transport it back home in a cooler. It is also essential when going for outings or trips, where you can pack express milk bottles in the cooler. In case you don't want to invest in a fancy cooler, buy insulated cooler bags with an ice pack that will also work as a cooler.
7. Bag for Pump
When you need to travel with your breast pump for work or for anything else, then having a bag for your pump and breast pump accessories is very useful. Some brands of breast pumps have their own bags which can hold the pump and the various accessories. Though if you are buying a bag for your pump from outside then look for these features in the bag:
Multiple compartments
Breast pump fitting properly
Durability
Compartment for cooler bag
Space for storing other pump parts and supplies
Separate pocket for pumping cleaner
Extra storage space for miscellaneous items
8. Breastfeeding Cover
Breastfeeding covers are a good investment for breastfeeding mothers. The cover offers you privacy when pumping milk at work or when pumping on the go. Invest in a breastfeeding cover which can also work as a baby car seat cover or nursing cover when needed.
9. Hand Sanitizer
Bacteria and other germs can be easily transferred to your baby through the express milk. To avoid the transferring of germs, you need to maintain proper hygiene and wash your hands before pumping. Though at times soap and water are not available, so you can use hand sanitizer to clean your hands of any germs or bacteria. Use a hand sanitizer that is alcohol-free and has no scent.
10. Nipple Cream and Shields
Most breastfeeding mothers experience a little nipple pain and discomfort when breastfeeding or pumping breast milk. Though some experience slightly more pain. To relieve the breastfeeding mothers of their nipple pain, nipple creams with natural ingredients are very useful. Nipple shields assist the breastfeeding mothers with many issues such as latching problems, flat or inverted nipples, and with overactive let-down. They also are good for relieving nipple pain.
11. Napkins
After pumping breast milk, when you disconnect from the breast pump, slight milk is dropped on your clothes or your lap. Using napkins are a good way to save your clothes from getting dirty. They can also be used to keep your pumping supplies, clean your hands after pumping or wipe the counters after your pumping session.
12. Cleaning Wipes
To maintain the cleanliness and hygiene of your breast pump, it is advisable to clean it after every pumping session. However, sometimes soap and water are not accessible. In such scenarios using the cleaning, wipes are effective and convenient. You can use them to clean the pump, pump parts, counter, or anything after the pumping session.
13. Extra Pumping Parts
Sometimes you may forget certain pumping parts such as pumping tubing, membranes, or flanges at home. To avoid such situations it is advisable to keep an extra set in your pumping bags for such emergencies and maintain it as per your pumping checklist.
14. Bottles
Bottles are required to store express after pumping. You will also need bottles to transport express milk to work or to home from work. You need extra bottles if you pump many times to store breast milk from every pumping session separately. Breast milk from different pumping sessions cannot be stored in the same bottle, even though the bottle might be having enough space.
15. Car Power Adapter
A car power adapter for the breast pump is useful when you want to pump on the go or are at a place where an electric charge is not available.
The market is flooded with numerous products for pumping moms. While some might be useful for every breastfeeding mother, while others will differ from one woman to others, depending on their individual requirement. Consider your requirements and lifestyle to choose the pumping accessories which are useful and necessary for you.
Also Read:
Ways to Get a Free Breast Pump Through Insurance
How to Balance Breastfeeding and Pumping Schedule
Side Effects of Using a Breast Pump