Nursing Necklaces for Mom and Baby – Types & Benefits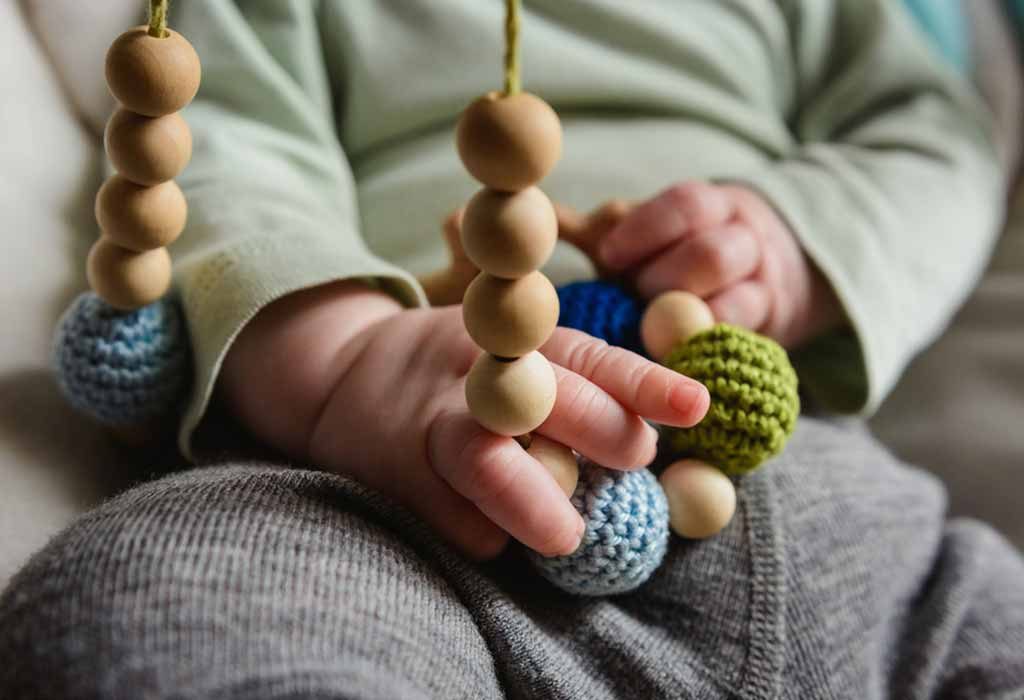 Moms who have already breastfed a baby before would know that it is not a field of roses every day! Breastfeeding can be tough at times, because of so many reasons. Sometimes, you might be tired, or you have important chores to attend to. Breastfeeding can seem very uncomfortable at times, and even inconvenient. Maybe your little one even gets distracted while feeding, making it even more difficult to manage at that time.
During the first couple of months, breastfeeding is a bit easier, since your newborn simply feeds and sleeps without causing too much fuss. But as they begin to grow, babies tend to become distracted while feeding. It could be because an older sibling is playing around the room, and the baby wants to look at them, or your hair, clothes, or accessories are suddenly the most interesting things in the world, and need to be grabbed and played with right then. No matter what causes your baby to get distracted, you will often suffer. This is where nursing necklaces can help you.
For a mother who is breastfeeding her little one, nursing necklaces can be a relief, as well as a stylish accessory for her outfit! They can be used for both nursing and teething while giving yourself a fashionable edge. These accessories give your baby something to play with while nursing, and many moms believe that nursing necklaces help their little one feed longer and better.
What Are Nursing Necklaces?
Nursing necklaces are safe pieces of jewelry that mothers can wear when breastfeeding their babies. Usually, when the babies are about three months old, they will begin scratching, punching, poking, and even pulling the mother's hair or accessories while breastfeeding. But, by wearing a nursing necklace, the mother can encourage her baby to explore the beads while helping him focus on feeding. The beads are completely safe and appropriate for tiny hands, and can help provide your little one something pretty and fun to grab onto, without hurting the mother.
Benefits of Breastfeeding Necklaces
When your baby is very young, he will often tend to reach out for the necklace, and touch and pull it. Here are some benefits of wearing a breastfeeding necklace instead of a regular one:
Babies usually grab shiny objects, like pendants or necklaces, and want to put them in their mouths. But, with a tested and verified non-toxic object like a nursing necklace, you will not have to worry if your baby does that.
Most mothers tend to remove their normal necklaces because of what the baby does with it. But with a breastfeeding necklace, your baby will have something to do by playing with the necklace, and you can keep it around your neck.
Grabbing and pulling the necklace is great for helping the baby develop the pincer grasp and gain control of his fingers. It can also stimulate the thought process of the baby.
Playing with the necklace will also help him start noticing 'cause and effect', since every time he touches the necklace, it moves!
Why Moms Should Avoid Wearing a Regular Necklace
Many moms wear bead necklaces, and when they break, it can get very unsafe. Beads are very dangerous, as they can suffocate babies, if swallowed. However, breastfeeding necklaces are different. They are designed to be fun, which often attracts the attention of children, and are strong enough not to break even if pulled. Unlike regular necklaces, high-quality nursing necklaces are made of strong ropes and safety beads. Thus, even when pulled, the necklace will not break and leave a pile of harmful beads on the floor.
Are Nursing Necklaces Safe for Babies?
Nursing necklaces are not dangerous at all, since they are created with the baby in mind. They are strong enough not to break even after being pulled. They are also designed not to cause problems to your babies even if they are chewed on. These are also non-toxic and washable!
For this reason, it is best to use a nursing necklace instead of a regular one. Regular necklaces, when pulled, are quite likely to break into many parts. If your baby manages to grab onto a small part, then it could become a choking hazard.
Types of Nursing Necklaces for Moms
Usually, breastfeeding mothers do not choose to wear their necklaces, but with these nursing necklaces, your baby will have something to hold and pull while feeding.
1. Amber Teething Necklace
Amber teething necklaces are usually made of 100 percent Baltic amber beads, and the material will have a unique color. When compared to various necklaces in the market today, this one can be matched with any style and outfit. The necklace is also a good choice for trendy mothers who are looking for a baby-safe necklace without having to sacrifice their style.
2. Silicone Teething Necklace
These nursing necklaces, designed for teething as well, would usually look like a subtle string of pearls. The best thing about this necklace is that it is comfortable and easy to use. The beads used in these types of necklaces are usually made from 100 percent food-grade silicone. The necklace is also smaller when compared to other chunky nursing necklaces you commonly find. Therefore, if you are looking for a beautiful product that is safe for the baby, then the silicone teething necklace is the right jewelry option to purchase.
3. Cotton and Wood Nursing Necklace
Wood and cotton necklaces are made from beads, covered with cotton material, and have a large wooden ring at the center. The wooden ring at the center of the statement jewelry usually attracts the attention of the baby, and is ideal for pulling and holding. For safe teething, the wood will usually be made from natural maple. The knots of cotton material help prevent the beads from breaking.
4. Sensory Chew Necklace
Sensory chew necklaces work for many years, and are perfect for mothers who are looking for a durable teething necklace. These necklaces are also perfect for those looking for cheaper options! Sensory necklaces are designed to capture the attention of babies who are breastfeeding, and are an excellent option as a nursing necklace. The chew pendants on the sensory chew necklaces are made from 100 percent food-grade silicone. Moreover, the pendants of these nursing necklaces are made in various fun designs, large enough to pull and hold while the little one is breastfeeding. Instead of beads, these sensory chew pendants usually hang on a simple ribbon.
5. Silicone Nursing Necklace
Silicone nursing necklaces are designed specifically for nursing mothers. These necklaces are usually made from beads, and can be 15 inches long. The beads of the mommy's necklace usually stack down, instead of stretching around the neck, and are perfect for babies to play with while feeding.
6. Chew Silicone Baby Necklace
These chewable necklaces are made using multi-colored silicone beads that capture the baby's attention. The beads differ in size and color, and are free from phthalates, BPA, PVC, lead, cadmium, and nitrosamines. The necklace can also come with a detachable buckle that provides a sense of security.
7. Cosmopolitan Bead Necklace
These are high-quality chunky necklaces with colorful beads on durable silicone ropes. The cosmopolitan bead necklace usually features five large beads that are of different sizes, and are oval in shape.
Nursing necklaces are definitely worth checking out, if you have a teething baby who is usually breastfed. These necklaces can help keep the baby happy and occupied while feeding, and saves your hair and clothes from pulls and grabs!
Also Read: