Moringa for Breastfeeding Mothers: Benefits & Recipe
You all know that breastfeeding is the best source of nutrition for your baby in the initial months after birth. But some women may experience a problem with their milk supply. If you are having trouble in producing milk, then you may be even unable to exclusively breastfeed your baby. However, there are many natural options that you can try to enhance your milk production, moringa being one of them. If you want to know how a breastfeeding mother can benefit by including moringa in her diet, read this article.
Video : Consuming Moringa during Breastfeeding – Does It Increase Milk Supply?
Is Moringa Good for Breastfeeding Mothers?
Moringa has been used for quite long to increase milk supply. This is because the moringa leaves are said to be a galactagogue, a substance that helps in enhancing the milk supply. There have also been studies indicating that a woman can increase her breast milk production by consuming moringa leaves. You may effectively consume moringa leaves for lactation.
Benefits of Moringa for Nursing Moms
Moringa or drumsticks are rich in nutrients and are particularly good for nursing mothers. Mentioned below are the benefits of moringa for breastfeeding moms:
1. Meets the Calcium Requirements
Breastfeeding mothers need an extra dosage of calcium because their body is making milk for their baby and, thus, there is more requirement of calcium in the body. Also, the nursing baby requires calcium for optimal growth and development of the baby. Moringa may help in meeting the calcium requirements of nursing mothers.
2. Keeps Fatigue at Bay
Moringa is loaded with iron, which is very essential for a nursing mother. Ample amounts of iron in the body can help a new mom deal with fatigue and exhaustion. Also, a woman may lose a considerable amount of blood during labour; hence, inducing moringa may help in replenishing the lost blood from a new mother's body.
3. Helps in Blood Clotting
Being rich in Vitamin K, moringa helps in clotting the blood. It is particularly helpful to women who may be bleeding heavily after delivery.
4. Helps Maintain Good Uterine Health
Consuming moringa leaves can also help deal with labour pain. The anti-inflammatory and the antibacterial properties can help is removing the uterine sluggishness after the delivery.
How to Take Moringa for Increasing Milk Supply
Moringa leaves are high in many vital nutrients and can be easily included in your diet. You can consume fresh green leaves in the form of vegetable, salads, or soups to avail its multiple benefits or you can consume it in the form of moringa capsules, moringa powder, or even drink drumstick juice for breastfeeding benefits.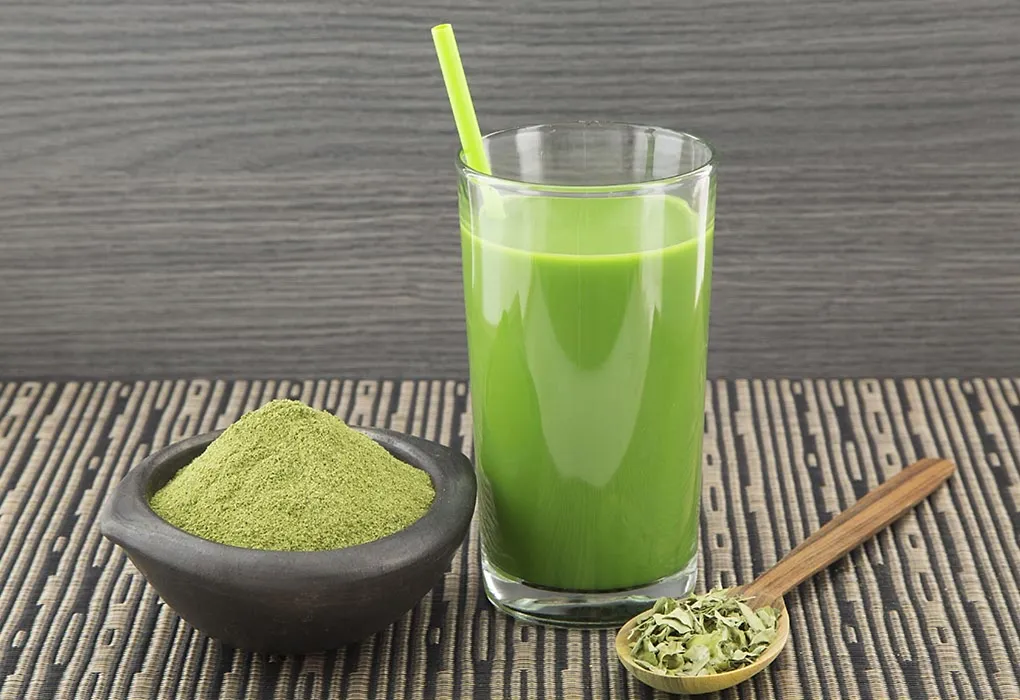 Are There Any Side Effects of Consuming Moringa While Breastfeeding?
When it concerns the well-being of your baby, you need to be extra cautious. Therefore, you must include these leaves in moderation in your diet. The safe amount of moringa to consume is 1000 mg/kg body weight. Above 3000 mg/kg can have adverse effects on your health. If you have already been eating these leaves then your body may be used to consuming this vegetable, however, if you are including it for the first time, seek approval from your doctor.
Drumstick Leaves Stir-fry Recipe to Boost Lactation
Let us see how you can turn these miraculous leaves into a yummy side dish. This recipe is easy and does not take much time to prepare.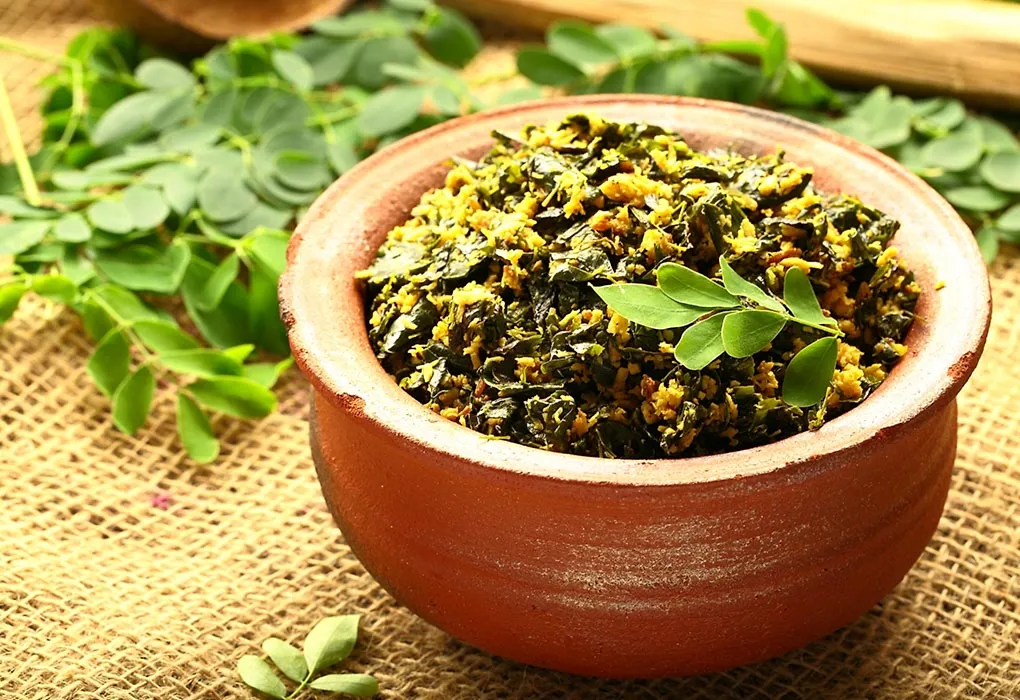 Ingredients
You may need:
Fresh moringa leaves – 2 cups
Grated coconut – 4 to 5 tablespoons
Curry leaves – 6-7
Mustard seeds – ½ teaspoon
Turmeric powder – ¼ teaspoon
Black pepper powder- ¼ teaspoon
Coconut oil – 1 tablespoon
Salt to taste
Directions
In a heavy-bottomed pan, heat some coconut oil.
Add mustard seeds and curry leaves, and let them splutter.
Once the seeds are roasted, add turmeric powder and black pepper powder.
Add moringa leaves and nicely coat all the leaves with the spices.
Add salt to taste and cook the leaves with all the spices for two to three minutes.
Make sure not to overcook the leaves.
Once the leaves are cooked, add grated coconut and turn off the flame.
Serve it with rice or roti.
Important Points to Consider
Here are some important tips that you should consider when you plan to consume moringa oleifera for breastfeeding.
Make sure you choose fresh and crisp looking green moringa leaves.
Avoid using the wilted, pale or yellow coloured and stale-looking leaves.
Consume moringa leaves in moderation, as excessive amounts may have harmful effects on the liver and kidney.
Clean the leaves thoroughly before using them.
Never overcook the leaves as it may kill all the vital nutrients.
While cooking the leaves, add turmeric to it.
You can add a few cloves of garlic to enhance the flavour and taste of the leaves.
There are many natural options available that you can use to improve your milk supply. Moringa leaves are a great option that you can consider to enhance your breast milk supply in a natural way. Moringa leaves are relished in many parts of the Indian subcontinent and thus these are easily available, too. Get hold of these wondrous leaves and include them in your daily diet to increase your breast milk supply. Though these leaves are a safe bet, there is no harm in seeking your doctor's permission before including them in your diet.
Also Read: Foods to Increase Breast Milk