National Pet Day 2023 – History, Significance, Wishes & Quotes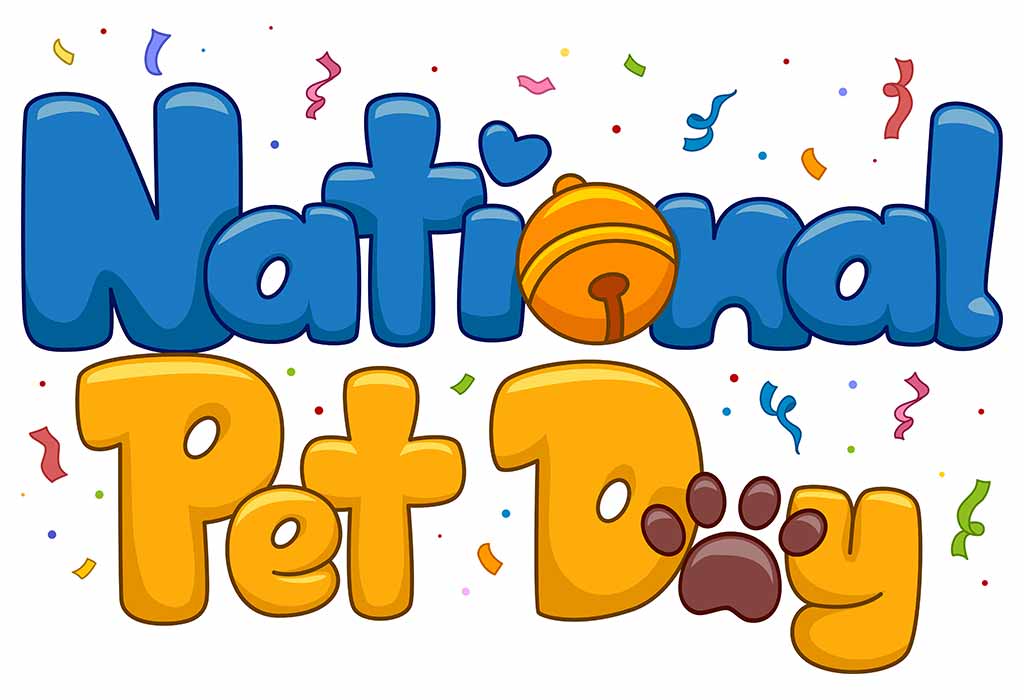 We all know that pets are excellent companions and can make your day just a little bit better with their innocence. International Pet Day celebrates the happiness that pets bring in humans life. The day is observed to motivate people to adopt pets and reduce the number of animal shelters.
What Is National Pet Day?
The purpose of the day is to celebrate and show your love to your pets a little extra today! As pet owners, we are pretty lucky to have the joy, support, comfort, and connection that our pets bring in our life. Animal lovers over the globe celebrate the day by honouring their pets.
When Is National Pet Day Celebrated?
On April 11, National Pet Day is celebrated around the world. So be ready to hug and show oodles of love to your pet and tell them how you feel about them.
What Is the History of National Pet Day?
In 2006, National Pet Day was developed by Colleen Paige, an animal lover, and a reformer. It was brainstormed to create public awareness for the animals awaiting homes in shelters and celebrate the joy pets bring into our lives. The day marks a noble cause of keeping pets and protecting animals. Presently, the day is observed only in the USA, but it is also gaining popularity in other countries.
Importance of National Pet Day
According to research, pet owners have been linked to many health advantages, including improved mental health and low stress. Pets provide a calming effect to their owners, especially if they live alone. The significance is to celebrate the unconditional love that animals give us.

How Is National Pet Day Celebrated?
Spend some time having fun this National Pet Day by doing something nice for your pet or those in shelters. These few ideas will help you celebrate the day:
Buy a new toy or treat for them.
Play with them.
Donate food, toys, blankets, and other things to an animal welfare organisation.
Throw a party for your friend's pet.
Volunteer at a local animal shelter.
Adopt a pet.
Activities You Can Do on National Pet Day
Go Exploring: If you have a dog, appreciate your pet by taking them to the Dog park. Your pet will love frolicking around the park and finding new playmates.
Photoshoot: This is a fun activity, and even if you do not own a pet, you can visit an animal shelter to show love to innocent animals. Take some glamorous or funny photos and post them on your social media pages.
Buy a Gift: Spoil your pet without any guilt this National Pet Day by buying a product you know your pet will love. Today is all about celebration, and this is the right time you've been waiting to purchase your pet a gift.
Meal Together: Take your pet out to a pet-friendly restaurant where you can get a meal for both you and your pet and enjoy having a delicious feast together.
National Pet Day Quotes to Celebrate the Day
"There's a saying. If you want someone to love you forever, buy a dog, feed it and keep it around." – Dick Dale
"Pets are humanizing. They remind us we have an obligation and responsibility to preserve and nurture and care for all life." – James Cromwell
"Animals are such agreeable friends—they ask no questions; they pass no criticisms." – George Eliot
"Dogs are our link to paradise. They don't know evil or jealousy or discontent." – Milan Kundera
"Any glimpse into the life of an animal quickens our own and makes it so much the larger and better in every way." – John Muir
"Until one has loved an animal, a part of one's soul remains unawakened." – Anatole France
Animals are sentient, intelligent, perceptive, funny and entertaining. We owe them a duty of care as we do to children." – Michael Morpurgo
"Adopted pets are the best pets you can have. Most adoptable pets come from loving homes that simply cannot care for them anymore. Or they are strays who've been on their own without the loving care they deserve." – Josh Duhamel

National Pet Day Wishes and Messages to Show Your Love for Pets
Money cannot provide the loyalty and love that the pets can provide to you. Happy National Pet Day!
Truly blessed to have an amazing pet that shows so much love and affection to everyone.
You are so lucky to have such a wonderful pet that loves everyone unconditionally. Happy Pet Day!
Pets remind us of unconditional devotion and care for the people around them. Sending warm wishes to all pets today!
Pet is like a blessing. They are there for us in the happiest and the sad moments. Happy Pet Day!
Animals make the best friend and faithful companions who care about you. Adopt a pet this National Pet Day.
Truly blessed are the ones who have adorable pets in their lives. Happy Pet Day!
Animals give us absolute love and care. Let us also return the same to them this National Pet Day. Adopt a pet!
Pets do ask questions or pass any criticisms. They listen to you with full attention and adore you unconditionally.
You cannot understand the importance of having a pet until you have one in your home. Adopt a pet today!
Great Ideas to Have Fun With Your Pet
Attend a pet-friendly event with your pet, like baseball in your area that lets your dog join you. Do buy your pet some pet-friendly snacks and water.
Most pets, especially dogs, love to swim. Go and have some fun time swimming with your pet. P.S: You may have trouble getting your pet out of the water when it's time to go home!
Going for a run is always an excellent idea for you and your pet dog to enjoy together. Ensure to keep on a leash for safety and carry a water and poo bag.
Gather your friends or family and plan a picnic. Your pet will enjoy going along with you if you, as long as he gets some food and playtime.
If your friends also have pets, you can throw a pet party in your backyard and enjoy the nice weather. Pick a theme, get some pet-friendly treats, and prepare to celebrate the day.
Don't let the day go unnoticed. Make the animals around you feel loved, and appreciate them for being there in your life. Share this with your friends and tell them how they can celebrate National Pet Day with their pets.