Meet the Team Behind the Group, 'Breastfeeding Support for Indian Mothers (BSIM)'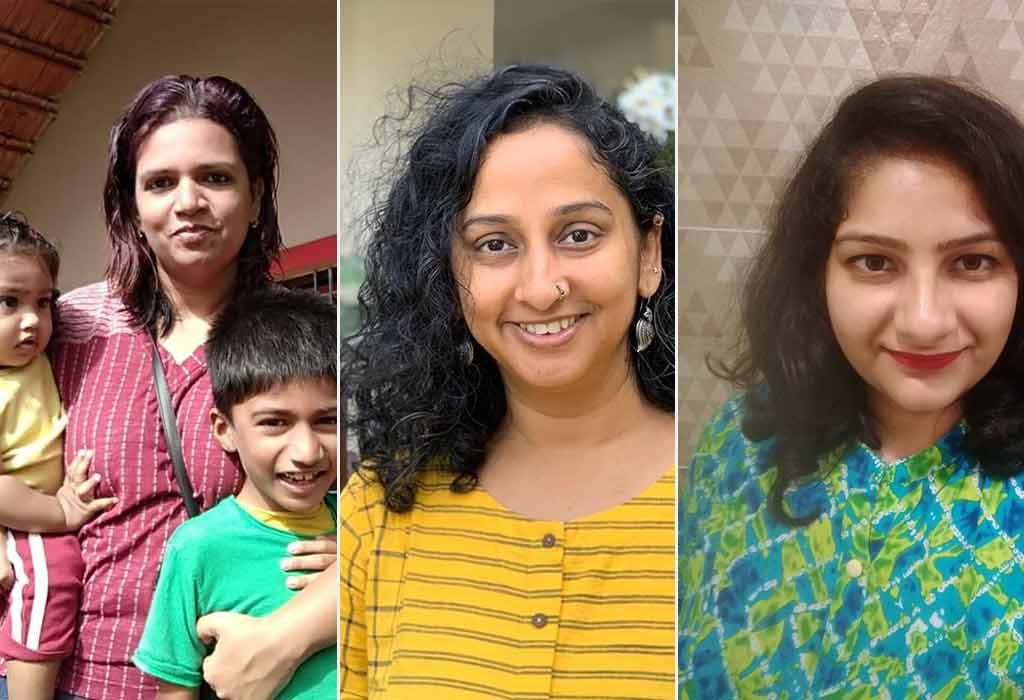 Breastfeeding your baby may feel strange at first, downright painful, but when you see your little one latched on properly and filling his tummy, your heart swells with pride. The decision to breastfeed is a personal matter and a mother can choose to formula-feed her baby, which is completely normal.
However, breastfeeding, especially for first-time moms can be quite a daunting experience and the lack of right guidance and correct information around breastfeeding can lead to incorrect methods, uninformed decisions and a whole lot of stress. Thankfully, there is access to forums and groups that provide support and guidance to those who need it.
Breastfeeding Support for Indian Mothers, a Facebook support group, formed in 2013, by a Pune mom Adhunika Prakash (now a certified Lactation Educator and Counsellor), was started with the intention of empowering breastfeeding parents and parents-to-be with the right information on breastfeeding. The Facebook support group has helped many breastfeeding parents in the past seven years and it presently has more than 1,25, 000 members.
Adhunika Prakash leads a dedicated team of 20+ members, who share a common purpose of empowering women by providing them with support and information during their breastfeeding journey. This #WorldBreastfeedingWeek, we at FirstCry, decided to connect with Adhunika Prakash and the team of BSIM, to learn more about the group, the positive difference it has made, and more. Here's edited excerpts of the interview:
1. What inspired you to start the BSIM group?
Adhunika- I thought of starting this group when I became a mother. I felt lonely in my breastfeeding journey. Even though I was well-educated about the importance of breastfeeding, I did not have a network of other breastfeeding women I could rely on – women who were in a similar journey like mine. Meanwhile, when I spoke with my friends and acquaintances, I realised that their breastfeeding journey would have turned out very differently if they had accurate information on breastfeeding and support for them to reach their goals. When my son was 7 months old, I had joined an Irish breastfeeding support group, as I was in Ireland at the time, and felt that a group like this can help people who don't live in communities and lack guidance. From there, emerged the idea of starting Breastfeeding Support for Indian Mothers to empower breastfeeding moms and couples with the right knowledge on breastfeeding.
Initially, I used to share lesser-known facts about breastfeeding to keep the group active. I also responded to the questions posted on the group. But then more people joined they added more moms.
Now we are a team of 20+ members who have willingly joined and are working towards the same goal of helping breastfeeding parents and empowering them with reliable information.
2. What's the objective of BSIM?
Adhunika- We have been working voluntarily over the last few years. But when we got recognized in the Facebook Community Leadership Programme, and our Community was selected in top 5 communities in the world, at that point of time, we started thinking about becoming self-sustainable, so that we could pay some of our staff and hopefully turn it into an opportunity for women to support their families. If more women work in lactation support, the more women will get supported in their breastfeeding journey. So we are hoping we can increase our impact and empower women. That's what we are working on currently!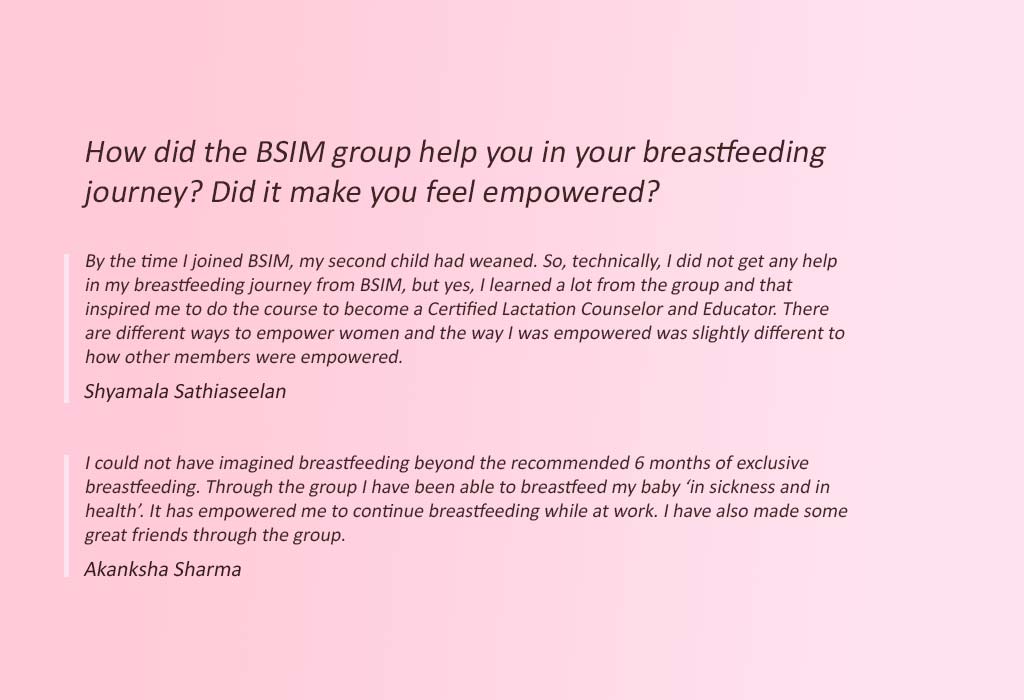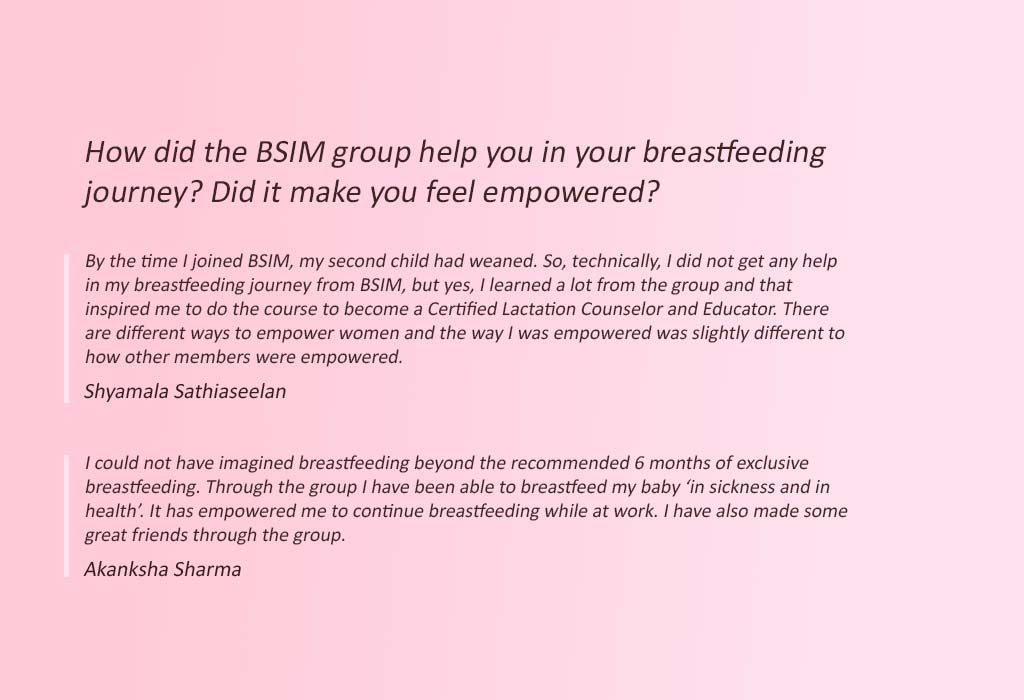 3. BSIM support group now has more than 1,25, 000 members. How did you manage to build such a strong community for moms on Facebook, meanwhile maintaining a safe space on the Internet?
Adhunika- There has been a lot of bullying and it has not been easy. While it was stressful, what really kept me going and look beyond trolls and bullying that comes along with online work, were the answers to "Why am I doing this?" and "Why do I get up in the morning?"
The fact that we are helping mothers and babies and we are impacting the health of so many families, keeps us going. We are not limited to sharing information on breastfeeding, we want to empower women. We also raise awareness about nursing in public. When we started the group, we received a lot of queries on nursing. New parents may feel the need for a nursing room and that's up to them, but we do believe that a woman doesn't need a nursing room to breastfeed a baby. Breastfeeding is a biological phenomenon. And I have friends who breastfeed, and they feel empowered on doing so. We are empowering women and sharing the right knowledge, that's what matters the most!
4. Since you brought up nursing in public, can you tell us about your campaign #FreedomtoNurse?
Adhunika- We did #FreedomtoNurse campaign in 2018. There was a woman in Kolkata who wanted to breastfeed her baby but couldn't find a nursing room. She was a new mother and was not used to breastfeeding in public. She asked around and was told to breastfeed in a toilet, and it wasn't clean.
A mother shouldn't be told where to breastfeed or to stay home because she has to breastfeed. A new mother should be able to breastfeed wherever she likes, be it a mall or a vegetable market. She should have a regular life. The whole incident was appalling and that's when we came up with the campaign #FreedomtoNurse. We conducted events in 3 cities: Delhi, Bengaluru, and Coimbatore around this campaign. We were all led by volunteers. We also started an online campaign where we shared why we should encourage women to breastfeed in public and not shame them. We believe that women should feel free to breastfeed in public, that's what the campaign was all about.
5. BSIM is now a 7-year-old organisation. Can you tell us about the positive difference you have seen in these last 7 years?
Adhunika- We support women empowerment and breastfeeding in public places. We talk about going back to work while continuing breastfeeding. We share information on so many aspects of breastfeeding that nobody really knows about. We have come from a place where we were educating people on breastfeeding to a place where more and more people are now aware of it and know why it is important. When we see pictures of mothers breastfeeding in public on our group, we know we have made a positive difference.
We also talk about how women should not feel the need to introduce breast milk substitutes to their babies just because they are going back to work. A lot of women feel educated and informed through our platform, so I believe we have come a long way from where we started!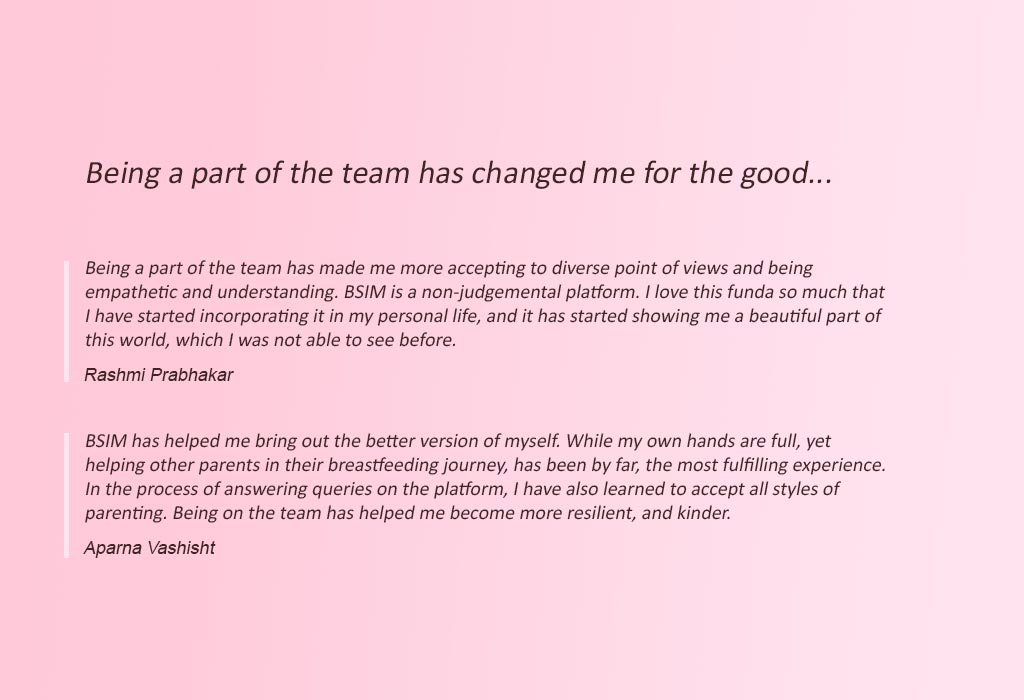 6. What are the most common queries you have received on the group?
Adhunika- One of the most common queries we receive from breastfeeding parents is regarding weaning their babies off the formula milk. If a mother is formula-feeding her baby, we ask her if she wishes to wean her baby off formula. If she is happy with a combination of formula-feeding and breastfeeding, we don't intervene because we don't intend to hurt her. We respect a mother's choice. But if a new mother wants to breastfeed her baby and feels misinformed, and is looking for the right guidance, we are there to give her that.
We provide information on breastfeeding and why it is important, but then again, we accept a mother's choice. We don't look down upon formula-feeding mothers. We don't say that we as breastfeeding moms are superior, we accept a mother's wish and appreciate diverse parenting styles. And we are very proud of that.
Other than weaning the baby off formula milk, we also get a lot of queries around expressing breast milk.
7. Can you tell us more about your team?
Adhunika- When we started off this work, we were all working voluntarily. I don't come from a social service background, so I was not aware that some people need to be paid. Most people are working voluntarily and with time we are trying to expand our team and pay them. There's only so much you can do as a volunteer and you're likely to look for a job. As of now, we are trying to have a partially paid team, but we still have volunteers and they are a big part of our team who are working selflessly. These volunteers are mostly breastfeeding mothers, who have experienced breastfeeding struggles. They know how difficult it can be, so they are helping other moms who are in a similar situation once they were in.
These members are spread across the globe: we have members from the US, the UK, Europe, and India. And that's why we are able to respond to queries 24*7.
8. Many new mothers must have shared their doubts/fears in times of the Covid-19 pandemic. How do you reassure these moms?
Adhunika- One of the common issues that moms are posting on our group is that they are being separated from their babies because one of them has tested positive. So we are trying to inform more and more people that a mother and baby need not be separated. We conducted a Facebook live video on the group to inform mothers that they can continue breastfeeding their babies even if one of them has tested COVID-19 positive. And we are not saying this alone, many health organisations have said that mothers can continue breastfeeding their babies. Breast milk has antibodies that can help a baby fight off infections and breast milk can protect the baby. So we are continuously trying to spread awareness about breastfeeding during this pandemic along with that we also share basic hygiene one needs to follow during this time.
9. Can you share one of the most rewarding experiences of being a part of this group?
Adhunika- When I see mothers sharing stories of their NICU (premature) babies, who once weighed 800 gms or 900 gms and now are in their toddler years, it inspires me to continue what I am doing. They talk about how the information on expressing breast milk and breastfeeding their babies saved their babies' lives in their stories, and we feel happy that we could help them. When we read how breast milk saved their babies' lives and their survival stories, we feel we have served our purpose.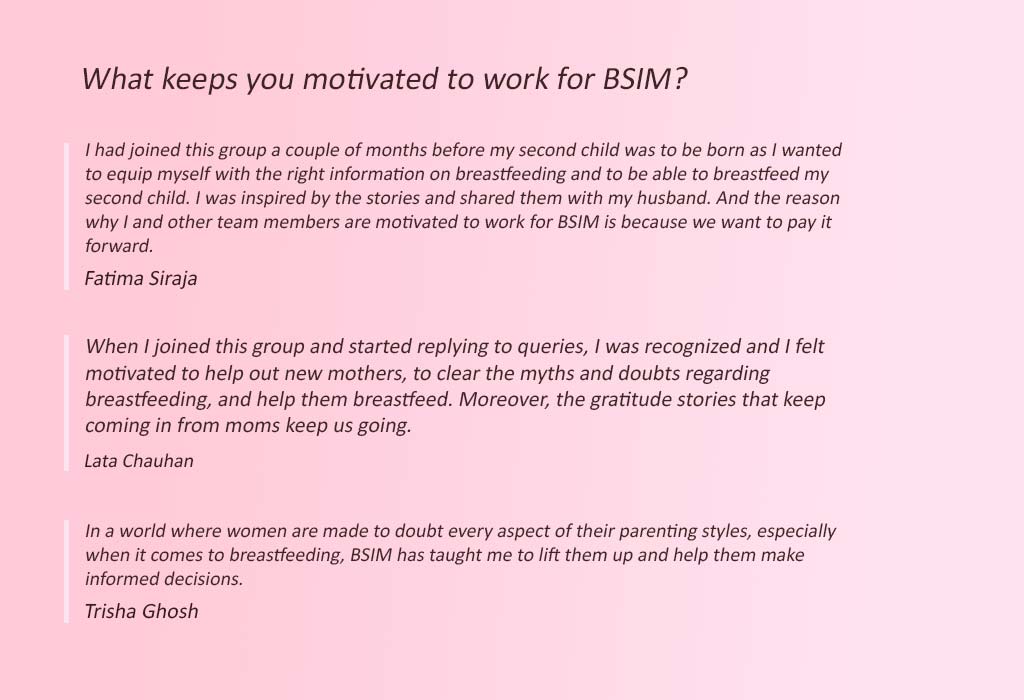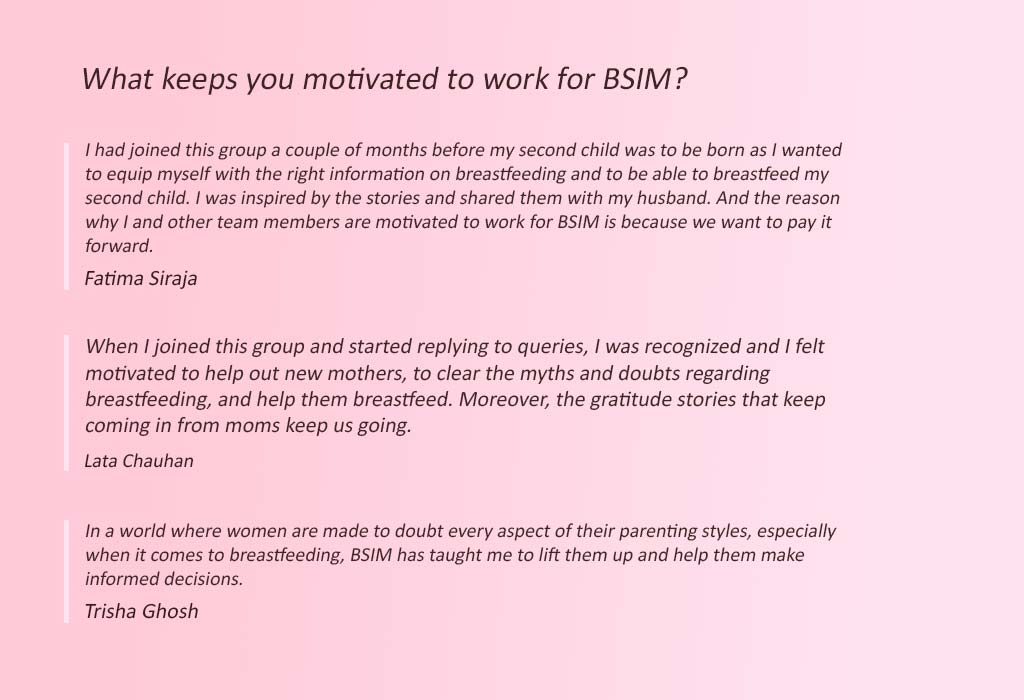 10. What would you like to tell new moms or moms-to-be about breastfeeding and parenting?
Adhunika – The best advice that I can give to new moms or moms-to-be is to learn and prepare for breastfeeding before the baby comes along because once a woman has a baby, she is likely to be exhausted, and it's hard for a woman to educate herself about breastfeeding at that time.
To educate women, we have now started conducting webinars and we have received a fairly good response. From our experiences as breastfeeding mothers and the queries that we respond to daily, we know what issues moms deal with. Through our webinars, we educate women about the basics of breastfeeding and how to continue breastfeeding when returning to work. We are conducting these sessions to support mothers in other ways outside of our group.
This has been a learning experience for us and we have received a positive response which serves as an encouragement. In fact, we are looking to do more of these. We are looking to do these webinars for corporates as we want to reduce barriers for their women employees who are planning to return to work.
Breastfeeding is a natural phenomenon and an experience that moms cherish for life and feel proud of. It's okay to have doubts and be afraid initially, but with the right support of educated people, who are helping women in their breastfeeding journeys, there's a whole world of bonding with your baby that is out there!