50 Warm Quotes and Sayings for a New Dad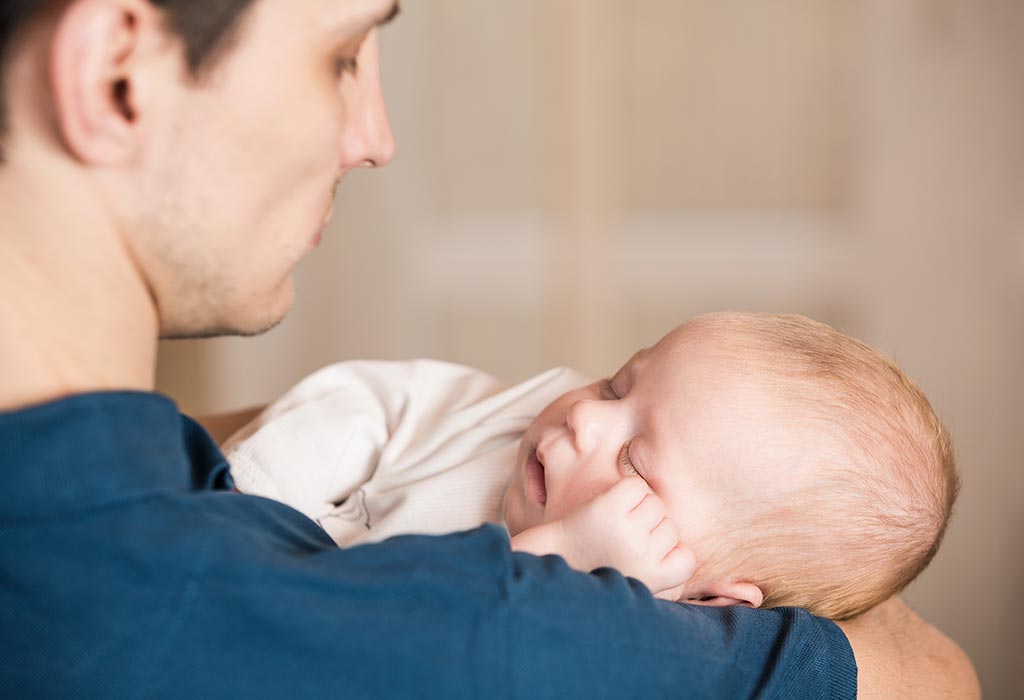 In this Article
Becoming a father for the first time is a thrilling experience for any guy. If you are a new dad or know one, make sure to inspire and celebrate with these new father quotes.
Best First Time Dad Quotes and Sayings
Here are some inspiring quotes for becoming a father for the first time quotes, new daddy quotes, and first fathers day quotes.
"A father is always making his baby into a little woman. And when she is a woman, he turns her back again."– Enid Bagnold
"Any man can be a father, but it takes someone special to be a dad." – Anne Geddes
"Dads are most ordinary men turned by love into heroes, adventurers, story-tellers, and singers of song." – Pam Brown
"A good father is one of the most unsung, unpraised, unnoticed, and yet one of the most valuable assets in our society." – Billy Graham
"By the time a man realizes that maybe his father was right, he usually has a son who thinks he's wrong." – Charles Wadsworth
"It is easier for a father to have children than for children to have a real father. "– Pope John XXIII
"He didn't tell me how to live; he lived, and let me watch him do it." – Clarence Budington Kelland
"What makes you a man is not the ability to make a child. It's the courage to raise one." – Barak Obama
"It is not flesh and blood but the heart which makes us fathers and sons. " – Johann Schiller
"The greatest thing a father can do to his children is to love their mother." – Anjaneth Garcia Untalan
"Becoming a dad means you have to be a role model for your son and be someone he can look up to." – Wayne Rooney
"Being a father helps me be more responsible. You see more things than you've ever seen." – Kid Rock
"When you're young, you think your dad is Superman. Then you grow up, and you realize he's just a regular guy who wears a cape. "– Dave Atell
"When my father didn't have my hand, he had my back." – Linda Poindexter
"There will always be a few people who have the courage to love what is untamed inside us. One of those men is my father." – Alison Lohman
"Nothing ever fits the palm so perfectly, or feels so right, or inspires so much protective instinct as the hand of a child." – Gregory David Roberts
"Fatherhood has taught me about unconditional love, reinforced the importance of giving back, and taught me how to be a better person." – Naveen Jain
"I cannot think of any need in childhood as strong as the need for a father's protection." – Sigmund Freud
"Any fool can have a child. That doesn't make you a father. It's the courage to raise a child that makes you a father." — Barack Obama
"One father is more than a hundred schoolmasters." – George Herbert
"The guys who fear becoming fathers don't understand that fathering is not something perfect men do, but something that perfects the men. "– Frank Pittman
"Father's Day is hopefully a time when the culture says, 'This is our moment to look at who our men and boys are." – Michael Gurian
"No one in this world can love a girl more than her father." – Michael Ratnadeepak
"Having a kid is like falling in love for the first time when you're 12, but every day." – Mike Myers
"No music is so pleasant to my ears as that word father. "– Lydia Maria Child
"Fatherhood is pretending the present you love most is soap-on-a-rope." – Bill Cosby
"The gift of a Father cannot be seen by our eyes, yet he sacrificed his every breath, sweat and everything to comfort us, his family."– King Tony .S.Singh
"I believe that what we become depends on what our fathers teach us at odd moments when they aren't trying to teach us. We are formed by the little scraps of wisdom."– Umberto Eco
"To a father growing old, nothing is dearer than a daughter. "– Euripides
"Until you have a son of your own, you will never know the joy, the love beyond feeling that resonates in the heart of a father as he looks upon his son." – Kent Nerburn
"The quality of a father can be seen in the goals, dreams, and aspirations he sets not only for himself but for his family." – Reed Markham
"I would want my legacy to be that I was a great son, father, and friend." – Dante Hall
"I want to congratulate all the men out there who are working diligently to be good fathers whether they are stepfathers, or biological fathers or just spiritual fathers."– T.D. Jakes
"My father gave me the greatest gift anyone could give another person: He believed in me." – Jim Valvano
"You don't have to deserve your mother's love. You have to deserve your father's." – Robert Frost
"I decided in my life that I would do nothing that did not reflect positively on my father's life." – Sidney Poitier
"Son, brother, father, lover, friend. There is room in the heart for all the affections, as there is room in heaven for all the stars." – Victor Hugo
"When a father gives to his son, both laugh; when a son gives to his father, both cry."– William Shakespeare
"It doesn't matter who my father was; it matters who I remember he was."– Anne Sexton
"Of all the titles I've been privileged to have, Dad, has always been the best." – Ken Norton
"To be as good as our fathers, we must be better; imitation is not discipleship."– Wendell Phillips
"To me, having kids is the ultimate job in life. I want to be most successful at being a good father. "– Nick Lachey
"It is not flesh and blood but the heart which makes us fathers and sons." – Johann Friedrich Von Schiller
"It's an ongoing joy being a dad."– Liam Neeson
"Fatherhood is the best thing that could happen to me, and I'm just glad I can share my voice."– Dwyane Wade
"Never is a man more of a man than when he is the father of a newborn." – Matthew McConaughey
"A father's smile has been known to light up a child's entire day."– Susan Gale
"The older I get, the smarter my father seems to get." – Tim Russert
"I hope I can be as good of a father to my son as my dad was to me." – Calvin Johnson
"My father was my teacher. But most importantly, he was a great dad." – Beau Bridges
Use these warm and beautiful quotes and sayings to wish a new dad. These quotes are good to inspire any man to become a great father.
Also Read:
Importance & Role of Father in Child Development
How to Be a Good Father
Useful Tips for New Dads