100+ Best Engagement Wishes and Messages to Share Your Joy
The engagement of a couple is a momentous and wonderful occasion. The happy beginning of the couple on the road to matrimony is a delightful and celebratory time for them and their loved ones. Family and friends want to organize parties or send gifts to celebrate happy occasions. But, the first thing to do is to wish the couple their blissful future with a heartfelt message.
A lovely engagement wish will enhance the happiness of the newly engaged couple and add more joy to their special occasion. However, coming up with a perfect message that expresses the happiness of the couple is no cakewalk. We have compiled the best engagement wishes and messages to inspire you to write a heartfelt engagement wish congratulating the couple and wishing them a happy marital life
Engagement Wishes, Messages, and Quote for the Special Ones in Your Life
Engagement is more than just wearing rings; the rings are memories of their eternal commitment to one other. It brings two souls closer together. It is the starting point of their wonderous marriage. When someone you know gets engaged, it's time to wish them on this memorable occasion with a message for engagement. Here is a compilation of amazing engagement greetings, messages, engagement ring wishes, and quotes to wish someone on their beautiful day.
Beautiful Engagement Wishes for Your Friend
Hearty congratulations on your engagement, my friend! Best wishes for the new beginning.
May the delight you will have as a result of your coming together be beyond your wildest dreams. Best of luck!
Best wishes to the beautiful pair! Wishing you a happy future.
What a wonderful couple you two make! Congratulations!
On your engagement day, God bless you both with immense happiness.
I congratulate you on your love and togetherness. Congratulations!
Best wishes for your upcoming wedding! May your love for each other continue to blossom.
On this lovely day, I wish you both a world of pleasure and joy.
I wish you nothing but happiness as you embark on this new chapter of your life.
Congratulations on your upcoming wedding. You and your partner make a wonderful couple.
Cute Engagement Wishes For Your Brother
Have a wonderful marital life! Congratulations on your engagement.
I'm ecstatic that you've finally discovered your life's soul partner, my brother. Congratulations!
It will be such a wonderful sight to watch you both going down the aisle together, hands in hand, like a prince and his princess. Brother, congrats!
By becoming engaged today, you will be taking on the duty of caring for the woman of your life. Best Wishes!
I can't help but be thrilled about your future together after seeing how happy you make each other. Congratulations!
Commit to your wife today as you become engaged to keep her happy, always. Best wishes to you both!
Enjoy today's wonderful day to the fullest and remember all of the moments, particularly the remembrance of exchanging rings.
I've seen you develop into this incredible man, and your wedding is a dream come true for me. Many blessings to you both.
I believe in love after seeing you two together. I wish you all the best in your marriage.
You've not only found a life partner, but you've also given us a family member. I'm happy for both of you.
Best Engagement Wishes For Sister
I'm ecstatic to learn that you've been engaged to someone who adores you above everything else. Congratulations, my dear sis!
This is the greatest time of my life since you appear to be the happiest at this time, my darling sister. Best wishes for your new life!
May the path of your love life be full of support and trust for each other, with blessings from all of us. Congratulations!
May the Almighty bless the symbol of affection that your spouse will present to you today. Begin your love journey with a joyful heart!
You have chosen a great man to spend your life with. Congratulations!
As you begin a new phase of your life, I am excited and happy for you. Dear sister, all the best for the new beginning.
Cherish the lovely ring and be responsible for its preservation, as it represents your love for each other.
Congratulations on your engagement, my dear sister! I wish for a life filled with joy and excitement for you.
Today you have the appearance of a princess. I'm sure your lifemate is overjoyed to have you in his life. My heartiest congratulations, my darling sister!
I can't believe my baby sister is getting married! I wish you an incredible engagement and wedding.
Romantic Engagement Wishes For Your Fiancé
Today, our souls are permanently linked, and I pledge to support you always and be your pillar of strength.
This day is precious to both of us, and we will remember all of the moments from it throughout our marriage.
As we prepare to board the boat to complete our love trip, we will encounter many ups and downs, but we will face them all together.
On this day, when we make each other wear the rings, we will form an unbreakable bond between our hearts.
You make me feel like I'm living in a paradise of love and happiness all of the time. Thank you for your unwavering devotion to me. Happy engagement day!
Along with spending days of our lives with you, I vow to share my confidence, strength, and happiness with you, and all that is mine is yours.
We will not only be engaged today, but we will also be joining our souls together for our love to reach the highest point in the sky.
Thinking about the lovely path of love that will begin today is overflowing my heart as I see our dream of being together come true.
From here on, we will, in addition to sharing the connection of love, take care of each other's loved ones and accept equal responsibility for their care.
I've found my missing parts in you, and I want to stay at your side till the end of time.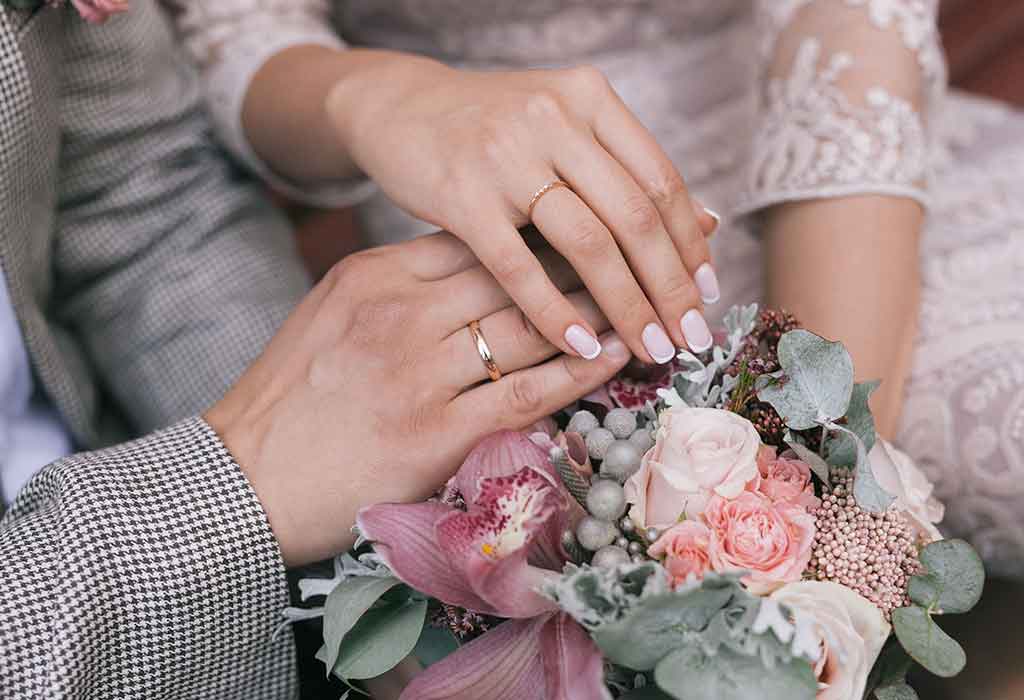 Lovely Engagement Wishes for Your Daughter
Best wishes to you for your new life unfolding before your eyes. Congratulations!
I am overwhelmed seeing you grow into a beautiful woman. Congratulations!
My heartiest congratulations on your engagement. You brought us much joy!
You found an excellent match for you. Congratulations!
May your engagement bring lots of happiness and joy to your life, my dear daughter. Congratulations!
Congratulations on becoming engaged to your loved one and entering the most beautiful period of your life, my beloved daughter.
May God's blessings continue to pour down on you in the future years. For us, you've always been a treasure.
May God's infinite love and blessings be bestowed on our princess. Wishing you all the best as you embark on a new chapter of your life.
I can't describe how happy I am for your engagement. Best wishes, my sweetheart.
Good luck for new life. May your life be blessed with happiness and incredible union.
Amazing Engagement Wishes for Your Son
My kid, I congratulate you. We're glad to see you've settled down. We can't wait to watch you two start a family!
Congratulations, our son! You made us very happy by giving us such a loving daughter-in-law.
We congratulate you on your engagement. We are ecstatic to learn that you have discovered your true love.
We wish you a long and happy married life. You made us the happiest parents in the world today.
Dear son, may you have a married life filled with love, companionship, and happiness.
Seeing our children marry is a highly emotional experience. We are really pleased. Best wishes.
It's a great joy to see your kid start a new life. Best wishes for your future.
As you start your new phase of life, we send our blessings and love to you.
We wish for a joyous life ahead for you, our son. Congratulations.
Happy engagement! May your love grow with every day, and may your smiles never fade.
Funny Engagement Wishes
I am delighted to learn that you two are now engaged. I'll get the opportunity to buy a new outfit and consume delectable dishes. Congratulation.
I wish you a peaceful and stress-free life in the days leading up to your wedding day! I couldn't sleep for three days following my engagement because I was too happy!
When people are released from jail, they celebrate. But you're rejoicing in the idea that you're handing yourself in for the rest of your life. Regardless, congratulations.
I've always believed you make a poor decision. Thank God you've finally proven me incorrect. But dude, what happened to your fiancé? How could she have picked you?
Getting engaged is like making a down payment on a mortgage for which you will be responsible for the rest of your life. Please be more cautious!
Congratulations on earning the formal right to adore and irritate your mate for the rest of your life.
So you've decided to get married. I'll have a new hangout spot to visit. This excites me tremendously. Congratulations, sweetheart.
There are two ways to spend the rest of your life in prison. The first is to commit a crime, and the second is to marry. Congratulations on opting for the latter option.
Engagement is defined as a commitment to marry in both technical and traditional terms. However, it is widely seen as the promise of and the first step toward permanent enslavement. Keep going!
Busy is a synonym for engaged. Because you're 'engaged,' you may now officially tell your friends and family not to bother you. Best wishes!
Other Congratulation Messages For Newly Engaged Couples
Finally! I'm so happy you're getting married because you two are truly meant for one other.
Allow me to be the first to say, "It's about time!" to you guys. Congratulations.
Best wishes to the prospective bride and groom. I'm delighted that you've met your true love.
Your engagement proves soul mates do exist!!! Congrats!!!
It is incredibly inspiring that you two have managed to lighten a world full of hazards and darkness with future vows of love and light.
An engagement is the first step towards a lovely marriage. Best wishes for a beautiful married life!
You two are living proof that friendship can lead to long-term relationships. Congratulations!
You have the type of love that inspires others to believe in love.
Many people say "I love you," but not all couples do it with genuine sincerity. This revelation just crystallizes that energy, which you both see as natural.
I wish you an enormous amount of happiness, laughter, and love in your future together.
This is where your happily ever after begins. Congrats!
While I've witnessed many wonderful and amazing things in my life, the moment you two followed your hearts and got engaged is without a doubt one of the finest.
Best wishes to the upcoming bride and groom. Now it's time to start planning!
Congratulations on finding a lovely person to spend the rest of your life with.
Best wishes on your engagement! This is terrific news!
Your engagement is big news! Congratulations!!!!!
This happy occasion commemorates when you and your partner sampled the appetizer before diving into the main course of a marriage. Keep in mind to appreciate these times as well.
Best wishes for your upcoming wedding. Here's to an infinite supply of love, joy, and adventure.
You're about to tie the knot! That's fantastic. Congratulations.
As you celebrate your engagement, please accept my heartfelt congratulations and loads of love.
It gives me great happiness to learn that the two of you are getting married.
It was only a matter of time, I knew. Best wishes to you both!
I love it when two exceptional individuals decide to spend the rest of their lives together.
Congratulations! As you arrange your wedding, I wish you the best of luck.
You two are a perfect match. Congratulations.
You two, if there was ever a pair that deserved this much joy, it's you two.
I'm thrilled for you and wish you nothing but happiness in the months ahead!!!
I'm thrilled to hear the good news — you two are indeed a match made in heaven. Congratulations!
Best wishes on your engagement! You two form a great couple.
May this engagement marks the start of a lifetime of happiness and devotion to one another.
Many congratulations to a lovely couple. What fantastic news! God bless you both as you begin your new life together.
Congratulation messages on an engagement are not just words but warm and loving wishes for the couple about to embark on their adventure together. Make the newly engaged couple happy by sending them the most thoughtful and beautiful engagement wishes.
Also Read:
Romantic Birthday Wishes for Wife
Sweet Good Night Messages for Wife
Heartfelt Thank You Messages for Husband