Ideas for a Dinosaur-themed Birthday Party for Kids
In this Article
Dinosaurs are a favorite among children of all ages. Several factors contribute to the popularity of dinosaurs among young children. You may even get inspiration for your child's birthday celebration from it. Planning an outdoor dinosaur birthday party ideas for a boy or girl? Don't forget the dinos! You may do it at home or in a public place at any time of year. It's only natural that this would lead to enjoyable activities (like excavating for dinosaur bones!) and eye-catching interior design elements. Check out the party ideas below.
How to Throw Dinosaur Birthday Party for Children?
Some dinosaur birthday party ideas for 2-year-old children can be fun ways to commemorate your child's special day, especially if they love dinosaurs. You may make these gatherings as basic or as sophisticated as you want them to be. Toys for toddlers should be bright and colorful, with realistic-looking props and decorations. If your youngster is in their twenties, stick with more traditional party décor and lifelike dinosaurs.
Guests can dress as their favorite dinosaurs, including those that glow in the dark. The best costume will win a prize. Request that an adult read a dinosaur-themed book to your child as a way of commemorating the occasion. Children will also enjoy coloring sheets, making dinosaurs out of construction paper, and various other activities. A dinosaur-themed party is almost guaranteed to be a hit.
For a dinosaur party, the décor is up to you. You may go basic or go over the top. Dinosaur statues may be purchased and positioned at the entrance of the party area. It's also possible to buy affordable toy dinosaurs for your children to take home. There are a plethora of simple and affordable methods to enhance the concept of the décor. In addition to dinosaur-themed décor, there are numerous economical ways to have a memorable little dino birthday party theme.
Decorate the party area in the theme of dinosaurs to make it even more entertaining. You can use large dinosaurs to decorate the party area or use smaller dinosaurs to decorate the space. You can also use a combination of both. It is also possible to use a massive dino to frame your photographs as a backdrop. There are various ways to incorporate dinosaurs into your home's interior design. Here are some pointers and party suggestions to get you started.
1. Cards With a Dinosaur-theme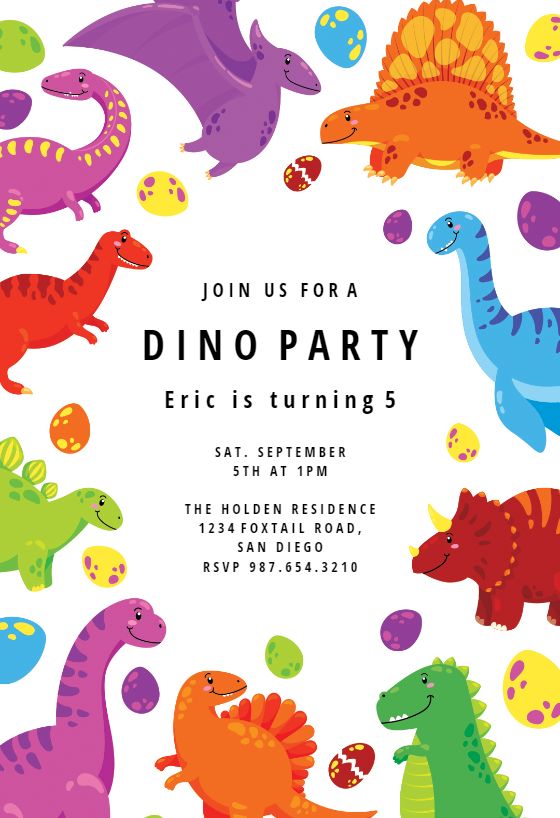 Is there a creative side to you? You may make your party invites by cutting out footprints in the shape of dinosaurs and putting the event's details on the reverse. Contrarily, you can download one of the many beautiful dino birthday party invitations from the internet and save time. The subtleties of these kinds of invitation ideas captivate children.
2. Dinosaur-themed Birthday Cake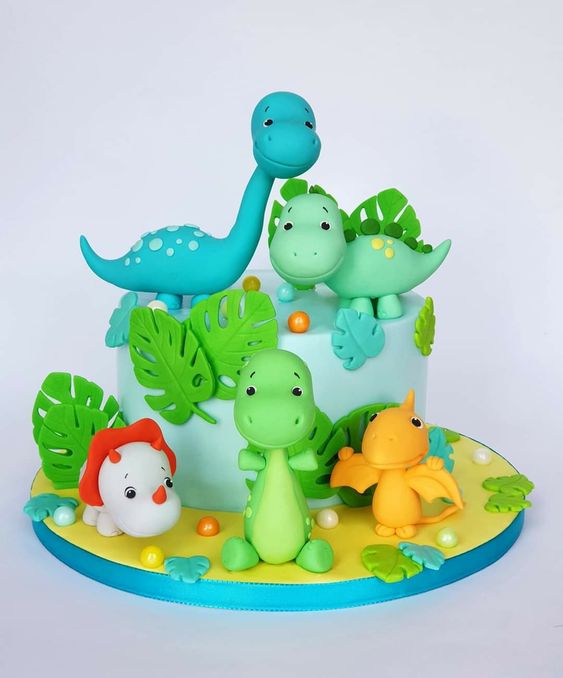 A birthday drip cake drenched in confetti is sure to please both the children and their parents! If you want to give your cake a prehistoric twist, use a dinosaur cake topper or dinosaur sprinkles.
3. Dinosaur-friendly Party Food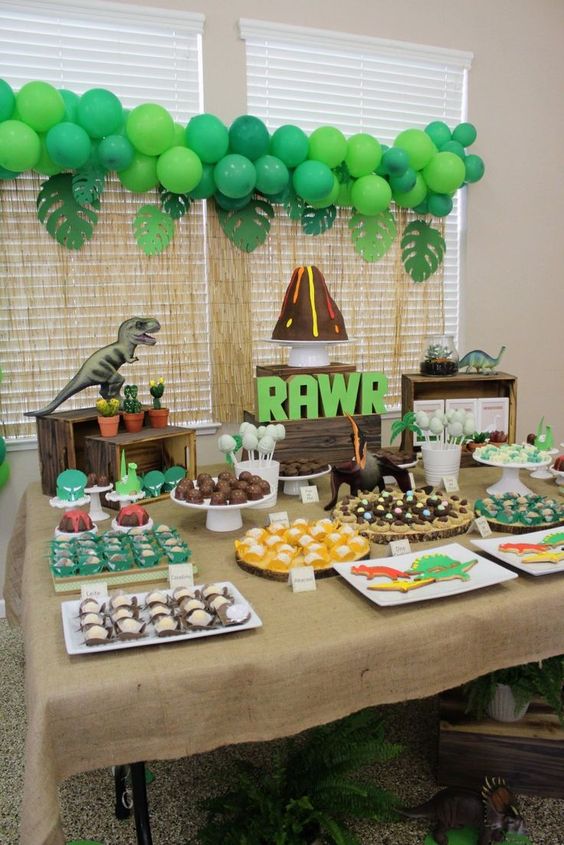 When poor food is served at a gathering, the event is doomed to failure before it even starts. Visitors will be delighted by DIY dinosaur-themed birthday party snacks and pastries. It is possible to make your meal more festive by using bright dinosaur food labels.
4. Prehistoric Reptile-shaped Cookies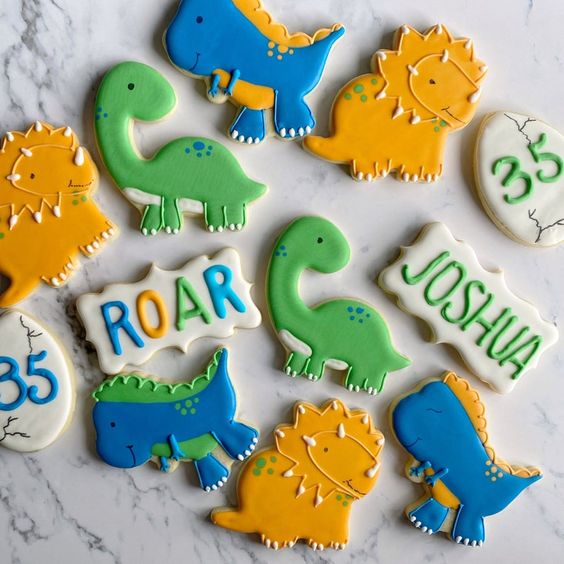 With these adorable dino cookies, you'll be transported back in time to an ancient excavation site. After the sugar cookie dough has been prepared, you can easily make cookies with only a few simple tools, such as cookie cutters and bright dinosaur food colors. Use small paintbrushes to paint the cookies with cinnamon sugar to create a star for the dinosaur-themed birthday party food ideas.
5. Dinosaur Egg Replica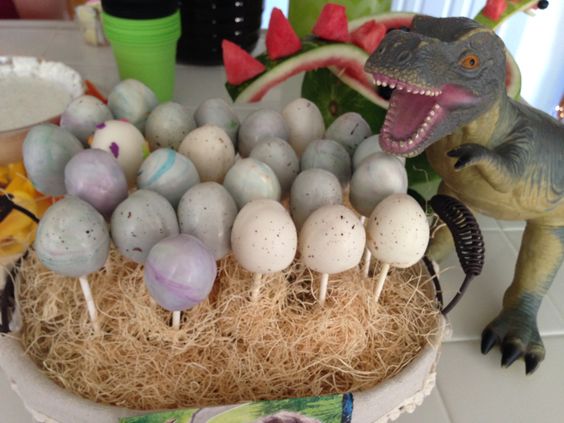 Your Easter celebration will be more colorful if you transform our white chocolate Easter eggs into dinosaur eggs. These dinosaur-themed birthday party snack ideas could be served on a platter in the living room or packaged and distributed as party favors. Make arrangements for the little guests to assist you in selecting the colors and sprinkles for the desserts.
6. Dinosaur Décor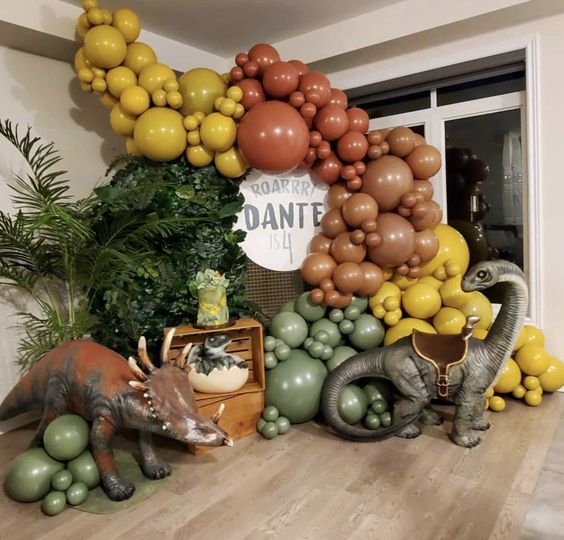 Using these adorable dinosaur balloons, you can travel back in time. Putting together a few balloons and attaching googly eyes, as well as cut-out limbs and heads, can be as simple as gluing them together. You can hang a birthday banner to greet your guests in anticipation of these dinosaur footsteps approaching your home.
7. Dinosaur Masks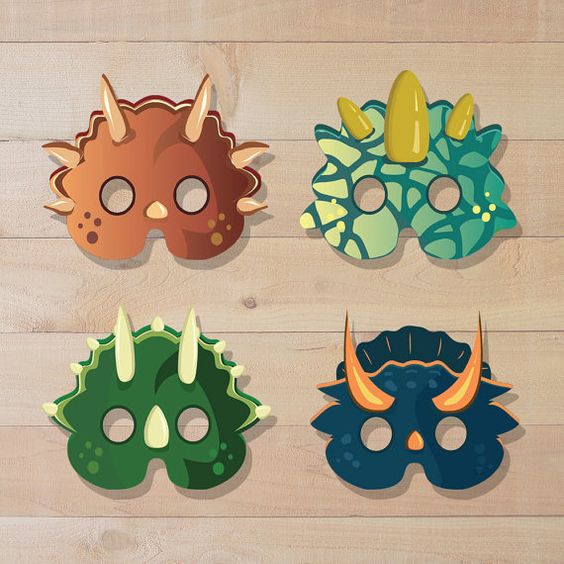 Keep a sharp eye out for anything unusual! One of the dinos has managed to get away with his friends. Wearing one of these adorable masks and stomping around the room will make everyone at your party feel like they are part of the show. In addition, it is possible to make these cute masks at home out of felt or other craft supplies for dinosaur birthday party favors.
8. Dinosaur-themed Party Favors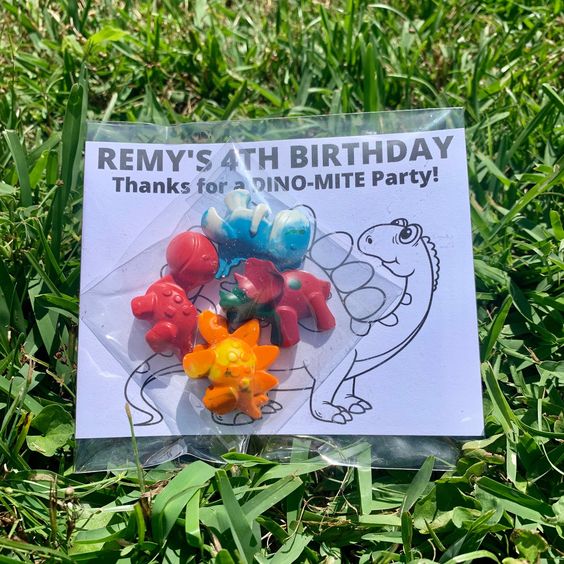 Give your guests a themed party treat to take home as a way to put a smile on their faces after your event. Because all parents appreciate a simple activity for their children, look for tiny dinosaur bubbles or dinosaur crayons to play with long after the party has ended. You can throw a few of these water-hatching dinosaur eggs in there for good measure.
9. Dinosaur-themed Party Games and Activities

Ensure that the young dinosaurs have a variety of dinosaur birthday party games to keep things from devolving into a Jurassic Park-style scenario. While they are waiting for their cake, children can color dinosaur coloring pages that have been customized for them. You can make your terrifying décor out of dinosaur crafts, or you can set up a dinosaur egg hunt.
10. Discovering the remains of extinct animals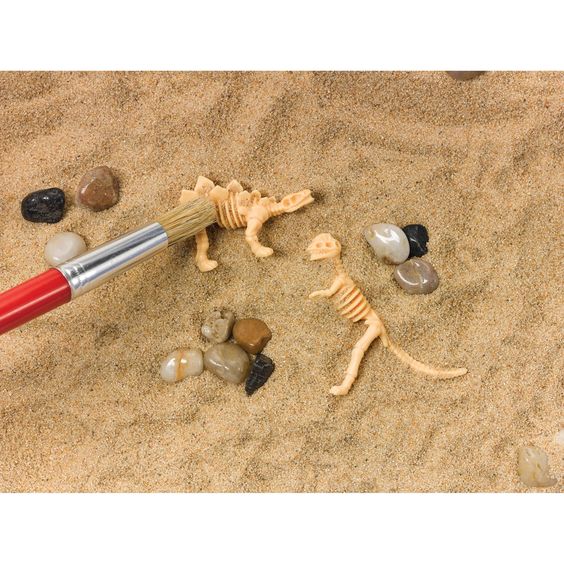 When you show the kids your very own archeological dig site, they'll be clamoring to get their hands in the sandbox right away! It is possible to delicately unearth small plastic dinosaur toys or fake fossil bones with paintbrushes. By looking through everyone's results, see if the little ones can identify all the dinosaurs uncovered.
Celebration ideas for a dinosaur-themed birthday party range from DIY projects to décor you can get online. These dinosaur birthday party ideas will be a hit with your baby T-Rex. You'll also find economical party supplies and activities, as well as an editable and printable invitation. Keep this article handy for your little one's D-day celebration!
Also Read:
Unicorn Party Ideas for Children
Baby Shark Party Ideas for Kids
Creative Birthday Party Ideas for Children