20 Cool Stocking Stuffers Ideas For Kids and Toddlers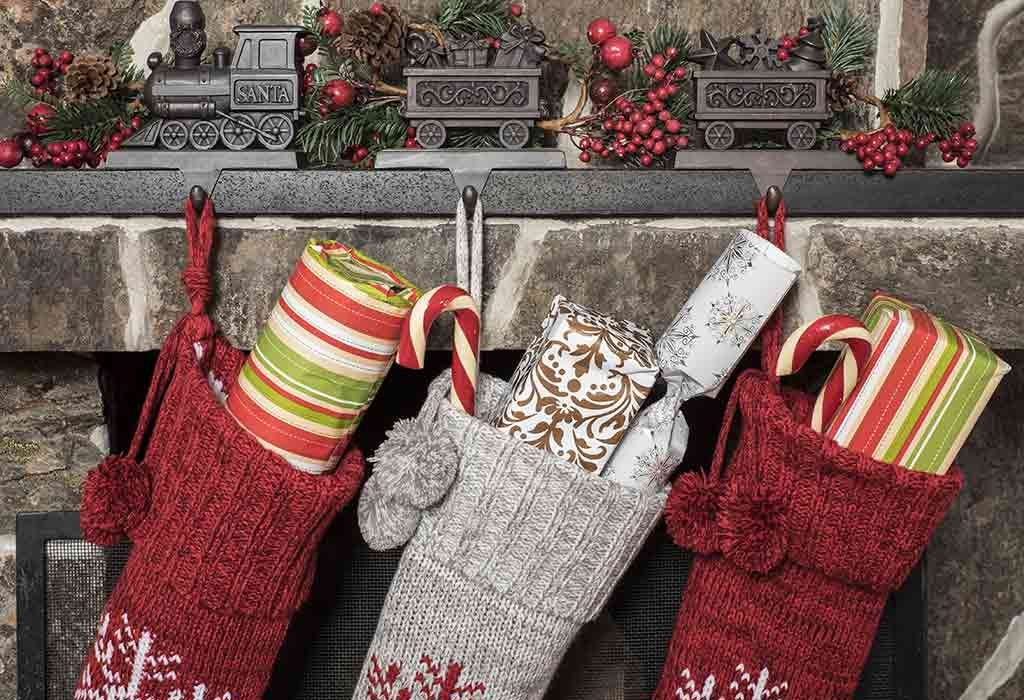 Merry Christmas!! Christmas is around the corner and we know you are looking for some inspiring ideas to surprise your kids! The best part about Christmas is that it's the perfect time for fun, family and friends. And if you have kids then the celebrations and preparations are doubled! The idea of stocking stuffing intensifies the Christmas vibes and surprises for the kids! Here, we have 20 stocking stuffer ideas for toddlers and kids which you will love!
Best Stocking Stuffers For Toddler
Buying stocking fillers for toddlers is fun and exciting! These small and simple gifts will make your little ones happy and excited.
1. Finger Puppets
Cute finger puppets that fit on your hands are an excellent gift for toddlers. You can get really creative with these finger puppets during the storytelling time.
Why to choose this?
Enhances creativity and imagination in kids.
2. Bathtub Crayons
Kids love to paint and draw their imaginations all around. These bathtub crayons are a perfect gift for little toddlers with creativity hidden in them.
Why to choose this?
Enhances creativity and imagination in kids.
The crayons are non-toxic and completely safe for kids to use.
It's easy to clean.
3. Laugh and Learn Remote
Laugh and learn remote with expressions look fascinating to kids. It is a fun way of learning numbers, greetings, colours, etc for kids.
Why to choose this?
Promotes fine motor skills in kids.
Provides a fun learning experience.
4. Colouring Book
We all know that kids love to colour and paint! A nice colouring book would be a perfect way to practice colouring without getting messy.
Why to choose this?
Enhances creativity and imagination in kids.
Promotes fine motor skills in kids.
5. Racer Cars
If you have a boy then definitely you must go for this! No offence intended towards the girls they can equally be happy up and about playing with cars!
Why to choose this?
Promotes motor development.
It's small in size and easy to use for toddlers.
6. Puzzle Game
You may go for a classic memory or puzzle game for your toddler. Puzzle games are fun for kids and is also a great brain exercise!
Why to choose this?
Sharpens memory.
Helps in brain development.
7. Fork and Spoon Set
This soft and convenient fork and spoon set are a must-have for feeding toddlers. Go for some easy-grip handles that aren't sharp enough to hurt the kids.
Why to choose this?
Soft grip handles make it easy to use.
Helps in easy self-feeding for toddlers.
8. Fun with Play Dough
Kids just love the soft and squishy texture of the play-dough. Stretching, moulding and creating different shapes is a fun learning experience for kids.
Why to choose this?
Improves hand strength and dexterity.
Improves creativity.
9. Bath time Stacking Cups
Bath time can be real fun with this bath time stacking cups. Each bathing cups are numbered which will also help the kids in learning number recognition.
Why to choose this?
Enhances fine motor skills.
Great way to improve number recognition among kids.
10. Kids Toothbrush
A toothbrush with funky characters is a great way to encourage kids to brush teeth. It will make it easier for you to teach them how to brush their teeth twice a day.
Why to choose this?
Makes it easier for the parents to teach their kids how to brush their teeth properly.
Stocking Fillers For Preschoolers and Kids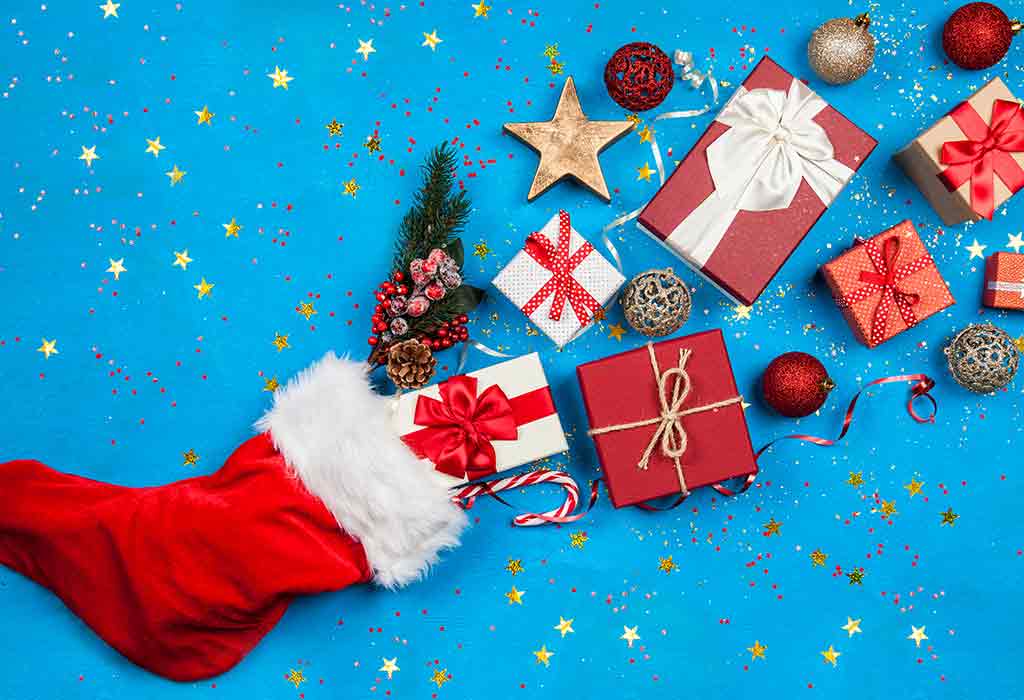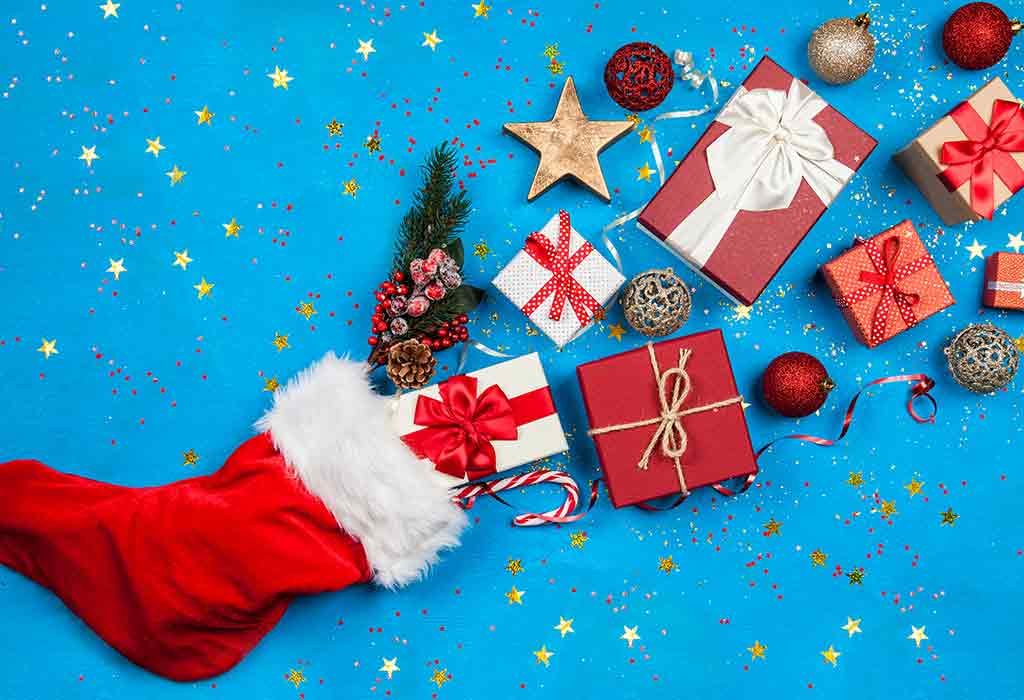 Read on to know some excellent stocking stuffer ideas for kids!
1. Lego Game Set
Your kids will simply love this Lego toy building set. It has so many attachments that it will keep your kids actively engaged for hours together.
Why to choose this?
Enhances creativity and imagination in kids.
Promotes motor skills.
Encourages group play.
2. Pocket size Journal Books
Gifting a pocket-size journal to your kids is a great way of inculcating writing habits in them. Maintaining a journal helps children to pen down their thoughts into writing.
Why to choose this?
Is pocket friendly.
Enhances vocabulary and writing skills in children.
3. Sunglasses
Kids are always fascinated with beautiful accessories adorned by their parents. A sun-glass is a classic accessory which you can gift your kids!
Why to choose this?
Sunglasses are effective while walking in the sun.
4. Funky Coffee/Milk Mugs
Kids love to have their own cups and plates. Especially if it has some funny characters on them which are their favourites.
Why to choose this?
Encourage kids to have their drink without showing any tantrums.
5. Fun Bath Toy Set
Bath time will become a fun time with this unique bath toy set. This toy set comes for all age groups and is great for fun and relaxing bath time!
Why to choose this?
Comes in cute designs and different colours which make it exciting for kids.
Develops hand and eye coordination.
It's simple and fun to use.
The toys are made of BPA free quality plastic which is safe for kids.
6. Christmas Tree Ornaments
Christmas tree decoration is a beautiful ritual that's exciting for the entire family, be it, kids or adults! So, why not gift some cute handmade Christmas tree decoration ornaments which your kids can hang on the tree!
Why to choose this?
Christmas tree ornaments are beautiful and adorable gifts for children.
It's completely safe for kids and can be easily hung on the tree.
7. Comic Book Set
Gifting a comic book set which your kids would enjoy reading is a great way to enhance the reading skills in kids. You may go for characters that your kids enjoy the most to make it more exciting!
Why to choose this?
Improves vocabulary.
Enhances reading skills in young minds.
8. LED Light Gloves Set
If you are looking for some vibrant and unique gift for your little one then you must go for these LED Light gloves set. The gloves are ablaze with bright LED lights in different colours and different modes.
Why to choose this?
Are easy and safe to use for kids.
Is a great accessory for Christmas Halloween Parties!
9. Rubik's Cube Puzzle
Magic Cube Puzzle toys are fun to play with and will keep the kids engaged for a long time.
Why to choose this?
A fun and interesting brain game.
It's lightweight, non-toxic and safe to use for kids.
10. Cute Socks/Stockings
If you have girls then go for cute stockings with feminine characters and if you have a boy go for favourite cartoon character socks! Socks or stockings are always useful for kids, especially in the chilling Christmas weather! It would make for good stocking stuffers for kids!
Why to choose this?
A perfect accessory for kids with sensitive kids.
The soft and smooth material will keep their feet warm during winters.
We hope that the above list of stocking fillers for kids helps you choose the perfect gift for your little ones! Make sure that you wrap the gifts in beautiful wrappers to make it all the more interesting for kids!
Also Read:
Amazing Christmas Gift Ideas for Kids
Christmas Celebration With Kids
Christmas Tree Decoration Ideas for Kids