Homemade Butter Recipe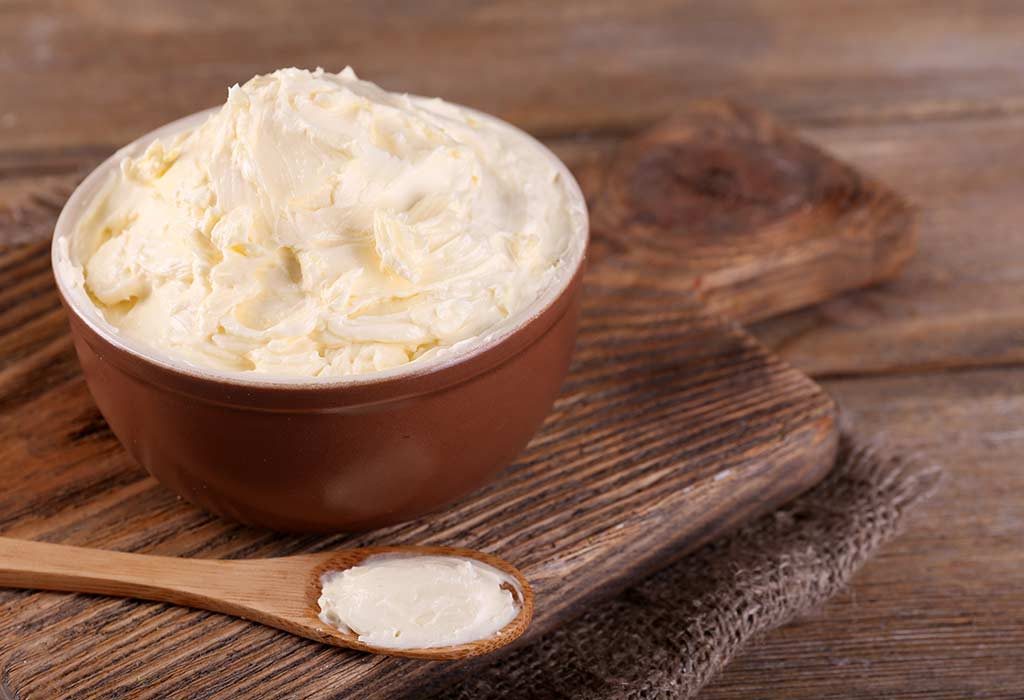 Butter is not only loaded with taste, but this creamy spread comes with umpteen health benefits for your kid! Well, there is no doubt that homemade stuff is always better when it comes to your kid's health and well-being. So, if you are interested in knowing how to make homemade butter for your munchkin, well, here we will be sharing a very simple recipe for your benefit!
Video: How to Make Butter for Babies & Toddlers at Home – An Easy Step by Step Guide
Cooking Time
| | |
| --- | --- |
| Type | Time (hh:mm:ss) |
| Preparation Time | 00:10:00 |
| Cook Time | 00:00:00 |
| Total Time | 00:10:00 |
Cooking Method
Blender
Type of Meal
Dairy
Suitable For
Any Toddlers above 10 months of age
Meal Schedule
Breakfast, Lunch or Dinner
Recipe Type
Spreads
Ingredients
Simple homemade butter recipe can be made with a couple of ingredients, here's the list:
| | |
| --- | --- |
| Ingredient | Quantity and Volume |
| Heavy cream | 1 cup |
| Ice cubes | 1 cup |
Instructions
Follow this step by step procedure to make homemade butter:
Put the cream and ice in a blender jar.
Churn both the ingredients together for a few minutes.
You can add more ice cubes to the mixture to facilitate the process.
Once you see water and cream separating into buttermilk and butter, take out the contents from the jar.
Scoop out the butter using your hands and gently press it to get rid of extra water.
Store butter in an airtight container in the fridge.
Serve with parantha, rice, sandwich or any other food option to add more flavour and aroma.
Recipe Tips
Follow these simple tips when making Homemade butter for toddlers
You can also churn the butter in a bowl using a hand blender. The time required to make butter will depend on how fast you whip and what temperature the cream is at.
Do not store butter for more than two to three days as it starts getting sour.
You can add sweet flavours to the butter by adding fruit purees, and you can also add a pinch of salt and pepper to add a salty punch (for babies older than one year of age).
You can extract butter faster from the cream that is at room temperature. However, if you are taking it out from the fridge, do not heat or microwave the cream.
Wash butter by placing it in cold water for some time before storing it in a container.
If you find squeezing butter from the buttermilk too messy, you can use a sieve to separate butter from the buttermilk. However, let butter stay on the strainer for some time to let excess buttermilk drain.
Nutrition Information (Per 100 Grams)
Here's how much nutrition Homemade butter baby food recipe will provide to your little one:
| | |
| --- | --- |
| Nutrient | Value |
| Energy | 700 cal |
| Total fat | 77 g |
| Saturated fats | 70 g |
| Cholesterol | 210 g |
| Protein | 0.84 g |
| Sugar | 0.07 g |
The above table shows approximate nutritional content present in 100 grams of homemade butter. However, the actual nutritional content may vary sometime.
Health Benefits
Butter not only makes your kid's meals more delicious, but it also adds a healthy dose of hosts of nutrients too. Let us find out how feeding homemade butter can benefit your little one:
Butter comes with the goodness of various essential minerals such as copper, zinc, manganese, etc., which work as great anti-oxidants and help your munchkin to fight various infections and diseases.
Glycosphingolipids present in butter helps in maintaining gut health in kids and thus help in promoting good digestive health.
Butter is a healthy source of good cholesterol. Healthy cholesterol is essential for optimum growth and development of kids.
Butter contains omega 3 and omega 6 fatty acids, which facilities healthy brain functioning and development in kids.
Buying Guide
Homemade butter is a healthy option for your kid. Therefore, when it comes to picking up ingredients to make butter at home, you keep some tips in mind.
Buy cream of any good food-grade brand. Never pick up cream from any local dairy, especially if you are not sure of the purity.
Check the date of packing and best before date too. Milk products go bad very soon and easily, therefore, make sure that you check the date before picking up.
Butter is loved and relished by all kids and what is better than making this creamy delight at home! Try this simple recipe whenever you are looking to add that extra dose of nutrition and taste to your kiddo's meal!