Guava for Babies – Benefits and Recipes
There are many health benefits of guava for babies, from improving digestion to boosting immunity. Besides, it is a great addition as a tropical fruit that adds colour and flavour to smoothies or desserts. You can turn this vitamin-rich and edible fruit into a puree so that your baby can experience new flavours. Guavas are of different varieties and come in green, pink, or pure white colours. The fruit is oval or round in shape with a light yellow or light green skin and has edible seeds. Guava is a super fruit because of the amazing health benefits it offers, besides being unique in fragrance and flavour.
Nutritional Profile of Guava
The nutritional value given below is per 100g.
| | |
| --- | --- |
| Nutrition | Value |
| Calcium | 18 mg |
| Carbohydrate | 14.32 g |
| Copper | 0.23 mg |
| Energy | 68 kcal |
| Folate | 49 µg |
| Iron | 0.26 mg |
| Lycopene | 5204 µg |
| Magnesium | 22 mg |
| Manganese | 0.15 mg |
| Niacin | 1.084 mg |
| Phosphorus | 40 mg |
| Potassium | 417 mg |
| Protein | 2.55 g |
| Riboflavin | 0.04 mg |
| Selenium | 0.6 µg |
| Sodium | 2 mg |
| Sugars | 8.92 g |
| Thiamin | 0.067 mg |
| total dietary fibre | 5.4 g |
| Total lipid (fat) | 0.95 g |
| Total saturated Fatty acids | 0.272 g |
| Vitamin A | 31 µg |
| Vitamin B-6 | 0.11 mg |
| Vitamin C | 228.3 mg |
| Vitamin K | 2.6 µg |
| Water | 80.8 g |
| Zinc | 0.23 mg |
Reference: https://fdc.nal.usda.gov/fdc-app.html#/food-details/173044/nutrients
Should You Include Guava in Your Baby's Diet?
Guava is safe for infants as per Tiny seeds are found in guava, which might be difficult to bite and hard to digest for babies. If the baby feels any discomfort while eating guavas, it is best to stop giving them the fruit for a while. After a few days, try and feed the fruit in order to let the baby get used to the taste.
At What Age Should You Introduce Guava to Babies?
You can introduce guava to babies around 4 months to 6 months. During this time, the baby will not get all the essential nutrients from only having a liquid diet during his growth. One of the best ways to start introducing solid foods to the baby is fruits. This is because fruits offer and variety of textures and flavours. Fruits are also rich in minerals and vitamins that are important for the baby's development and growth.
Always start feeding the baby in small quantities and keep checking the baby for any side effects.
Benefits of Guava For Babies
Guava is considered to be a "superfood" because of the nutritional benefits it offers. Consuming guavas are very good for the body, and it is definitely a powerhouse.
1. Improves the Eyesight of the Baby
Consuming guavas regularly is very good for the baby's eye health because it is loaded with carotenoids and vitamin A.
2. Fights Infection
Guavas are rich in vitamin C, and it helps the baby by relieving cold and congestion. Scurvy can also be prevented. This is a disease caused because of vitamin C deficiency, which can be very dangerous if left untreated.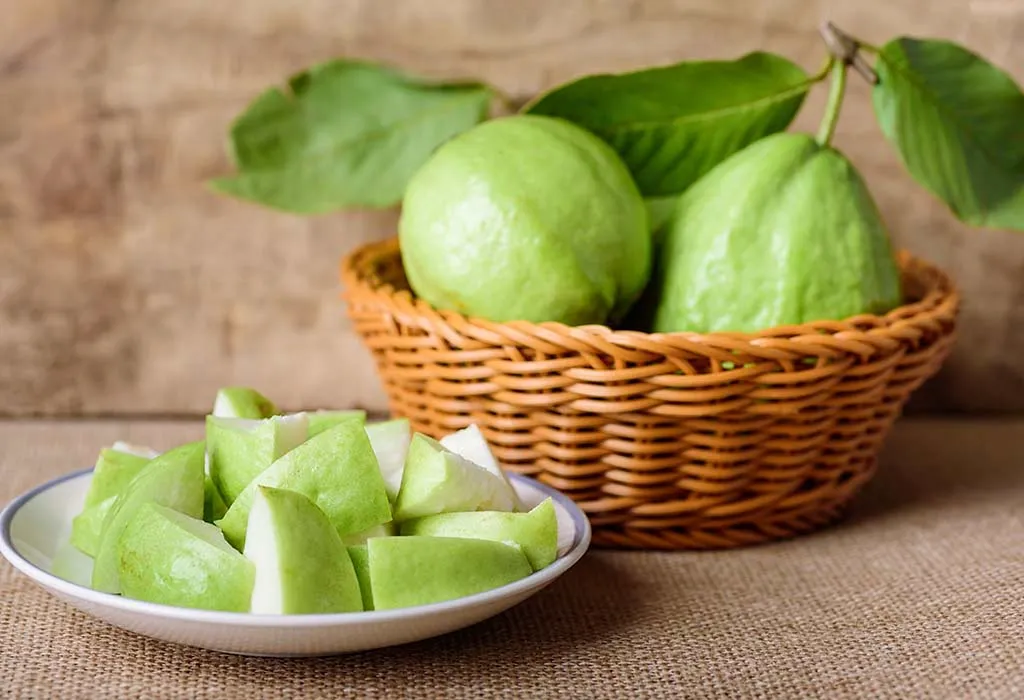 3. Cancer Prevention
Consuming guavas can help prevent the growth and development of cancer cells as it is loaded with antioxidants.
4. Increases Immunity
Guavas are loaded with vitamin C and contain 4 times the content of vitamin C present in oranges. Vitamin C will help the body by improving immunity and protecting the baby against pathogens and common infections.
5. Prevents Nervous Problems
This fruit consists of folic acid and many other vitamins that will help in the development of the nervous system of the baby and prevent neurological deformities.
6. Enhances Brain Development
This fruit is an amazing source of vitamin B3, vitamin B6, and vitamin K. It also has good amounts of thiamine, pantothenic acid, folate, and riboflavin. Therefore, guava is an incredible fruit that improves brain development in the baby.
7. Improves Digestion
It enhances the digestion process and keeps constipation at bay as this fruit is loaded with fibre.
Things to Remember While Giving Guava to Babies
Always feed your baby fresh and ripe guava.
Feed fresh puree to the baby and avoid freezing this puree.
Before making the puree, it is better to boil the fruit first because it will then be easily digestible. Mask the fruit and sieve it to remove the seeds since guava seeds are harmful for babies.
Do not expect the baby to consume the entire bowl at once. Start feeding a few spoons and then eventually increase the number of spoons.
Restrict feeding this puree for a maximum of two days a week. Remember, over-consumption can bring diaper rashes as it is very acidic.
Always check with the baby's doctor before you start giving the baby any new food.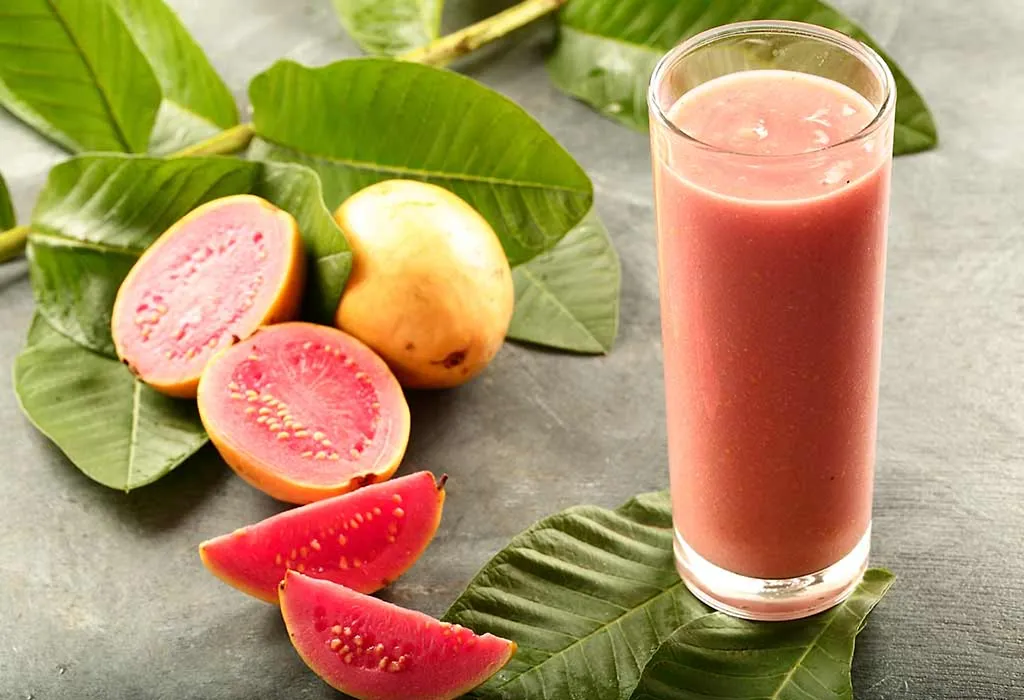 Healthy Guava Recipes for Babies
You can check these recipes that include guava puree for babies.
1. Guava-Kiwi Puree
This delicious new flavour of puree made from guava for infants is something they will surely enjoy.
Ingredients
Method
Wash the guava properly.
Peel it and cut the guava into halves.
Take a spoon and scoop every seed off.
Slice it and boil the fruit in water for a few minutes.
Put this in a blender and puree it thoroughly without leaving any lumps.
Take half a kiwi. Peel it and grate it separately.
To remove the kiwi seeds, put the pulp through a sieve.
Mix the kiwi and guava puree together. Feed it to the baby.
2. Guava-Pear Delight
Try this guava baby food that is very delicious and easy to make.
Ingredients
Method
Take half a guava and puree it.
Take a quarter of a peer. Peel and grate it separately.
Put the pulp of pear through a sieve to remove the seeds from it.
Mix the pulp of both of these fruits and serve it to your baby.
When introducing new foods, always keep in mind that it takes so much time and patience to help the baby develop a liking to the taste. But it is also important to introduce the baby to different tastes and food sources to protect his development and health.
References/Resources:
1. E. Quiros-Sauceda et al.; Dietary fiber and phenolic compounds as functional ingredients: Interaction and possible effect after ingestion; Researchgate; https://www.researchgate.net/publication/261751306_Dietary_fiber_and_phenolic_compounds_as_functional_ingredients_Interaction_and_possible_effect_after_ingestion; April 2014
2. Daswani PG, Gholkar MS, Birdi TJ. Psidium guajava: A Single Plant for Multiple Health Problems of Rural Indian Population. Pharmacogn Rev.; PubMed Central; https://www.ncbi.nlm.nih.gov/pmc/articles/PMC5628524/; July-Dec 2017
3. Guavas, common, raw; FoodData Central; https://fdc.nal.usda.gov/fdc-app.html#/food-details/173044/nutrients
4. Oliveira Dda S, Lobato AL, Ribeiro SM, Santana AM, Chaves JB, Pinheiro-Sant'Ana HM. Carotenoids and Vitamin C during Handling and Distribution of Guava (Psidium guajava L.), Mango (Mangifera indica L.), and Papaya (Carica papaya L.) at Commercial Restaurants. J Agric Food Chem.; PubMed; https://pubmed.ncbi.nlm.nih.gov/20441159/; May 2010
5. Olson CR, Mello CV. Significance of vitamin A to brain function, behavior and learning. Mol Nutr Food Res.; PubMed Central; https://www.ncbi.nlm.nih.gov/pmc/articles/PMC3169332/; April 2010
6. Jiménez-Escrig A, Rincón M, Pulido R, Saura-Calixto F. Guava fruit (Psidium guajava L.) as a new source of antioxidant dietary fiber. J Agric Food Chem.; PubMed; https://pubmed.ncbi.nlm.nih.gov/11714349/; November 2001
7. Mein. JR, Lian. F, Wang. XD; Biological activity of lycopene metabolites: implications for cancer prevention. Nutr Rev.; PubMed Central; https://www.ncbi.nlm.nih.gov/pmc/articles/PMC6824483/; December 2008
8. What are the health benefits of Guava?; Researchgate; https://www.researchgate.net/post/What-are-the-health-benefits-of-Guava; December 2014
Watermelon for Babies
Chikoo (Sapota) for Infants
Pineapple for Babies