Pineapple for Baby – Can Your Child Have It?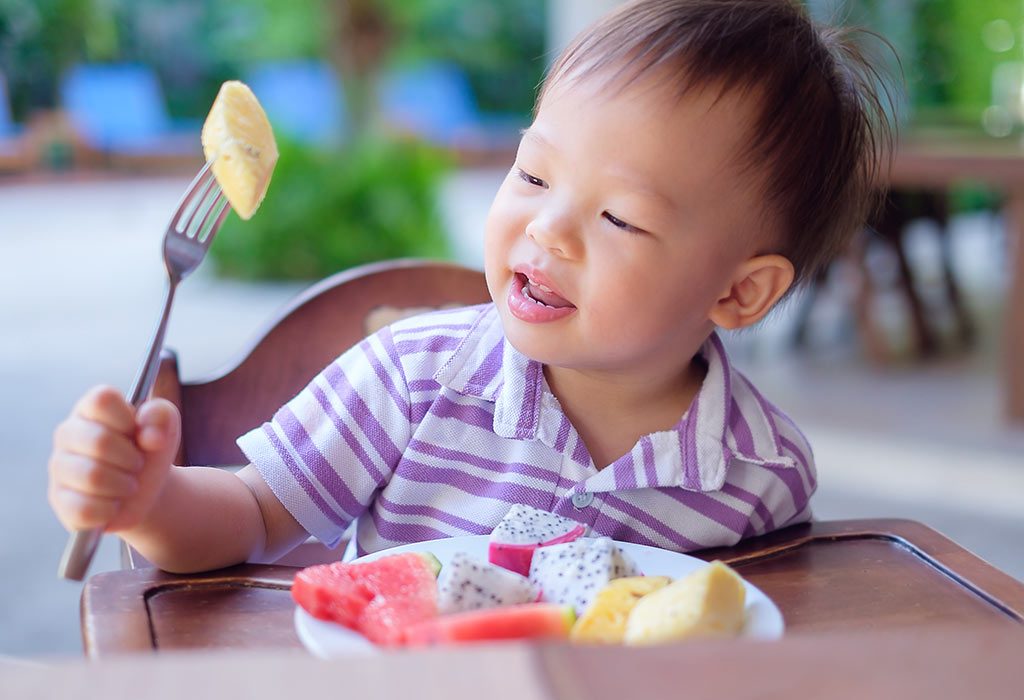 Pineapple is a nutritious, juicy, delicious, and versatile fruit. It not only complements other fruits but also vegetables. And, in answer to your question, yes, pineapple can be turned into many yummy baby food recipes! It will require some preparation before being suitable to use in baby-friendly recipes. As your little one grows and develops, you can expose him to all types of tastes and textures of pineapple, along with other fruits and vegetables.
Is Pineapple Safe for Infants?
Pineapple can be an enjoyable addition to a baby's ever-expanding diet. At the same time, parents should be careful about giving citrus and acidic fruits to infants. They need to be prepared safely, and the baby should be introduced to only one new food at a time. Food introduction need to be carefully monitored, so that you can check for allergic reactions. Also, the citric acid can sometimes irritates the baby's stomach, especially if he has reflux.
When Can a Baby Eat Pineapple?
Though pineapple is a very healthy fruit, it should only be given to babies who are older than six months. This is when their digestive system is learning to cope with a wide variety of foods. Experts suggest that parents should proceed with caution when introducing citrus-y or acidic foods to young babies. In case the baby's sensitivity level is high, such foods should be given when they are closer to the age of one.
Nutritional Value of Pineapple
Fruits and vegetables have play a positive role in a baby's diet. Pineapple is a great source of Vitamin C, which helps boost the immune system, and promotes the production of collagen. It contains Vitamin B1, which contributes to proper muscle function, and nervous system development. It also contains folic acid, manganese, and dietary fibre, which make it a super healthy food option. It even has anti-inflammatory properties, and can be a wonderful aid to digestion.
Risk Associated with Eating Pineapple for Babies
Pineapple – its nutritive value aside – should be introduced very cautiously, as it still may be hard on your little one's digestive system. Though it is not known to be an allergen, the baby food prepared with pineapple is acidic, which can sometimes cause problems to the baby. The acids in pineapple may cause rashes around the baby's mouth, because the skin is delicate. Pineapples are also known to cause nasty diaper rash. Hence, pineapple should be introduced a little at a time: mashed with other foods, and only when the baby crosses six months of age. Pineapple wedges or chunks are not a good idea, as they are very fibrous and can cause a choking hazard.
How to Choose Pineapple for Baby Food
When buying pineapple for a baby, one should look those that are labelled 'gold' or 'extra sweet'. It can be small or large – the size does not make any difference. The texture and nutritive value are the same for all pineapples. However, the pineapple you buy should feel heavy for its size. Also, unripe pineapples should never be given to babies, as they can cause diarrhoea, irritation to the throat, or vomiting.
Which is Better for the Baby – Fresh or Canned Pineapple?
Fresh and succulent pineapples are the best and the most nutritious choice for a baby. Canned pineapples should serve as an alternative option only when fresh pineapples are not available. The canned fruit should be soaked in pineapple juice, and not in syrup. Canned fruit is less acidic, and babies can enjoy eating it.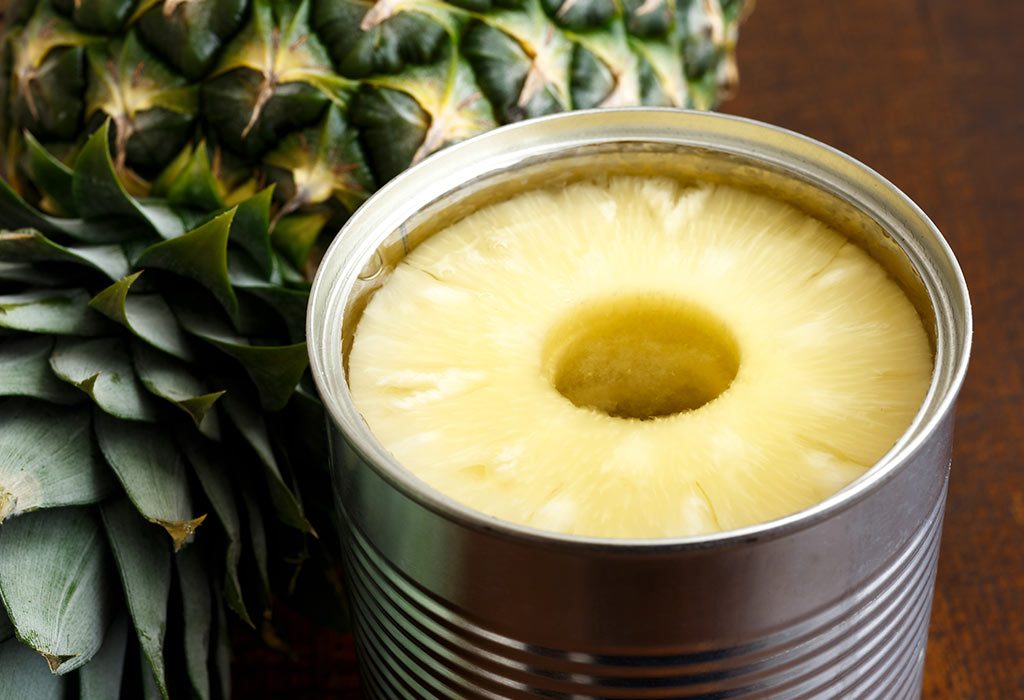 Should You Buy Organic Pineapple for Baby?
Pineapple does not appear in the list of the fruits most contaminated by pesticide residues. In any case, the skin of the pineapple has to be removed, and its thickness provides an effective defence against the absorption of pesticides. So, it is not required that you buy organic pineapples for babies.
How to Prepare Pineapple Baby Food
Sweet smelling, ripe and fresh pineapples are the best to use for baby-friendly recipes.
Fresh pineapples should be mashed or pureed with bananas, pears, sweet potato, cottage cheese, cream, or coconut milk.
If the pineapple is hard or tough to mash, it should be cooked briefly by steaming or simmering it in water or juice, till it becomes tender.
To make a semi-ripe pineapple juicier and softer, it should be kept at room temperature for a couple of days before preparing it for the baby.
A cut pineapple should be stored in water or juice in an airtight container in the fridge. If it is intended for the baby, it is recommended that you use it up within one to two days.
Pineapple Baby Food Recipes
Pineapple juice for baby is always the best. Read on below for some tasty and easy-to-prepare recipes:
1. Pineapple Yoghurt
This is a delicious treat for the baby, filled with pineapple flavour.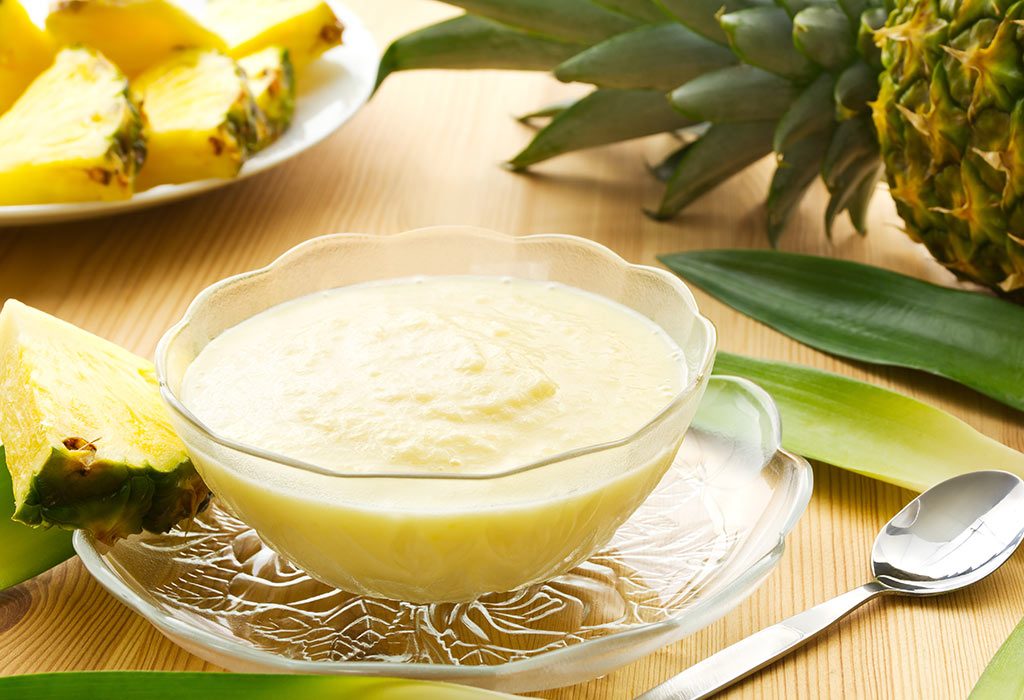 What You Need
1 pineapple ring
Apple juice
1 cup natural yoghurt
How to Prepare
Soak the pineapple ring completely in apple juice for 5 minutes.
Grill it until it turns brown, then flip it over, and repeat.
Allow it to cool after removing it from the grill, until it is just warm.
Puree it before stirring into yoghurt.
2. Pineapple Puree
Pineapple puree for baby is the best. It is a tasty and healthy recipe, easy for babies to enjoy and digest.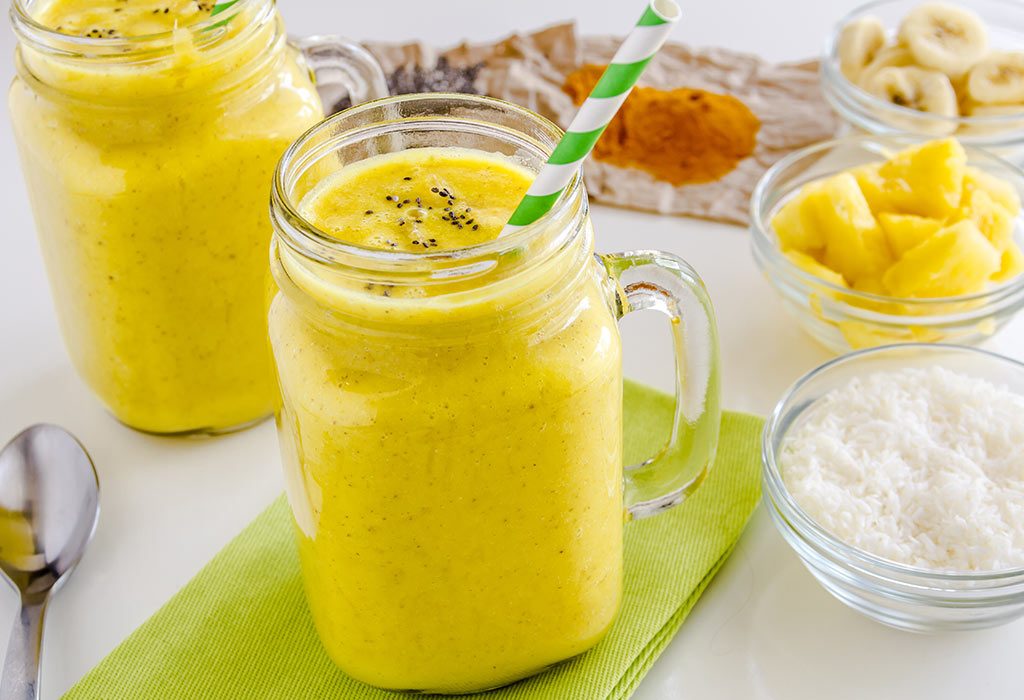 What You Need
1 cup chopped pineapple
1 banana
How to Prepare
Combine the ingredients in a blender, and puree until the right consistency is attained.
Extra puree can be stored in a freezer in ice trays. Defrost when required.
For a different yet tasty flavour, replace the banana with a pear.
3. Pineapple and Watermelon Popsicle
This is a great way to soothe a teething baby, and also helps beat summer heat. However, be cautious about serving this icy and citrus-y recipe to your baby. Serve it only in very small amounts, and monitor your little one for symptoms of sore throat, allergy, reflux, or other illness.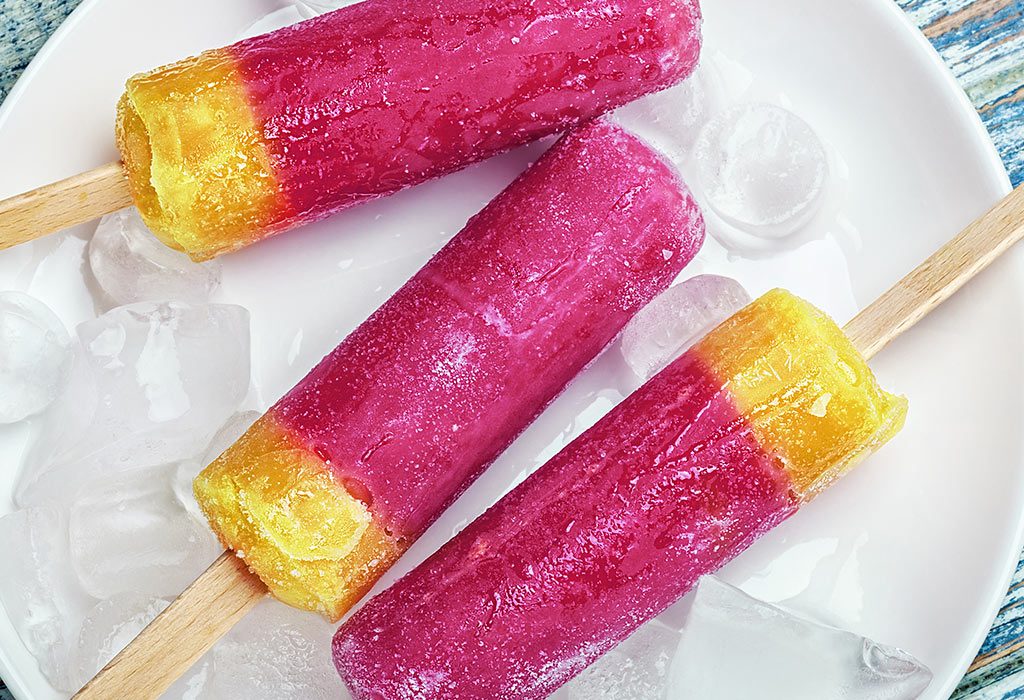 What You Need
How to Prepare
Combine all the ingredients in a blender, and puree into a smooth pulp.
Pour into Popsicle moulds, and freeze overnight.
4. Tropical Smoothie
This easy and delicious smoothie is a treat for babies.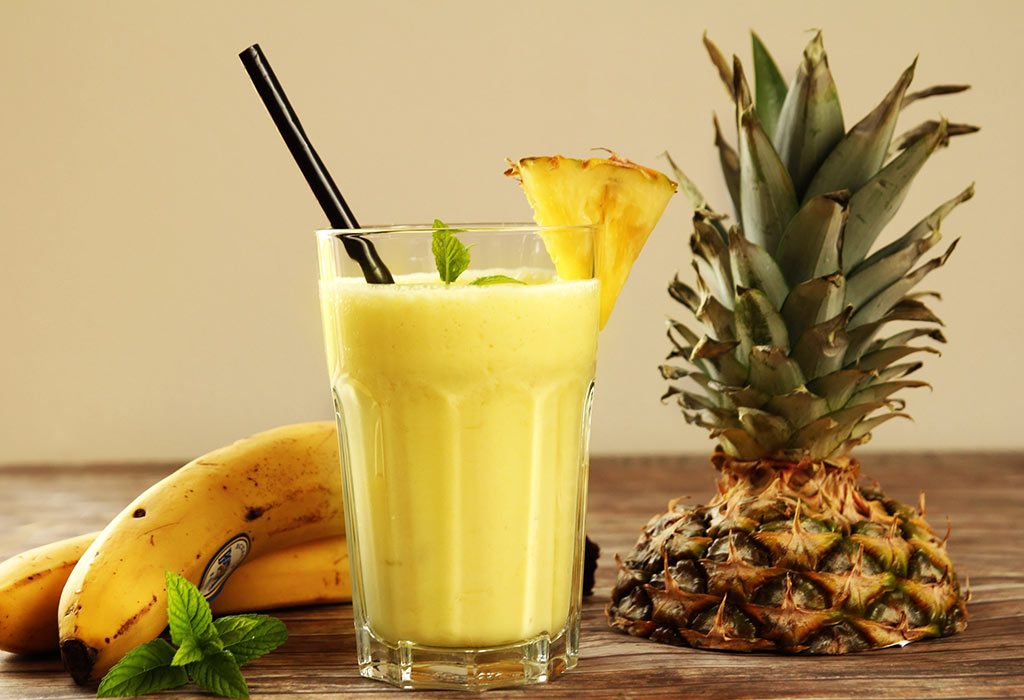 What You Need
½ cup chopped pineapple
1 banana
1/3 cup natural yoghurt
1/8 teaspoon cumin powder
1/8 teaspoon cinnamon powder
How to Prepare
Pour all the ingredients into a blender, and make a smooth puree.
Serve immediately.
For a different flavour, replace the cinnamon and cumin with three tablespoons of coconut milk for an ultra-tropical smoothie.
Pineapple is a delicious and tasty fruit, and full of health benefits for adults and babies alike. When deciding to serve this tropical fruit to infants, be aware of your child's sensitivity. Once your little one starts enjoying it, make the most of it! Serving a range of pineapple-based recipes can make it your baby's all-time favourite fruit.
Also Read:
Mango for Babies
Oranges for Babies
Strawberries for Infants
Papaya for Babies