Planning a Healthy Food Menu for your Baby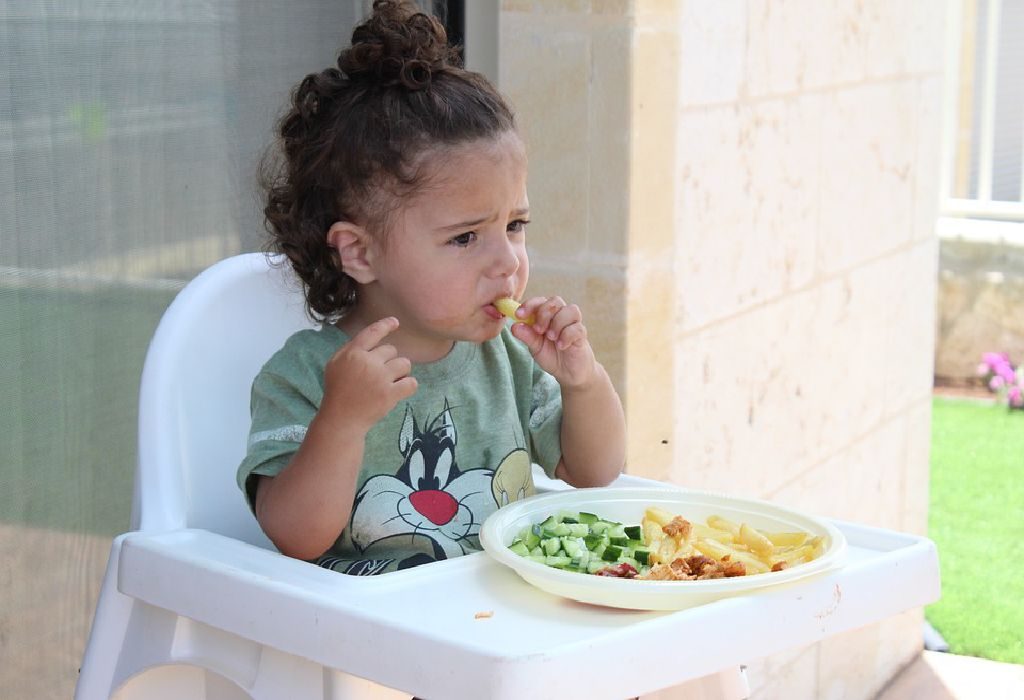 In this Article
Introducing babies to solid foods is an important milestone in his growth and development. An assortment of fruits, vegetables, fish, legumes and dairy products will help your baby's all-round growth. Here are some important things you need to keep in mind when you schedule your baby's feeds.
The key to keeping babies healthy and happy is giving proper attention to their food and nutrition. Most parents introduce their babies to solid foods around the age of 6 months. With some careful planning and scheduling, you can ensure that your baby will get wholesome nutrition through her daily meals. A smart way to start solid food to your little one is to include foods from the following food groups:
Fruits and Vegetables
Pureed or mashed fruits and vegetables like potatoes, sweet potatoes, carrots, peas, cauliflower, beetroot, apples, apricot, cherries, pears, peaches and pineapple, are good options to start your baby on solids. Once a baby is able to chew, you can cut up grapes or dice other fruits into small bits so she can enjoy them.
When feeding fruits and vegetables to your baby, you may not necessarily have to peel and cook all of them. However, starting off a child with raw fruits and vegetables may not be a good idea. Additionally, peeling them might be a good way of protecting your baby from any residues of pesticides that may be present on the peels.
Eggs
Boiled and mashed egg yolks and egg whites can provide the right nutritional boost to your baby. Mashed egg yolks are good to thicken up runny purees. However, egg whites are known to be highly allergenic, and you should talk to your doctor before you introduce your baby to eggs.
Dairy Products
1. Yogurt
Natural, unsweetened yogurt can be a good option to start with. You can add some fruit to sweeten the yogurt, and make it more interesting to eat.
2. Cheese
Cottage cheese is better for babies as compared to other cheeses like cheddar, which can prove to be rather heavy on their delicate tummies.
3. Tofu
Tofu is a nutritious addition to your homemade baby food, which can be introduced to the baby at around 8 months of age.
4. Meats
Meat is a good source of iron, providing babies with the required energy needed for growth. Chicken is the best lean meat to introduce your baby to. Avoid processed meats as they can be salty, and would lack in nutritional value as compared to fresh meat. You can gradually introduce pork, beef or lamb to your baby's diet.
5. Fish
Fish makes a healthy baby food as it is high in vitamins, protein, potassium and essential Omega-3 fatty acids.
6. Legumes
Legumes include beans, peas, and lentils that are high in vitamins, proteins and minerals, and can become a great addition to your baby's food schedule. However, care should be taken not to over-feed the baby with legumes as it can cause flatulence.
Introducing babies to solid foods is an important milestone. Planning a healthy baby food menu is something you should always do in consultation with your paediatrician. This is particularly important before introducing foods that are highly allergenic such as peanuts, fish and eggs.
An important thing to remember is that you don't have to necessarily follow any particular order to introduce foods to your baby. You can come up with your own baby food schedule. While traditionally most people start off babies with single-grain cereals and milk (breast milk/formula), you can also begin with mashed fruits, vegetables or legumes. Keep the menu simple and high on nutrition, and involve a nutritionist or paediatrician as you plan the baby's food menu.