Flattened Rice Flakes (Poha) During Pregnancy – Benefits and Recipes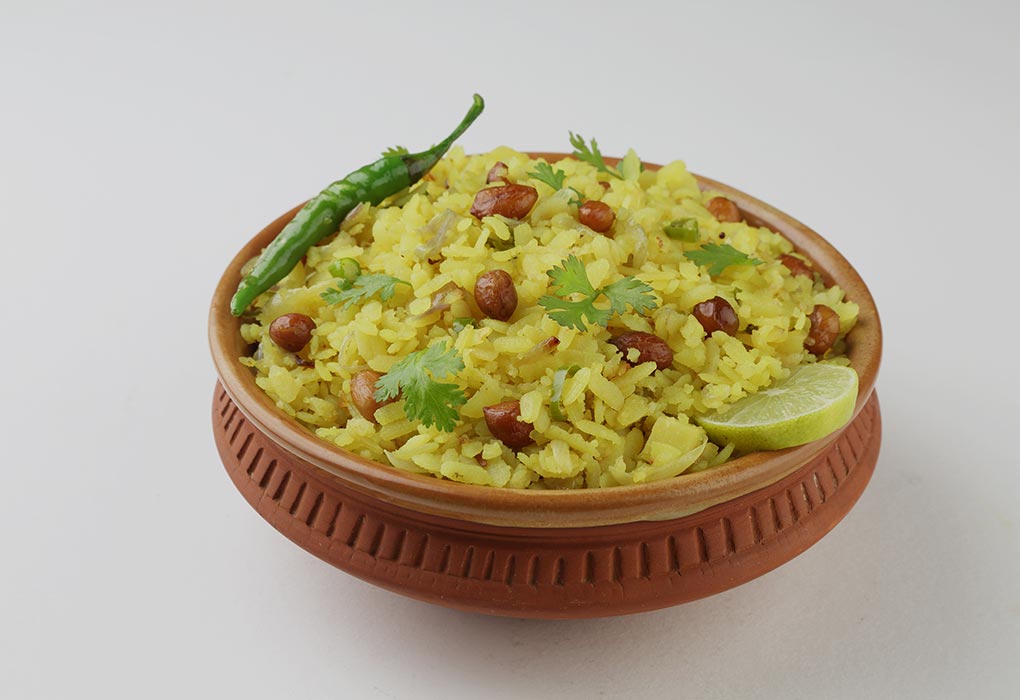 Beaten rice or flattened rice flakes are used to make Poha, a very popular breakfast and snack dish all over India. When flattened rice is soaked in water, it swells and softens up and can be used to make many such Indian dishes. Poha is very beneficial for pregnant women. Read on to know more about what Poha is made of and how it is beneficial during pregnancy.
What Is Poha Made of?
Poha is made of beaten rice or flattened rice. Raw rice is soaked in water, roasted, hulled to separate the husks, and then passed through rollers to make it flat. It is then dried to obtain flattened rice flakes.
Types of Poha Available
There are various types of Poha available, and some of these include:
1. White Poha
White Poha comes from white rice. The bran or husk of the white rice is completely removed in the process of making white Poha. It is easily digested and is a rich source of carbohydrates.
2. Red Poha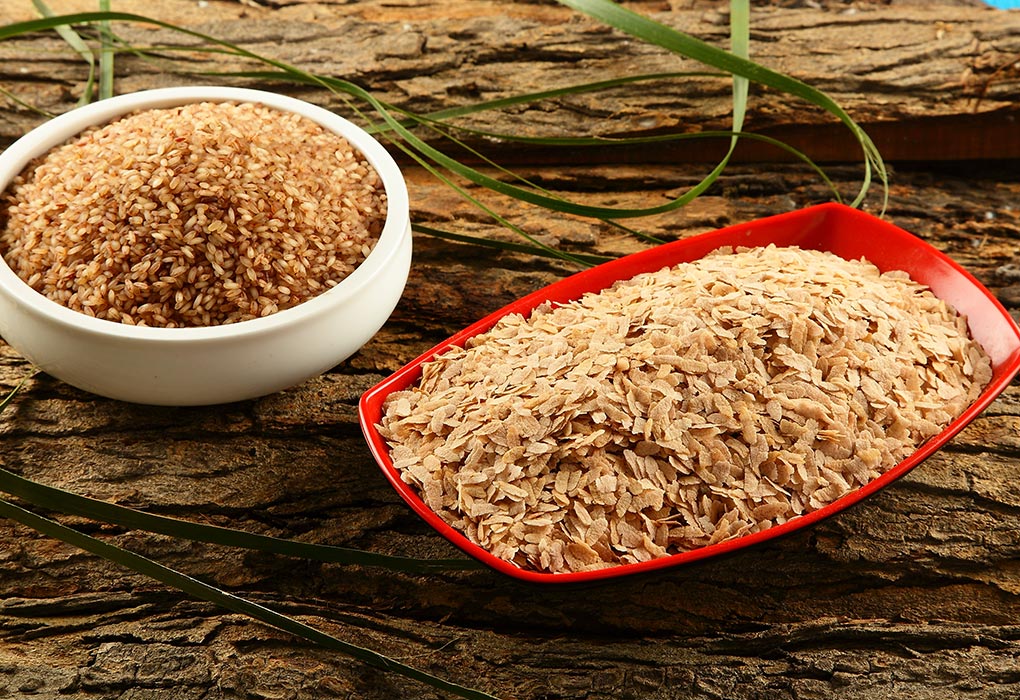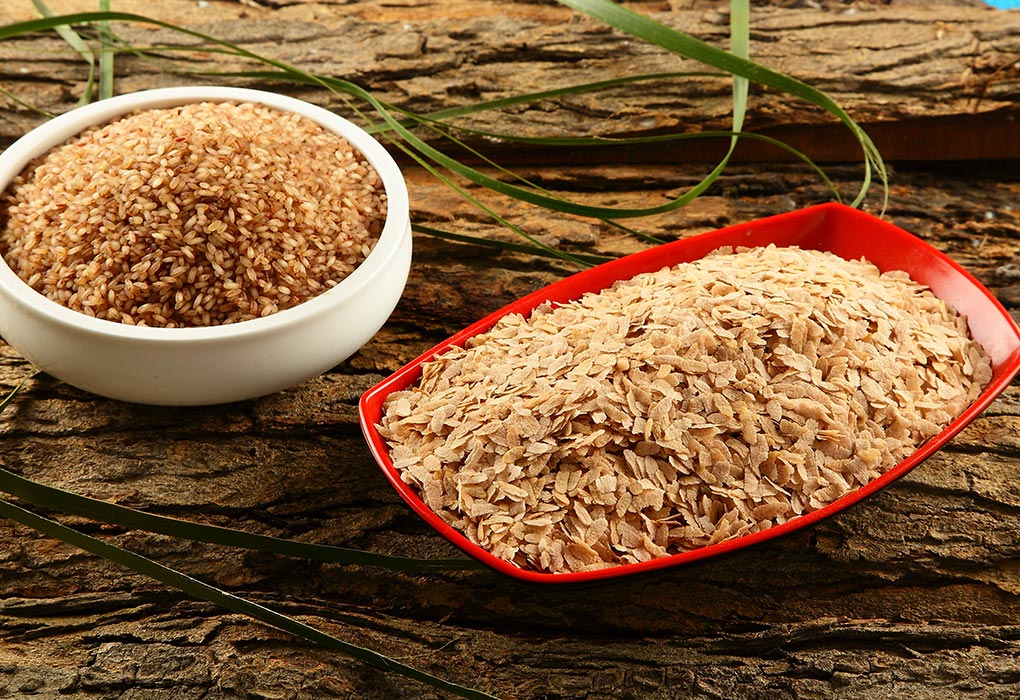 Red poha is made from red rice grains and is rich in iron and antioxidants. It has a nutty taste and takes longer to cook than the white poha.
3. Brown Poha
Brown poha comes from brown rice and contains nutrients such as potassium, iron and dietary fibre.
Is Poha Safe During Pregnancy?
Have you been wondering whether it is safe to eat poha during pregnancy? The answer is yes! Poha is very healthy and safe for pregnant women. It also gets digested quickly, thus making it ideal for women who suffer from nausea and vomiting in pregnancy.
Which Type of Rice Flakes Is Healthier For Pregnant Women?
Brown and Red poha are healthier than white poha even though the cooking time is longer for these varieties. This is because brown and red poha contain more dietary fibre than white poha, which has the husk and germ layer removed. Brown and red poha are also richer in nutrients like iron and antioxidants than white poha. The nutritious red poha also contains anthocyanin, which is a flavonoid that has essential minerals like zinc, iron, and manganese.
Pregnant women can gain several health benefits by consuming poha. Let's take a look at some of them.
Benefits of Eating Poha in Pregnancy
If you are mulling over the question, can we eat poha during pregnancy, the answer is yes! Poha is very beneficial for pregnant women. Some of these benefits are:
1. It regulates blood sugar.
Poha is high in dietary fibre and has a low glycaemic index. It can maintain blood sugar levels by releasing glucose gradually into the blood.
2. It is good for the intestines.
Poha is a probiotic. As it is soaked during the preparation process, it gets fermented and retains the good bacteria that are beneficial for our intestine and digestion.
3. It is an excellent source of carbohydrates.
Poha contains 77% carbohydrates. Thus, it makes a great breakfast choice as the carbohydrates give the body energy to carry out daily activities.
4. It gets digested quickly.
Poha is easily digested, so it does not cause acidity. Hence, it is very good for women who suffer from acidity or heartburn during pregnancy.
5. Rich in iron.
Poha is a good source of essential minerals like iron, zinc, and manganese, which are necessary for the healthy development of the unborn baby.
6. Low in Calories.
Although full of nutrients, poha is low in calories and can prevent unnecessary weight gain.
7. It prevents anaemia.
The iron present in the poha helps in preventing anaemia in pregnant women.
8. Good for people with a gluten allergy.
If you are allergic to gluten or are on a gluten-free diet during pregnancy, poha is a good option as it is very low in gluten content.
Why Is Poha Considered as A Healthy Breakfast Food and Snack in Pregnancy
Poha is considered a healthy breakfast food and snack during pregnancy because:
1. Availability
Poha is easily available in all grocery stores.
2. Affordability
Poha is not very expensive and can be purchased at a very reasonable price.
3. Simple to make
Poha dishes are extremely easy to make, and even people who are not great cooks can prepare them.
4. Versatility
You can make the poha dish more nutritious by adding things like vegetables, soya, boiled eggs or nuts. This versatility of Poha is why it is a very popular dish in India.
5. Variety of Dishes
There are numerous varieties of poha dishes that can be prepared. So, poha can never get monotonous.
How to Choose The Best Poha
When you are pregnant, it is best to select quality produce. Therefore, you should choose red or brown poha made from good quality organic rice. Ensure that the poha is in a transparent package so that you can check the quality of the poha inside. Poha of good quality retains the taste and aroma for a longer duration of time.
Easy Poha Recipes for Pregnant Women
Here are some healthy and nutritious poha recipes that you can try during your pregnancy:
1. Dahi Poha
This recipe is very simple to prepare if you are really hungry and need a quick snack.
Ingredients:
How to Prepare
Soak the poha for 15 minutes in some water until all the flakes are tender. Mix everything and let it sit for 5 minutes. Serve it at room temperature.
2. Lemon Poha
This tangy dish can be had for breakfast or snack time.
Ingredients:
Poha – 1 cup
Cubed pieces of boiled potato – 1 cup
Mustard seeds – 1 tsp
Urad dal – 1 tsp
Cumin seeds – 1 tsp
Juice of 1 lemon
Green chilli – 1, finely chopped
Turmeric – 1 tsp
Salt to taste
Water – as require
Vegetable oil – 1 tbsp
How to Prepare
Soak the poha for 15 minutes until it is soft. Drain and keep aside. Heat oil in a pan and add the mustard seeds, urad dal and cumin seeds to it. Add green chillies and potatoes and sauté until the potatoes turn golden brown. Add poha, turmeric, and salt to taste. Mix it well. Turn off the heat and add the juice of 1 lemon and mix well. Serve hot.

3. Sweet Poha
This delicious dish makes a healthy dessert.
Ingredients
Soaked poha – 1 cup
Banana – 1, mashed
Roughly powdered roasted peanuts – 1 to 2 tbsp
Honey – 1 to 2 tsp
How to Prepare
Mix all the ingredients with the soaked poha and let it sit for 10 minutes, Serve at room temperature.
Poha or flattened rice flakes is very healthy for pregnant women and has several nutritional benefits. Like anything else, poha should be consumed in moderation. Feel free to consult your obstetrician before adding anything new to your diet.
Also Read: Sabudana during Pregnancy