Easy Fall Songs for Young Kids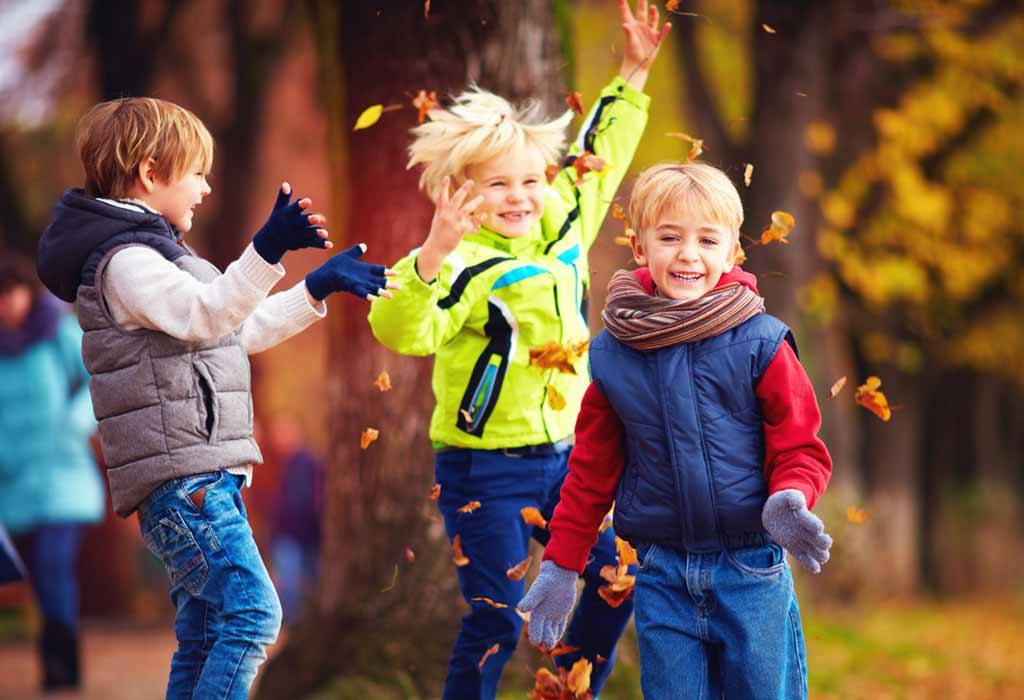 In this Article
Young kids learn new words and new things quickly through engaging activities. Therefore, parents and teachers start with songs about the things they want kids to learn, be days, months, or seasons. As kids listen to these songs, they learn new words and information about the subject. They help develop their cognitive skills, too. Here's a list of some catchy fall songs or fall nursery rhymes you can play for your kids to teach them several things about autumn without overwhelming them.
Popular Autumn Songs for Preschoolers and Kids
Playing fall songs is an easy way to teach young kids new words and things associated with the fall season. With simple lyrics and catchy tunes, the process of learning can be made simple and enjoyable. Fall songs help teachers and parents introduce kids to several things, such as colours, words, counting, games, etc. in an engaging manner to help develop motor skills and cognitive skills in kids.
Below are some of the popular autumn songs for preschoolers and kids:
1. 'Way Up High in an Apple Tree' by The Learning Station
This cute fall song by The learning Station is based on the tune of the popular 'Twinkle Twinkle little star' and has easy-to-follow lyrics for young listeners. The song lyrics also have early number counting for preschoolers.
2. 'Apple Tree' by Music With Nancy
Apple Tree is a sweet fall song composed by Nancy Kopman. It is essentially about an apple tree, but it also covers many topics, such as bees, seeds, pollination, birds, growth, butterflies, etc. Kids can learn so much as they sing along when you play this song.
3. '5 Red Apples' by Harry Kindergarten Music
'5 Red apples' is based on the popular 'apple tree' song. This variation has the lyrics in chant form; the original version was a song. The song teaches early counting till 5.
4. 'Autumn Leaves are Falling Down' by The Learning Station
This fall song is sung to the tune of the popular song 'Mary had a Little Lamb'. The cute autumn verses in this song are repeated twice to make it easy for young kids to learn as they sing. The video also has the lyrics in bold words, to help young readers practice their reading.
5. 'Farmer Brown Had Five Green Apples' by Miss Nina
Miss Nina's songs are popular and loved by most kids. This song is no exception. Kids learn a lot of things listening to this fun fall song, such as early math, and things related to fall and harvest.
6. 'Why Do Leaves Change Colour?' by Super Simple Songs
This adorable fall song by Super Simple Songs is good for learning new words, colours, and a lot of rhyming words. Kids also learn preschool science through this song.
7. 'Leaves are Falling Down' by Dj Kids
This song is a different fall song with a blend of adorable animation, fascinating pictures, and puppetry. Kids love to listen to this catchy fall song.
8. 'Orange, Yellow, Red, and Brown' by The Learning Station
This cute fall song is sung in the tune of the popular song Head, Shoulders, Knees, and Toes. Most kids can easily pick the tune and sing along. Through this fun and upbeat song, kids learn about colours and early preschool science.
9. 'Scarecrow Song' by The Learning Station
This is a soothing fall song sung to the tune of Twinkle Twinkle Little Star. Its tempo is perfect for kids to sing and dance along as they learn about their own bodies.
10. 'Five Little Pumpkins' by Super Simple Songs
This cute fall song teaches kids about emotions through smiling, pouting, and yawning, laughing, and crying pumpkins. Kids learn early counting also as they sing along, dance, and enact the emotions.
11. 'Leaves are Falling' by Jbrary
This amazing fingerplay song is good to engage kids for a long time. This cute fall-themed song is perfect for learning new words and also things associated with the fall season.
12. 'We Love Acorns' by Super Simple Songs
This simple fall song by Super Simple Songs is apt for toddlers. It has repetitive lyrics and rhyming words that kids can easily learn as they sing along.
Easy fall songs are great to teach kids a few interesting things about autumn and introduce new words, too. Young kids can easily associate objects around them to the newly learned words and enhance their word-association. These fall songs are easy to sing along. They can also improve your kid's imagination and cognitive skills.
Also Read:
Piano Songs for Children
Action Songs for Kids
Party Songs for Children
?>