11 Delicious and Easy-to-Make Thanksgiving Treats and Desserts for Kids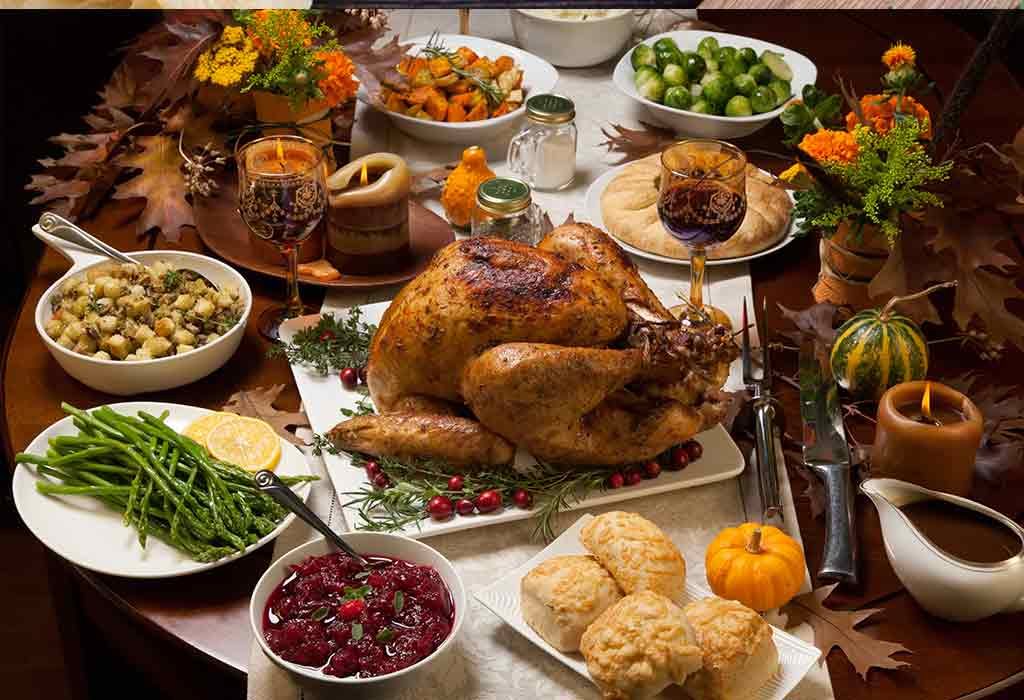 It's that time of the year again when families gather, laugh together, and enjoy delicious food. Yes, Thanksgiving, the season of making holiday food is almost here, and we can't keep calm! While you may want to stick to Thanksgiving classics by carving the bird and making succulent gravy, there are enough and more unique Thanksgiving dishes you can make that will make your guests reach for a second helping. And here's the best part: your kids will be all too pleased with some new dishes and sweets on the table!
Video : Delicious Thanksgiving Recipes that Are Perfect for Your Kids
Fun and Easy Thanksgiving Recipes for Children
We have a list of delicious Thanksgiving foods, from traditional Thanksgiving dinner recipes to side dishes to desserts (everything to make your Thanksgiving meal a success), that will leave your kids wanting for more and your guests raving about your culinary skills!
Scrumptious Thanksgiving Side Dishes and Snacks for Kids
Because your kids will need something to dig in (and munch on) until the aroma of the main course hits them.
1. Creamed Corn
Creamed corn is all the more delicious when it is made from scratch. This creamy dish is nothing but warm and comfort food. And since it's a corn dish, your kids are bound to love it!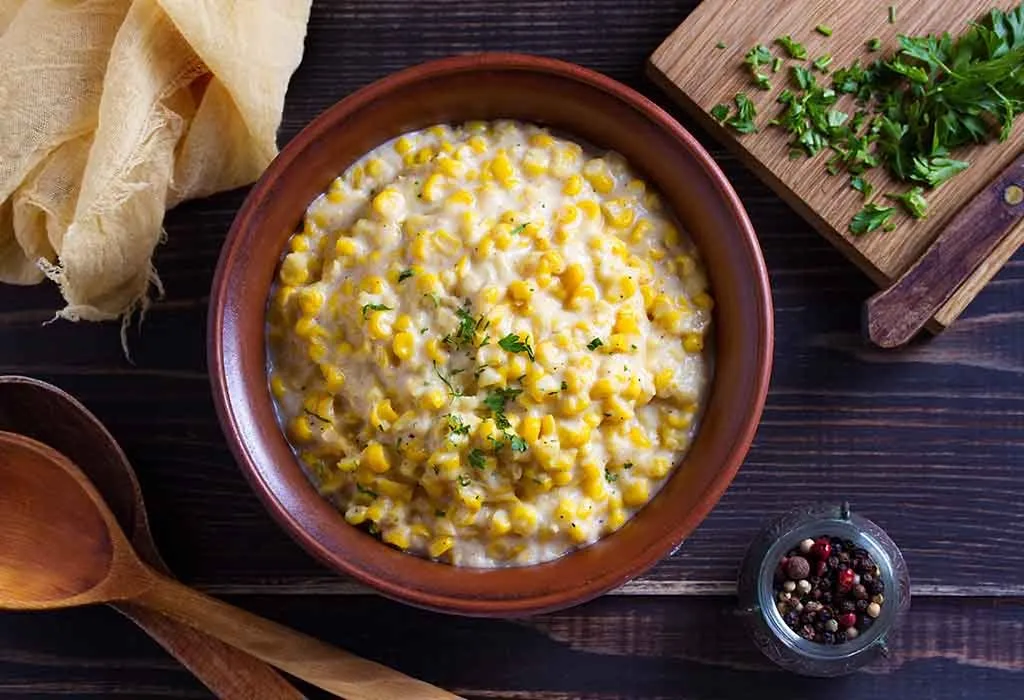 Total Time: 30 minutes
Prep: 15 minutes
Cook: 15 minutes
Ingredients
Frozen corn kernels (choose fresh corns, if you like) – 2 cups
Coconut milk – 1 can
Salt – 1 tsp
A handful of parsley (chopped)
Red pepper flakes – 1/4 tsp
Recipe
Heat the corn kernels and coconut milk in a saucepan over medium heat and stir well.
Bring it to simmer and add in the salt and sugar.
Cook well until the coconut milk evaporates a bit and thickens.
Season with salt and pepper flakes and give it a nice stir.
Once the mixture reaches the desired consistency, turn off the flame.
Transfer it to a bowl and garnish it with parsley.
2. Orange and Honey Glazed Carrots
Carrots may not be your first choice when you think about Thanksgiving food, but thanks to this side dish, that you will see carrots as a refreshing change, and perhaps make this dish more often. This side dish is roasted and has honey in it, so be assured, your little bunnies will enjoy them as snacks!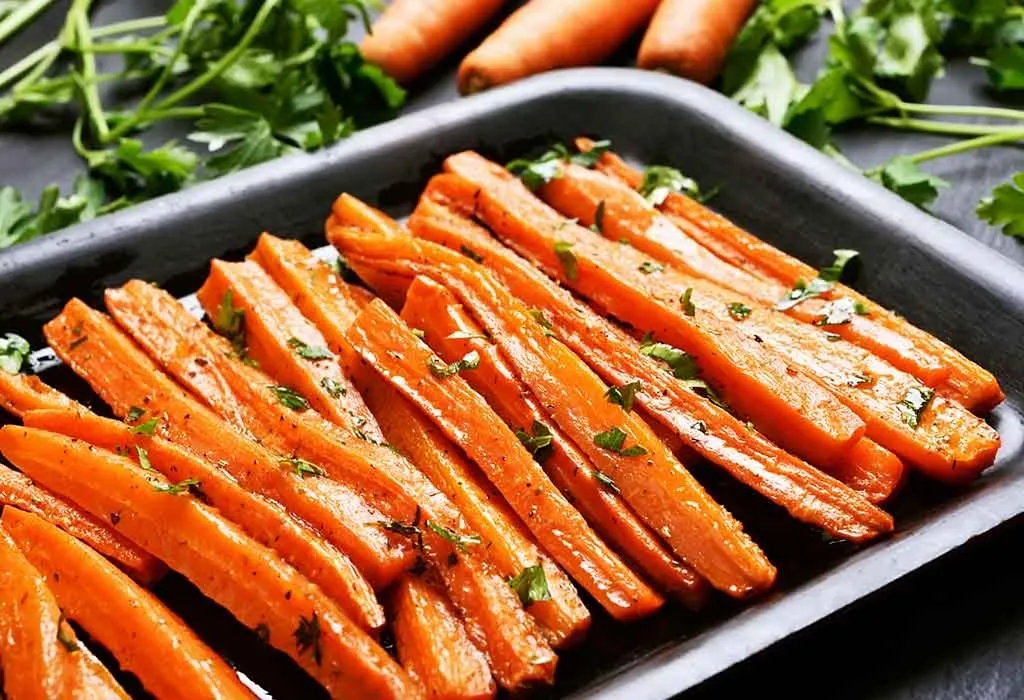 Total Time: 40 minutes
Prep: 15 minutes
Cook: 25 minutes
Ingredients
Large carrots (peeled) – 10-12
Olive oil – 2 tbsp
Honey – 2 tbsp
Salt to taste
Black pepper powder – 1 tsp
Orange zest (grated) – 1 tsp
Freshly squeezed orange juice – 1 tbsp
Water
Recipe
Cut the carrots into small sticks.
Take some water in a large pan, add some salt to it followed by the carrots. Cover the pan and simmer over low heat.
The carrots should turn tender. Once tender, drain and place them in a large bowl.
Toss with the honey, oil, salt, black pepper powder, orange juice, and grated orange zest.
Preheat an oven to 375°F (200°C).
Place the carrots in a baking dish and bake for about 25 minutes.
3. Pumpkin Cookies
It's Thanksgiving holiday, and you need to have one pumpkin dish (if not more) on your table. So here's a pumpkin snack your kids will enjoy. It's time for pumpkin cookies; this make-ahead dish will definitely save you precious time on the big day.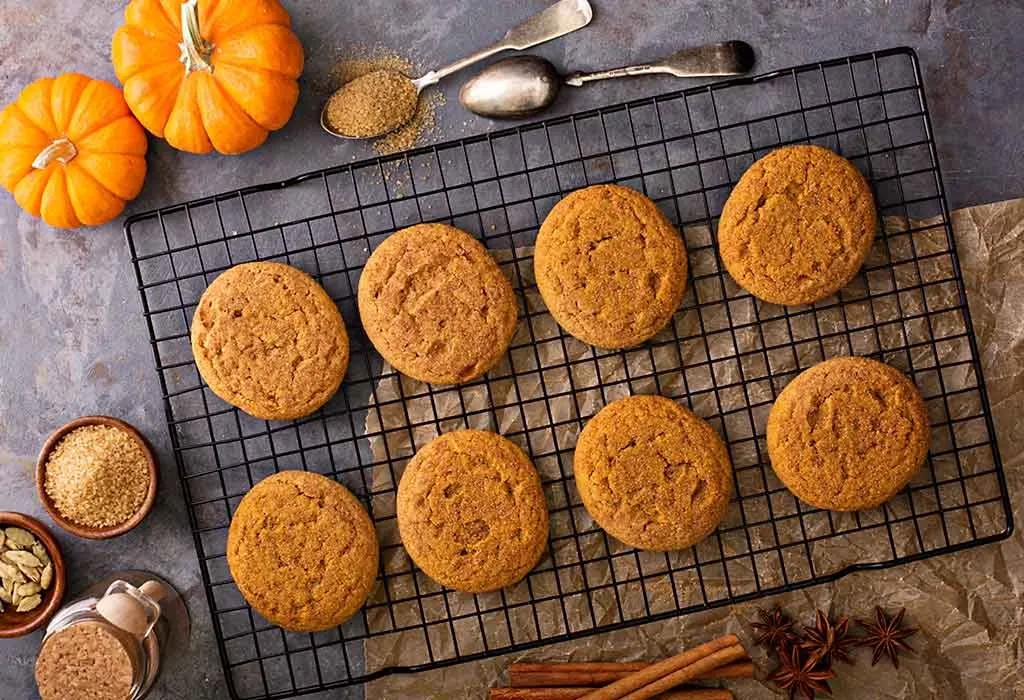 Total Time: 1 hour and 20 minutes
Prep: 1 hour
Cook: 20 minutes
Ingredients
All-purpose flour – 2 1/2 cups
Brown sugar – 1/2 cup
Pumpkin puree – 1 cup
Egg – 1
Butter – 1 cup
Granulated sugar (white sugar) – 1 cup
Cinnamon powder – 2 tsp
Nutmeg powder – 1/2 tsp
Ginger powder – 1/4 tsp
Baking soda – 1/2 tsp
Baking powder – 1 tsp
Salt – 1 tsp
Vanilla extract – 1-2 tsp
Recipe
In a bowl, take all the dry ingredients (except brown sugar and granulated sugar) and mix well.
In another large bowl, take the brown sugar, granulated sugar, and the butter, and beat well using a hand mixer; beat until the mixture turns creamy.
Add in the pumpkin puree, egg, and vanilla extract, and beat again.
Slowly, add the flour mixture to the mixture and beat until it is mixed well and turns smooth.
Chill the dough in the refrigerator for about 45 minutes.
Preheat an oven to 350°F (180°C).
Next, scoop the chilled dough onto a baking tray lined with a baking sheet.
Bake the cookies for about 20 minutes or until the edges of the cookies start turning brown.
Sprinkle some ground cinnamon on the cookies and serve.
Delicious Thanksgiving Dinner Recipes for Kids
Because grandmom's recipes are too tasty to not be a part of Thanksgiving dinner. They even get hearty conversations started at the dinner table.
4. Pumpkin Soup
With Thanksgiving, comes the official soup season. And pumpkin soup is just what your kids and guests need to start with their Thanksgiving meal. The warm spices that go into the soup will even keep your kids warm in the winter season.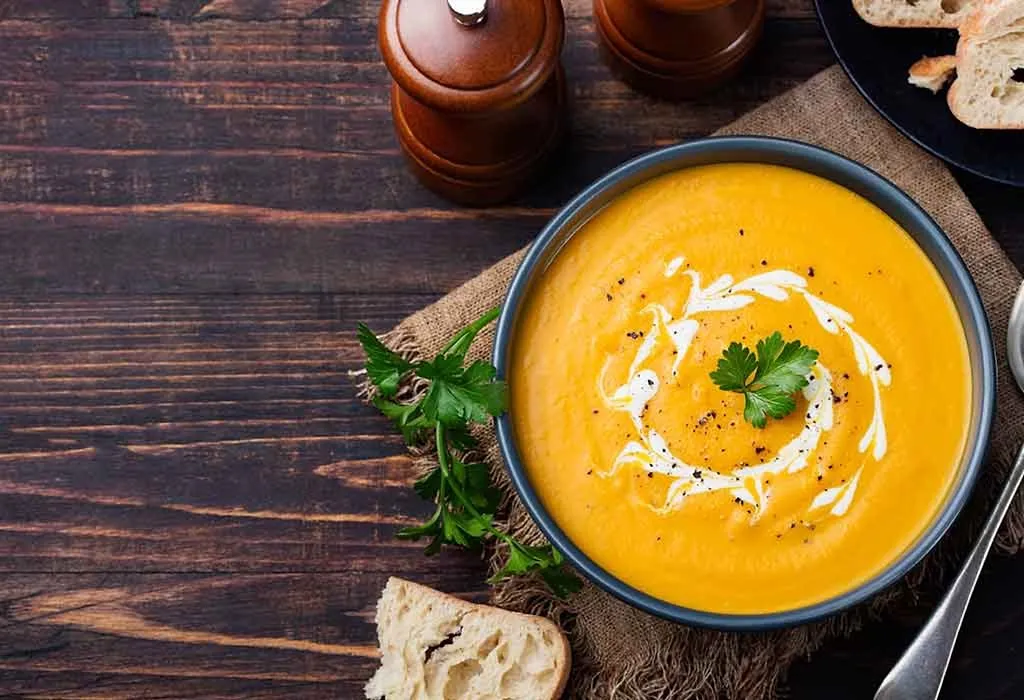 Total Time: 25 minutes
Prep: 10 minutes
Cook: 15 minutes
Ingredients
Pumpkin puree – 1 can (4 cups)
Onion (grated) – 1
Olive oil – 2 tbsp
Chicken broth – 4 cups
Heavy cream – 1/2 cup
Pumpkin spice – 2 tbsp
Salt to taste
Recipe
Heat some olive oil in a saucepan or wok over medium heat.
Add in the grated onion and cook until tender. Keep stirring to prevent it from burning.
Add in the pumpkin puree, chicken broth, heavy cream, spice, and salt, and bring the mixture to a boil.
Stir occasionally, then cover it with a lid and simmer for about 10 minutes.
Your soup should be ready.
5. Herb-Stuffed Turkey
There is no Thanksgiving without turkey, but wrestling with it is not a layman's job. If it's your first time with the bird, here's a turkey recipe to get you started. What's more, after you try (and succeed at) this recipe, you will want to make it every Thanksgiving.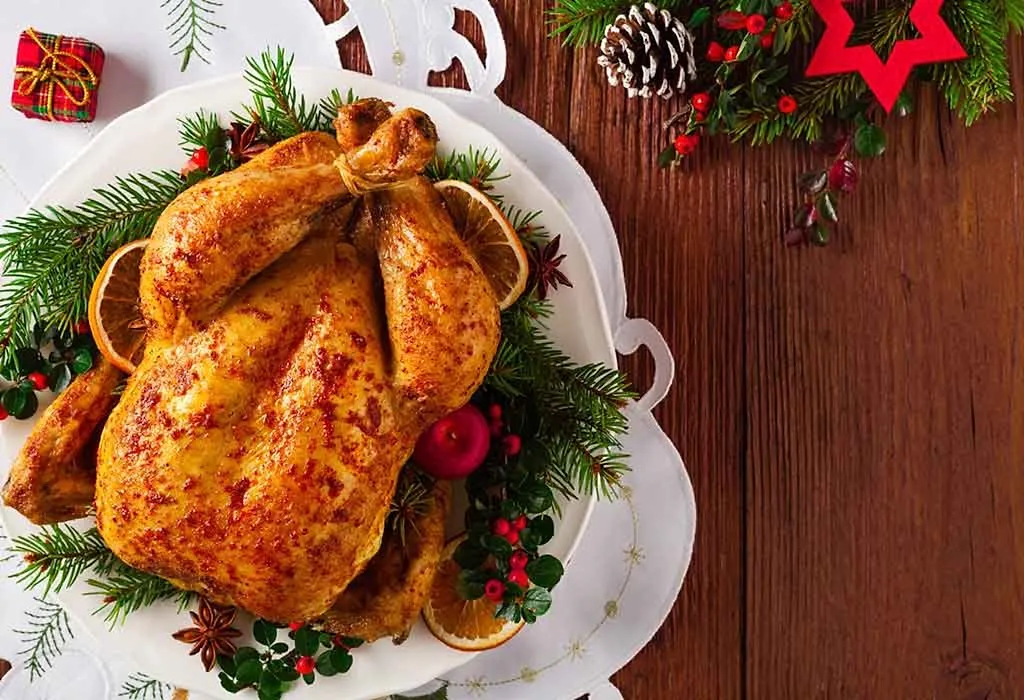 Total Time: 3 hours and 30 minutes
Prep: 30 minutes
Cook: 3 hours
Ingredients

Turkey (thawed, if frozen) – 1 (5-6 kg)
Sage (chopped) – 8 sprigs
Carrots (cut into small pieces) – 2
Small onions – 4
Bay leaves – 2
Olive oil – 2 tbsp
Garlic (finely chopped) – 3 cloves
Salt and pepper to taste
Recipe
Place the turkey on a baking sheet, and remove the giblets out of it.
Wash the turkey inside out to remove any excess fat and pat it dry from outside.
Cut the onions into quarters and stuff half of the quartered onions into the cavity of the turkey.
Stuff it further with sage, and some carrots, if you like.
Preheat an oven to 375°F (200°C).
Place the remaining carrots, sage and onions, and bay leaves in a large roasting pan.
Place the stuffed turkey on top. Brush the outside of the turkey with some oil and season with salt and pepper.
Tie the legs of the turkey together with string and tuck its wingtips under its body.
Roast the turkey for about 2-3 hours.
Once cooked, transfer it to a cutting board and cover it with aluminium foil. Let it rest for about 25 minutes and then carve!
6. Garlic Mashed Potato Casserole
If mashed potatoes are on your mind, here's a casserole dish that is creamier (and dreamier) than the plain mashed potatoes. This cheesy mashed potato casserole will look wonderful sitting next to the turkey on your dinner table.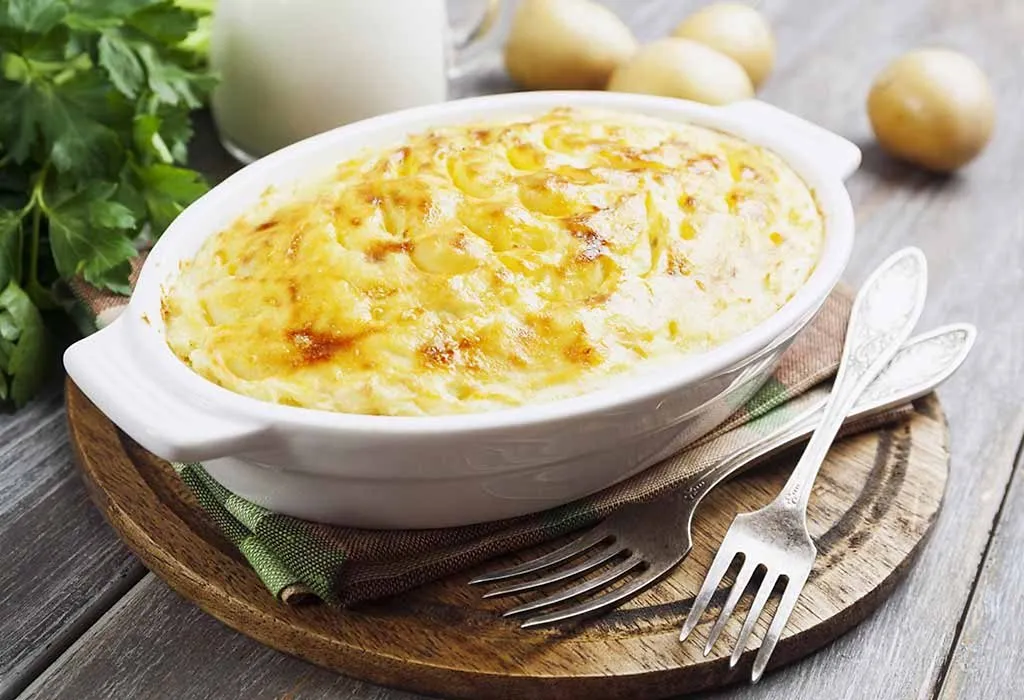 Total Time: 1 hour and 20 minutes
Prep: 40 minutes
Cook: 40 minutes
Ingredients
Potatoes (peeled and cut into small pieces) – 9-10
Garlic cloves (peeled and crushed) – 6-8
Milk – 1/2 cup
Heavy cream – 1/2 cup
Shredded cheddar cheese – 1/2 cup
Salt – 1/2 tsp
Butter – 1/2 cup
Green onions (chopped) – 1/2 cup
Recipe
In a large saucepan, place the potato pieces and bring them to a boil.
Cook them for 20 minutes until they turn tender, then drain.
Transfer the potatoes to a bowl.
In another bowl, mix the heavy cream, milk, green onions, garlic, and salt. Pour this mixture onto the potatoes and mash well.
Preheat an oven to 375°F (200°C) and grease a glass baking dish.
Transfer the mashed potato mixture into the baking dish and sprinkle some cheddar cheese on top.
Bake in the preheated oven for about 40-45 minutes.
7. Thanksgiving Sausage Stuffing
Thanksgiving is all about stuffing our stomachs with delicious food. And what thanksgiving it is without a good stuffing? Crispy and hot, this sausage stuffing will add stars to your meal.
Total Time: 1 hour and 22 minutes
Prep: 25 minutes
Cook: 57 minutes
Ingredients
Bread cubes – 12 cups (1-inch)
Spicy Italian sausage (casings removed) – 3/4 pound
2 Granny Smith apples (large-diced)
2 yellow onions (medium-diced) – 2 cups
2 celery stalks (medium-diced) – 1 cup
Dried cranberries – 1 cup
Chicken stock – 1 cup
Unsalted butter – 8 tbsp
Flat-leaf parsley chopped – 2 tbsp
Black pepper freshly ground – 1 tbsp
Kosher salt – 1 tbsp
Recipe
In a large saute pan add in the butter. When it melts, add chopped celery, onions, and apples. For some flavour, add in two tablespoons of chopped parsley and 1 tablespoon each of salt and pepper. Saute the vegetables for 10 minutes over medium flame, until they are tender.
Preheat the oven to 300°F.
Cut the bread into large pieces and bake them for about 7 minutes. Increase the temperature to 350°F until it is brown and crispy.
Transfer the crispy bread cubes into a large bowl and add sauteed vegetables.
In the previous saute pan, add the Italian sausage and cook it for about 10 minutes. While it is cooking, mash the sausage with a fork. When it has changed its colour and is tender, cut the flame and add it to the bowl of bread and vegetables.
To the bowl, add one cup of cranberries and to make the stuffing tender, add one cup of chicken stock. Give everything a gentle mix.
Place the stuff on the baking dish and bake it for the next 30 minutes When it is brown and crispy on the outside, remove and serve warm.
Mouth-watering Thanksgiving Desserts and Treats for Kids
Thanksgiving or not, kids just need an excuse to gobble sweets. So, it makes sense to plan for one or more of these sinful delicacies, no? After all, holidays call for a bit of indulgence and bent rules!
8. Apple Pie
There's nothing quite like a classic apple pie. Go ahead and make this dessert in advance – it's going to be a hit among your guests, and your kids will devour it too!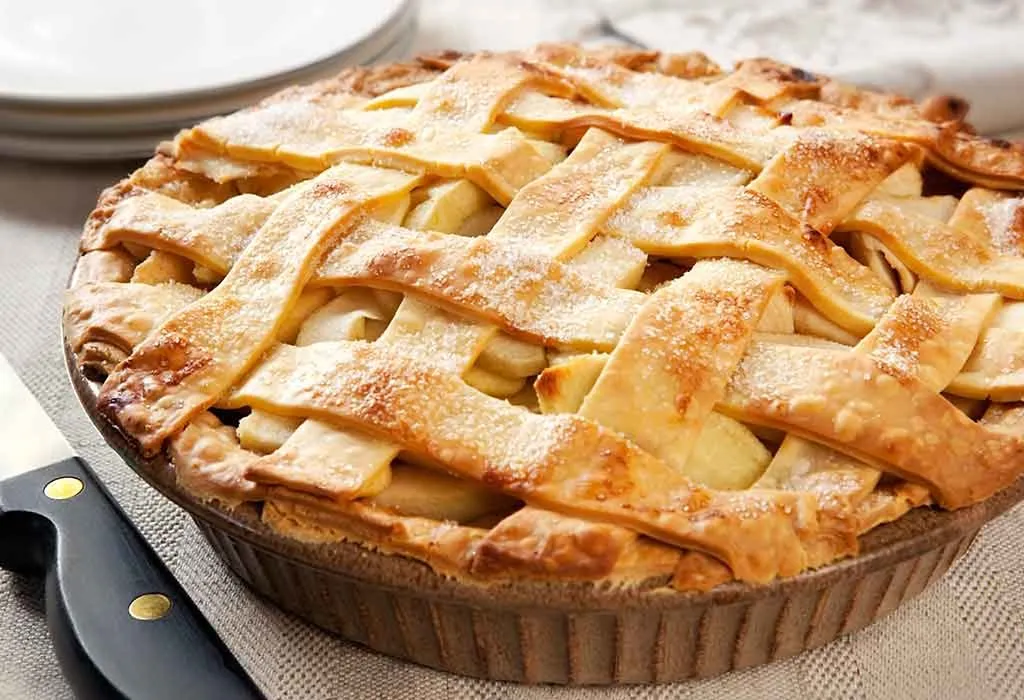 Total Time: 2 hours
Prep: 1 hour
Cook: 1 hour
Ingredients
For pie dough
All-purpose flour – 2 1/2 cups
Salt – 1 tsp
Butter cubes – 8-10
Ice water
For the filling
Granny smith apples (peeled, cored, sliced) – 6-7
Flour – 2 tbsp
Sugar – 3/4 cup
Salt – 1/2 tsp
Cinnamon – 1 tsp
Nutmeg – 1/4 tsp
Egg (beaten) – 1
Additional sugar for icing
Half a lemon
Recipe
Take the flour and salt in a bowl and mix well.
Add in the butter cubes and mix well with the flour.
Add some ice water to the bowl and stir the mixture well until it comes together in the form of dough.
Remember, the dough should not be too sticky.
Work the dough into a ball and cover it with cling wrap, then refrigerate.
In a bowl, take the sliced apples, flour, sugar, salt, cinnamon, nutmeg, and lemon juice. Mix well until all the apple slices are coated well.
Preheat an oven to 375°F (200°C).
Meanwhile, take out the dough from the refrigerator and divide it into half.
Roll out both the halves; they should be round and about 3 mm thick.
Place one rolled out dough in a pie dish making sure that the rolled out dough reaches the edges.
Pour the apple filling onto the dough.
Roll the other half of the dough on top.
Trim the extra dough from the edges and pinch the dough around the edges, so that the edges are sealed together.
Brush the pie with the beaten egg and sprinkle some sugar on top.
Make slits in it.
Bake for about 45 to 60 minutes or until the crust turns golden brown.
Allow it to cool before serving.
9. Strawberry Trifle Pudding
For a refreshing taste and colour in your Thanksgiving menu, trifle pudding is just what you need. Plus, it speaks of Thanksgiving in all ways possible! Make this strawberry and banana trifle pudding a day in advance, and refrigerate!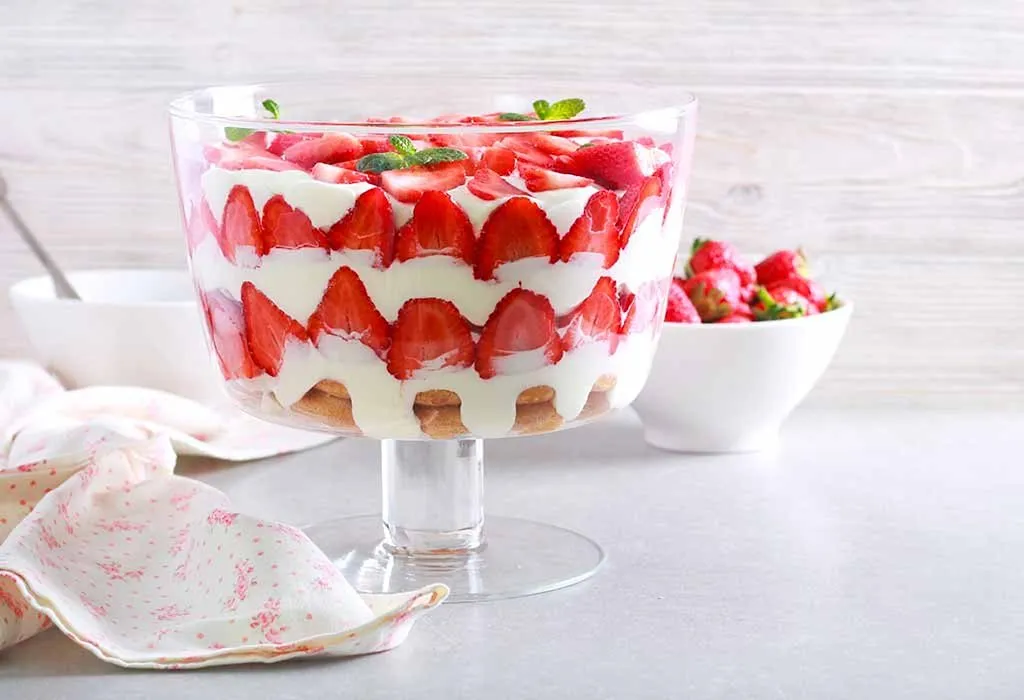 Total Time: 1 hour
Prep: 20 minutes
Cook: 40 minutes
Ingredients
Granulated sugar (white sugar) – 1 cup
Cornstarch – 5 tbsp
Strawberries (cut lengthwise into small slices) – 3 cups
Bananas (cut into small slices) – 3
Milk – 4 cups
Egg yolks – 6
A pinch of salt
Vanilla bean (split lengthwise and pods scraped) – 1/2
Heavy cream – 2 cups
Icing sugar – 1 ½ tbsp
Vanilla wafer cookies – 20
Unsalted butter – ¾ cup
Recipe
In a saucepan, whisk together the cornstarch, white sugar, salt, vanilla bean and pods. Add in the milk and continue to whisk until the cornstarch dissolves completely.
Add in the yolks and whisk again.
Place the saucepan over medium heat and continue to stir until a large bubble forms and pops.
Reduce to low heat and keep whisking. Turn off the heat and stir in the butter until it melts.
Place a mesh sieve over a medium-sized bowl, and transfer the above pudding immediately through it.
Cover it and let it cool.
Whisk the cream and icing sugar in a bowl.
Mix the pudding well, and pour two spoons of pudding in a dessert glass. Spread it evenly.
Place a few vanilla wafer cookies on the pudding, followed by a few slices of bananas and strawberries.
Layer it with some whipped cream. Repeat with another layer of cookies, pudding, and fruits.
As you add in the layers, make sure to arrange the strawberry slices around the sides of the glass too as shown in the image.
Repeat one more layer and keep it in the fridge for about 4 – 6 hours.
Top it with some whipped cream and garnish with fresh strawberry slices.
10. Turkey Cookies
Your turkey-shaped cookies will be the star dish in your Thanksgiving menu and trust us these cookies will taste as yummy as they look. But your little ones may find it rather hard to decide whether to eat them or stare at them. So try the cute and sweet version of the big bird (kidding!).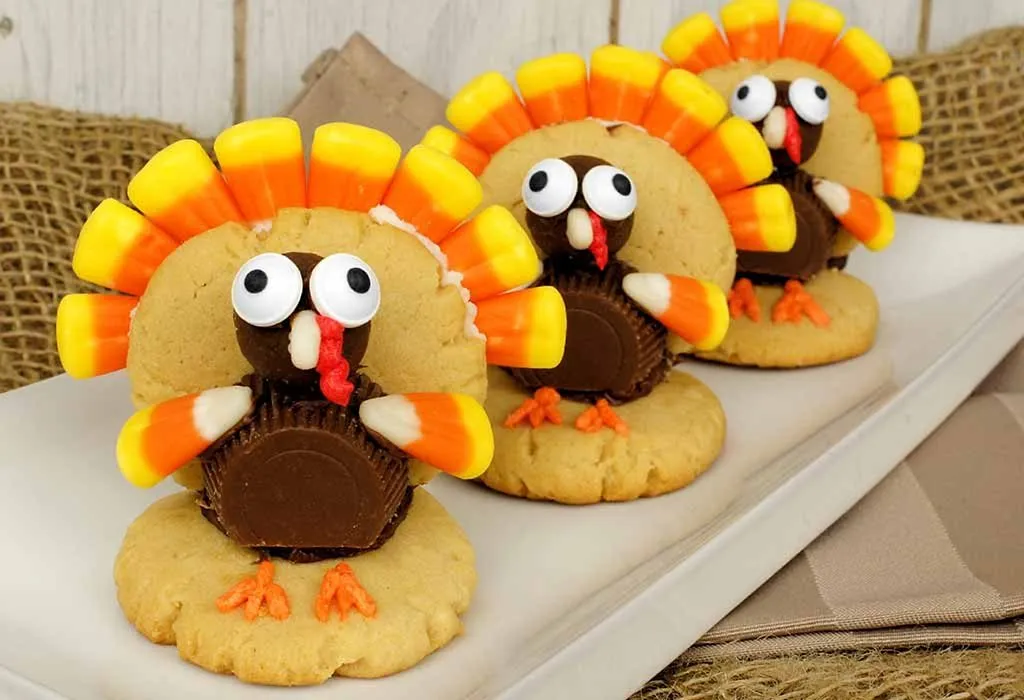 Total Time: 1 hour
Prep: 20 minutes
Cook: 40 minutes
Ingredients
For the cookies
All-purpose flour – 2 cups
Egg – 1
Milk – 4 tsp
Unsalted butter (softened) – 2/3 cup
Sugar – 3/4 cup
Vanilla extract – 1/2 tsp
Baking powder – 1 ½ tsp
Salt – 1/4 tsp
For the decoration
Vanilla frosting – 1/4 cup
Candy corn pieces – 40
Orange food colour
Peanut butter cups – 12 – 15
Candy eyes (as required)
Candy corn pieces (as required)
Strawberry fruit leather (cut into small stripes) – 1 roll
Recipe
To make the cookies, start with whisking all the dry ingredients together in a bowl.
In a separate bowl, beat the sugar and butter using a hand mixer until it turns creamy and smooth.
Add in the egg and vanilla extract and beat again – it should appear fluffy.
Mix in the milk.
Add in the dry ingredients and mix well – you should have the cookie dough.
Make small balls from the dough and place them on a baking sheet lined with parchment paper.
Preheat an oven to 375°F (200°C).
Bake the cookie balls for about 8-10 minutes so that they get cooked, but are soft.
Remove them from the tray and press them slightly with the help of the back of the glass or a small bowl.
Do this while the cookies are hot or they may turn cold and hard to press.
Now comes the fun (or tedious) part-time to decorate the cookies!

Mix in the food colour to the frosting in a bowl and stir until you get the desired colour.
Transfer the frosting to a piping bag; use a nozzle with a very tiny hole.
Take one peanut butter cup and cut it from one side so that it looks like a semi-circle (but is more than a semi-circle). Squeeze some frosting on the back of this peanut butter cup. Take one cookie and cut it slightly from one side (think one side of a hexagon). Place the peanut butter cup on the edge of the cookie.
Take another peanut butter cup, and cut it along the edges so that you get a smaller (circular) version of it.
Squeeze some frosting on the back of it and place it above the bigger peanut butter cup such that they both stick together as shown in the picture.
Stick the eyes with the frosting on the smaller peanut butter cup. Take candy corn, cut its white part and stick it under the eyes to make the beak. Take 1 fruit stripe and place it next to the beak.
Take about 8 candy corns, squeeze some frosting onto one side of their white parts and stick them at the back of the cookie as shown in the image.
Place another round cookie on the tray and stick the decorated cookie onto it (the hexagonal side should come down), as shown in the image.
Add tiny feet underneath using frosting and they are ready to serve. And serve soon before the turkey falls apart!
11. Cranberry Walnut Shortbread
The season of cranberries is here. This thanksgiving, treat your guests with delightful cranberry walnut shortbread. Wait, did we mention how easy it is to make? That's true. Try it and take your thanksgiving guests by surprise.
Total Time: 14 hours
Prep: 30 minutes
Cook: 30 minutes
Ingredients
For the crust
All-purpose flour – 3 cups
Walnut – 10 ounces
Sugar – 1/2 cup
Unsalted butter – 2 sticks
Vanilla extract – 1 tbsp
Kosher salt – 1 tbsp
For the topping
Frozen or fresh cranberries – 6 cups
Red currant jelly -1 cup
Campari – 1/4 cup
Unflavoured gelatin – 2 envelopes (1 ounce)
Granulated sugar – 2 cups
Cinnamon – 1 stick
Whole allspice – 1 tbsp
White cloves – 1 tbsp
Recipe
To start with the crust, preheat the oven to 350°F.
Pulse walnuts 12 to 15 times in a food processor, until finely chopped. Add flour and salt and pulse 5 to 6 times.
In a pan, add butter and sugar and beat them together with an electric mixer on a medium speed. Beat them together until the mixture is light and fluffy. Add in vanilla and beat it.
Add dry ingredients to the butter, sugar and vanilla mixture and beat until everything is combined perfectly.
Press the mixture on the bottom of a 9 by 13-inch pan. Bake it for about 30 minutes until brown.
Once it is done, transfer it to a wire rack to cool.
For the topping, take a small cheesecloth and in it wrap allspice, white cloves, cinnamon with a twine.
Fill the bowl with a 1/2 cup of cool water and add gelatin to it.
In a saucepan, cook cranberries, Campari granulated sugar and jelly on a medium-low flame. Stir occasionally so the mixture does not burn. Cook for 15 to 20 minutes until cranberries are soft. Cool it off.
Once it is slightly cold, remove the spice sachet and blend the mixture until no pieces of cranberries are left.
Add gelatin mixture to cranberry mixture and blend for about 5 seconds.
Do not leave the mixture idle by, instead pour it immediately over the crust.
Chill it for at least 12 hours or up to 1 day. Slice it into the desired shape and serve.
How to Involve Your Children in Meal Preparations This Thanksgiving
Thanksgiving, though one of our favourite holidays, can leave you quite tired, especially if you do the cooking all by yourself. But if you want to cook for your family and loved ones and not spend all your time in the kitchen, ask your kids to help with the holiday preparations. They can make some cute and tasty snacks too – here are some Thanksgiving food ideas for your kids.
Mini Apple Pie
Cranberry Sauce
Chocolate cookies
Pumpkin Energy Balls
Marshmallows
These are some dishes that your kids can try on Thanksgiving. And if you want your kids to help you with the heavy recipes, here's how you can get them started:
While getting the turkey ready will be hard for them, you can always ask them to help with the stuffing. They can mix the ingredients together and even stuff them in the cavity of the turkey.
You can ask them to mash the potatoes. It's something they will like (yep! kids like it messy); so ask for their help as long as they enjoy doing it.
While making cookies, you can ask your kids to scoop out the dough onto the tray and ice the cookies. This way you will get some time to relax and your kids will learn something new.
You can even ask your kids to decorate the table while you get the food ready. These little tasks will make your kids responsible, and they will appreciate that you trust them to not mess it up.
These are some ways in which you can involve your kids in the holiday season. Thanksgiving is all about coming together and being thankful for all the good things in life. Choose the dishes from the above list and cook some delicious Thanksgiving food. Enjoy it with your family and be thankful for it and all the good things you have in life. Happy Thanksgiving!
Also Read: Things To Thank Mom For This Thanksgiving