Best Tips for Treadmill Workout During Pregnancy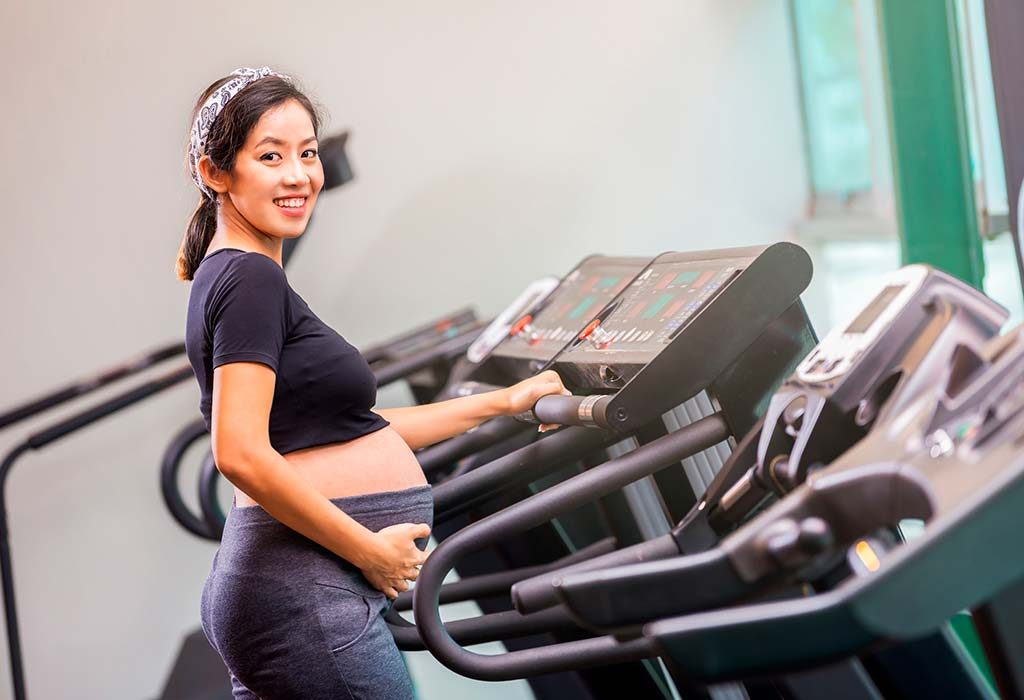 Jogging or walking on a treadmill is considered an effective way to be healthy and advised to pregnant women as well. It gives strength to the lungs, legs, and heart and boosts energy levels and improves the mood during pregnancy. But you need to check with your doctor before opting for any kind of exercises. Here with some tips which pregnant women should use while running on a treadmill.
1. Warm Up
Warm up before starting exercises is very important for pregnant ladies. Initially, you need to walk on the treadmill at a prolonged speed for at least 5 minutes. Adjust the speed of the treadmill until you consistently hold your breath like you can start with 3.2 to 3.4 mph. Always practice walking first and then progress to running. To become comfortable, you should wait for 30 minutes at least. You can adjust speed according to your comfort. If your heart rate increases, then reduce the speed to 2.5 mph or less.
2. Get Pauses and Rest
You must add intervals in between the exercises. After every few minutes of the run, you need to take intervals to bring your heartbeat to normal. When you feel that your heartbeat is going fast, then decrease the speed of the treadmill. After that, stop running for a few minutes. You can also add slight incline to your exercise.
3. Give Importance to Your Body
If you are not comfortable with the current intensity, then reduce the intensity of the workout during pregnancy. Always give importance to comfort and always wear clothes that are loose fitting so that your body can feel comfortable. You can also wear shoes which help in walking without hurting your feet. To make sure that your feet are comfortable in a pair of shoes, try walking for 10 minutes and then figure out which pair of shoes is okay for your workout session.
4. Walk or Run Carefully
If you are pregnant, then you need to be very much careful while running on the treadmill. During pregnancy, your joints became loose, and you might lose control while running or walking. If you walk breathlessly, then it may cause less supply of oxygen to the baby. If you face this kind of situation, then it is advised to stop exercising immediately and consult your doctor. You may also face problems like muscle weakness, chest pain, bleeding, and swelling. In these conditions, contact your doctor before proceeding with further exercises.
5. Drink Water
While exercising, drinking water is one of the most important things which everyone should do, especially pregnant ladies. When you are doing exercises, your body starts dehydrating. And if you do not drink water consistently, then you may feel anxiety and amniotic fluid leakage. Dehydration can also cause premature labour pain, which is not suitable for the health of the baby as well as the mother.
6. Stretch Your Body
Stretching is also very much important. According to experts, you need to stretch your body before as well as at the end of the workout routine. It will help you to get your muscles back to the relaxed position. For pregnant ladies, it is essential to stretch their body according to their comfort. Too much stretching can harm their health.
7. Hug Your Stomach While Running
You need to strengthen your abs with the help of breathing exercises before running on the treadmill. During this breathing exercise, you must place your hands on your tummy to make your baby comfortable. This will prepare the baby for the intense workout. This will help to prevent back pain during and after the delivery of the baby.
8. Support your Baby Bump
While exercising, you need to give proper comfort to your belly by providing it support. To do so, you can use the belly belts which are readily available in the market. With the help of these belly bands, you can keep your weight off around the belly, and it can also help you to give support to your back and provide comfort to your body. Your body and babyt will definitely thank you for using belly belts.
9. Use Workout Gadgets
These days technology has made things effortless. It is advisable to use workout gadgets if you are pregnant. These gadgets will help you check the progress of the workout and the frequency of the heart rate. These smart gadgets will also tell you when you need to stop exercising and when you need to drink water, etc.
It is important to consult the doctor before opting for any kind of physical activity or exercise when you are pregnant. Sometimes women face various complications during pregnancy. In these cases, doctors suggest different workout plans, or we can say light workout plans. Always use belly bands and smart tracking gadgets to make your exercise sessions comfortable and smooth going.
Disclaimer: The views, opinions and positions (including content in any form) expressed within this post are those of the author alone. The accuracy, completeness and validity of any statements made within this article are not guaranteed. We accept no liability for any errors, omissions or representations. The responsibility for intellectual property rights of this content rests with the author and any liability with regards to infringement of intellectual property rights remains with him/her.