My Stressful Journey of Balancing Parenthood While Testing Positive for COVID-19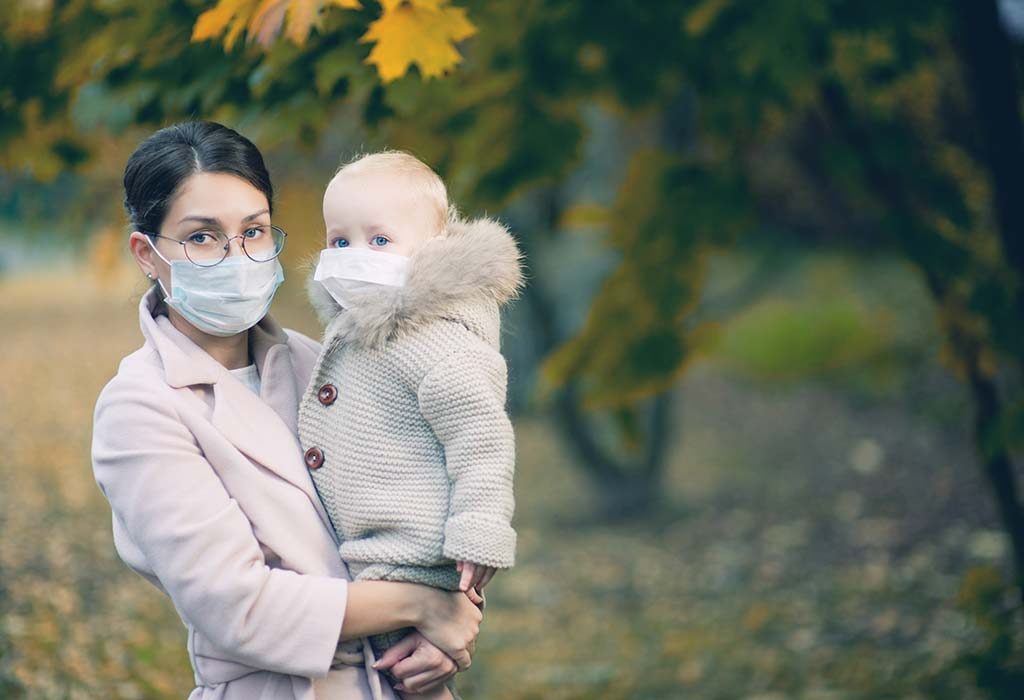 Neither our generation nor our parents' generation had faced a pandemic before. It's quite an unusual and terrifying state of mind that we are undergoing. We have all heard about epidemics like EBOLA, SARS, MERS, etc., and we thought this too would pass without touching us. Then on March 25, the entire country went under lockdown, and since then the journey has been terrible.
To stay positive and strong, I would thank this pandemic for providing the entire family with an opportunity to spend quality time with our baby girl. At times, I would break down thinking about the uncertainties we have in store. I was always engulfed with the fear of a microorganism infecting my baby! I would not let anyone touch her without proper sanitisation; I would hold her close to me, praying to return to our normal lives. Even taking her out to get her vaccinations was scary for me. I would imagine how the car seat, the hospital door, the sitting area in the hospital, the feeding room, the nurse and even the doctor might be carrying the virus. My hubby and I took utmost care and sanitised each and every surface that we touched, or that might touch us. I stayed with my parents during my maternity leave period, and I cannot thank my stars for giving me the opportunity to bring up my baby under their supervision. Thus, months rolled with that unknown fear haunting us like hell! We tried to keep our baby safe inside the house with us. We didn't step out of the house (unless there was an emergency) and were not inviting anyone inside the house.
The journey went on until one fine morning, I felt a terrible backache followed by mild fever, and I had a body ache by the evening. It was July 20 2020. After dinner, I took medicine, and I thought it might be the usual seasonal fever. Then, the next day, I was perfectly fine. I didn't have any fever or pain. But, since I was a bit paranoid about the pandemic going on, I tried to isolate myself by separating my utensils and keeping them in the room where I would eat and drink. I wore masks even while I slept etc. On July 22, it was my birthday and also our baby girl's weaning ceremony. I tried to stay away from the kitchen and even my daughter. My sister made the entire lunch arrangements single-handedly. That day I felt that I could not smell or taste the food! By now, I was a bit worried because I had read that this was an early symptom of COVID-19. I didn't tell anyone but simply isolated myself. I hadn't kissed my baby since June 20.
My hubby tried to persuade me by saying its a normal cold. But I knew deep inside me that this could not be a typical cold as I didn't have a runny nose nor any blockage. I just could not smell. I couldn't even smell the strong alcohol sanitiser. I couldn't smell the menthol I was inhaling. The next day, I was perfectly fit. I did my regular workout, and there was no fever, body ache, or any weakness. But I still couldn't smell or taste. On July 24, keeping in mind the safety of my 7-month baby and diabetic father, I decided to get tested for COVID-19.
Then came the most dreadful report of my life ever; I tested positive for COVID-19.
I was immediately shifted to a COVID care centre nearby. Words fail when I try to explain the pain I was going through—the pain of the separation from my baby and my family. I just could not stop my tears and cried uncontrollably. I felt as if a huge mountain crashed over my head! At the point, I made the decision of keeping myself strong. I decided to keep my baby back home with my husband and my parents as I did not want to expose her to the world of infection. I consoled myself that it was the matter of just nine days and it will pass.
Many criticised me for keeping my 7-month-old baby away from me. Many questioned me as to why I kept her away. But I ignored all their questions with a smile because I believed if God has brought me down into this trouble, he will definitely help us and get us out of this too.
I stopped looking at my photo gallery since the day I was admitted because each time I saw a picture of my baby, my heart cried out loud! I somehow made up my mind that I must stay positive so that I can recover as soon as possible. My family continuously supported me. I counted the days, trying to keep myself positive and busy in all imaginable ways. In my mind, I just kept chanting "Everything will be fine, be patient, I will test negative." A second final rapid antigen test was done on a ninth day, and by the blessings of the Almighty, I tested negative and was discharged the next day, which was August 2 2020.
I just want to tell everyone who is reading this that whenever you find your friends or family in tough times, give them a call and encourage them. Please don't stay away from them and don't keep questioning them about stuff that can hurt them. They need your support, blessings, and prayers.
Disclaimer: The views, opinions and positions (including content in any form) expressed within this post are those of the author alone. The accuracy, completeness and validity of any statements made within this article are not guaranteed. We accept no liability for any errors, omissions or representations. The responsibility for intellectual property rights of this content rests with the author and any liability with regards to infringement of intellectual property rights remains with him/her.