The Postpartum Struggle is Real – Here's How You Can Deal With It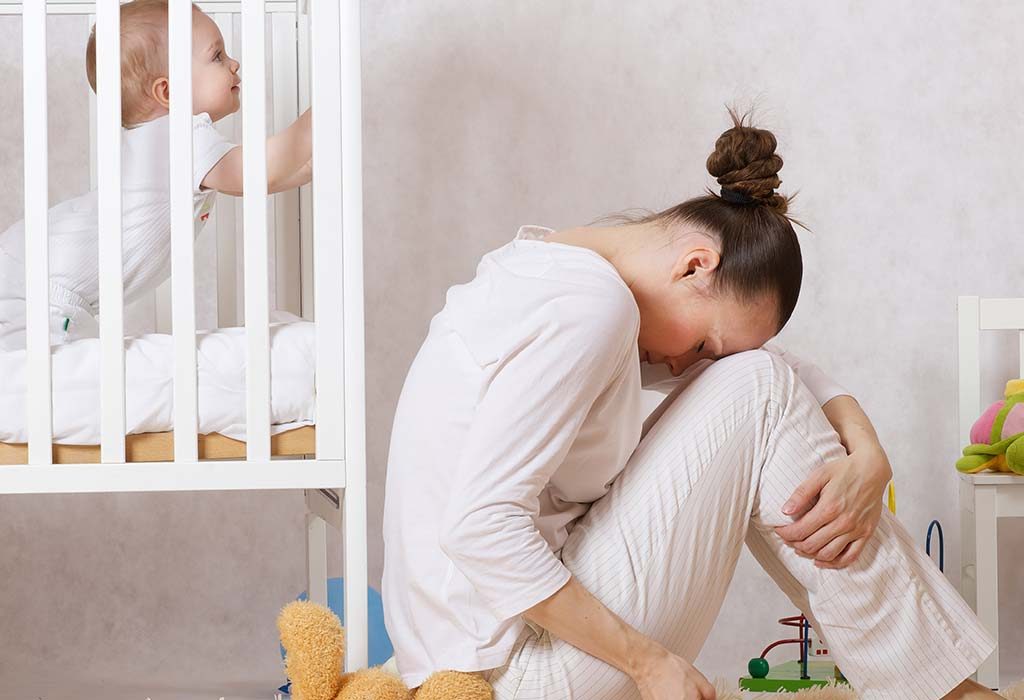 I am a dreamer, well not the 'dream it & achieve it' kind of a person, but a daydreamer! Mostly, I look at the world through rosy glasses – all thanks to the mushy movies & stories I grew up watching and reading.
When I was pregnant, I was all prepared for a happy ending of my pregnancy and a joyous start to motherhood, just like I had watched in movies. All I could think during that time was this – "I will deliver the baby; the baby will be given to me in my arms and I will fall in love with her the minute I see her." And so our lovely journey would start. But none of this happened!
Yes, I delivered the baby. But my labour was not just about sweating, but also about swearing and promising myself to never ever go through this again. I visualised myself dying. I was unhappy that my didn't progress naturally and then I saw my baby after 3 hours of giving him birth. I didn't have the energy to hold him and when I did see him – I didn't have the feeling of love for him – I didn't have that feeling for the next three days.
The initial journey was far from what people call joyous. I was crying every single day. My body was in terrible pain; I was always tired and my baby was constantly crying. I couldn't keep my eyes open and my baby wouldn't let me sleep. People who visited me and their constant talks only doubled my agony.
This is pretty much the summary of my postpartum days.
When I had to take my baby for a checkup on the 7th day after his birth, I remember looking at myself in the mirror. I couldn't recognise myself. I looked like the most unkempt person I have ever known – my attire was a complete mismatch & I saw hollow eyes staring back at me. Even my doctor empathetically suggested that I should get some rest.
Today, I am a lot wiser and happier person. And most important, I am also in love with my baby. Do you want to know how this change came in me? Following are some pearls of wisdom from my diary. If you feel sad or are in pain post delivery, read this.
1. Have Zero Expectations About Labour

Just like everything else in life, expectations about your labour can be the mother of all problems. Have a plan, but do not expect it to work. Trust your doctor and go with the flow.
2. Surround Yourself with Your Loved Ones
No, I am not suggesting to you surround yourself with nosy relatives & annoying friends. You need to be with mature and easy going people. Be with someone, who can be your support system in the initial days of pregnancy.
3. Express What You Feel
Talk to your partner about how you feel. Do not bottle up your emotions – let it out! Cry if you need to, ask for help if it gets overwhelming for you, or see a doctor if it does not get better. Do what feels right but do not say you are fine if you are not.
4. Take Enough Rest
I know it is easier said than done, but it's not impossible. If it means turning down on the guests, do it. Our ancestors rightly set aside 45 days for the new mother and the baby because they knew that a new mother needs that much time to heal. So listen to them!
5. Do Not Be Alone
This is not the time to show your superhuman skill. Get help! Make sure that you have someone to help you out. Someone who you can be with when you feel lonely.
6. Get Some Fresh Air

You can sit in your balcony, go out for a stroll, meet a friend for a quick coffee, or do anything else that works for you and your baby. This will ensure that you don't end up getting frustrated.
7. Remember That You Will Take Some Time to Bond With Your Baby

If you are a first-time mum, don't expect to fall in love with your baby at first sight. You may even wonder why you did this to yourself. But hang in there as it will get better with time. In the meanwhile, talk to your baby, nourish your baby, and take care of yourself. And if it gets too much to manage, hand over your baby to someone in your family and take a break.
Here's a Note for Husbands –
Once you have a baby, your life will change completely and you know that your wife has done most of the work here. So be as kind, supportive, and loving as you can be. If you were a doting husband during her pregnancy, you need to be the knight in shining armour after her pregnancy. Trust me, you can make her or break her at this point. Shoulder all the responsibilities when you can and when you can't, make her some soup or something else she likes. Don't forget to be partners now that you are parents.
From pregnancy to delivery to parenthood, it's an amazing journey and trust me, time flies! So be strong, be healthy, and stay happy. No matter what the situation, remember 'This too shall pass'.
Disclaimer: The views, opinions and positions (including content in any form) expressed within this post are those of the author alone. The accuracy, completeness and validity of any statements made within this article are not guaranteed. We accept no liability for any errors, omissions or representations. The responsibility for intellectual property rights of this content rests with the author and any liability with regards to infringement of intellectual property rights remains with him/her.