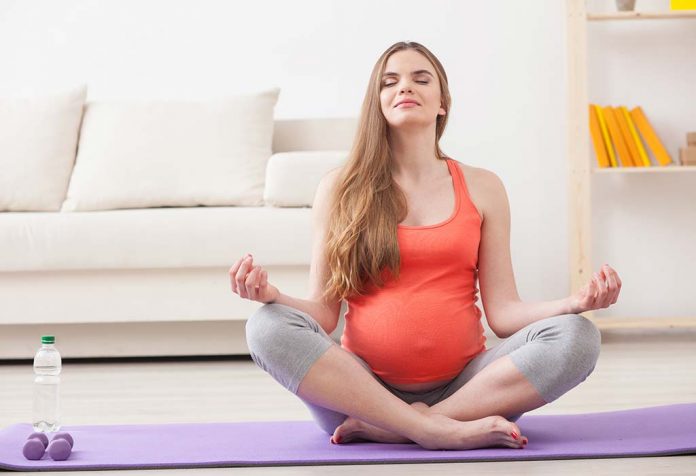 Last Updated on
Pregnancy for most women is a dichotomous experience. On the one hand, you feel all-powerful for being able to nurture a living being inside you. On the other, you feel vulnerable for being solely responsible for the safety and growth of your baby. I gave birth to a healthy child in November last year. One of my biggest concerns during my pregnancy was my struggle with depression. I wanted to avoid unnecessary depression-related anxiety to protect my baby. So, I reached out to my friend, who is a spiritual guide. He enlightened me with four potent mantras that helped me significantly reduce my stress levels.
Have you been bombarded with pregnancy advice from everyone you meet? I was advised to change the way I walk, told what I should watch for entertainment, and given photos to stare at so that my baby was born happy and fair. In the middle of this mental chaos, I found peace while chanting the three mantras shared below.
I have presented the mantras in three parts:
the mantra,

the meaning of the mantra, and

the significance of the mantra for you and your baby.
1. Sri Gopala Sahasranama Stotram
gopa-svaami gokulendro
govardhana-varaa-pradaah
nandaadi-gokula-trataa
daataa daaridrya-bhanjanaah
Oh! Master of the cowherds, the granter of wishes, and the protector of beings. Lord! Burn away poverty.
You invoke Lord Krishna by chanting the above mantra and tell him to grant you a wish. You ask him to protect your child and destroy any insufficiencies that could harm the baby.
2. Ramcharitmanas Chaupai
mangala bhavana amangala haari
dravahu sudasaratha ajira bihaari
deen dayaal virad smabhaari
harahu naath mama sankata bhaari
Dashrata's beloved son who played in his courtyard, you are the destroyer of evil and the abode of all goodness. You are the protector of the powerless and eradicator of the obstacles. As the Vedas claim, evade any harm that may fall on my path.
You invoke Lord Ram and pray to him to rid your pregnancy of any complication. Thus, asking him to support you throughout your journey of nine months and destroy any malice that could harm your child.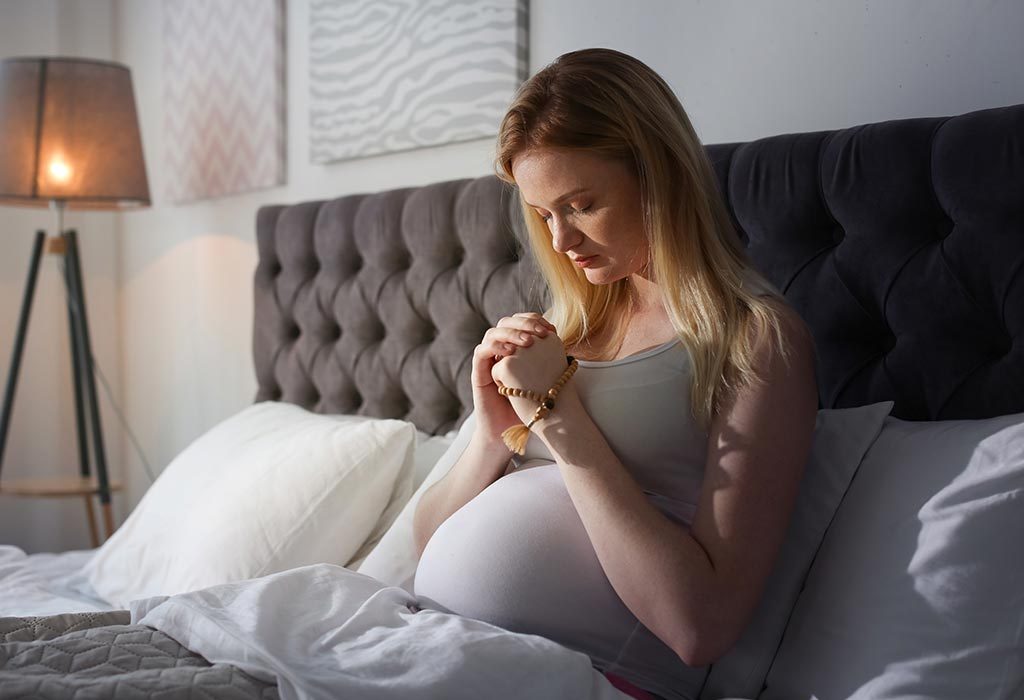 3. Maa Durga Mantra
sarva mangala maangalye
shive sarvaartha saadhike
sharanye tryambake gauri
naraayani namo-stute
We bow and worship Goddess Gauri, who is auspiciousness and goodness herself. She is the achiever of desires, the provider of refuge, and the mother of the three worlds.
You invoke Goddess Gauri, who is a form of Maa Durga by saying the above mantra. You humbly surrender the responsibility of safeguarding your child to the Goddess, knowing that she will guide you through all obstacles.
4. Gayatri Mantra
om bhur bhuvah swah
tat-savitur varenyam
bhargo devasya dheemahi
dhiyo yonah prachodayat
We chant and meditate on the ancient energies and the Sun to inspire our physical, mental, and spiritual self. We urge the Lord to destroy our sins and enlighten our minds.
You seek wisdom and intellect for yourself and your unborn child so that both of you can achieve a balanced physical, mental, and spiritual life. You meditate upon the ever giving Sun, who is the creator of existence, to destroy all suffering and inspire your journey of life.
Is being homebound due to the COVID pandemic causing you anxiety? Are there other factors affecting your pregnancy negatively?
Do not worry any more! Set aside a few minutes any time during the day – early in the morning, after your shower, or before your evening tea. Recite the first three mantras 21 times and the Gayatri Mantra 12 times. Use prayer beads or the segments of your fingers to count. Start by taking a few deep breaths to relax. Concentrate on the child growing within you and begin. Practice this at least 5 times in a week till you give birth to a beautiful and strong baby.
I was suffering from a painful case of postpartum depression immediately after childbirth. It withheld me from connecting with my newborn. At such a critical time, again, these mantras came to my rescue. Chanting these powerful mantras will reduce your stress levels and allow positive energies surrounding the earth to flow towards you and your child. I wish you a happy pregnancy and beyond!
Disclaimer: The views, opinions and positions (including content in any form) expressed within this post are those of the author alone. The accuracy, completeness and validity of any statements made within this article are not guaranteed. We accept no liability for any errors, omissions or representations. The responsibility for intellectual property rights of this content rests with the author and any liability with regards to infringement of intellectual property rights remains with him/her.