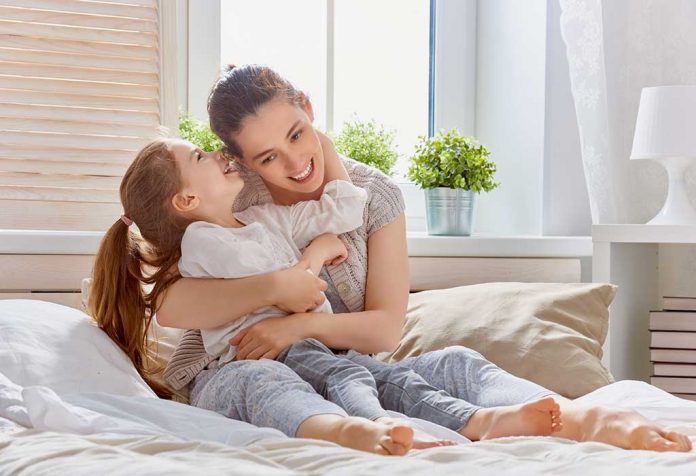 Last Updated on
Time flies in a blink of an eye; when I look back, I have such happy memories of my little girl, when she was growing up. When she was an infant, I always thought when she would reach the toddler stage, because I thought that's the stage when children become sincere polite and can feed themselves independently. However, things don't take place the way we want them to.
The Reason That Made Me Teach Her Good Habits From Early On!
One day I was sitting on my balcony when she had just learnt how to walk, and that made her crazy as she wanted to explore everything. She came to me and asked for my phone; I ignored her request, so in response, she started hitting me and crying loudly. It made me disappointed for a moment, but I couldn't have done anything because she was just a kid. But I took it upon me – to teach her, what is wrong and right. I decided that I will teach her the best habits that can help her in future because being a mother, I knew I was and will always be her first teacher. Moreover, when a child is in their toddler stage, it is the best time to teach and train them everything good and basic. During this time, they learn things quickly with their sharp mind, which is more active than us.
The First Lesson
I started role-plays with her as they kept her cheerful, and through these role-plays, I taught her how to speak to elders. Although she couldn't speak clearly, she at least tried. As I live with my in-law, so I had to teach her to respect her dada and dadi. My efforts were working undoubtedly. It took me a week to train her, but the outcome was worth it, as she had started adding 'Ji' as a suffix and made everyone smile. Now she responds with 'Haanji' to every question. This was a bonus for me.
The Second Lesson
Whenever she woke up in the morning, I asked her to wish good morning to everyone and she thought this is a game, so she loved to wish all. And when it was time for bed, she used to wish goodnight to everyone. The same practice took approximately 10 days to make her perfect.
The Third Lesson
I wanted her to eat her food independently without seeking any support. I knew it would be hard, because she was only one-and-a-half-year-old and a fussy eater. Nevertheless, I took that risk. Being a mother is kind of a tough job but sometimes we have to be strong. She was eating only one-third of what she used to eat and this continued for next 3-4 days but surprisingly after the fourth day, she ate better and after ten days, she started eating independently and loved to eat freely. There is one line I heard from one of my friends, "Insaan ka bacha hai, bhukh toh lagegi aur khayega bhi." Thankfully, it would our for me.
The Fourth Lesson
My little one is quite friendly and she goes to everyone, whoever offers to take her in their arms. No doubt, being friendly is not a bad thing, but in the present scenario, it's hard to trust strangers as we hear such news of crimes. I started telling her the little understanding stories of a watchman and convinced every stranger is a watchman, and watchman has a scary stick. Although she wasn't scared but she started believing that watchman is a bad guy so one shouldn't go along with the strange people because they are watchman. This lesson was much needed as it helped me keep her safe.
The Fifth Lesson
My little one used to cry loudly most of the times. To change this habit of hers, I tried the technique of role-playing again with her. I played a small child, included soft toys, and made her believe that she was a big girl among them and that if she cried then they will also cry and get disturbed. It took me 15 days to train her because it wasn't a cup of tea to convince her not to cry without any reason.
The Sixth Lesson
When she was teething and had a couple of teeth or more, it was time for me to get her to brush her teeth in the morning and evening. The toothpaste you are using should be fluoride-free, without any harmful chemicals. And you should use only a pinch on an extra soft brush, which is specially designed for only toddlers because their jaws are not that strong to handle hard ones. In the beginning, she wasn't happy to brush her teeth, although she loved to eat the toothpaste. So I thought to accompany her. It was fun to brush with her. She noticed how I brushed my teeth and imitated me. It seemed like a game to her seemed like a game to her. In a week, she was fully trained and most of the time she still says, "Mumma, let's go and brush our teeth. It's cleaning time."
The Seventh Lesson
Her food timing was very unusual so I planned to fix the same for her morning breakfast, lunch and the dinner along with her snack and milk timings. She used to throw a lot of tantrums in the beginning but with time and in the next couple of days, she started asking for everything on time. Every parent has to be more responsible for their children's meal timings as it helps keep children healthy and fine.
The Eighth Lesson
We love our children and we never want them to sleep alone. But trust me this is not a good habit at all. My daughter had never slept alone and she couldn't because we never let her since the day she was born. So it was an hard decision for us to develop this habit in her. In the beginning, when she fell asleep, we started shifting her to the next room with open doors for safety reasons because if she cried at night, it would help us know. Trust me, my husband and I used to be awake whole night and this continued for 10 days. But on the 11th day of her training, we started believing that now she can sleep alone. We noticed that whenever she felt tired she would go to her room to rest. Trust me it also helps to make my daughter stronger and independent.
The Ninth Lesson
Toddlers are always messy to arrange their toys and my daughter was the messiest one. However, I provided her with a toy basket to manage her toys and created respective shelves for soft toys. But kids are kids. And as a mother, we have a soft corner for our kids in our heart. So what I did to make her manage her stuff was keeping back toys in the same place from where she picked up. I started motivating her that you are a good child and telling her that a good child always keeps her toys in the right place and a bad kid always throws away her toys. And she said to me, "Mumma, I am a good baby na" and I always appreciated her. I think children always seek appreciations, it helps them boost their energy levels. So keep praising and applauding them for any good thing they do in a day.
The Final one
Children don't understand that they should wear clean clothes. It is their parents' job to teach them to make them learn. My daughter was the same so, whenever she got some stain on her clothes, I started teasing her, "Baby look at your clothes, they are dirty and wet." She started noticing the stains and noticed when her clothes were wet. Trust me, teaching her this took me hardly 3 days. From then, whenever she noticed any stains on her clothes, she ran immediately to me and asked me to change her clothes and put on clean ones. This made my daughter a tidy child and helped her maintain hygiene, which is most essential to prevent the chances of infections and diseases.
Parents are always emotional and they love their children. We only wish well for our kids, so creating the right path for them is our duty because this will help them to face obstacles in their future. So sometimes being strict and rude to your child is not a bad thing. What we teach our kids today will help them be better versions of themselves and our teachings and their learnings will make them responsible and good human beings.

Disclaimer: The views, opinions and positions (including content in any form) expressed within this post are those of the author alone. The accuracy, completeness and validity of any statements made within this article are not guaranteed. We accept no liability for any errors, omissions or representations. The responsibility for intellectual property rights of this content rests with the author and any liability with regards to infringement of intellectual property rights remains with him/her.