Chandrayaan 3 MahaQuiz for Students – How To Participate, Eligibility & Rewards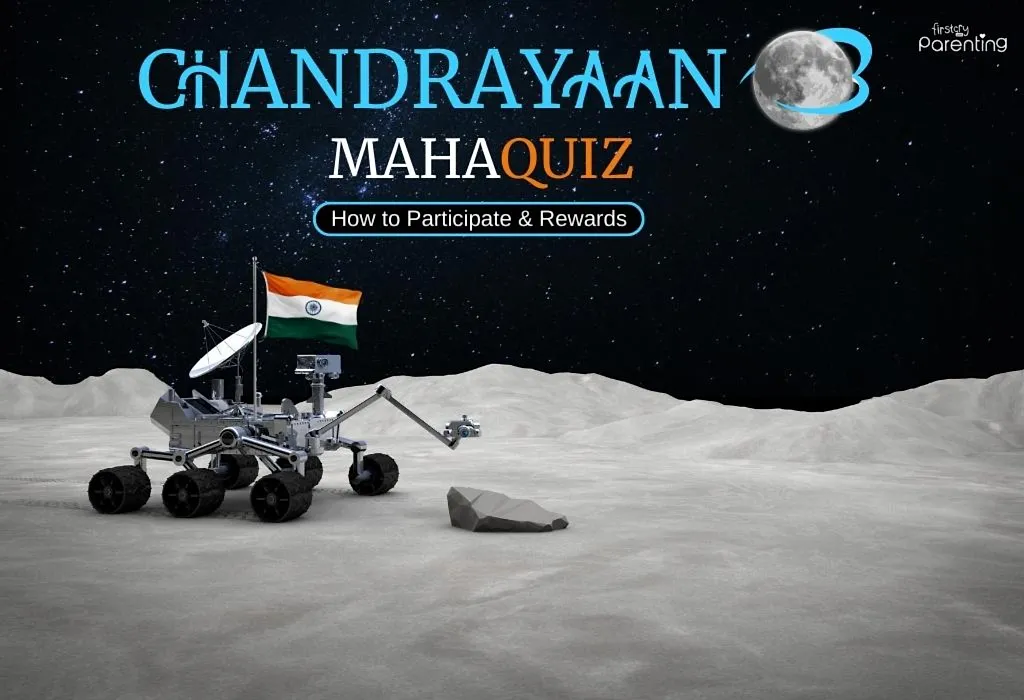 India's ambitious leap into the cosmos has never failed to amaze, and with the Chandrayaan 3 mission, it has taken another triumphant stride. This mission isn't just a testament to the prowess of Indian space research, but also an opportunity for the general populace to connect, learn, and grow. To celebrate this monumental event, the Chandrayaan 3 MahaQuiz is launched. A blend of challenge, knowledge, and exciting rewards, the MahaQuiz promises an enriching experience. If you've been eagerly waiting for a chance to showcase your space knowledge and join the Chandrayaan celebration, you're in the right place. Let's dive right in!
PM Narendra Modi said, – "I will request students to participate in Chandrayaan 3 mahaquiz which will help them to explore about country's lunar mission."
About Chandrayaan-3 Mission
The Chandrayaan-3 mission signifies India's continued aspiration in the domain of lunar exploration. Following the footprints of its predecessor, Chandrayaan-2, this mission primarily aims to perfect the art of soft landing on the Moon's surface. Unlike Chandrayaan-2, which had an orbiter, a lander, and a rover, Chandrayaan-3 is uniquely focused on the lander and rover components, given that the Chandrayaan-2 orbiter is still operational and sending data from lunar orbit. This mission underlines ISRO's commitment to rectifying past challenges and ensuring a successful landing. Additionally, the rover is designed to traverse the lunar terrain, conducting experiments and sending invaluable data back to Earth. It's not just a scientific mission; it's a symbol of perseverance, hope, and the relentless human spirit to explore the unknown. Chandrayaan-3 is India's clarion call to the stars, marking another chapter in the nation's grand space odyssey.
What Is Chandrayaan-3 MahaQuiz?
As the nation pulses with excitement for the Chandrayaan-3 mission, a unique initiative rises to foster the enthusiasm — the Chandrayaan-3 MahaQuiz. Crafted to inspire, educate, and reward, this quiz transcends mere questions and answers. It's a tribute to India's space journey, offering everyone a chance to be part of this cosmic celebration.
The MahaQuiz is an online challenge that invites participants from all walks of life to test their knowledge on the Chandrayaan missions, space science, and India's contributions to space exploration. But beyond the competition, it embodies the spirit of collective learning and the joy of exploration. It's a platform where curiosity meets knowledge, and passion meets reward. So, whether you're a space aficionado or a curious soul, the Chandrayaan-3 MahaQuiz promises an enriching and enlightening experience.
How To Participate In Chandrayaan 3 Quiz?
Embarking on the Chandrayaan 3 MahaQuiz journey is a thrilling experience in itself, designed to be smooth and user-friendly. To ensure enthusiasts don't miss out on this cosmic opportunity, we've laid out a simple step-by-step guide. Dive into the registration process for Chandrayaan 3 MahaQuiz and mark your footprint in this galactic journey.
1. Visit the Official Website: Begin by navigating to the official MahaQuiz website. This is the portal through which all participation processes will occur.
2. Find the Registration Link: Once on the main page, look for the Chandrayaan 3 MahaQuiz registration link, typically highlighted or placed in a prominent position.
3. Provide Accurate Details: When filling out the form, ensure you provide accurate details including your full name, a valid email address, and contact number. This is crucial for communication regarding the quiz.
4. Confirmation Email: After successfully completing the registration, participants will receive a confirmation email. This email will contain essential details about the quiz, including the date and time.
5. Prepare for the Quiz: Use the time leading up to the quiz date to refresh your knowledge on the Chandrayaan missions and other relevant space topics. Remember, preparation is key!
6. Log In on Quiz Day: On the scheduled quiz day, log in using the credentials provided during the registration process. Make sure you have a stable internet connection and are ready to embark on the quizzical journey to space.
With these steps, participants can seamlessly navigate their way through the Chandrayaan 3 MahaQuiz experience, bridging their passion for space with a platform that celebrates it.
Chandrayaan 3 Maha Quiz: Eligibility Criteria
For a quiz of such grandeur, associated with India's ambitious lunar mission, it's crucial that participants understand the guidelines set to ensure a fair and enriching experience for all. The Chandrayaan 3 MahaQuiz is designed to be inclusive, encouraging a wide range of participants, but there are still some essential criteria that need to be met. Here's a breakdown:
1. Age No Bar: One of the highlights of the MahaQuiz is its open-age policy. Whether you're an eager student or a seasoned space enthusiast, there's no age restriction.
2. Indian Residency: The quiz is specially crafted for India's space admirers, hence it's open to all Indian residents. Whether you reside in the bustling streets of Mumbai or the serene landscapes of Himachal, if you're in India, you're eligible.
3. Valid Registration: Entry to the quiz will be permitted only for those who have successfully completed the registration process for Chandrayaan 3 MahaQuiz. This ensures genuine and enthusiastic participation.
4. One Entry Per Participant: To maintain the quiz's integrity and fairness, each participant is allowed a single entry. Multiple registrations from the same individual could lead to disqualification.
5. Internet Connectivity: Since the MahaQuiz is hosted online, a stable internet connection is a must. This ensures participants can answer questions in real-time without any glitches.
6. Good Conduct: Participants are expected to uphold the spirit of the quiz, avoiding any malpractices. Any participant found using unfair means or causing disruptions might face disqualification.
By adhering to these guidelines, each participant ensures not just their eligibility, but also contributes to the smooth functioning of the MahaQuiz, making it a memorable event for all involved.
Cash Prizes For Winner Of Chandrayaan – 3 Maha Quiz
The Chandrayaan 3 MahaQuiz isn't just an arena of knowledge; it's also a platform of rewarding acknowledgment. The cosmic dance of questions and answers brings forth not only pride and recognition but also substantial cash rewards for the best performers. If you've ever dreamt of merging your passion for space with the thrill of competition, here's a detailed breakdown of what awaits the galaxy of participants:
1. Stellar Performer: Taking the crown of the best performer, the quiz maestro will be awarded a hefty sum of INR 1,00,000/- (One lakh rupees only). A deserving tribute to the zenith of knowledge.
2. Shining Star: The participant illuminating the second position will be richer by INR 75,000/- (Seventy-Five thousand rupees only). A gleaming reward for the brilliance showcased.
3. Lunar Luminary: Securing the third position, this genius will be awarded INR 50,000/- (fifty thousand rupees only). A celestial nod to their dedication and intellect.
4. Cosmic Consolations: The space odyssey doesn't end at the top three. The following hundred best performers will each receive INR 2,000/- (Two thousand rupees only), a testament to their admirable knowledge.
5. Galactic Gems: Further extending the universe of rewards, the next two hundred standout performers will be awarded INR 1,000/- (One thousand rupees only) each, celebrating their spirit and enthusiasm.
In addition to these cash rewards, every participant, irrespective of their ranking, will be conferred with certificates, ensuring that every effort is recognized and applauded.
Wondering how to embark on this stellar journey? Dive into the registration process and gear up for the #Chandrayaan3 Maha Quiz. With enticing rewards and a universe of knowledge awaiting, this is your moment to shine among the stars.
ISRO Chandrayaan 3 Quiz: Terms & Conditions
The Chandrayaan 3 competition is not just a quiz; it's a celebration of India's rich space legacy. However, like every esteemed competition, there are certain rules and regulations that every participant must adhere to, ensuring a fair and enriching experience for all. Let's delve into the detailed terms and conditions for the ISRO Chandrayaan 3 MahaQuiz:
1. Eligibility: The Quiz is open to all Indian Citizens (क्विज़ सभी भारतीय नागरिकों के लिए खुला है।).
2. Quiz Commencement: The quiz will initiate immediately once the participant clicks on the 'Submit' button after entering the correct OTP (जैसे ही प्रतिभागी सही ओटीपी दर्ज करने के बाद 'सबमिट' बटन पर क्लिक करेगा, क्विज़ शुरू हो जाएगी।).
3. Quiz Format: It's a timed quiz with 10 questions to be answered within 300 seconds. There's no negative marking (यह एक समयबद्ध क्विज़ है जिसमें 10 प्रश्नों का उत्तर 300 सेकंड में देना होता है। कोई नकारात्मक अंकन नहीं होगा।).
4. Profile Details: Participants must ensure their profile details are accurate and complete. Only updated profiles will be used for communication. Incomplete profiles will not be considered for winning (प्रतिभागियों को यह सुनिश्चित करना होगा कि आगे के संचार के लिए उनकी माईगव प्रोफ़ाइल अपडेट की गई है। अधूरी प्रोफ़ाइल विजेता बनने के योग्य नहीं होगी।).
5. Question Randomization: Questions will be randomly selected from a question bank via an automated process (प्रश्नों को स्वचालित प्रक्रिया के माध्यम से प्रश्न बैंक से यादृच्छिक रूप से चुना जाएगा।).
6. OTP Verification: Participants in India can play using an Indian mobile number, as OTP will be sent to validate the mobile number before the quiz begins. International users must use a valid email ID for OTP validation. Each mobile number and email ID can only be used once (भारत के प्रतिभागी एक वैध भारतीय मोबाइल नंबर का उपयोग करके खेल सकते हैं, क्योंकि क्विज़ शुरू होने से पहले मोबाइल नंबर को मान्य करने के लिए वन टाइम पासवर्ड (ओटीपी) भेजा जाएगा और अंतर्राष्ट्रीय उपयोगकर्ता वन टाइम पासवर्ड (ओटीपी) के रूप में एक वैध ईमेल आईडी का उपयोग करके खेल सकते हैं। क्विज़ में भाग लेने के लिए एक ही मोबाइल नंबर और ईमेल आईडी का एक से अधिक बार उपयोग नहीं किया जा सकता है। डुप्लिकेट प्रविष्टियों के मामले में, पहले प्रयास का रिकॉर्ड मूल्यांकन के लिए लिया जाएगा।).
7. Prize Distribution: The top three performers will be awarded cash prizes, with several consolation prizes for following participants, as mentioned in the previous section.
8. Rights to Modify or Discontinue: ISRO and MyGov retain the rights to change, modify, or discontinue the quiz due to unforeseen circumstances (इसरो और माईगव के पास किसी भी अप्रत्याशित घटना की स्थिति में किसी भी समय क्विज़ को संशोधित करने या बंद करने के सभी अधिकार हैं।).
9. Right to Disqualify: ISRO and MyGov have the authority to disqualify participants displaying inappropriate behavior or those providing false information (इसरो और माईगव के पास किसी भी प्रतिभागी की भागीदारी को अयोग्य घोषित करने या अस्वीकार करने के सभी अधिकार सुरक्षित हैं।).
10. Ineligibility of Employees: Employees of ISRO, MyGov, and agencies involved in the organization of the quiz, including their immediate family, are not eligible (क्विज़ की मेजबानी से प्रत्यक्ष या अप्रत्यक्ष रूप से जुड़े इसरो और माईगव कर्मचारी और उनकी संबद्ध एजेंसियां या कर्मचारी क्विज़ में भाग लेने के लिए पात्र नहीं हैं।).
11. Decision is Final: ISRO and MyGov's decisions on the quiz are final, and no further discussions will be entertained (क्विज़ पर इसरो और/या माईगव का निर्णय अंतिम है और इसके संबंध में किसी भी पत्राचार पर विचार नहीं किया जाएगा।).
12. Agreement to T&C: By participating in the quiz, individuals agree to these terms and conditions (क्विज़ में प्रवेश करके, प्रतिभागी उल्लिखित नियमों और शर्तों को स्वीकार करता है और उनसे सहमत होता है।).
13. Regular Updates: Participants are advised to check the website regularly for updates (प्रतिभागियों को अपडेट के लिए वेबसाइट पर नियमित रूप से जांच करनी होगी।).
14. Certificate Dispatch: After successful completion of the quiz, an SMS or email, depending on the mode of verification, will be sent within 24 hours, allowing the user to download their certificate (सफल समापन के बाद, प्रमाणपत्र डाउनलोड करने के लिए उपयोगकर्ता के मोबाइल या ईमेल पर, जैसा भी मामला हो, एक स्वचालित एसएमएस और ईमेल 24 घंटे के भीतर भेज दिया जाएगा।).
These terms are designed to ensure the Chandrayaan 3 competition runs smoothly and fairly. Every participant's adherence to these rules guarantees an enriching and seamless experience for all.
Chandrayaan-3 Quiz – GK Questions & Answers
Engaging with the Chandrayaan-3 MahaQuiz requires a blend of general knowledge and a passion for space exploration. To help our eager participants prepare, we've curated a list of potential general knowledge questions focused on India's rich space history and the Chandrayaan missions. Dive in, test your knowledge, and gear up for the ultimate space quiz!
Q1. When was ISRO (Indian Space Research Organisation) established?
Answer: 15th August 1969.
Q2. Who was the founder of ISRO?
Answer: Vikram Sarabhai.
Q3. Which was India's first satellite?
Answer: Aryabhata.
Q4. In which year was the Chandrayaan-1 mission launched?
Answer: 2008.

Q5. Which instrument on Chandrayaan-1 discovered water on the moon?
Answer: Moon Mineralogy Mapper (M3).
Q6. Chandrayaan-2, launched in 2019, aimed to explore which region of the moon?
Answer: The South Polar Region.
Q7. What is the name of the rover that was part of the Chandrayaan-2 mission?
Answer: Pragyan.

Q8. What was the primary objective of the Chandrayaan-3 mission?
Answer: To demonstrate the ability to soft-land on the lunar surface.
Q9. Which country first succeeded in landing a rover on the far side of the moon?
Answer: China.

Q10. Name the space agreement signed between India and Russia in the 1970s?
Answer: The Indo-Soviet Satellite Agreement.
Q11. Which space research center in India is responsible for building satellites?
Answer: ISRO Satellite Centre (ISAC).
Q12. In which year did India launch its Mars Orbiter Mission (Mangalyaan)?
Answer: 2013.

Q13. Which planet is the primary focus of the Aditya-L1 mission by ISRO?
Answer: The Sun.
Q14. How many Earth observation satellites does ISRO operate, as of 2022?
Answer: 20+ (This is a dynamic number and might change with new launches.)
Q15. Which rocket was used to launch the Chandrayaan-2 mission?
Answer: GSLV Mk III-M1.
Q16. In which Indian state is the Satish Dhawan Space Centre located?
Answer: Andhra Pradesh.
Q17. What was the main objective of the Astrosat mission?
Answer: Multi-wavelength space observatory.
Q18. Name the lunar crater where Chandrayaan-2 intended to land.
Answer: Vikram Sarabhai Crater.
Q19. What is the name of ISRO's mini satellite launch vehicle?
Answer: SSLV (Small Satellite Launch Vehicle).
Q20. In which year was the first successful PSLV (Polar Satellite Launch Vehicle) launch?
Answer: 1994.
The Chandrayaan-3 MahaQuiz is not just a test of knowledge but a celebration of India's advancements in space exploration. As participants gear up for this exciting challenge, it's a testament to the nation's collective passion and curiosity about the universe. Whether you're a seasoned space enthusiast or just beginning your cosmic journey, this quiz offers a unique opportunity to learn, engage, and be a part of India's space legacy.
References/Resources:
Also Read: