Chana(Chickpea) Curry Recipe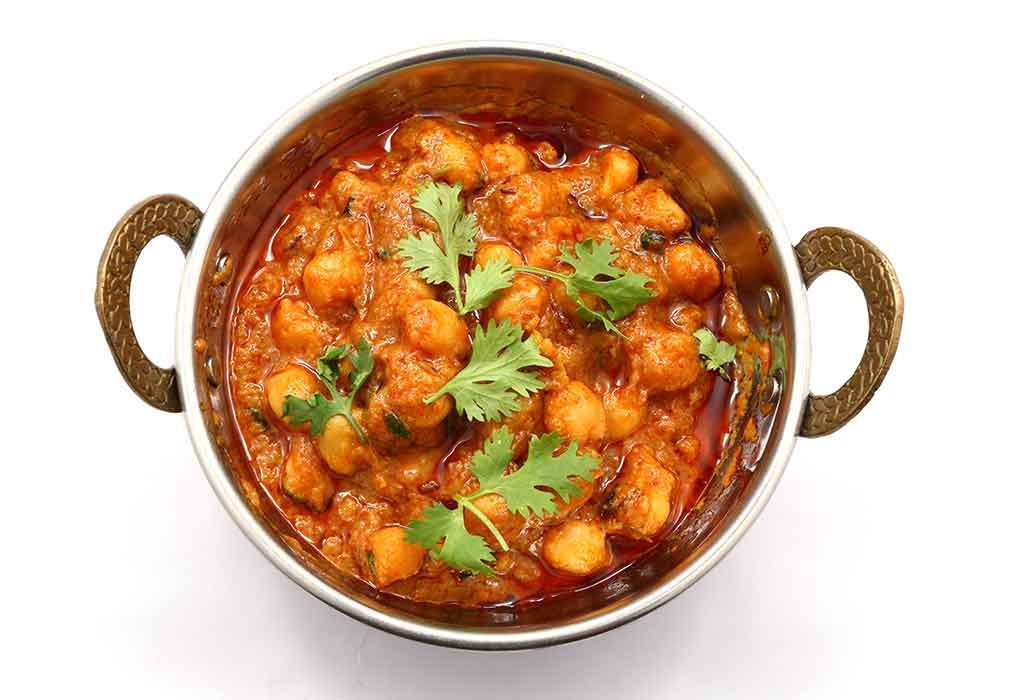 In this Article
Chana Masala also is known as Chole Masala is a popular roadside eatery. A mixture of boiled chickpeas, onions, ginger-garlic, and spice powders, it is made in different ways in every Indian household. Traditionally, it is a Punjabi recipe that can be prepared with ease and very versatile. This simple Chana (Chickpeas) Curry recipe is a quick version of making it, more suited to your munchkin's taste buds.
Cooking Time
| | |
| --- | --- |
| Type | Time (hh:mm:ss) |
| Preparation Time | 00:10:00 |
| Cook Time | 00:25:00 |
| Total Time | 00:35:00 |
Cooking Method
Gas Stove, Induction
Type of Meal
Vegetarian
Suitable For
Any toddler above 20 months of age
Meal Schedule
Breakfast, Lunch or Dinner
Recipe Type
Main Dish
Ingredients
| | |
| --- | --- |
| Ingredients | Quantity and Volume |
| Chickpeas or Kabuli Chana (soaked overnight and drained) | 1 |
| Ghee | 2-3 tablespoons |
| Cumin Seeds or Jeera | ½ teaspoon |
| Onions (finely chopped) | ½ cup |
| Tomatoes (finely chopped) | ½ cup |
| Ginger (finely chopped) | ½ teaspoon |
| Garlic (finely chopped) | 1 teaspoon |
| Chole Masala | 1 ½ teaspoon |
| Red Chilli Powder | 1 teaspoon |
| Amchur Powder or Dry Mango Powder | 1 teaspoon |
| Turmeric Powder | ¼ teaspoon |
| Coriander Powder | 1 teaspoon |
| Cumin Seeds Powder | ½ teaspoon |
| Salt | As per taste |
| Coriander leaves (finely chopped) | 1 teaspoon |
Instructions
This lip-smacking dish is a simple process. If you wish to learn how to make Chana (Chickpeas) Curry, then follow this step-by-step guide:
Add the soaked chickpeas and salt in a pressure cooker and cook it for about 5-6 whistles.
Once the steam escapes, drain the water and keep the chickpeas aside. Do not get rid of the water.
Heat the ghee in a deep kadhai and add the cumin seeds.
When the seeds crackle, add the onions and saute them on a medium flame.
Now add the ginger and garlic and saute until the raw smell disappears.
Add the coriander powder, turmeric, chili powder, cumin seeds powder, amchur powder, and chole masala. Mix well and cook on low flame for about 3-4 minutes. Keep stirring continuously to avoid burning.
Now add the tomatoes and cook until they are mushy.
Once everything has blended well, add the cooked Kabuli chana or chickpeas. Cook on a medium flame for about 5-8 minutes stirring continuously.
If you want it to be a slightly watery gravy then add the water from the drained chickpeas.
Garnish with coriander leaves and serve hot.
Recipe Tips
This home-made Chana (Chickpeas) curry baby food recipe can be perfected if you follow these simple tips:
Make sure you soak the chickpeas overnight as they will cook well. If you are short on time then soak them in hot water for about 4-6 hours.
Add some of the finely chopped ginger when cooking the chickpeas as it will enhance the flavor.
Use a sharp knife to chop the ingredients finely.
Mash the cooked chana lightly with a masher as it will help to thicken the gravy. Take care not to over mash it.
Nutrition Information (Per 100 Grams)
| | |
| --- | --- |
| Nutrient | Value |
| Energy | 223 kCal |
| Protein | 7.2 g |
| Carbohydrates | 26.8 g |
| Fiber | 11.7 g |
| Fat | 9.7 g |
| Cholesterol | 0 mg |
| Sodium | 10.5 mg |
Health Benefits
Chana (Chickpeas) curry for babies is loaded with nutrients that will satisfy all your requirements of a healthy diet. Read on to find out about the innumerable benefits:
Chickpeas are rich in proteins, vitamins, and minerals.
Chickpeas aid in improving the digestion process.
The protein equivalent in chickpeas is equal to that found in meat and is ideal for vegetarians and vegans.
Chickpeas contain iron and zinc which help build immunity and resistance in babies.
Babies are prone to anaemia and chickpeas, being iron-rich, help in the development of red blood cells.
Chickpeas contain calcium that supports bone and teeth development.
Chickpeas contain folate that helps to repair cells and tissues.
Onions contain folate too and are helpful in digestion.
Tomatoes are a good source of antioxidants, Vitamin C and lycopene. They help in providing resistance to cold, flu, cough symptoms, and are excellent for the skin.
Buying Guide
Just follow these simple tips while buying ingredients for Chana (Chickpeas) Curry:
Buy chickpeas in packaged form and check the expiry date before use. Chickpeas need to be stored in an airtight container.
Buy ripe and firm tomatoes so that they cook well and the spices blend well.
Onions must also be fresh so that they cook well. The onions, ginger, and garlic are what lends the dish the special taste.
Buy chole masala of reputed brands from the supermarket. Make sure you check the expiry date before use.
Try to buy organic vegetables as they are free from chemicals.
A spicy, tangy, and savory dish, Chana (Chickpeas) curry can be served for breakfast, lunch, or dinner. Your toddler will enjoy it with rice, roti, parathas, or pooris.