Broccoli Suji Upma (Soft) Recipe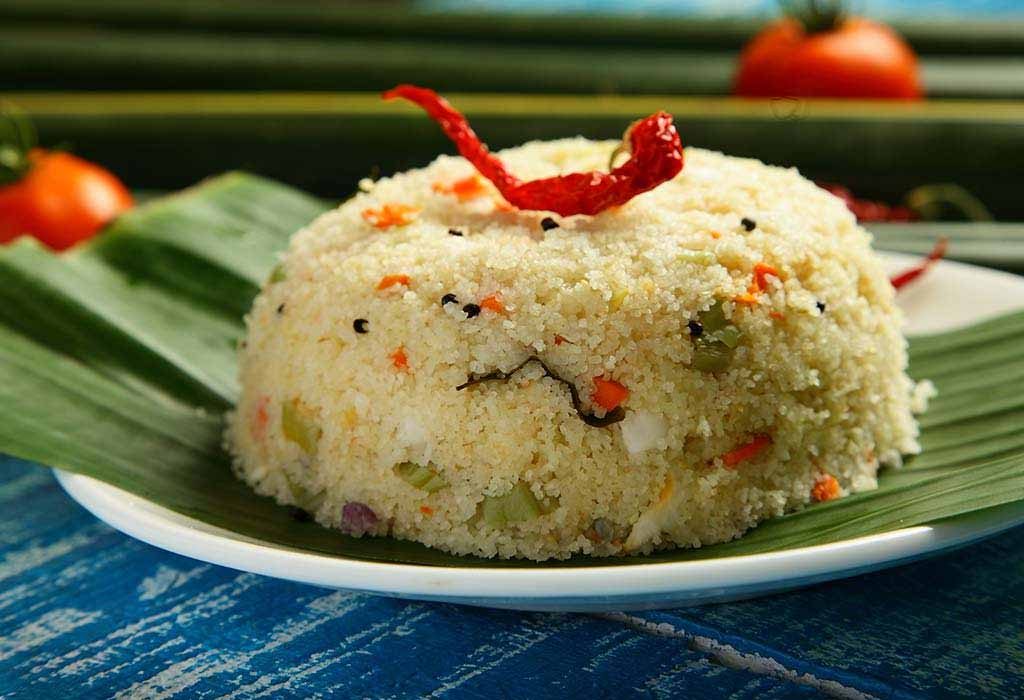 In this Article
Upma is made using suji/semolina and lots of vegetables. Broccoli suji upma is nutritious as both the main ingredients are super healthy. Suji is packed with health benefits and contributes to an easy bowel movement. This recipe of broccoli suji upma for babies is a healthy and tasty option for your little one. You can make this recipe for yourself also and enjoy it with your baby.
Cooking Time
| | |
| --- | --- |
| Type | Time (hh:mm:ss) |
| Preparation Time | 00:10:00 |
| Cook Time | 00:15:00 |
| Total Time | 00:25:00 |
Cooking Method
Gas
Type of Meal
Vegetarian
Suitable For
Any Toddler above 13 months of age
Meal Schedule
Breakfast or mid-morning
Recipe Type
Main Dish
Ingredients
| | |
| --- | --- |
| Ingredients | Quantity and Volume |
| Broccoli floret | 3-4 (as per your requirements) |
| Black pepper freshly crushed | A small pinch |
| Semolina / Sooji / Rava | 1/4 cup |
| Oil or Ghee | ½ tbsp |
| Salt | As per taste |
| Hot water | 1 cup |
| Curry leaves | 2-3 |
| Mustard seed | 1/8 tbsp |
| Asafoetida | A pinch |
Instructions
Here is the step by step direction that will answer your thought of how to make broccoli suji upma. Follow these step by step instructions and serve your babies with a nutritious bowl of upma.
Dry roast suji for 8-10 minutes on medium-low heat. You can add half a spoon of ghee while roasting suji, but this is completely optional.
Heat a pan, and add 1/2 tbsp ghee or oil in it.
Then add a small pinch of asafoetida and mustard seeds in it. Let it crackle for a few seconds.
Now add curry leaves and saute for 10-20 seconds.
Add the florets of broccoli and saute it for another minute.
Add salt and let it cook for a couple of minutes. Cover the vessel for fast cooking.
Check the broccoli if it has softened. After that add the roasted suji and mix up everything well.
Add hot water into the pan and mix it. Be careful while adding the water and make sure there is no lump formation.
Cover the lid for 3-5 minutes or till the time water gets fully evaporated. Check the consistency of the upma in between.
Switch off the flame and let it cover for 5 more minutes.
Your delicious broccoli suji upma is ready to eat. You can serve it hot.
Recipe Tips
Instructions to cook a dish is important, but few tips can make this homemade broccoli suji upma baby food recipe more delicious and easier to cook.
If you want to minimize the preparation time, then you can dry roast the suji in advance and store it in an airtight container.
Blanche the broccoli florets to neutralize the taste so that your kids enjoy it fully.
You can also add roasted and powdered nuts for adding extra nutrition to your kid's breakfast.
Chop the florets into small pieces so that it mixes up well with the suji.
Keep the hot water aside in advance because suji can burn if you do not add water quickly to it.
Make sure to cook suji well as half-cooked suji will not taste good and can cause the problem of digestion for kids.
Nutrition Information (Per 100 Grams)
| | |
| --- | --- |
| Nutrient | Value |
| Energy | 202 kcal |
| Protein | 7 gram |
| Carbohydrates | 37 gram |
| Dietary Fiber | 2.7 gram |
| Fat | 0.1 gram |
| Iron | 0.67 milligram |
| Vitamin C | 34.4 miligram |
| Vitamin K | 85 miligram |
| Potassium | 176 miligram |
| Sodium | 5 miligram |
| Sugar | 1.77 gram |
Health Benefits
Know about the health benefits of this simple broccoli suji upma recipe.
Broccoli is one of the great sources of vitamin C and vitamin K along with potassium and fiber.
Brocolli is a house of antioxidants and hence it helps in protecting the body from damaging free radicals.
Brocolli helps in improving immunity, eyesight development, reducing chance of anemia and gives relief from diarrhea.
Suji is a delight for the digestive system and does not cause constipation problems in babies.
Suji contains protein, vitamin B, Vitamin K, iron and potassium. It is good for improving hemoglobin levels.
Buying Guide
While buying broccoli, make sure it firm to feel and heavy.
Check for the presence of moisture in the broccoli by checking the stalks. If there is an accumulation of moisture, then don't buy it because it will have a higher chance of infections. Always go for a dry one.
Go for organic broccoli if it is available.
Always prefer packed suji over the open one.
Buy suji in small batches as storing it in large quantity invites small worms in it, especially in monsoon season.
It is very important to provide nutritious food to our babies in their growth stage. The market products do not have everything needed for your child's development. Being a parent, you can make sure to include each and every nutrient in your child's food by preparing it at home.