Flu Shot for Kids – Frequently Asked Questions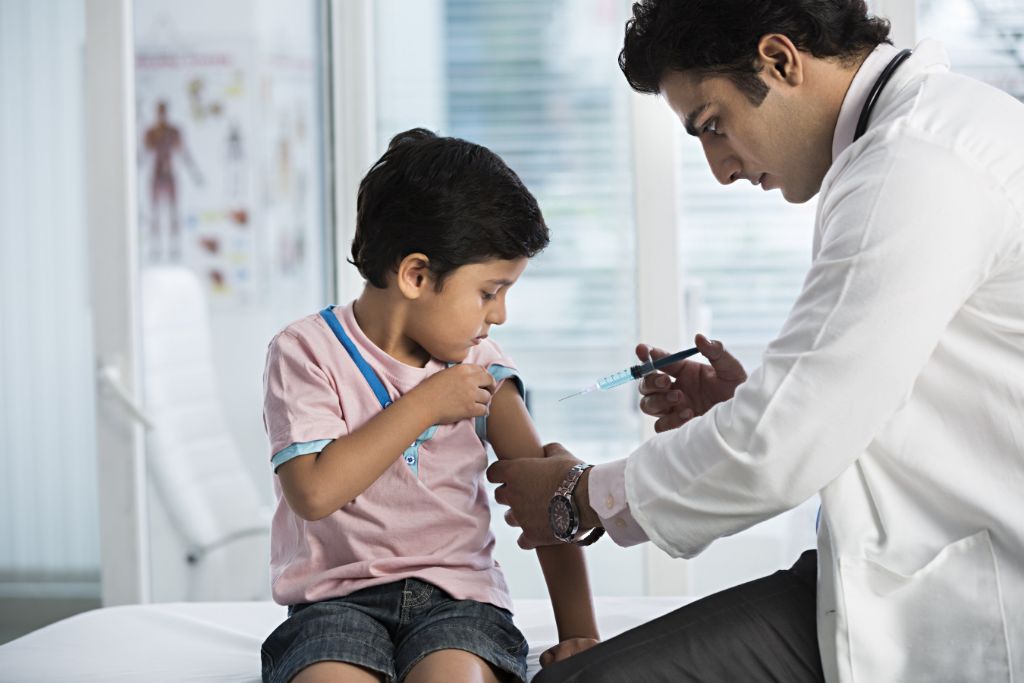 Isn't the flu just a severe cold? We always ask ourselves this question, right? Flu and the common cold are different from what they look like. Come monsoons and winters, children tend to fall sick. They miss out on their school, play, and social gatherings.
Below are a few frequently asked questions on influenza disease and its prevention:
What Is Seasonal Flu? How Does Flu Virus Spread?
Flu is an infectious viral respiratory illness caused by the Influenza A or B viruses which could be swine flu (H1N1) or 3 other strains that can infect the child's throat, nose, and lungs. It is highly transmissible as it spreads by inhaling air droplets containing flu viruses, coming in contact with the infected person, or touching contaminated surfaces.
How Can You Prevent the Flu Disease?
Health experts suggest that one of the most reliable ways to prevent flu is by taking an annual flu shot based on your doctor's consultation. There are a few hygiene practices to avoid contracting flu apart from vaccination, such as:
Avoid contact with sick people and maintain social distancing
Wash your hands frequently with soap and water or use a sanitiser.
Cover your nose and mouth with tissue or sleeve while coughing or sneezing
Avoid touching your eyes, nose, and mouth.
If you have contracted flu, stay home for at least 24 hours until your fever has subsided.
Why Is It Important to Give the Flu Vaccination to Kids?
According to health experts in India, it is estimated that >24,000 cases occur in children below 5 years of age having influenza and acute respiratory infections every year. Children with chronic health problems, such as asthma, diabetes, and other respiratory infections are also at a high risk of developing serious complications from the flu.
Protecting against flu by administering an annual flu vaccine is one of the best preventive measures apart from good hygiene practices.
Getting an influenza vaccination can help a child in the following ways:
The flu vaccination may reduce ~7x times the risk of hospitalisation in children
It may decrease the severity of the illness among vaccinated children who still get sick with the flu.
Vaccinating your child will also prevent the spread of flu to family, friends, and those who come in contact with the sick child, especially infants below 6 months, as they are tooyoung to get a flu vaccine.
Health experts recommend children between 6 months to 5 years should receive annual flu vaccination.
When Should Children Get the Flu (Influenza) Vaccination?
India experiences two peak flu seasons – monsoon and winter – that vary across the different geographical climates. Monsoon season is experienced from July – September in South & West parts of India. While winters are from October to December in North & East of India.
The preferred time for children to receive the vaccination is before the onset of the flu season. Make appointments to get your child vaccinated as soon as a new flu vaccine is available at healthcare platforms.
Where Should My Child Get Vaccinated for Flu Shots?
Influenza vaccination is available in private clinics and corporate hospitals across India. Do consult your doctor for more information and talk about your child's medical history before getting your little one the flu vaccination.
Should My Child Get Flu Vaccination Every Year?
New flu strains may circulate in the environment every season, and based on the circulating strains, the flu vaccine is manufactured annually. The flu shot's immunity lasts for the season; hence annual vaccination is recommended to stay protected against flu. For any further information, please consult your doctor.
Which Children Should Not Get the Flu Shot?
Any child who had a severe allergic reaction after a previous dose of influenza vaccine, or has any severe, lifethreatening allergies to any vaccine component.
Any person who had a nervous system disorder called Guillain Barré Syndrome.
Children with severe egg allergy should receive the vaccine in a setting with facilities for handling emergencies.
It is best recommended to consult your doctor for information regarding flu vaccination
Is the Flu Vaccination Safe for Children?
Flu vaccination is generally well-tolerated. However, some commonly observed side effects of this vaccination amongst children are:
Soreness or redness at the injection site
Mild fever and nausea
Fatigue
Body ache and muscle ache
Nausea
The symptomatic fear of illnesses has increased with the arrival of the pandemic. To keep children away from catching potential infections and diseases, flu vaccination along with routine hand hygiene for families, babies and young children are recommended. Physical distancing, hand hygiene, wearing masks when ill, avoid touching of eyes and nose, etc., are some of the preventive measures against influenza. Inculcate these habits in your child, and the chances of catching the flu will reduce greatly.
For any further information please consult your doctor.
To know further visit MyVaccinationHub.

If you liked this content, please share it with fellow parents now.
References:
https://www.ncbi.nlm.nih.gov/pmc/articles/PMC4193176/
https://www.japi.org/u2c48474/recommendations-for-vaccination-against-seasonal-influenza-in-adult-high-risk-groups-south-asian-recommendations#:~:text=The%20peak%20season%20for%20influenza,and%20Delhi%20during%20November%2DFebruary.
https://iapindia.org/pdf/vaccine-information/INFLUENZA-FLU-VACCINES.pdf
https://acvip.org/parents/columns/flu.php
https://www.ncbi.nlm.nih.gov/pmc/articles/PMC4418715/
https://www.cdc.gov/vaccines/parents/diseases/flu.html
https://www.nhs.uk/conditions/vaccinations/child-flu-vaccine/
Flu Vaccination | Influenza vaccination for Child | MVH By GSK (myvaccinationhub.in)
Disclaimer: Issued in public interest by GlaxoSmithKline Pharmaceuticals Limited. Dr. Annie Besant Road, Worli, Mumbai 400 030, India.
Information appearing in this material is for general awareness only. Nothing contained in this material constitutes medical advice. Please consult your doctor for any medical queries, any question or concern you may have regarding your condition. The disease list indicated for vaccination is not complete, please consult your doctor for the complete vaccination schedule.
NP-IN-FLT-OGM-2200080, DoP Oct 2022