These Are the Only Essentials You Will Need for Your Baby's First Beach Vacation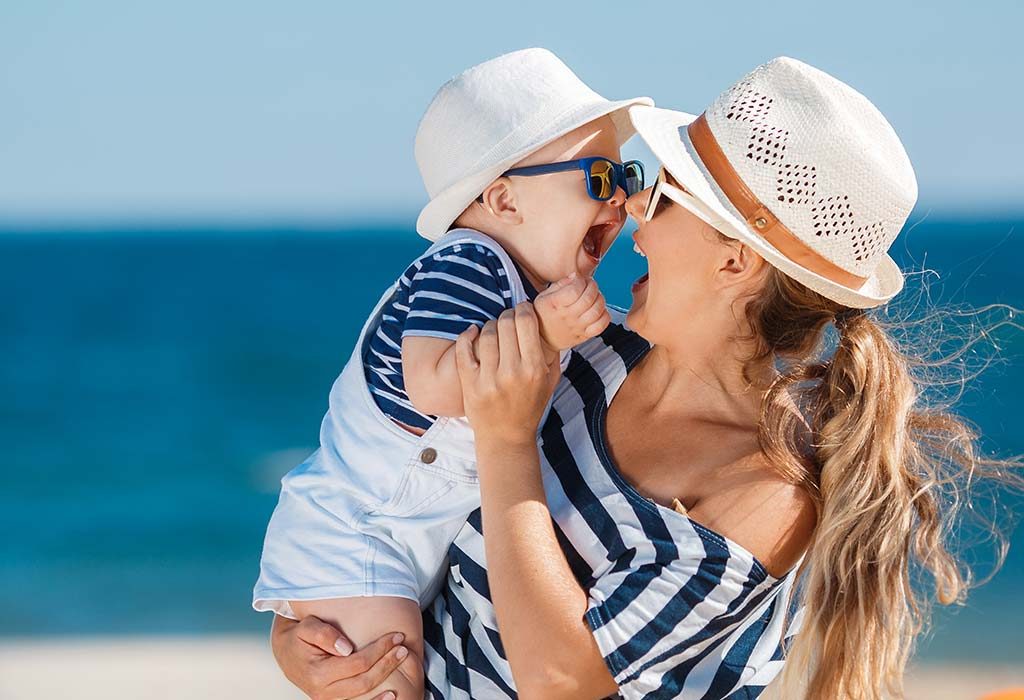 Summers are the best time to plan a vacation, especially if you plan for a beach vacation. But you can plan a vacation whenever you want. However, whenever new parents plan for a vacation with their baby, a lot of 'ifs' and 'buts' cross their minds.
But with sound planning and by paying attention to details, you can have a wonderful trip with your child.
Whether your child is a toddler or a baby, you must be prepared for anything and everything. Of course, there will be times when a situation might be beyond your control, but until then, knowing what you have to do and going as per the plan, will keep you sane.
Here are some basic feeding essentials you should pack while travelling with a baby.


1. A squeeze spoon – A squeeze spoon is a must to ensure a spill-free and mess-free feed. Squeeze spoons usually come with a secure cap and non-drip mechanism. Your baby will eat freely and you won't have to worry about the mess.
2. Portable food storage containers – A portable food storage containers come in handy while travelling with a baby. While travelling, your baby will obviously want something to snack. So keep the snacks in convenient containers. You won't end up spending precious holiday time searching.
3. Water – While travelling, don't forget to keep water bottles, especially when you have a child with you. Carry a spill-free glass or a sipper for your baby.
Some essentials that you should pack in your baby's diaper bag include:
1. Clothes – Pack a lot of clothes for your baby. Keep napkins for spit-ups, spills, etc. Babies spill and spit so napkins will come in handy.
2. Diapers – Babies pee and poop all the time. They are unpredictable little beings, so carry extra diapers with you at all times. If you are planning a beach holiday with your baby, you must keep Pampers Splashers Swim Pants for you baby. These diapers are different from regular diapers because of several reasons. They don't swell in water. Swelling makes a diaper heavier, making it difficult for a baby to swim and enjoy at the beach. Pampers Splashers Swim Diapers have a stretchy waistband and are easy to pull on and off. They provide protection against leak in water and don't swell. They also prevent the entry of small sand particles while on the beach. These diapers are ideal for the pool and beach time.
3. Baby Wipes –The versatility of wipes is the reason that they are a must-have in every diaper
bag. A wipe can be used to clean your baby's bottom or spits ups on clothes. But you should use separate wipes to clean your baby's hands and face. Use baby wipes that are dermatologically tested and are safe for baby skin. You can consider Pampers Fresh Clean Wipes. These wipes are hypoallergenic in nature and have a refreshing scent. Plus they are gentle on baby skin too!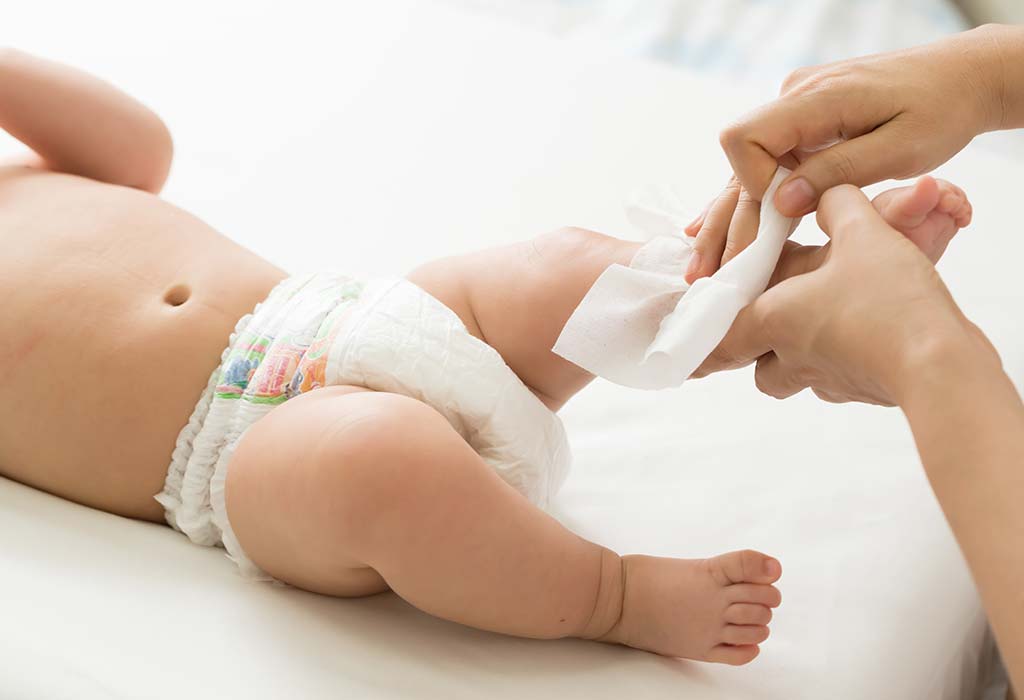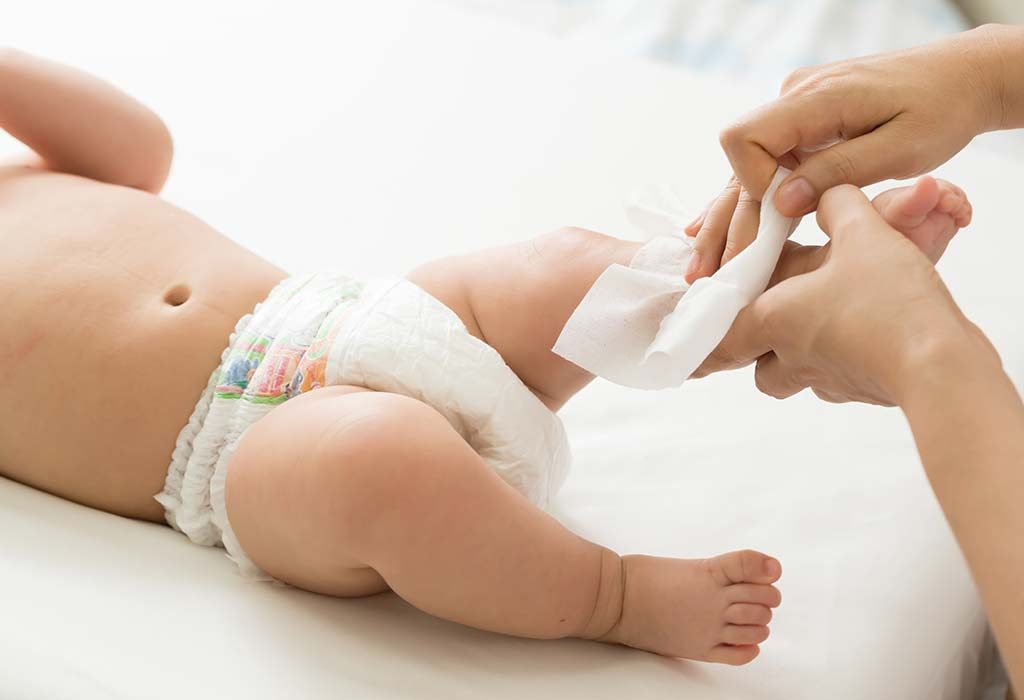 4. Favourite Toys/Books – Babies can throw tantrums and become crankier in unfamiliar places. A baby feels overwhelmed by new places and faces. But if you give your cranky baby his favourite toy or book, it could help calm him. In case, other options like feeding or putting him to sleep don't work, give him his favourite toy.
5. A Waterproof Bag – You will find a lot of cute options in bags in the market, but a regular polythene bag will also do the job. It is an absolute must to keep your wet clothes. You can also use to keep soiled diapers or the other items that need to be disposed of. Carry a lot of polythene bags with you when travelling with a baby.
6. Rubber Bands – Rubber bands always come in handy and can help us save a lot of space in our trolley bags or handbags. Opened packets of chips/biscuits can be sealed with rubber bands. Just tie the packet with a rubber band.
7. A Mosquito Repellent – A mosquito repellent is available in the form of patches, liquid, or gel. Buy the one which suits your little one.
8. Sunscreen – Buy a sunscreen which is safe for babies. A holiday calls for a lot of outdoor time, so keep sunscreen for your baby. It will help protect your baby from the harmful UV rays.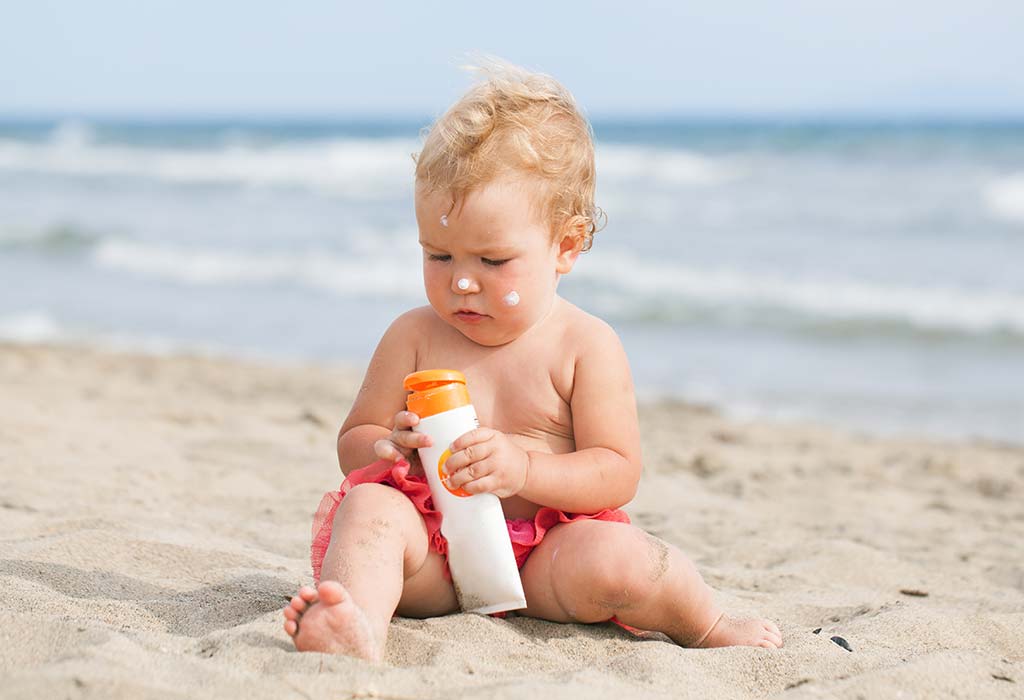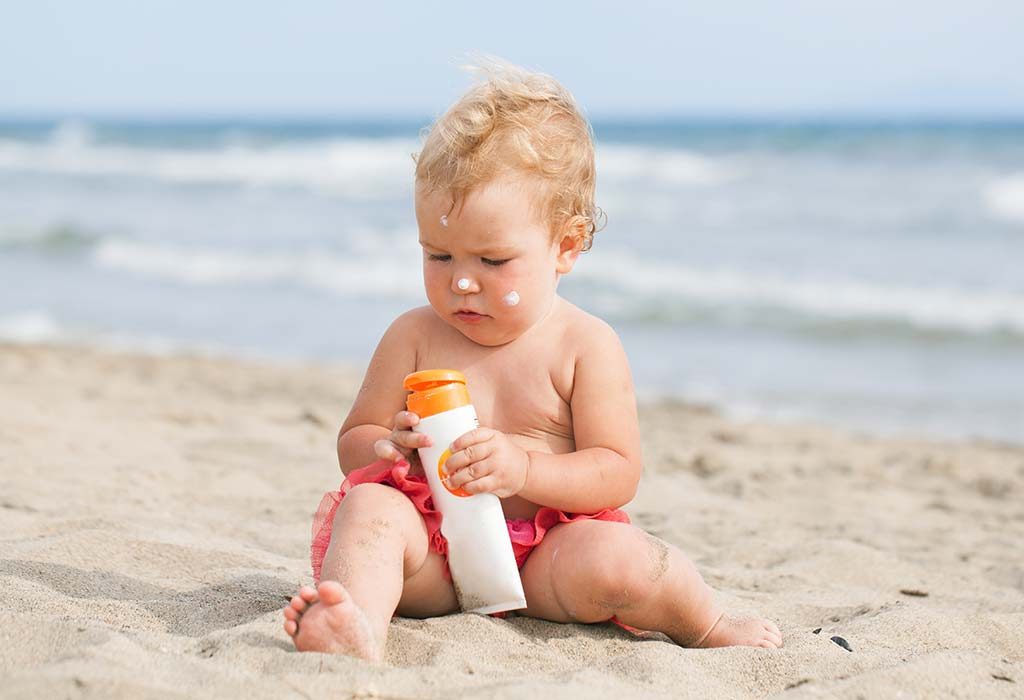 9. A changing pad – An important yet neglected item is a baby diaper changing pad. You wouldn't want to make your baby lie down or sit anywhere while changing a diaper, would you? Instead of wasting time searching for a "spot" or a washroom, carry a diaper changing pad which is meant only for your baby.
The best way to carry all the items and have a hassle-free experience is by choosing a diaper bag
which is spacious and suits your needs. You should buy one with many compartments – it is a perfect way to keep everything organised. In spite of all the preparations, you will be nervous about your baby's first visit on a beach. But rest assured, you will do just fine.
Here are some tips you should keep in mind for a stress-free vacation.
If it's your baby's first visit to a beach or pool, take it slow and do what your baby likes. Your child might love it or hate it at first, and that's okay. Keep an alternate activity in mind too. If the baby doesn't enjoy the beach waves, let him play with sand.
Having an itinerary is wonderful, but getting worked up if everything doesn't go as per the plan, won't help you. While planning the vacation, keep room for alterations. From experience, babies have the tendency to poo or puke just before its time to leave, so don't worry about it.
On that note, remember that a vacation is spending quality time with your family. So have a good time and stay safe!
Disclaimer: The views, opinions and positions (including content in any form) expressed within this post are those of the author alone. The accuracy, completeness and validity of any statements made within this article are not guaranteed. We accept no liability for any errors, omissions or representations. The responsibility for intellectual property rights of this content rests with the author and any liability with regards to infringement of intellectual property rights remains with him/her.