Bhagar (Millet) Cooked in Buttermilk Recipe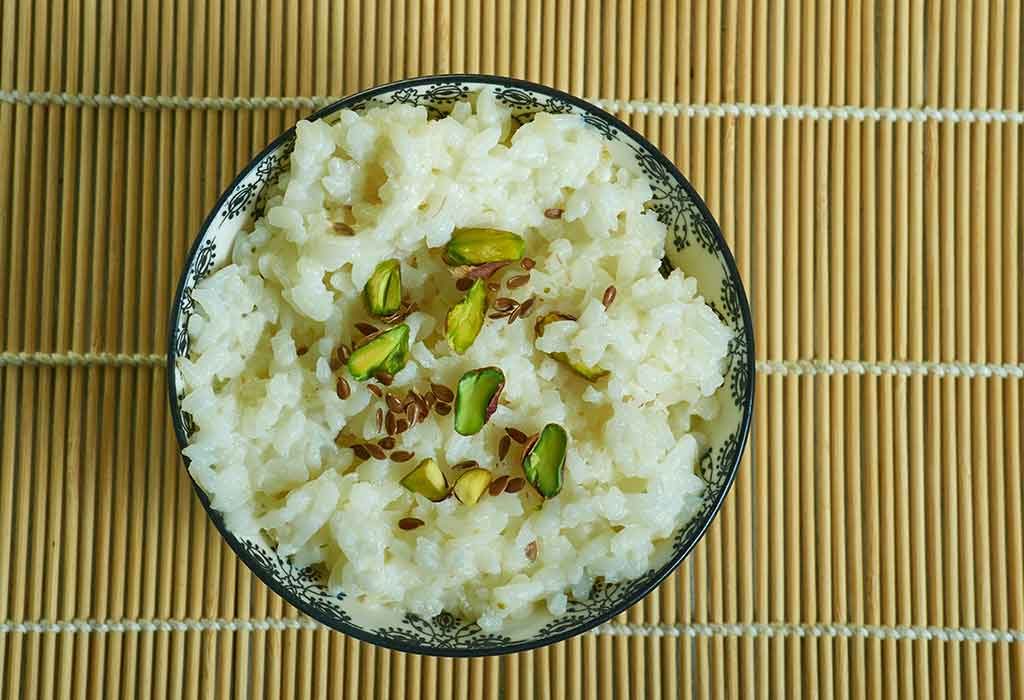 In this Article
Bhagar, also known as Samo, is a nutritious and delicious millet that can be used to make many popular delicacies. Bhagar dishes are believed to originate from Maharashtra, and this millet is commonly cooked during the auspicious occasion of Navratri. Bhagar millet has all the benefits that are required for the growth and well-being of young babies. It is very rich in vitamins and minerals, and has a rich texture and taste very similar to rava or semolina. Read on for the recipe of how to make Bhagar Millet cooked in Buttermilk for babies at home!
Cooking Time
| | |
| --- | --- |
| Type | Time (hh:mm:ss) |
| Preparation Time | 00:05:00 |
| Cook Time | 00:15:00 |
| Total Time | 00:20:00 |
Cooking Method
Gas
Type of Meal
Vegetarian
Suitable For
Babies older than 9 months of age
Meal Schedule
Breakfast, lunch, mid-evening snack, or dinner.
Recipe Type
Main Dish
Ingredients
| | |
| --- | --- |
| Type | Quantity |
| Bhagar millet | ½ cup |
| Water | 2 cups |
| Salt | 1 teaspoon |
| Homemade ghee | 2 teaspoons |
| Curd/yoghurt | 1 cup |
| Asafoetida (hing) | 1 teaspoon |
| Cumin seeds | ¼ teaspoon |
| Coriander leaves, chopped | 1 tablespoon |
Instructions
The following step-by-step directions will guide you to prepare bhagar millet in buttermilk at home:
Wash and clean the bhagar millet, and keep it aside.
In a pan, heat 1 cup of water, add salt, 1 teaspoon ghee, bhagar, and mix well. Let it simmer for about 5-6 minutes with the lid on.
Once the bhagar is cooked, mix well and remove from flame.
Take the curd or yogurt in a bowl and beat well with a whisker for about 1-2 minutes. Now, add remaining 1 cup water to the curd, a pinch of salt, and again beat well until it turns frothy. Now, your buttermilk is ready!
Once the bhagar millet has cooled down, add it to the bowl of buttermilk and mix well.
In another pan heat 1 teaspoon ghee, add the cumin seeds and the asafoetida. Add it to the buttermilk mixture along with the chopped coriander leaves.
Your bhagar millet in buttermilk is ready to serve!
Recipe Tips
This simple bhagar millet cooked in buttermilk recipe can be quickly prepared with very few ingredients.
Make sure that the bhagar millet is cooked well before you remove it from the flame.
This homemade bhagar millet in buttermilk baby food recipe is best served immediately once prepared. Leaving it over time can cause the buttermilk to turn sour.
Make sure that you add the bhagar millet to the buttermilk only once it is completely cooled, or else it may cause the buttermilk to curdle.
The coriander leaves should be finely chopped for this recipe.
If preparing for children above two years and adults, you can also add grated ginger and green chili while tempering.
It is highly recommended to always consult with the paediatrician before you introduce any new food to your baby.
Nutrition Information (per serving of 100 ml)
| | |
| --- | --- |
| Type | Value |
| Carbohydrates | 45.9 grams |
| Calcium | 14 milligrams |
| Iron | 3.5 milligrams |
| Protein | 4.3 grams |
| Fat | 1.5 grams |
| Fibre | 6.9 grams |
| Magnesium | 57.4 milligrams |
| Phosphorous | 196 milligrams |
| Zinc | 2.1 milligrams |
| Vitamin B1 | 0.23 milligrams |
| Vitamin B2 | 0.07 milligrams |
| Vitamin B3 | 2.9 milligrams |
Health Benefits
The following health benefits are associated with yummy and healthy bhagar millet:
Bhagar millet is a rich source of protein, which makes it ideal to be included in the diet of young babies, as it helps in the healthy maintenance of cells in the body.
Bhagar millet has high fibre content that helps in easy digestion of food.
It is also a very rich source of phosphorous that works closely along with calcium in the growth and development of the bones.
Bhagar millet is a rich source of iron which is a very vital nutrient for building adequate levels of haemoglobin levels. Regular intake helps prevent anaemia in young kids.
A rich source of B vitamins such as niacin, riboflavin, and thiamine, it helps in fat metabolism and also proper utilization of energy in the body.
Buying Guide
Mentioned below are certain buying tips to choose the right ingredients for baby food recipes:
If possible, buy good quality organic bhagar millet from a trusted brand source to avoid harmful chemicals.
This easy-to-make bhagar millet in buttermilk recipe is a perfect meal for your little munchkin! The buttermilk in this recipe makes it perfect for summers as it keeps the body cool and hydrated. This recipe is easy to make and is the perfect nourishing recipe, not just for your baby, but for the entire family!