Beautiful Snow Poem for Kids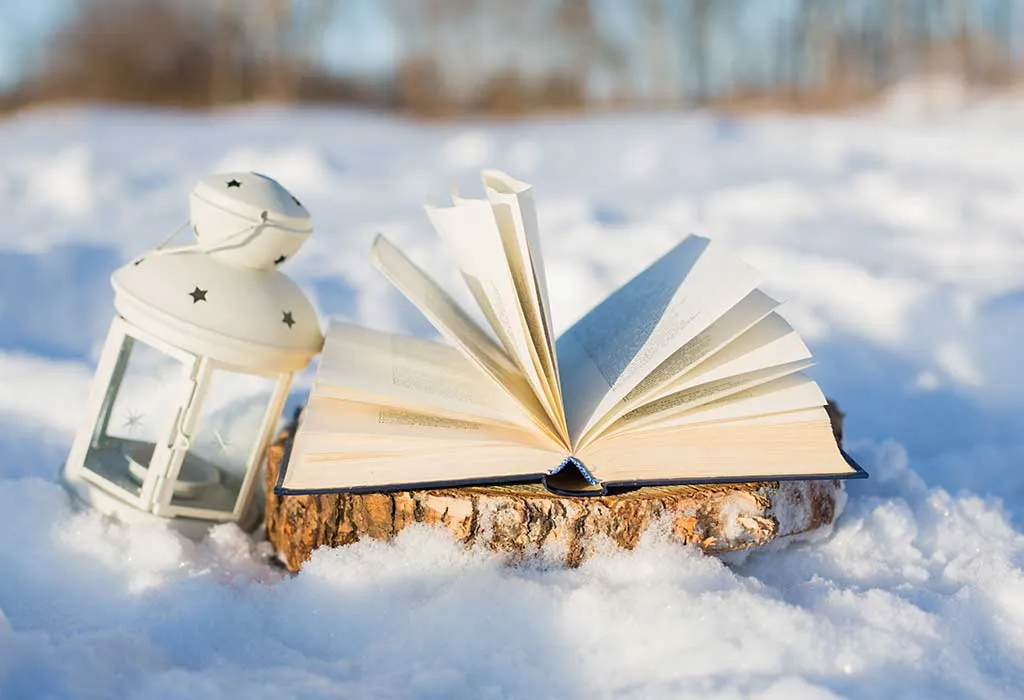 Winter is when fresh snow blankets the earth, and fun winter activities are eagerly indulged in. Building snowmen, sledding, ice skating, and snuggling with some delicious hot chocolate, a cozy blanket, and a falling snow poem or two all make up for some epic winter fun.
Poetry has a way of helping the reader embrace certain feelings, improve their vocabulary, stimulate the imagination and inspire creativity. Poems are something that even the most reluctant readers can enjoy. They are short and descriptive and encourage their readers to use their imaginations.
For kids, poems are easy to read, and when they rhyme, they are easy to remember as well! Snow poems for kindergarten are short, sweet, and imaginative, so your child will not lose interest halfway.
When winter days seem bleak and dreary, poems are a great way to entertain your kids! Reading out creative and funny snow poems to your kids may encourage them to look on the bright side of winter days and enjoy them while they last.
Best Snow Poems for Children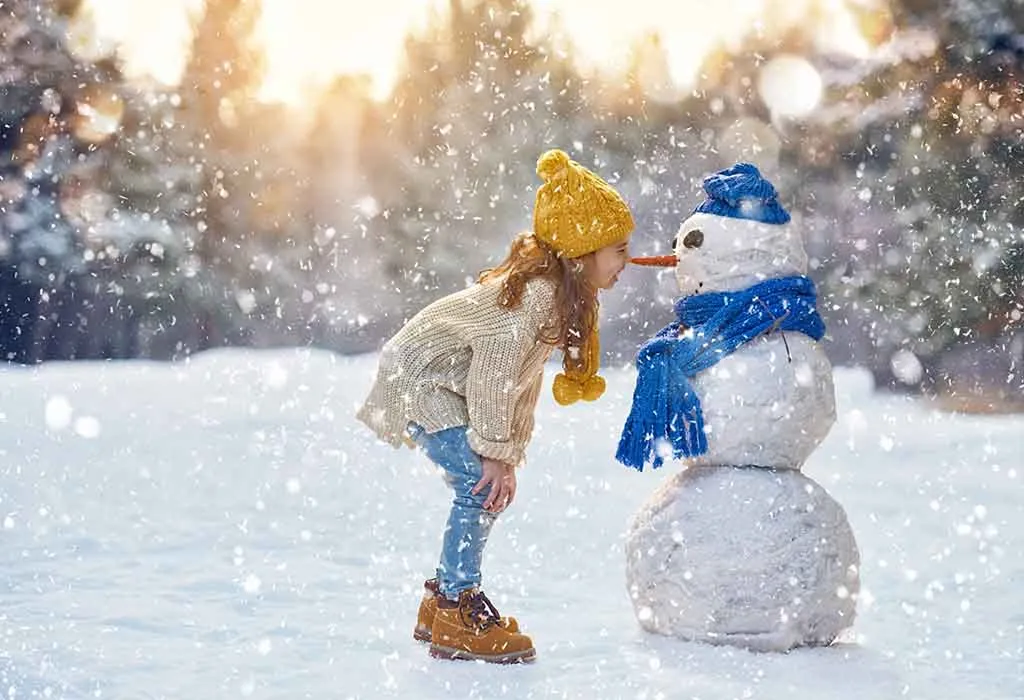 If reading out snow poems to your kids sounds good to you, these are some that they are bound to enjoy! There are many to read and enjoy, from white snow poems to spring snow poems.
1. Chubby Little Snowman (Poet Unknown)
A chubby little snowman
Had a carrot nose.
Along came a bunny,
And what do you suppose?
That hungry little bunny
Looking for his lunch,
Ate the snowman's carrot nose.
Nibble, nibble, crunch!
2. Snowflake, Snowflake by Dana
Snowflake, snowflake in the sky
Love to watch you floating by
Down you fall upon the ground
Down you fall without a sound
Snowflake, snowflake in the sky
Love to watch you floating by
3. When Winter is Here by Elanor Hammond
I think the months of winter are
The finest of the year.
Snowy days, blowy days-
Aren't you glad they're here?
Sleds go coasting down the hills,
Snowmen stand and stare.
The pond is fine for skating,
And snow is everywhere.
Snowy days, snowy days,
Come when winter's here.
Whitest days are brightest days,
Of the whole long year.
4. Coasting Down the Hill by Anonymous
Frosty is the morning;
But the sun is bright,
Flooding all the landscape
With its golden light.
Hark the sounds of laughter
And the voices shrill!
See the happy children
Coasting down the hill.
There are Tom and Charley,
And their sister Nell;
There are John and Willie,
Kate and Isabel,—
Eyes with pleasure beaming,
Cheeks with health aglow;
Bless the merry children,
Trudging through the snow!
Now I hear them shouting,
"Ready! Clear the track!"
Down the slope they're rushing,
Now they're trotting back.
Full of fun and frolic,
Thus they come and go.
Coating down the hillside,
Trudging through the snow.
5. White Fields by James Stephens
In the winter time we go,
Walking in the fields of snow;
Where there is no grass at all;
Where the top of every wall,
Every fence and every tree,
Is as white as white can be.
Pointing out the way we came,
-Every one of them the same-
All across fields there be
Prints in silver filigree;
And our mothers always know,
By the footprints in the snow,
Where it is the children go.
6. Stopping by Woods on a Snowy Evening by Robert Frost
Whose woods these are I think I know.
His house is in the village though;
He will not see me stopping here
To watch his woods fill up with snow.
My little horse must think it queer
To stop without a farmhouse near
Between the woods and frozen lake
The darkest evening of the year.
He gives his harness bells a shake
To ask if there is some mistake
The only other sound's the sweep
Of easy wind and downy flake
The woods are lovely, dark and deep
But I have promises to keep,
And miles to go before I sleep,
And miles to go before I sleep.
7. A Story in the Snow by Pearl Riggs Crouch
This morning, as I walked to school
Across the fluffy snow,
I came across a bunny's tracks-
A jumping zig-zag row.
He must have hurried very fast,
For here and there I saw
Along his jerky, winding trail
The print of Rover's paw.
I set my lunch pain on the snow
And stood there very still,
For only Rover's clumsy tracks
Led down the little hill.
Then suddenly I thought I heard
A rustling sound close by;
And there within a grassy clump,
Shone Bunny's twinkling eye.
8. Snowball by Shel Silverstein
I made myself a snowball,
As perfect as could be.
I thought I'd keep it as a pet,
and let it sleep with me.
I made it some pajamas,
And a pillow for its head.
Then last night, it ran away,
But first, it wet the bed.
9. Winter by Dorothy Aldis
The street cars are
Like frosted cakes —
All covered up
With cold snowflakes.
The horses' hoofs
Scrunch on the street;
Their eyelashes
Are white with sleet.
And everywhere
The people go —
With faces tickled
By the snow.
10. Snowflakes by Sabina Laura
I caught snowflakes
on my fingertips
but they melted
to my dismay.
I could not hold on
to something
that did not want
to stay.
11. Falling Snow by Anonymous
See the pretty snowflakes
Falling from the sky;
On the wall and housetops
Soft and thick they lie.
On the window ledges,
On the branches bare;
Now how fast they gather,
Filling all the air.
Look into the garden,
Where the grass was green;
Covered by the snowflakes,
Not a blade is seen.
Now the bare black bushes
All look soft and white,
Every twig is laden,
What a pretty sight.
12. Snowflakes by Henry Wadsworth Longfellow
Out of the bosom of the Air,
Out of the cloud-folds of her garments shaken,
Over the woodlands brown and bare,
Over the harvest-fields forsaken,
Silent and soft and slow
Descends the snow.
Even as our cloudy fancies take
Suddenly shape in some divine expression,
Even as the troubled heart doth make
In the white countenance confession,
The troubled sky reveals
The grief it feels
This is the poem of the air,
Slowly in silent syllables recorded;
This is the secret of despair,
Long in its cloudy bosom hoarded,
Now whispered and revealed
To wood and field.
13. The First Sleigh Ride by Sara Teasdale
O happy time of fleecy rime
And falling flakes, and O
The glad surprise in the baby eyes
That never saw the snow!
Down shining ways the flying sleighs
Go jingling by, and see!
Beside the gate the horses wait
And neigh for you and me!
14. Snow Day by Billy Collins
Today we woke up to a revolution of snow,
It's white flag waving over everything,
The landscape vanished,
Not a single mouse to punctuate the blankness,
And beyond these windows.
The government buildings smothered,
Schools and libraries buried, the post office lost
Under the noiseless drift,
The paths of trains softly blocked,
The world fallen under this falling.
In a while, I will put on some boots
And step out like someone walking in water,
And the dog will porpoise through the drifts,
And I will shake a laden branch,
Sending a cold shower down on us both.
But for now I am a willing prisoner in this house,
A sympathizer with the anarchic cause of snow.
I will make a pot of tea,
And listen to the plastic radio on the counter,
As glad as anyone to hear the news.
15. Thaw by Eunice Tietjens
The snow is soft,
and how it squashes!
"Galumph, galumph!"
go my galoshes.
Snow poems are great fun for both kids and adults alike. While they take on various themes and stir different emotions within people, snow poems have a wonderful way of reminding us to enjoy the season and what it brings, whether good, bad or neutral. So, if you haven't already, go on and read your child their first snow poem.
Also Read:
Nature Poems for Children
Sweet Weather Poems for Kids
Best Spring Poems for Children